Mobile Phone- The most important thing in our life for most of us, has become addictive and has broken the purpose of why it was created. I believe, technology is invented to ease our life and not become a burden. Constant notifications and updates by the minute demand our attention and require us to be glued to our mobile phones. As the saying goes" Too much of anything is bad for you" and that is the reason why OnePlus designed the Zen Mode App.
The concept is not new as Google's Digital Wellbeing and iOS Screen Time were released prior to OnePlus's Zen Mode. But it is different, persuasive in nature, as it does not measure the time you have spent on your mobile phone or on a particular app, but locks you out of your phone for 20 minutes, forcing you to enjoy the peace of mind which you deserve but are not able to take it yourself.
What is Zen mode?
Zen Mode is not another app to monitor phone usage, but it is an optional setting on OnePlus mobile devices which enables the users to take some time off from the digital world. It locks the phone almost entirely, not allowing the user to access any apps or drive. However, you can receive calls, dial emergency numbers and use your camera. Apart from that, forget about watching videos online/offline, using the internet or anything else that you normally do.
Scary as it sounds, the horror of not being able to use our mobile phone lasts only for 20 minutes and that too this pain is self-inflicted. That's correct, Zen Mode only activates if you ask for it. But remember, once activated, you cannot disable it for 20 minutes. Even restarting your device won't help.
Why OnePlus continuous to be a remarkable device? Click here to read.
Why Zen Mode?
A unanimous thought that comes to everyone is Why Zen Mode? Was it necessary to spend so many hours of research and development to create a Zen Mode in mobile devices? The common argument against Zen Mode is that a user can always not use the phone and keep it away rather than keeping the phone close and activating Zen Mode. Plus, there are already many mobile usage tracker apps which track time spent on the phone.
To this, OnePlus has stated that this functionality is not a compulsory feature and can be ignored entirely if the user is not interested.
While designing this feature, OnePlus had to consider a balanced time which would not be too long or too short. It had first considered 60 minutes, which seemed too difficult a challenge that many would not even attempt it. A 5 to 10 minute would be very less and easily done. Finally, a 20-minute duration was set which a little more than easy.
To encourage the users to enable Zen Mode, OnePlus had to design a great theme that would be welcoming and prove as a challenge. This would compel people to be less dependent on their devices and use them when necessary.
As per the features available during Zen Mode, this mode was designed with a view to keep people momentarily away from the hundreds of messages and notifications flooding on our devices. However, it was then decided that incoming calls would not be blocked and in case of an emergency, the 911 could easily be dialed. Also accessible was the camera, so that the users don't miss to capture anything important. A study on our brain proves that a camera brings out the artistic side in a human being thus providing a boost to our creative part of the brain which is always important.
Zen Mode is still in the developing process. It there are other apps that must be enabled during Zen Mode, then do drop your views and suggestions to the OnePlus community.
How can I get Zen mode?
Zen Mode was initially rolled out as a feature in the OnePlus 7 series. Later it was sent to OnePlus 5 and OnePlus 6 series through updates.
Recently, OnePlus has published Zen Mode app on the Google Play store and is compatible with devices running Oxygen-OS only.
One Plus 7 Pro- Features and Specifications.
How to use Zen Mode?
To start Zen Mode, pull down the notification shade from the top by dragging from the top. Drag again to view notifications setting options. The Pencil icon represents 'Edit' and enables the user to choose the tiles to be displayed for quick access. Add the Zen Mode Icon by dragging it to the quick access window.
Once Zen Mode is added to your quick settings, it can be easily accessible. Just tap the icon, and the gateway of the Zen mode appears. It looks like: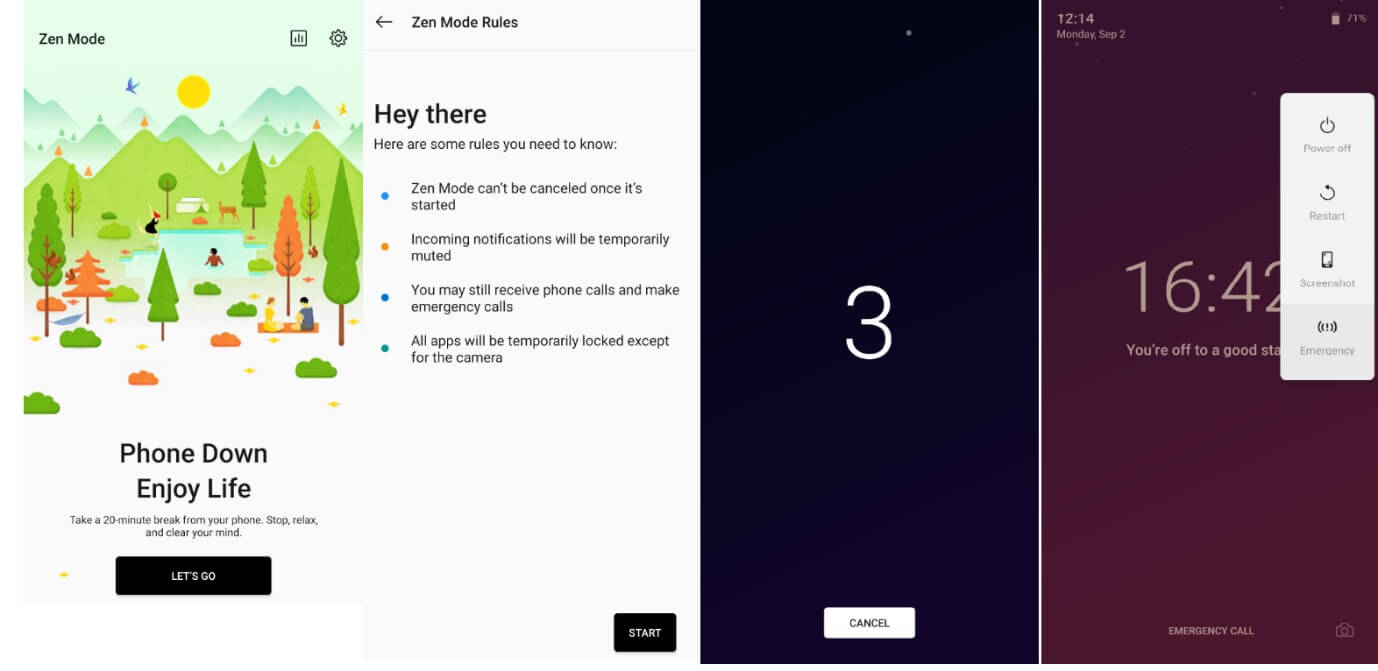 The first screen reminds you to connect to nature. Press Let's Go to move forward.
The second screen reminds you of the rules before you attempt the challenge.
The third screen is where the 3-second timer starts, and a cancel button is provided in case you change your mind.
After the 3 seconds, the fourth screen is displayed where a countdown timer begins reversely. The time and date are displayed on the top left corner with the battery percentage on the top right. The bottom center gives you an option to make emergency calls with the camera icon placed at the bottom right corner to activate the Camera app.
I have personally tried this, trying to find a revert procedure for 20 minutes. Unfortunately, there was none. If you press and hold the power button, you would get four options of Power off, Restart, Screenshot and Emergency SOS number. And yes, restarting the phone doesn't get you rid of the Zen Mode.
After initiating the challenge and trying to crack the Zen Mode for the first five minutes and doing nothing for 15 minutes during my busy work hours, I had a strange relaxed feeling. I could other things but decided to obey the Zen Mode and enjoyed the peaceful moments as I had never done before. The results on my screen after 20 minutes were something like: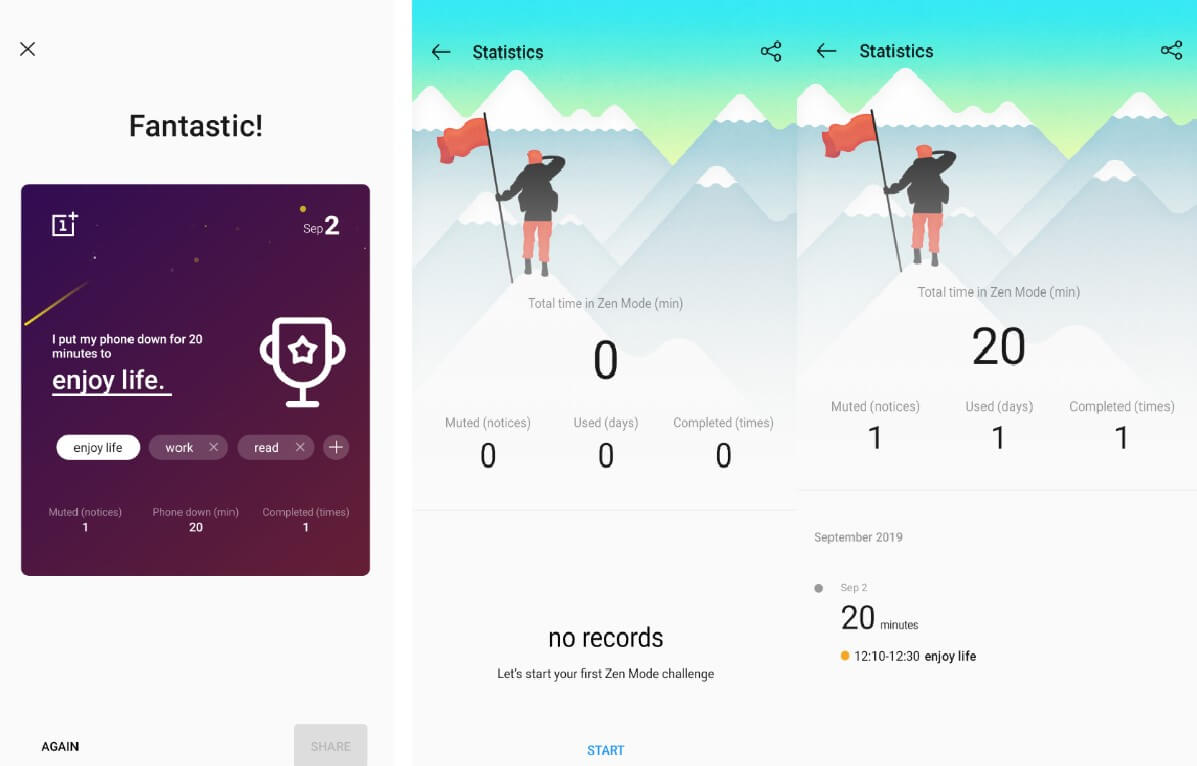 The Phone gave me a 'Fantastic' compliment. And the statistic screen in the center which shows 0, now shows 20 mins on the screen to the far left. It also displays the time and date when the Zen Mode was attempted and maintains a count of a number of days and times.
Notice the screen on the top. It shows a person who has climbed a peak and is looking to climb another one which is higher. Is this a random design by OnePlus or does this symbolism implicate that staying away from our precious mobile device is a great task and compared to scaling peaks? Now that is really scary, the fact that we are so dependent on our mobile phones and cannot stay away from it. I would love to prove this thought wrong and increase my score on Zen Mode Statistics.
You can always turn this feature off with a toggle of a button. You just must slide it to turn off and alternatively have options to change the interval of continuous use before the phone prompts you to turn on Zen Mode.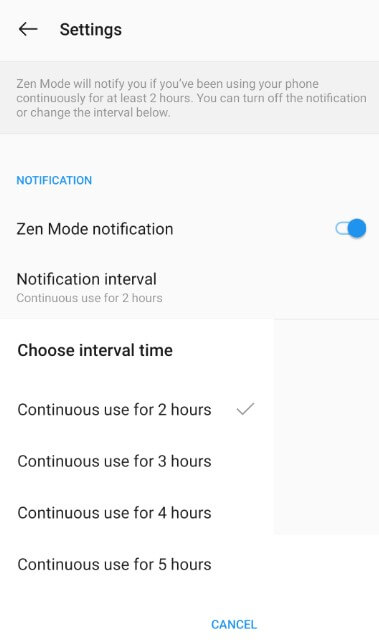 In my opinion, many people have come up with the obvious question of how to avoid using the phone or avoid mobile devices altogether. The answer, of course, in your determination first and then using an app to monitor phone usage. But Zen Mode just locks you out for 20 minutes to reboot yourself.
Alternatives- Social Fever.
Zen Mode is compatible with Oxygen-OS devices only. As an alternate mobile usage tracker on other phones, you can always use Social Fever. It is the most used app to track time spent on phone and has many features including reminders for water. It maintains time spent on listening to music, watching your phone screen and the total time you have spent on your phone with which app consumed the maximum time of all. The software is designed to give you good advice from time to time-related to your health.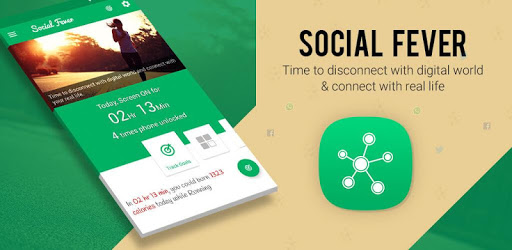 To read more click here.
To download instantly and free, click on the button below
One Plus Zen Mode is not the usual Do Not Disturb mode or Airplane Mode which can be turned on and turned off by the user momentarily. Once activated it does not allow the user to use the device for 20 minutes, locking all the apps. This enables the user to focus on other things in life and helps to get rid of smartphone overuse.
The 20 minutes break from not using the phone is not a great feature, as there would be many instances when we don't use our phone for longer periods during the day. We can decide not to use the phone and can turn on whenever a thought strikes our mind, keeping our brain and eyes working for a longer time. But this feature is important as it implies a strict imposition on us which cannot be reverted and must be used during our busy hours to relax and let our brain and eyes cool down.