If you own an iPhone, you may have noticed that some of your text messages in your iPhone's Message app are either a blue or green background. What do those colors mean and does it even matter?
Short answer: A blue background means that you are communicating with someone through Apple's network or iMessage instant messaging protocol: in other words, they have a Mac, iPhone, or iPad, while green ones are "traditional" text messages exchanged via Short Messaging Service or SMS.
A green background means either you are communicating with someone who has a non-iOS device like Android, Windows phone or an iPhone that doesn't have iMessage turned on.

What are the advantages of using iMessage over SMS?
There are several advantages to using iMessage. The biggest advantage is that it is free to use and there is no limit on a number of free iMessages that you can send to anyone using an Apple device.
Another major advantage of using iMessage is security, it sends text in an encrypted form as it goes through Apple's servers. However, in the case of SMS and MMS messages, they go through the mobile network of your carrier and they are not encrypted.
iMessage is full of features like screen effects, handwritten text, emoji's, delivery status indicators and activity indicator bubble to indicate that someone is typing a new message for you whereas SMS text messages are plain text, boring and outdated.
It supports large file attachments and makes it easy to attach Photos and Files of up to 100 MB to your messages. However, cellular service providers place restrictions on the type and size of file attachments (Maximum 2~3 MB).

What if iPhone not sending blue iMessages at all?
If you're using an Apple device and communicating with someone that also uses an Apple device, but you still don't see messages in blue, it likely means that one of you doesn't have iMessage turned on. Follow the steps below to Enable iMessages on your iPhone.
Tap on Settings.

On the Settings screen, tap on Messages.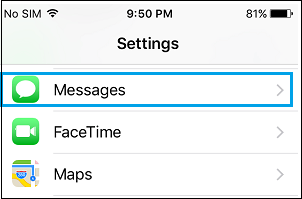 Now, simply turn on the option for iMessage by moving the toggle to ON Position.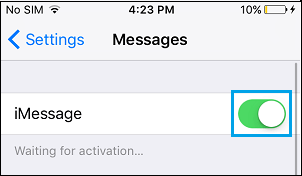 So, this article will help you to know whether a message is delivered as an iMessage or SMS.