Google finally brings dark mode for Android users in its next version of Google mobile software called Android Q.
Requested by Android users for ages, a mode that turns the white screen to black and black text to white, that makes the bright screen easier on the eye during night officially called dark theme is finally announced at Google I/O 2019.
Dark Theme works as expected: head to your smartphone quick settings, toggle on and turn everything from white to black. It's not just the home screen and app drawer that goes dark. Apps like Calendar, Google Photos, settings menu, phone, Contacts also change and fade into black. This new feature is said to boost battery life, particularly on OLED screens. To prove this, when users enable battery-saving mode on Android Q, the dark theme will be activated.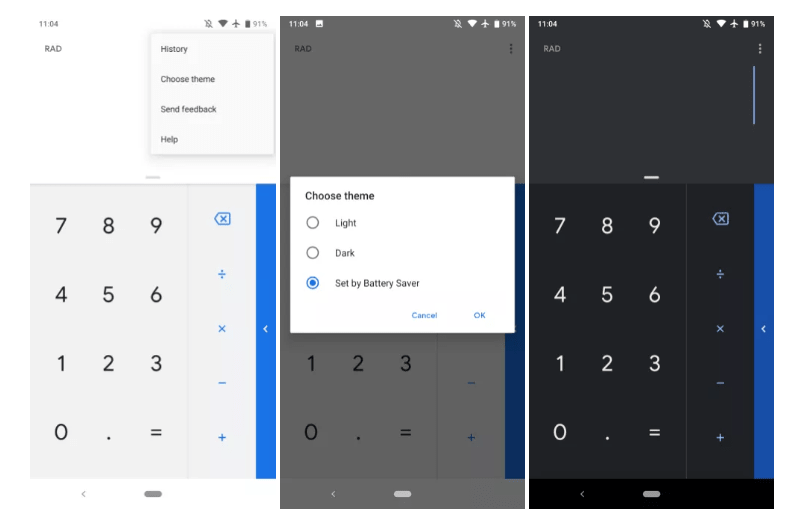 Doesn't this sound cool? But, this raises questions like, why Google is bringing dark theme now? Why is it named dark theme instead of dark mode?
The answer is simple, macOS, iOS and Windows already have a dark mode. Google was the only one to not have a site-wide dark mode. And nothing can be better than bringing it with the 10th version of Android's operating system. Plus, with this Google is trying to keep to it promises made during the launch of Android Pie. Moreover, users love the dark theme and they have been waiting to get one in Android. Hence sooner or later Google had to bring it.
Dark Theme is now available with Android Q.
But none of this will work if third-party apps don't support the dark theme. Therefore, Google is creating an API to let apps know when dark theme is enabled with this developer without a dedicated dark mode can also jump on the bandwagon. Moreover, Google has promised to make every first-party Android app compatible with dark theme.
Now that we know what dark theme is, why Google brings it after a long wait. Let's learn how to enable dark mode in Android Q.
Also Read: Android Q Beta 3 – An Overview
How to enable the dark theme on Android Q?
To enable dark theme on Android Q, follow the steps below:
1. Head to your Android phone's settings > Display > Theme and hit Dark.
Note: To use the site-wide dark mode you'll need to upgrade to Android Q Beta version, as this is the only version available. We do not know when the full version will be available. Plus, there are certain devices for which the beta version is available.
With this, if you are using Android Q Beta you can get dark theme enabled. Moreover, Google has included Force Dark option for app makers to automatically change light backgrounds to dusky tones.
Happy!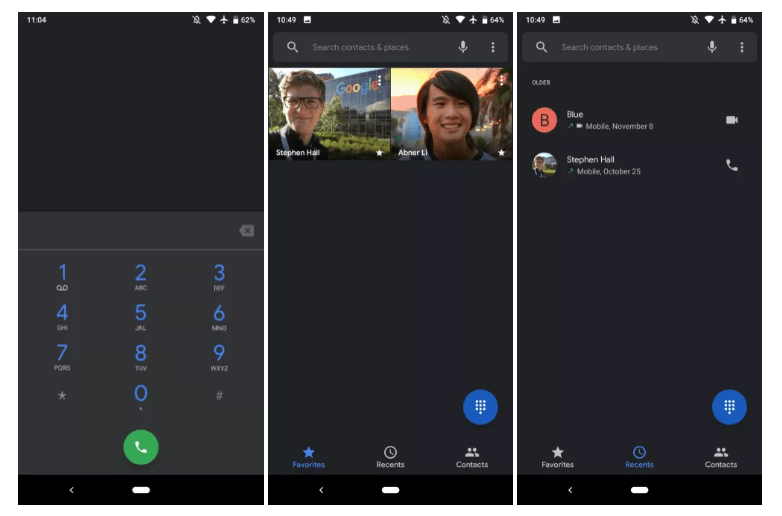 Now, if you want to go back to normal mode, you can turn off dark theme on Android Q.
How to disable dark theme on Android Q?
Disabling dark theme on Android Q is as simple as enabling dark theme on Android Q. To disable dark theme, follow the steps below:
1. Head to your Android phone's settings > Display > Theme and hit Light.
You'll now be able to use your Android phone in normal mode i.e. with black text and bright background.
Note: Currently, there's no option to schedule dark mode on Google Android Q.
Will Dark Mode help in saving phone's battery?
At Google I/O 2019 there was a session addressing this question, in which it was made clear Android Q's dark theme will reduce battery consumption to 60%. Where Google Pixel with OLED display consumes more battery when dark theme is enabled less battery is consumed. Certainly, this is going to be an amazing feature as it will help to save battery life.
However, if you are sceptical about using Android Q beta version, but want to use dark theme, you don't need to wait for long. Android Q's final version is expected to roll out in August this year.
For those, who are using Beta version, once again to enable dark theme either enable battery-saving mode or go to display settings > theme and select dark. Either of these steps will help you get dark theme on your Android phone. We hope you enjoyed reading.
In addition to this if you want to use dark mode for Google Chrome, Google Help Center you can do so now.
If you are running version 73 of Google Chrome on macOS, you can use Google Chrome browser dark mode by changing your system to dark mode. While Windows users need to upgrade to version 74 to use Google Chrome in dark mode.
Google Help Center (Dark Mode web)
Google is not only bringing dark theme for Android, but its online Help Center can also be changed to dark mode. There are two ways to do so:
1. Open Google Home Center and amend dark=1 after /? Or can click here: https://support.google.com/?dark=1
OR
2. Open Google Home Center, scroll to the bottom and here toggle on the right to change the display to the dark theme.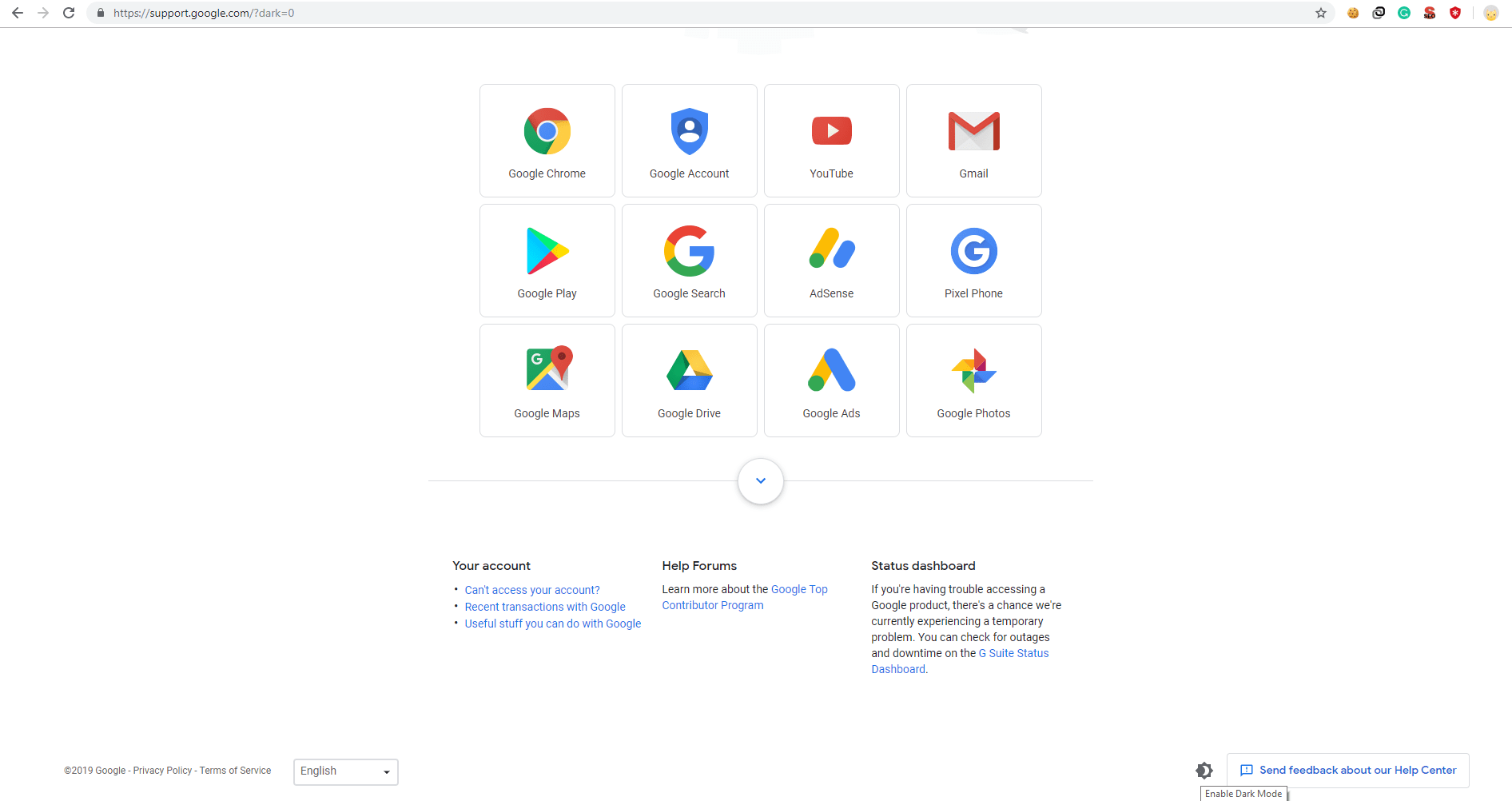 Stay tuned! To get more updates on Android Q, its features and how to use the latest Android Q features.