When someone says, "Free movies" the first thing that comes to mind is PIRACY. And that is logical as you must pay to watch movies because they weren't made free for sure. There is a lot of expense involved from putting down an idea on paper to releasing the movie on screens worldwide. But what if certain websites have other sources of income and allow you to watch the entire movie free of cost provided you watch the "Ads" along with the movie in timed intervals. You need not necessarily buy the product promoted in the ads but use that time as quick break. That sounds ok as all those involved in bringing you the free movies make money and it is legal too.
There are thousands of free and legal movies available online. Not many people know that all movies don't have to be paid for. Most of them have a certain copyright duration limit after which they fall into public domain to be viewed for free by all. Following this pattern you will not be able to see the latest movies. Instead, you will be able to watch movies which are more than an year old. With that justification on our moral consciousness, let's explore the various options to relish those free movies.
Top 10 Websites for free movies:
1. Tubi TV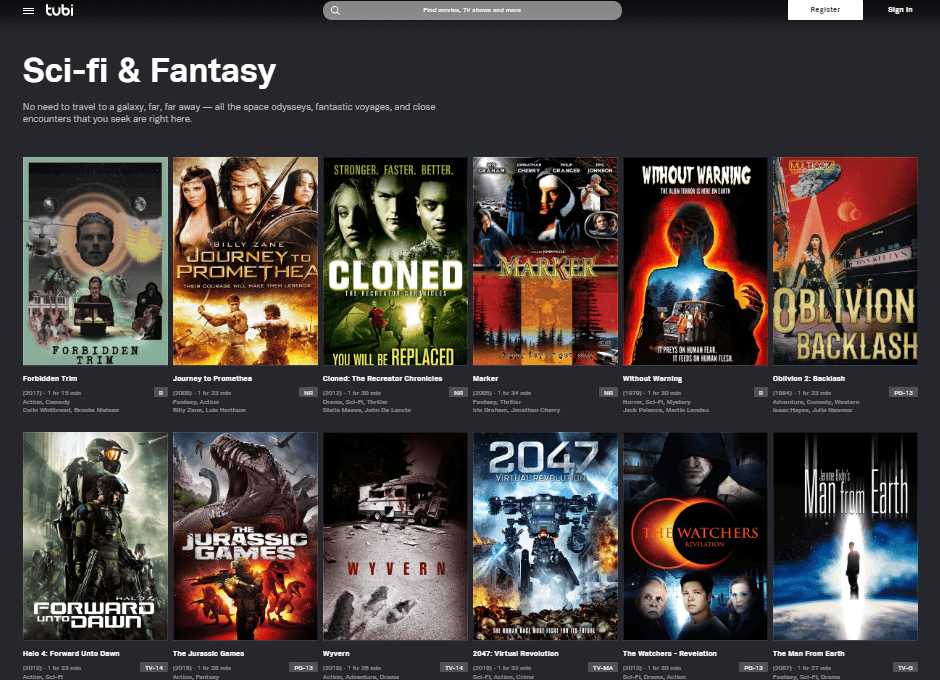 Tubi Tv provides a variety of free movies sorted into genres like Documentary, Comedy, Romance, Kids and many more. It features many sci-fi cult classics like The Running Man and Man from Earth. It also features reality tv shows and foreign language classics. It has an option of quick signup which gives you access to some important features like Parental Controls and Viewing history. While watching the movie, you can turn on/off the subtitles, choose which HD format you want to view and play the movie in full screen. You can also add a movie to your personalized queue if you are planning to watch it later.
2. PopcornFlix

Popcorn flix presents full and newer movies but with limited ads. They have more than 1500 moves and the best part is, new films are being added from time to time. The categorization of movies efficiently makes it easy to use. Also, a signup is not generally required. Just scan the movies and click on the play button Popcorn Flix is an awesome choice for free, legal movie streaming.
Alternatively, Popcorn Flix has an official Youtube channel where you can subscribe and get notification of the latest movies uploaded.
3. Viewster
Anime fans have a dedicated website to watch a variety of anime. With over 12000 titles consisting of Anime, documentaries, classics and comedies, Viewster has a vast library to boast of. You can view anime centric movies like Street Fighter II and Lily C.A.T. But you need to see the ads in the mid of the movie as the ads support the site.
4. Snagfilms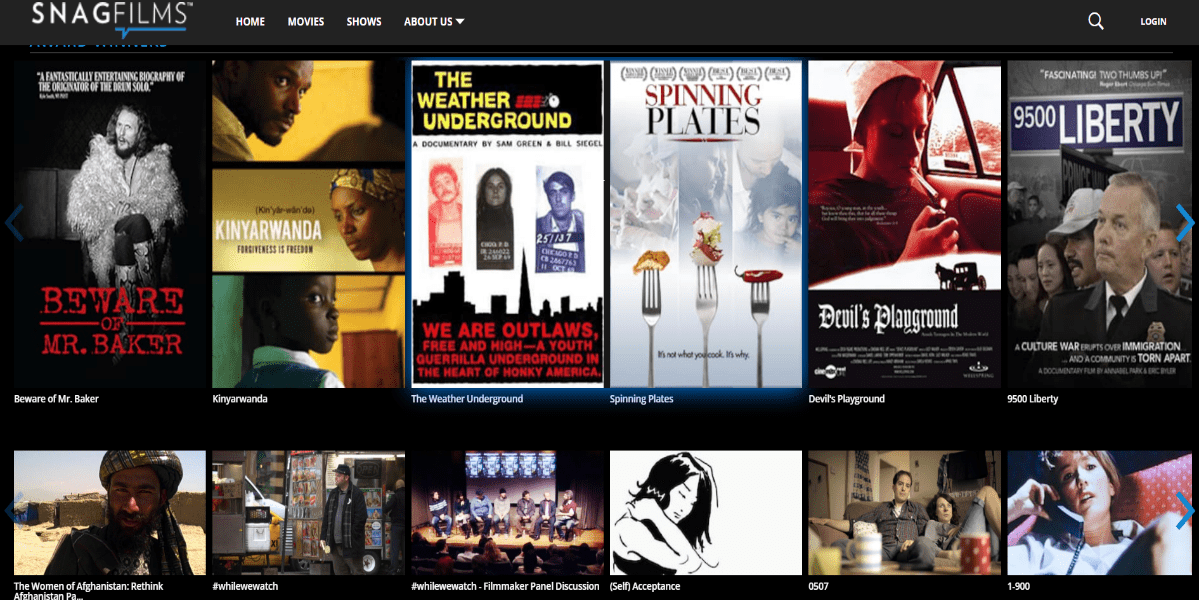 If you are looking for a free alternative to Netflix, SnagFilms is the site you must bookmark and visit. It specializes in fresh content and the library hosts more than 2,000 videos includes films, biographies, shows and documentaries including original comedy short films. Don't get disappointed by the missing commercial movies for it only host lesser known films. The movies are well arranged into different genres to choose from and it also supports advertisement.
Note: It also has a fully functional phone app supported by Android and IOS.
5. Crackle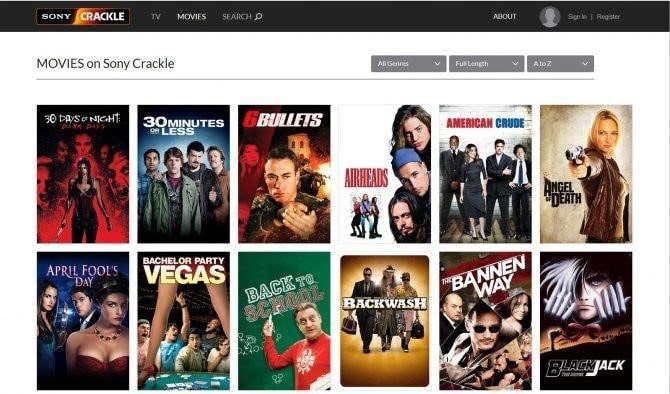 Crackle is undeniably one of the best free movie streaming websites as they are directly in partnership with Sony Pictures. They offer limitless full-length free movies with high quality. Most of the movies are comparatively old but have a good cast and/or good reviews. You don't need an external app to view the movies and can also change the audio track and turn on/off subtitles. The Crackle library boast many feature titles as it is a subsidiary of Sony Entertainment. From Hot Fuzz and Dracula to television shows such as Seinfeld, Blue Exorcist, and Snatch which is an innovative approach.
Being Legit, you will have to patiently wait for all the ads to pass through before watching the complete movie. That said, you only need a very good internet connection to enjoy the movies.
6. VUDU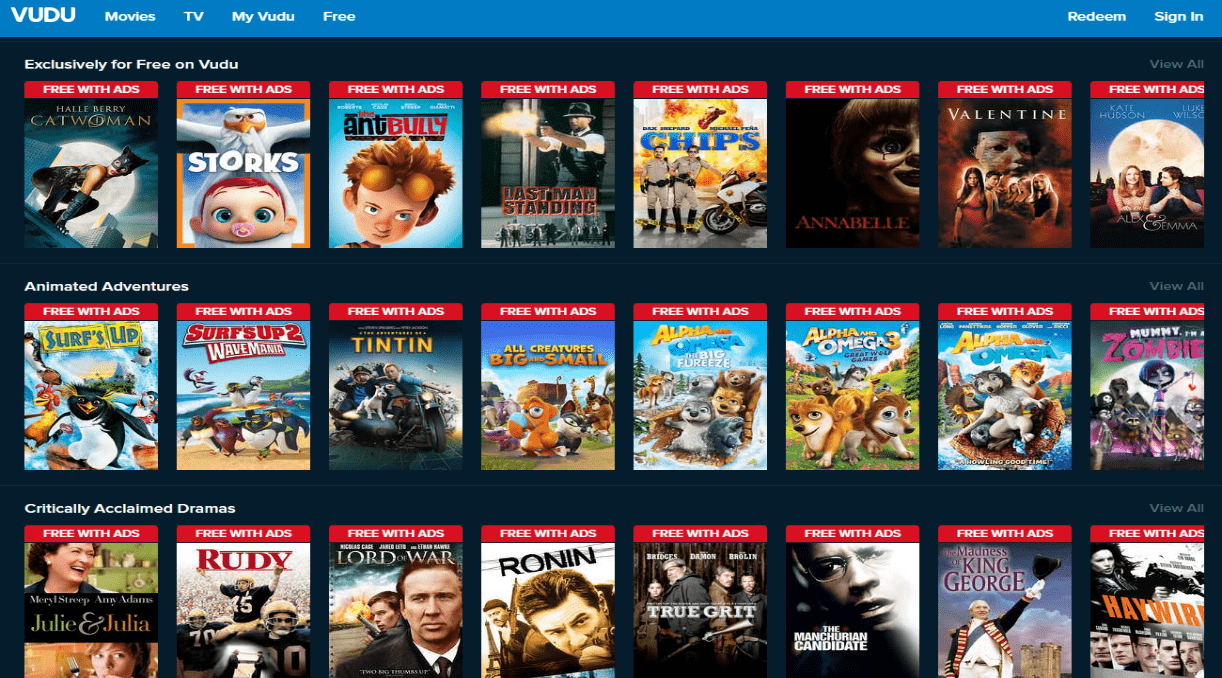 One of the best free online movie streaming websites, VUDU offers the best of the titles free of cost by hosting ads with its movies. The homepage offers a tab which directly takes you to the free content page. Other movies can be rented or purchased at very nominal rates. The free library with ads includes Anaconda, Catwoman, Sherlock Holmes and Air Force One. It also sorts the movies into Comedy, Action, Suspense, Kids and Tv Shows. The Kids section include all sequels of Surf Up, Alpha and Omega and Tintin. Over all, it is the best family entertainment site and does not infringe any copyright laws.
7. Classic Cinema Online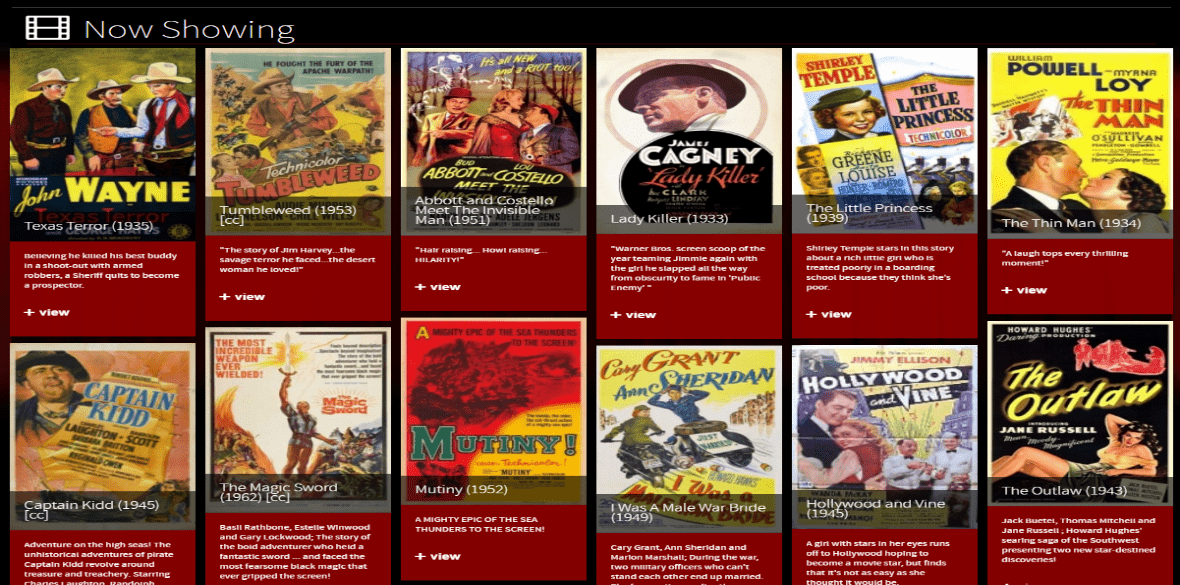 As the name suggests, this the best site to visit for free classic movies. A visit to those golden times would not only be entertaining but also would be a brain storming session. Comedy classics like Abbot and Costello and Must watch sci-fi classics like the battle of the worlds are available to stream free of cost. A few classic episodes of Tarzan and Zorro are also available.
8. Retrovision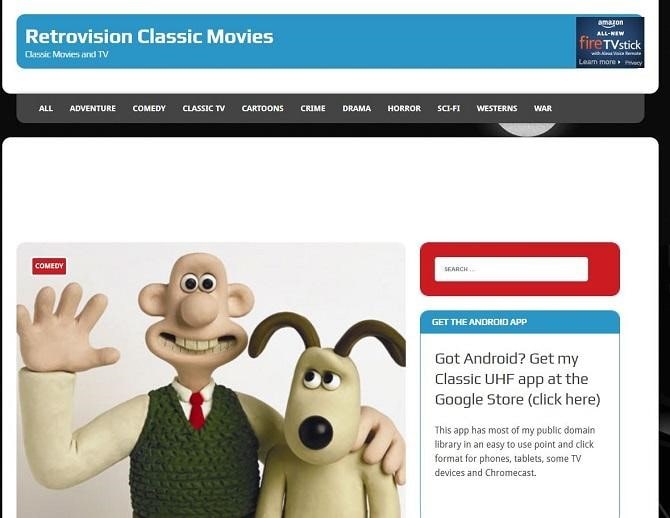 Retrovision is similar to Classic Cinema online but you will find a considerable difference in the content they have to offer. From the classic Popeye and Wallace & Gromit animation to John Wayne western classics, and Vincent Price's cult classics like House on Haunted Hill and Last Man on Earth, this site has a lot to offer. The movies are sorted pleasantly into genres like War, Western, Adventure as well as specific actors or characters on the homepage of the website.
9. Big Five Glories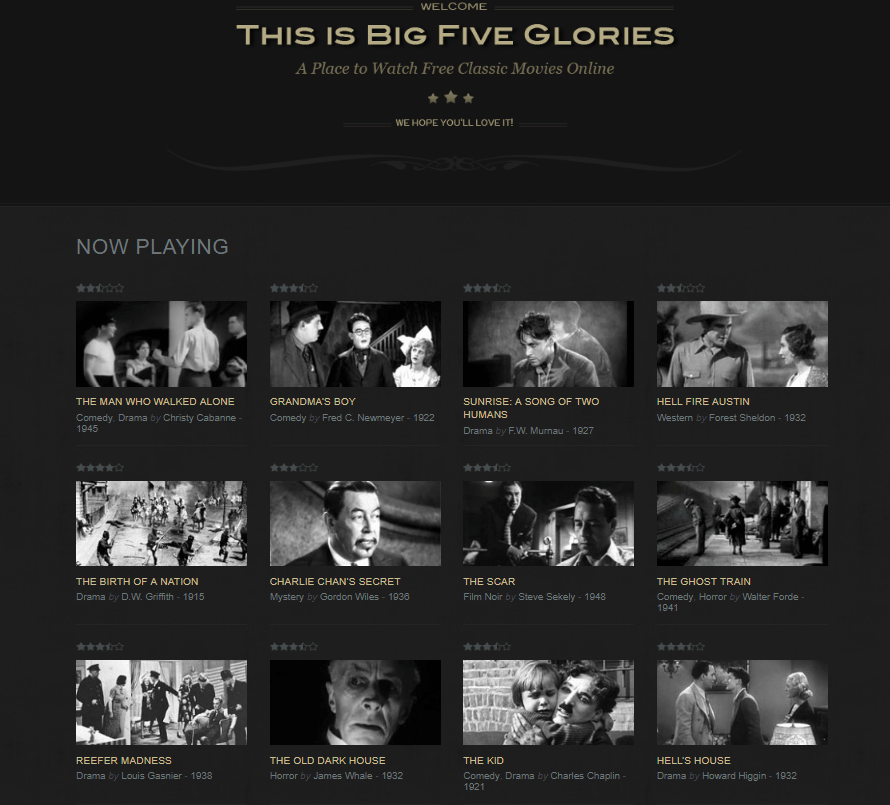 Well if there is one place you are looking for Black n White movies, then Big Five Glories is your dream website. It hosts movies dedicated to public domain cinema. You can watch Charlie Chaplin, The Scar and The old dark house among many other classics.
10. Free movies Cinema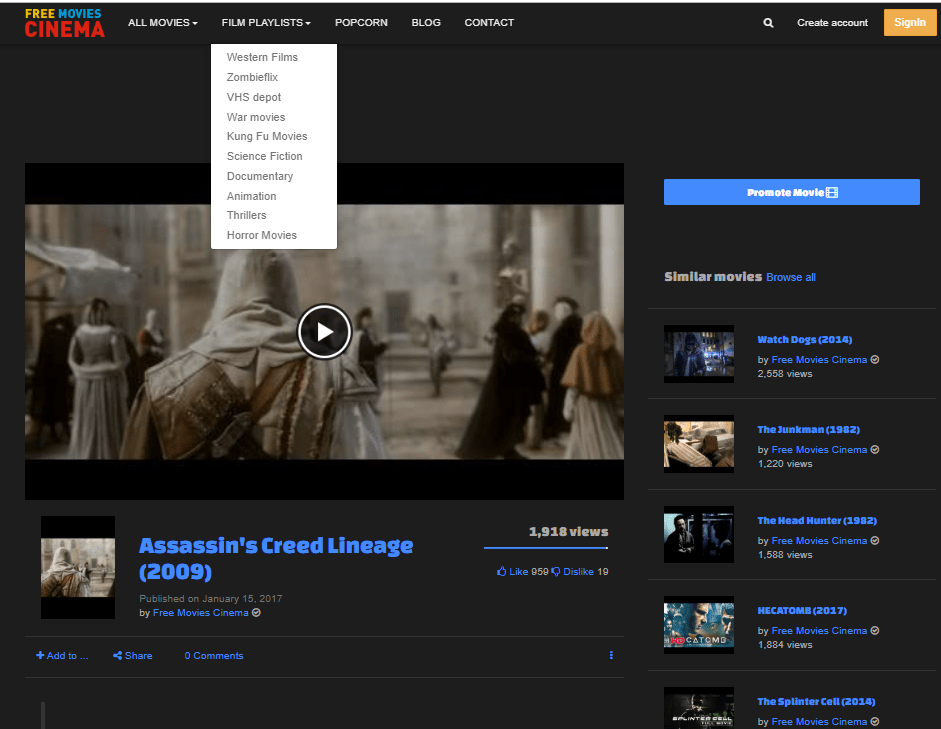 As the name suggests, Free Movies Cinema offers free legal streaming movies. The selection consists not only classics like Death Race 2000 and Plan 9 From Outer Space, but also short films. There's also a healthy collection of fan made movies such as Uncharted, Han Solo: A Smuggler's Trade, and Voldemort: Origins of the Heir. Commercial movies like Crow (2018), Jurassic World (2018) are a part of its library. No sign up is required and one can just browse through the library and click on the movie to start watching.
Documentaries
11. Top Documentary Films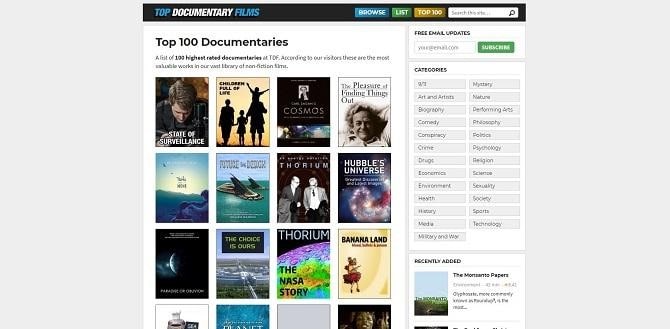 If you are looking for all the painstakingly made documentaries which generally change our view of the world we know, then I suggest this site offers the best collection.
Others
Kanopy follows a unique system of hosting free movies. Over 30,000 films with no charge provided you have a library card from participating library. You can stream films anytime, anywhere on Android, IOS or Roku devices.
Indian Content
Hotstar is one of the best Online video content streaming websites. It generally features Indian TV series, movies and news. But with an increasing demand of worldwide serials and movies, Hotstar has started to inculcate a variety of English movies and seasons. Most of the content falls under premium category and needs to be paid for, but there are many National Geographic documentaries and other content which can be viewed free of cost.
Note: The app provides a download functionality which can be used to download the movies when connected to WIFI and view them later offline.
Voot online streaming services focus on content from Indian TV Channels and it is all in Hindi language. Though it has started support for a few Indian regional languages, English content is not yet a part of this website. There are many Bollywood movies available to stream online at no cost.
Also Read: 10 Lesser Known Entertaining Sites Like Youtube
The Giant
There wouldn't be a single person using internet who hasn't visited Youtube. It probably has the largest collection of videos available online. Different types of video clips constitute this website and one of them is Movies. Youtube has its own channel where movies can be bought for viewing. It also has many channels where production houses themselves upload movies after it has reached its earning potential. This is a new trend set in to stop Piracy as older movies need not be bought but available for free online. The only glitch is, with millions of users uploading videos on Youtube, it becomes difficult to monitor all the content. Sometimes, this results in pirated content being uploaded and the user is not able to differentiate between legit and pirated Youtube channels.
It is necessary to check the website to make sure that it carries out its activities in a legal way. There are websites which may stream movies but are doing so illegally and this can be a serious offence under Piracy Act. Many movies uploaded on Youtube need not necessarily have all the required permissions to stream them. However, there are a few movies uploaded by production houses in their respective Youtube channels which can be streamed legally free of cost. Certain factors should always be kept in mind while streaming free movies online.
1.) If the movie available is less than a year old, chances are it is a pirated version. It takes almost a year for a movie to complete its screening worldwide and then the rights are sold to television and website channels. All the latest cinema releases streamed online are definitely pirated.
2.) If the movie print seems like it has been recorded from a theatre screen by a handy cam, then it is definitely an illegal version of the movie.
3.) If the website streaming the free movie doesn't charge a minimum registration fee and displays no ads while streaming, chances are the movie was not bought by the website administrators through an authorized channel. Nothing is free. If the website pays for a movie, and it doesn't charge its viewers then probably they would recover their investment by displaying advertisements of various products which would be charged.
Entertainment has become one of the basic human needs in today's workaholic world. But not all can pay for entertainment. With limited time for watching movies, most of us would not mind watching a few ads or older movies as long as they release the stress. Newer movies can always be watched in screens if it is important. But the concern here would be to avoid Piracy at all costs. Many websites (not listed here) stream pirated content and do shutdown or get blocked by out telecommunications authorities. Watching pirated content is a crime same as recording or uploading them. But with authorized free movie streaming websites, there is nothing to worry.