If you are here, it means either you or someone you know have accidentally deleted important WhatsApp message and now you don't know how to get them back. Worry not you are not alone. Many of us end up accidentally deleting important WhatsApp chat messages and then think about how to get them back.
Today, we will discuss ways that will help us recover WhatsApp messages.
How to Recover Deleted WhatsApp Messages
Recovering WhatsApp Messages isn't difficult if you have a habit of taking backup. But if that's not the case then? In such a case you can use third party applications to recover deleted WhatsApp messages for you.
Solution 1: Using Google Drive Backup to Restore WhatsApp Chat Messages
If you use Google Drive to take a backup of your WhatsApp chat, you can recover deleted WhatsApp messages using it. To learn how to do that follow the steps below:
Uninstall WhatsApp.
Now reinstall it from Google Play Store and setup the account.
You will receive a prompt to restore backup. Tap on "Restore" to get the job done.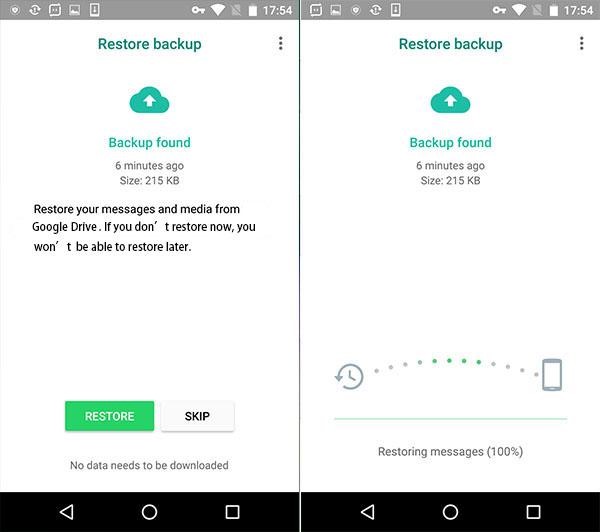 Unable to find a backup copy?
If yes, the following reasons are to blame:
You might be using different Google account, try using the same Google account you used to setup your Android device.
Given phone number isn't the one you used earlier.
SD card you used is corrupt
No message backup copies.
Key Points to Remember:
This option will only work if you are using the same platform. Say for instance, if you were using Android and now would want to get the messages on iPhone, this won't work.
If there's no backup then you won't get the option to Restore.
You don't get the choice to decide what you want to restore and what not. Restore option will recover all the messages whether deleted or not.
If you skip Restore step you will not be able to restore the data even if you reinstall WhatsApp.
With that being said, if you have skipped Restore option without knowing the shortcomings, you need to continue reading. As there are other ways that will help you recover deleted WhatsApp chat messages.
Solution 2: Restore file using Local Backup
If you don't have a backup on Google Drive you can recover deleted WhatsApp messages using this alternate way. Recovering deleted WhatsApp chat messages from a local file.
Apart from Google Drive, WhatsApp chat messages backup files are saved on /sdcard/WhatsApp/. If you don't have the backup on them, you can check the phone's internal memory. However, if it isn't then you will need to use an app like Dr. fone to restore deleted WhatsApp messages.
Note: You will be able to find backup of WhatsApp messages from last 7 days on internal storage.
Steps to restore deleted WhatsApp chat messages using local file:
Head to File Explorer on your phone. If you don't have one you can install it from Google Play Store.
Now head to sdcard/WhatsApp/databases folder. You will be able to see WhatsApp chat backup. If it is empty check internal storage.
Once you are able to find the backup, select the file you want to restore (the format should be msgstore-YYYY-MM-DD.1.db.crypt10.) Rename it to msgstore.db.crypt10.
After doing this, uninstall WhatsApp, reinstall it. Provide with the same phone number you used earlier.
You will now get an option to "Restore chat history" tap "Restore" and you are all set. This will help you recover deleted WhatsApp messages.
Remember these messages will only be 7 days old and this will delete recent chats. So if you want to keep this data, do take a backup.
These steps will help you restore deleted WhatsApp chat messages. But if none of them work you can try using dr.fone. This software is available for both iOS and Android this means whatever platform you are on you can get back your deleted WhatsApp data.
3. Use Dr. Fone: Data Recovery Software
dr.fone is a well-known software that helps to recover WhatsApp chat messages without backup.
To use dr. fone here is a step by step guide.
Step 1: Install dr.fone by clicking here.
Step 2: Once installed launch the software and connect your iOS or Android device using USB cable.
Step 3: Now select Recover.
Step 4: In the new window that opens select the data folder you want to retrieve. As in this case we want to retrieve deleted WhatsApp messages we will select it > click Next.
Step 5: Select the scan type. If you just want to get deleted file, select Scan for deleted files > Next.
Step 6: dr. fone will now run a scan to get back deleted WhatsApp messages.
Step 7: Once the scan is completed you will see a list with messages. Select the messages you wish to recover and click on Recover.
This way you will able to recover deleted WhatsApp chat messages even when you don't have a backup.
Bottom Line 
So, there you have it! These were a few ways to restore WhatsApp Chats on Android devices. While Google Drive and Local backup are some of the common methods, they still have a few limitations. For instance, Google Drive backup requires an active Internet connection and sufficient storage space on your Google Drive account. On the other hand, Local backup is only useful if you have previously created a backup of your WhatsApp data.
Isn't it simple. There's no problem in this world that you can resolve. It's just that you have to look at the right place. If you find this article helpful, please do share and leave us a comment.
Next Read:
Best Apps To Recover Deleted WhatsApp Chats