Attention Android users! A new malware for Android called Agent Smith over the Internet is targeting smartphones and till date has affected nearly 25 million devices in the USA, UK, India and many other countries. This malware on Android targets applications wherein it replaces apps with a malicious version without even alerting the user.
This article contains details on how you spot Agent Smith malware in android, how to stop it, and how to protect devices against such Android malware. Before heading to the malware detection and malware removal, let us know what Agent Smith is.
What is Agent Smith Malware?
Agent Smith is an advanced threat that attacks and exploits a series of Android vulnerabilities by replacing legit apps with malicious imitation. The hostile Android apps doesn't tend to steal user's data rather they display many adverts to the user or in some cases it steaks credit from the device to pay for the adverts already served.
The malware is named as 'Agent Smith' for a reason that the methods malware uses to propagate are similar to the techniques by Agent Smith in the film series.
Until now, Agent Smith malware for android has infected huge number of devices all across the USA, UK, India and many other nations. In a security research, it was found that millions of devices were carrying Agent Smith. In the USA, over 3 lac devices were infected from this Agent Smith Malware in Android and around 1.37 Lac in the UK.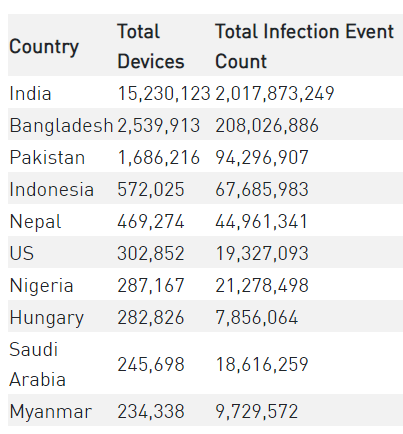 Applications infected from Agent Smith
Android applications such as WhatsApp, Opera, MX Video Player, Flipkart, SwiftKey etc. ended up being affected with Agent Smith malware. Google has also removed a few applications from its Play Store to prevent users from downloading them or their updates.
Agent Smith is an advanced malware for android that is capable to cling on the other apps making it difficult for the users to identify which app has been infected. In case you are planning to download or already downloaded any of the following apps on your Android devices, you are advised to uninstall them immediately for safety reasons against Agent Smith malware threat.
●     Ludo Master – New Ludo Game 2019 For Free
●     Sky Warriors: General Attack
●     Clash of Virus
●     Angry Virus
●     Rabbit Temple
●     Star Range
●     Photo Projector
●     Gun Hero – Gunman Game for Free
●     Cooking Witch
●     Kiss Game: Touch Her Heart
●     Girl Cloth Xray Scan Simulator
●     Color Phone Flash – Call Screen Theme
●     Bio Blast – Infinity Battle Shoot virus
●     Shooting Jet
●     Photo Projector
●     Gun Hero – Gunman Game for Free
●     Cooking Witch
●     Blockman Go: Free Realms & Mini Games
●     Crazy Juicer – Hot Knife Hit Game & Juice Blast
How to check whether your Android phone is malware infected?
The main point of infection for Agent Smith was a third-party app store i.e. 9Apps. Although Google Play Store was also not left untouched. Many apps on Google Play Store were also discovered containing malicious yet dormant set of files due to Agent Smith actor. If you see odd advertisements or have downloaded apps via 9Apps, then for you it is a must to undergo precautionary measures to get rid of infectious device. Check the points below to check whether your Android device is infected with Agent Smith malware or not.
If you have installed any apps from a third-party app store or especially 9Apps website, then hold on! your device might be infected.
If you see any false advertisements without your intervention.
It collects sensitive information about you and your bank accounts to use fraudulent activities.
To know How Agent Smith malware works, read: Hollywood Inspired Agent Smith Malware Replicates Android Apps
How to Spot and Remove Agent Smith Malware?
It is fairly easy to spot Agent Smith if you're using apps that suddenly start producing an overwhelming number of adverts. An unwanted number of adverts on your favorite apps is as frustrating as waiting in a queue for your turn. It is a sure sign of something wrong. Take immediate actions to cope with malicious software whenever you find any. The adverts popping up amidst your running applications might destroy your device. To ensure keeping it safe, you can protect it using Smart Phone Cleaner.
Remove Agent Smith Malware:
Download Smart Phone Cleaner by Systweak Software, which is one of the most recommended tools to clean, optimize and remove infected files and malware on Android smartphones. With its robust features, including real-time protection, automatic malware scheduler, safe browsing, etc. It also helps in detecting and removing spyware, adware, trojans, and other viruses on Android devices.
This is what you need to do to remove malicious content using the built-in device settings on Android. For this, go to-
Go to the phone Settings.
Navigate to Apps/Application Manager.
Scroll for the suspected app and uninstall it.
If you do not find any such app in the list, consider removing the recently installed apps.
Summing Up
To prevent your devices from malicious software, ensure that you install apps from a credible app store like Google Play Store for Android and App Store for iOS, etc. Also make sure that you have a good security app installed on your device to protect it from potential viruses, malicious content, and trojan horse, Agent Smith is one such trending malware that is targeting apps on Android devices with dozens of unwanted adverts.
If you know any other steps to spot and remove Agent Smith malware on Android, share your suggestions in the comment section below. For more such updates, follow us on social media!