Table of Contents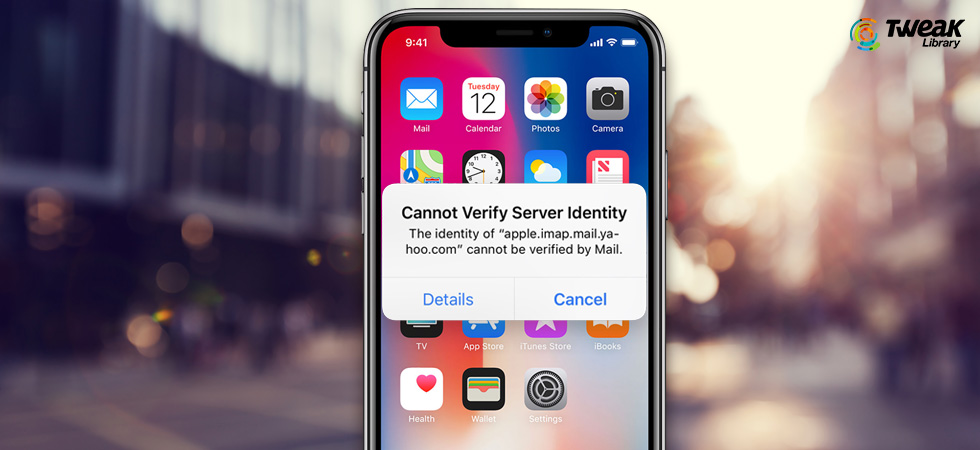 Being an iPhone user, have you ever been in a common issue that states "Cannot Verify Server Identity"? Apparently, this has been considered as one of the most common issues an iPhone user face while connecting to a mail server securely.
We believe many of you might be familiar with the screenshot mentioned below that pops up when you try to get connected to a mail server. However, it doesn't happen successfully and shows an error.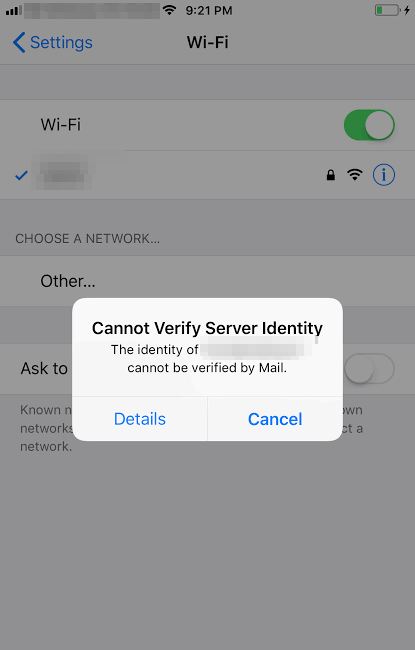 The Reason Behind "Cannot verify server identity" Error Popping Up
The error "Cannot verify server identity" on iPhone pops up when you try and connect to a mail server and the mail server's certificate is fake. To understand the meaning in a one-liner, "the error occurs due to iPhone's strict verification of mail server certificates."
Below is the reason this issue occurs quite often:
Need to connect to a mail server > Apple device fetches the server's SSL certificate to check its reliability > in case it shows any issue in the SSL certificate (i.e. unmatched domain name; expired; or not signed) that doesn't go with Apple regulations, the "Cannot verify server identity" error comes into the picture.
Don't you think, with the kind of security-breach-trends going on in the market, keeping these things a bit strict is quite necessary?
Since it's one of the most common issues encountered in iOS devices, let's go through the ways to get rid of it. Below are a few workarounds and fixes we can us from our end so that it can be fixed.
Let's read on how to fix the "Cannot verify server identity" on the iPhone:
1. Restart the Mail app
One of the most common workarounds we use to get rid of the issues we face when they don't work is to restart the particular application. This case is also not different from them so here also while facing "Cannot verify server identity" on iPhone, first quit, close, and restart the mail app to check if it has started working.
Many times, this workaround does resolve minor issues if in case the app crashes while using it. In order to close out the mail app:
Double-click the Home button > the App Switcher will open up > use a finger to swipe up on the Mail app > it's done.
2. Restart Your iPhone
The second in this list, however, the most used and worked way of fixing any app in the mobile devices is restarting the phone. I'm sure a lot of us have used it so many times and it has worked for almost all of us.
In case you receive the "Cannot verify server identity" error on your iPhone, go ahead and press the power button until you see the slide to power off the device. Switching off the device can sometimes help you come out of that issue in case there is any minor software glitch.
Now wait for a few seconds and then go ahead and power on the device to check if the issue has been resolved.
Also Read: 7 Fixes for Cellular Data Not Working On iPhone
3. Remove and Recreate the iPhone Mail account
Unlike the above-mentioned workaround, this one has been suggested from Apple's end to come out of this "Cannot verify server identity" error situation.
The self-explanatory fix has been enlisted to remove the already added mail account and recreate it. Below is the navigation you will need to use to perform this process:
Go to your iPhone's Settings > Tap on the "Passwords & Accounts" option > Select the Mail Account you are using currently > Click on Delete Account > Select "Delete from My iPhone.

This way, your current mail account gets removed and then you need to recreate the mail account with the help of below steps:
Follow the same process which leads to "Passwords & Accounts" > tap on "Add Account" > select Other and follow the process to recreate the account.

Following this, edit the incoming and outgoing mail servers and replace them with your server hostname.
Use the below mentioned secure ports for outgoing and incoming server ports after providing account details:
Outgoing Server Port for Both IMAP and POP: 465 (port number)
Incoming Server for IMAP: 993 (port number)
Incoming Server Port for POP3: 995 (port number)
After putting these, you will get an option to "Trust" (upper right corner) for certification, tap on it and continue.
This process usually resolves the issue we face while connecting to the mail server.
4. Turn Off SSL In iPhone Mail Account
We all know that the iPhone uses SSL and due to this security layer, we get the error of "Cannot verify server identity" on the iPhone. Since it's a security layer that is necessary, however, there is an option to switch off SSL that can make your device vulnerable to security threats. Even if you want to proceed with it, below is the process to follow:
Navigate to Settings > Tap on "Passwords & Accounts" > Select your mail account > Tap Account > Click on Advanced > Locate the Use SSL and check if it is Green/enabled before tapping.

Once you tap on it, the green light is gone, and SSL is disabled.
Again, not suggested to follow this process, however, it totally depends on how much you want the error to just go away.
Wrapping Up
Now you know more about this mail server error and how to fix it in various ways. Test these above-mentioned workarounds and let us know if these are working out best for you. In case you face any issue, do let us know if we can help you out.
Similarly, if you have faced this situation already and came out fine without using any of the above fixes, do share the method with us here and we will add the same in our blog to let our readers know.