Ever wondered how to record a screen on Android? Here we talk about screen recording apps for Android and Android Q's in-built screen recording feature. Google lately realized user's concern regarding the need of Android screen recorder and hence added Screen recording feature in Android's upcoming 'Android Q'.
Android users use various Screen Recording Apps to record game screen and other videos. But knowing which one is the best is a big hassle. Therefore Android 10 is coming up with a built-in screen recording feature.
Surely, this addition is going to benefit millions of Android users who wish to share their screen recording. But the final version is yet to be released. Therefore, till that time we will need to use best screen recording apps for Android.
Here we have a round up of 3 best Screen Recording Apps for Android.
1. AZ Screen Recorder
The 'AZ Android Screen Recorder' is one of the best screen recording apps for Android purely built for recording screen without any time limits or watermarks. It's a user-friendly App and doesn't require any stringent setup.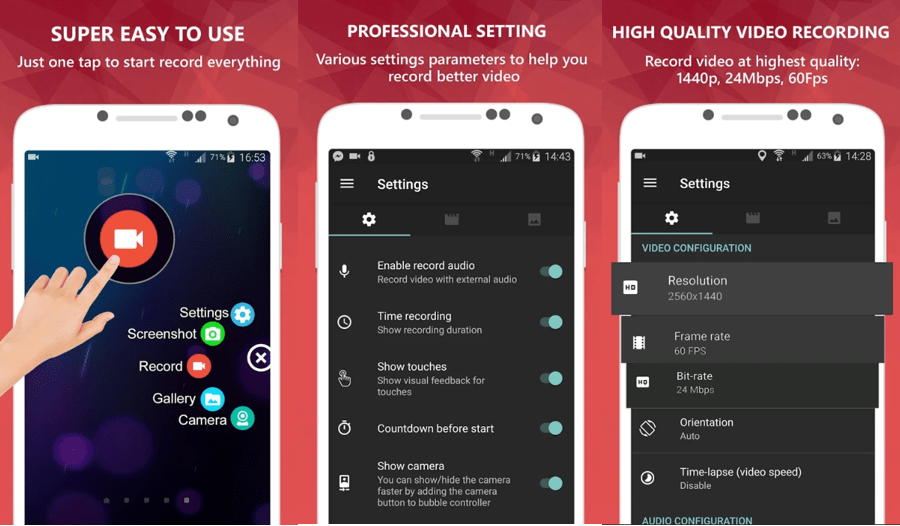 How To Use AZ Screen Recorder App
Step 1. Simply download the App from 'Play Store' and install it on your device by following onscreen instructions.
Step 2. Once the setup is complete, launch the Application to set up the App. It will display a series of circles on your screen, with recording options, capturing screenshots, live streaming, and many more.
Step 3. Tap on the 'Record' option, and confirm the screen recording.
Step 4. Perform whatever you want to record and once you are done, you need to swipe down to get to the 'Control Center' and you can stop the recording by tapping on the 'Stop' button in your notification.
Note: You can configure the settings by tapping on the App and selecting the gear-shaped icon. This will open a menu to adjust multiple features of video quality to save video file space.
This App also offers you some accessibility editing tools and allows you to draw on the screen while recording, which is a great option for working professionals for presentations. You can also cut, edit the video, replace the recorded audio with any narration or music, crop the screen as required, and convert any sections to a GIF if needed.
Also Read: Best Apps to Remotely Control Your Android Phone
2. Screen Recorder App
'Screen Recorder' is next on our countdown for the best screen recording apps for Android. This is a free screen recording App available on 'Play Store' to record and capture your Android phone's screen in video formats.
Features:
You can easily Livestream Games, live shows and way more to Facebook, YouTube, and Twitter.
You can use the front camera to record your own video along with the screen recording for tutorials of any App or presentation. This is a very useful feature for App developers to record tutorials of their App.
Whiteboard Screen – Screen recording of whiteboards for presentation or Tutorial.
High-Quality Screen Recording for Android Devices – Customizable options to configure the quality of the recording.
Inbuilt Video Editor – Draw text on the screen and trim with its inbuilt video editor feature.
No Data Network Required – It saves all the recordings on your local device memory hence there is no Data or Network required for recording a screen.
Game Screen Recorder – Gamers can record their gameplay for sharing or posting on YouTube.
Record With / Without Audio – You can record long videos with or without audio and directly save them on external storage.
3. Mobizen Screen Recorder – Record, Capture, Edit
Mobizen is the last but one of the most used screen recording Apps for Android devices. It is one of the most user-friendly and appropriate App for screen recordings, Capturing Screenshots, and editing photos and videos.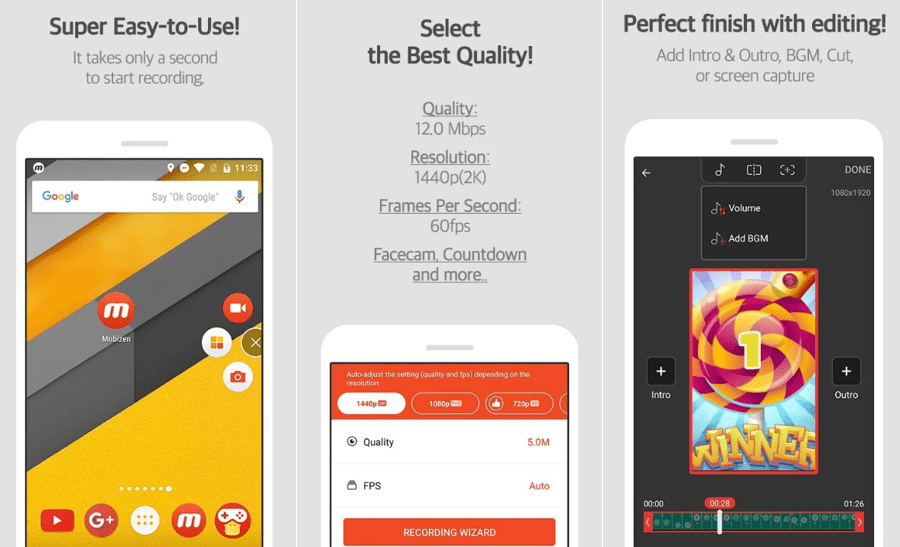 Features:
Full HD screen capture and video recording
Highest Quality supplied – Offers 1080p Resolution with 12.0Mbps Quality and 60 FPS
Game Screen Recorder – Screen recording with facetime capture with game sound and your voice
Unlimited Video Recording – Record screen capture and save directly to SD Card
Video Edits – Offers a variety of Video Editing Features including cut, trim, image edits, etc.
User-Friendly – Anyone can use it without rooting starting from Android OS 4.4
Free of Cost – Use Screen Recording, Capture and Editing for Free of cost
Remove Watermarks for Free from any image or video
Wrapping Up
There are numerous screen recording Apps however we have rounded up Top 3 screen recording Apps for Android in this section. You may try any of these wonderful Apps for screen recording purposes or may also try Android Q Beta version for screen recording purposes. Screen recording on Android was never so easy without these awesome Apps. So record your screen or gameplay with these best game screen recorders, edit them up to the tune and directly upload them using these screen recording Apps for Android.
For more such tips, tricks and tech related updates subscribe to Tweak Library and if you are more into tech-related videos do watch and subscribe to our YouTube channel. You could also reach us on Facebook and Pinterest.