In the current age of the Internet, podcasts are becoming a great way to gather information. By listening to subject experts, you can learn a lot. More people than ever out there are looking for the best podcast apps to run on their Android device.
Sadly, there's not a straightforward answer to this question as there's a massive collection of Android podcast. But worry not – we are here to help.  Read further to find out about these best podcast apps for Android.
Best Podcasts Apps for Android in 2023
Podcasts are great to pass time and gain information. Using them you can listen to the latest news, comedy shows and more. Here we list best podcast apps for you:
1.     Pocket Casts

This one is an outstanding Android podcast app that has been a long-time favorite of Android fans. Pocket Casts is one of the fully-featured podcast apps available on the Play Store. It comes with features like audio effects, download scheduler, on the fly episode streaming and other amazing features like synching between Android, iOS and the web app. Moreover, Pocket Casts best podcast app can stream the episode from your device to your Chrome and all the subscriptions are stored on the cloud. This means if your device is lost or gets damaged you won't lose your podcast library.
Download Pocket Casts
2. Spotify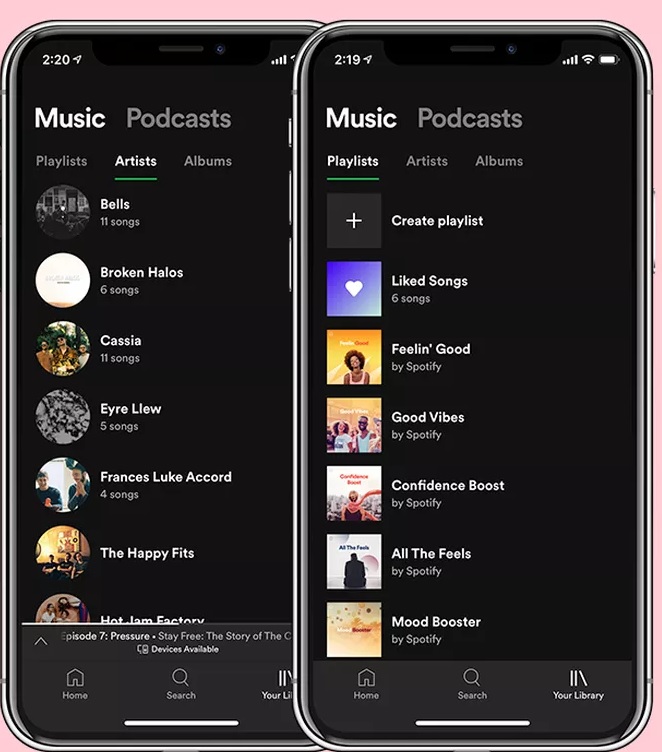 This one has gained popularity as a music app than a podcasts app. But it surely is one of the best podcast apps on Android. Using Spotify, you can easily listen to your favorite podcasts and music wherever you want. It is a carefully curated platform for podcasts on Android. With a beautiful and incredible user interface searching and listening to podcasts becomes super easy. It means this app that is known for music now will even help you listen to your favorite podcast.
Download Spotify
3. Podcast Addict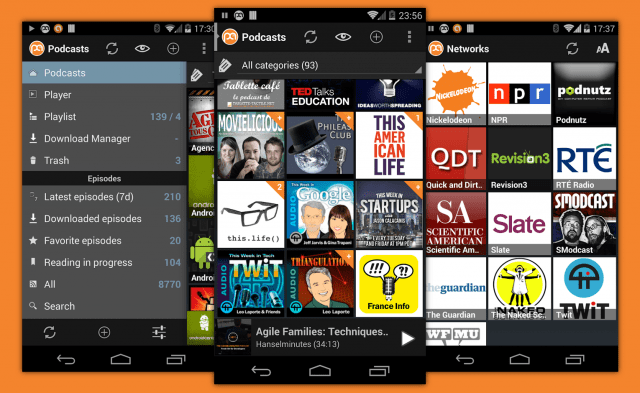 With 9+ million downloads this one is another powerful and best podcast app for Android. Podcast Addict lets you manage Podcast, Radio, Audiobook, Live Stream, YouTube, and other similar apps. The exciting thing about Podcast Addict is, it is a free podcast app. Moreover, it supports Video podcasts but one thing that might make you sad is its user interface which is a bit cluttered.  However, if you want you will be able to tweak download preferences and other settings.
Download Podcast Android
4. Podcast App: Player FM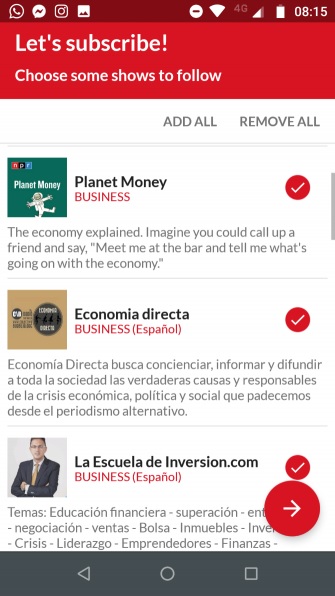 This one has made its own place. Although other apps discussed so far have been on the Play Store for long yet, Player FM has made its own distinguishable place. This outstanding podcast app for Android uses topic searching, you just need to tell what you are interested in and the app will do the rest.
Moreover, Player FM does not display any ads means you get a clean and crisp interface. This Android podcast app offers automatic syncing between the web app and Android devices. Player FM does not believe in compromising. You can simply download podcasts using Player FM and listen to them when you have no connectivity.
To use the app, you need to choose from any of the three plans and enjoy listening to podcasts on your Android phone.
Download Podcast App: Player FM
5. Anchor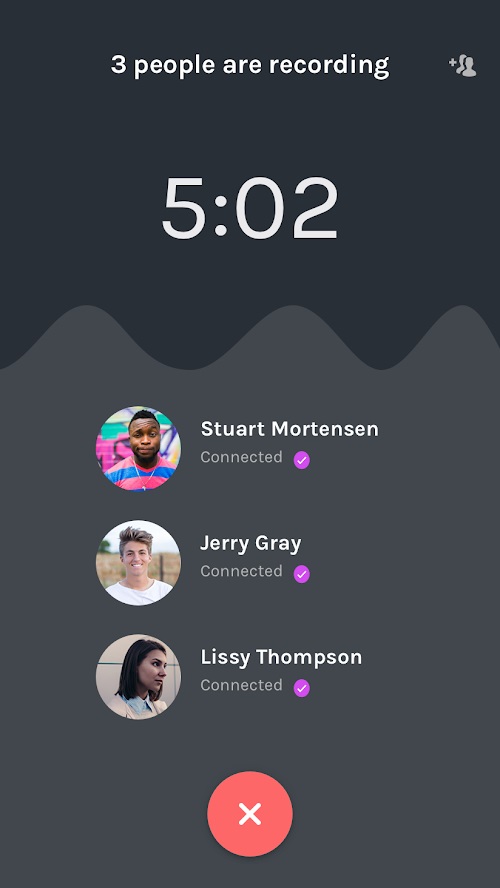 Another free podcast app on Android that lets you record a high-quality podcast is Anchor. Using this app, you can make a podcast from your phone, tablet or computer. This Android podcast app offers unlimited hosting for free. Using it you can add several transitions, sound effects, import audio, add any song from Spotify, share with a permalink, and turn a short segment into an animated video. Not only this you can even know how many people are listening to the podcast. This app is worth trying.
Download Anchor
6. Antenna Pod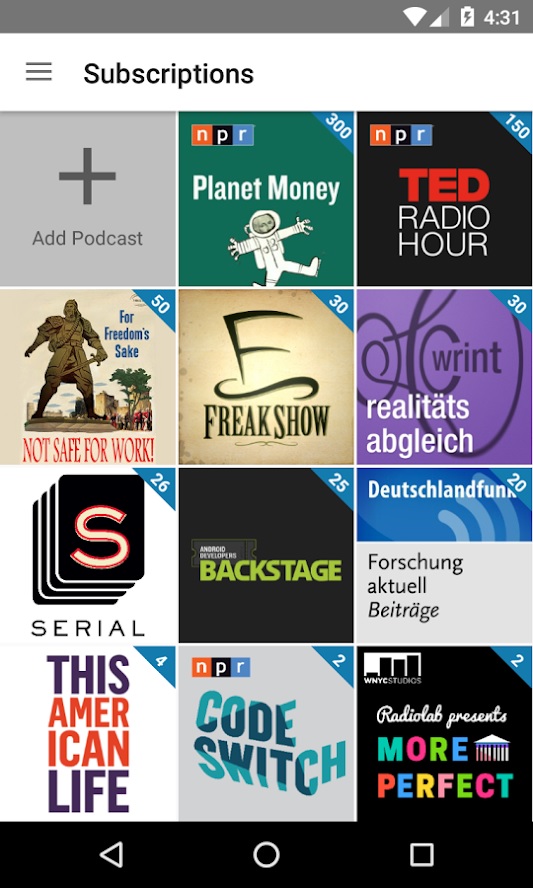 This one is a podcast manager and player that gives instant access to millions of free and paid podcasts. It is the only open-source player with packs of decent punch. Antenna Pod has access to iTunes, gPodder.net directories, offers advanced sleep timer and you can password protect feeds and episodes.
Not only this, Antenna Pod is one of the best podcast apps for Android as it also works as a memory management tool. You can control cached episodes, set up smart deletion and decide what, when how to download.
Download Antenna Pod
7. Castbox – Podcast Player & Podcast Android app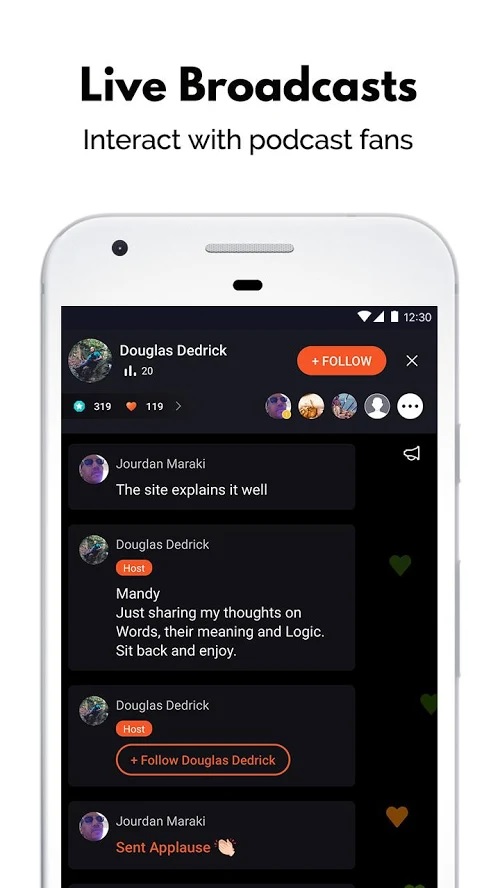 Looking for a podcast app to download, save, listen to podcast, FM radio and audiobooks? This one is your best bet. Castbox is an amazing Android podcast app that offers a super clean user interface. With a wide category of podcasts, you will never miss out your favorite podcast.  This best podcast app for Android offers continuous playback with customized playlist, one-button subscription, and other options.
Using Castbox you can listen or search your favorite podcasts in 70 different languages. Further, you can cloud sync your subscriptions and listen to your podcasts anytime and anywhere.
Download Castbox
8. DoggCatcher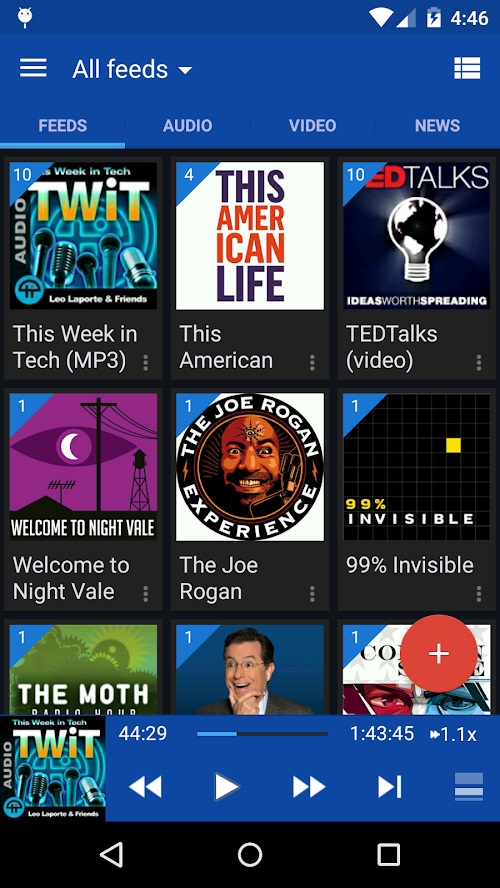 This one is a paid podcast Android app that offers feature-heavy options and comes with Chromecast, Android Auto support. Using it you can browse the top 100 DoggCatcher podcasts, personal recommendations and more.
DoggCatcher offers auto cleanup of media files, a dark theme, podcast categorization, and other advanced features.
Download DoggCatcher
9. Google Podcast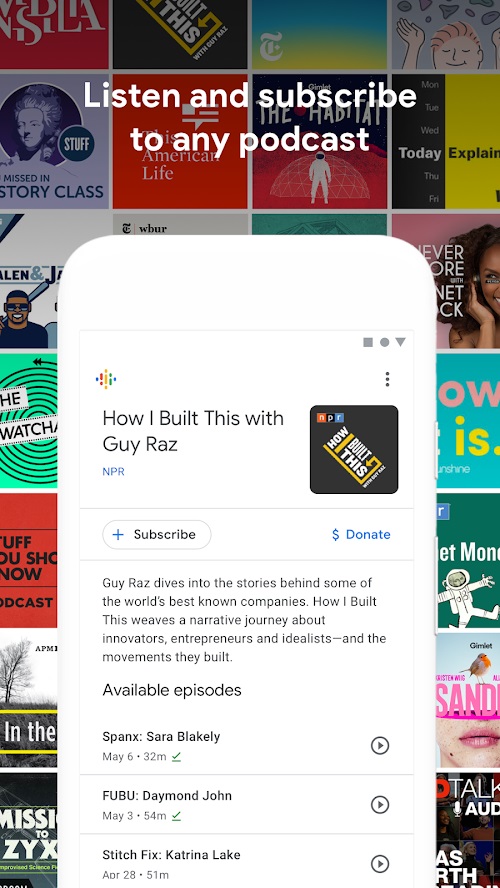 A new podcast player for Android users that allows discovering and listening to the world's podcasts. Subscribe to any podcast for free and download episodes to playback when offline. Google Podcast allows you to listen to the same podcast on multiple devices. This means, you can pause the podcast and can resume on any device from where you left.
Google Podcasts although new still is considered as one of the best podcast apps on Android. It comes with decent playback speed controls and the ability to skip silence segments.
Download Google Podcasts
10. SoundCloud

World's largest music and audio streaming service with more than 200 million tracks and a global community of more than 20 million artists are where you can find finest podcasts. Many content creators these days prefer SoundCloud to upload their podcasts. But this app has a downside finding podcasts isn't easy here. If you can find one, then things really work smoothly. But for the first time, you will face a problem.
Download SoundCloud
Next Read: Soundcloud The Best Music Streaming Platform
Further, this one is more about streaming than downloading podcasts. So, if you are looking for an Android podcast app with download feature then this one is not for you.
With this said, we end our list of best Android podcasts apps that you will love using. Some of these apps are free Android podcast apps where some are paid. It is up to you which one you would prefer using. However, we would like to know which one you chose and why. Please leave us a comment in the section below.