Accessing documents while on the go is something that people from all walks of life do. But, unlike the past when PDF was all about just viewing and reading text or making a few annotations here and there,  you can now do a whole world of things with PDFs. The below-mentioned PDF viewers for Android will surely offer you more than just a nominal reading experience.
First and Foremost – Give Your Android Phone A Brief Cleaning
Before you dive in PDF documents and install a PDF viewer for Android, you might want to clean your phone first. Why? Because that would make your Android phone fast so that you can sift through your PDF documents like a breeze.
Systweak Android Cleaner is just what you need. In absolutely no time, all the junk present in your Android smartphone is cleared and this boosts your phone's RAM. It even extends your battery by 50% by eliminating all the services that might be consuming your phone's resources.
Optimize Your Android Device with Systweak Android Cleaner!!
And, knowing the fact that Android dangers loom around in many forms (even the PDF you've downloaded might contain a virus), you must take necessary steps. Not sure what to do?
Read: How you can remove malware from Android
Even though the portable document format, popularly known as PDF was developed by Adobe and its PDF reader app (namely Adobe Acrobat Reader) is still widely popular, there are several other PDF viewer apps that are gaining ground.
Best PDF Readers for Android –
1. Xodo PDF Reader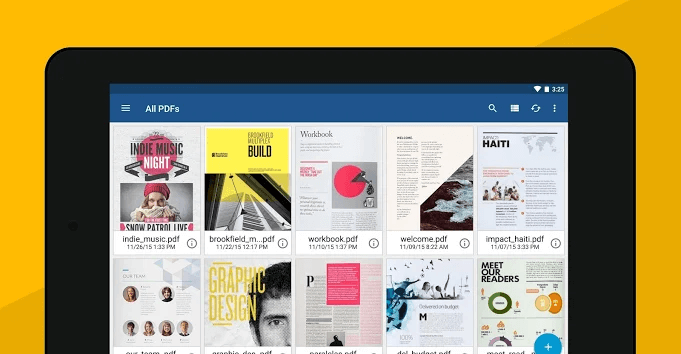 The first PDF viewer app for Android on the list is Xodo. It is certainly a lot more than just a Xodo PDF. Apart from viewing PDFs, you can also annotate, read and sign your PDFs with ease.
Features:
Built-in file manager to rename, move, copy and delete docs with ease
Multitask across multiple PDF documents
Crop pages so that content snaps precisely even if the screens are small
Reflow reading mode (especially for small screens) makes it easier for you to read as it makes the document more flexible.
Turn and scroll with mere two fingers
Sync PDF forms with Dropbox, Google Drive, and OneDrive
Night mode for the enjoyable reading experience even when the environment is dark
The functionality of bookmarking PDFs
Rating: 4.7 Stars
2. Foxit Reader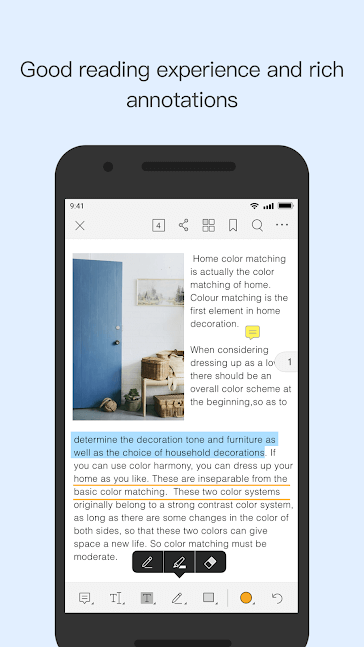 If you thought that options available for Android PDF file readers was limited, Foxit Reader may just widen your options further. The best part about this app is that Foxit Reader comes with a ConnectedPDF security with the help of which specific rights can be granted to specific readers.
Features:
Easy viewing and management of PDF files – ease of navigation and bookmarking functionality.
Foxit Reader also gives you the facility of reading your PDFs aloud
Create blank PDF files from scratch
Use a signature, password or an existing digital certificate to protect PDF files
Foxit PDF library makes it easy to collect customer data with the help of XFA forms, making it easy to make changes in the fields
Reorganize, optimize and add videos, and audios in your PDFs 
Rating: 4.6 Stars
3. EBookDroid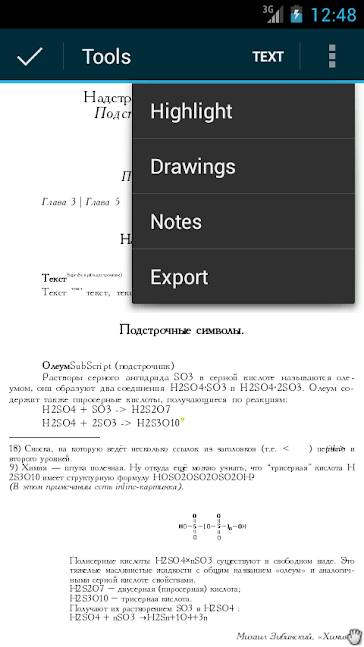 EBookDroid is a PDF viewer for Android as it enables you to customize the layout of each document you read. Every change that you make to the settings shall be remembered by the next time you open the document for viewing. Whether you are reading a multi-column article or a xerox copy, you have the option to split pages or crop margins automatically or manually.
Features:
Flexible font mapping that lets you define fonts from an external folder
Easy application of any external font found apart from the inbuilt fonts. For example, a user can define an external font from the SD card
Freehand annotations
Supports external dictionary
OPDS (open publication distribution system) supports online book catalogues and electronic publication sites
Allows easy creation of page notebooks and text notes
Rating: 4.5 Stars
4. Adobe Acrobat Reader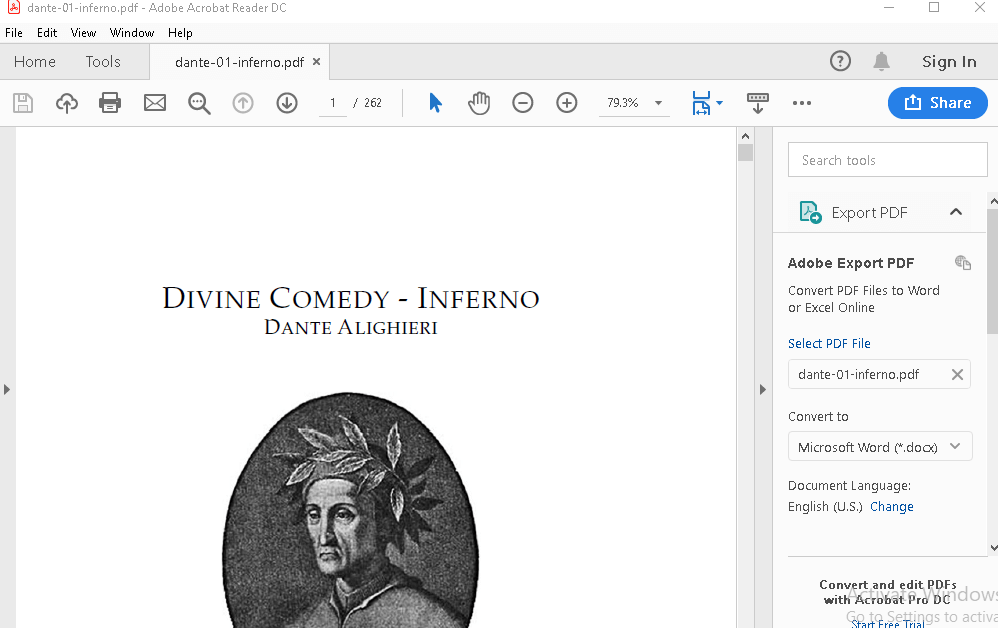 Though coming quite later in the list, Adobe Acrobat Reader is still a go PDF viewer app for many. In fact, when you talk about Best PDF readers for Android Adobe Acrobat Reader is the first few options. It's possibly the most powerful yet simple PDF management tool. While it helps you read PDFs, it also helps you fill forms too.
Features:
Easily fill forms and sign documents
Quickly open, scroll, search and zoom in and out into PDFs
Easily add comments and notes, and highlight text
Share PDFs with others and enable others to add comments. Not just that you can even choose to get notified when someone performs an activity on a document that you have shared
Easily and effectively annotate using markups and highlights
Add signatures and password protect your documents
Sign documents using fingers or stylus, thanks to the PDF filler feature
Rating: 4.3 Stars
5. Bookari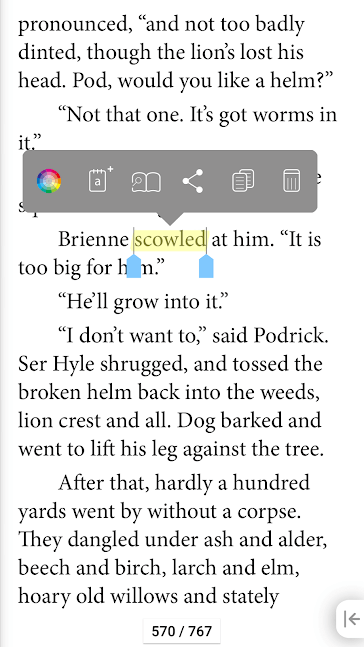 Bookari is an awesome feature-packed flexible PDF viewer for Android which was earlier known by the name Manatano reader. Whether it is creating bookmarks or finding occurrences of a word in the document or anything for that matter, you can do everything with ease. It comes with an easy to use interface.
Features:
Keep your bookmarks, reading positions, books, tags and ratings synchronized and find them every time you switch between your phone and tab
Comprehensively edit your books by adding details like title, author name, language and publisher
Pinnable navigation panel makes it easier to add notes beside the text
Automatically drag and drop files from the Web into your Cloud account or browse through preconfigured OPDS catalogues to import books
This PDF viewer for Android lets you read out your PDFs aloud while also controlling the volume, speed and pitch of the voice
Rating: 4.2 Stars
6. WPS Office-PDF Reader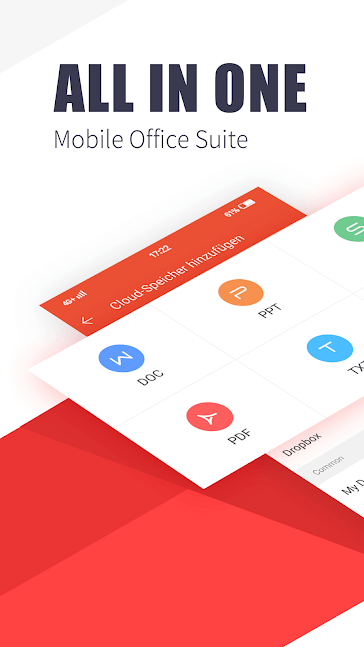 Sometimes numbers speak for themselves and the same is the case with this PDF viewer for Android. It has over 1.3 billion downloads. Its lightweight (less than 37 MB). Although a complete office suite, when it comes to PDF, it is a remarkable specialist.
Features:
Easily scan documents and convert them into PDFs
WPS office converts office docs from various processors and format (text, excel, word, PowerPoint, etc.) to PDF and vice versa
You can also extract or split PDFs, add a signature and merge PDFs
Supports PDFs in 51 languages
Supports night mode for viewing PDFs in the dark environment
Rating: 4.5 Stars
Which one of the above PDF viewers for Android do you think will give you a complete PDF viewing experience? Do you have a better option, do let us know and we shall update the list?
For more tech-related fun and interesting updates, keep reading Tweak Library.