Table of Contents
Despite watching a lot of video content, a sizeable portion of your day is spent on reading articles and blogs. Imagine a situation when you have no internet connectivity whatsoever – you have no Wi-fi or have run out of mobile data. Would you then wait to first have access to the internet? Would you let go off your favorite article or blog? Why should you when you can have some of the best offline reading apps, you can save articles to read later offline.
Best Offline Reading Apps For Android:
1. Pocket
Rating: 4.5 Stars
Pocket is a great offline reader for Android that doesn't just let you save textual content but even video content. You can save article to read later offline or stories, videos and much more from several sources ranging from online publications, pages or other apps.
Features
Pocket is integrated with more than 1500 apps. The publishers it supports include the likes of Buzzfeed, Google News, Medium, Business Insider and so on.
Pocket cares for your eyes, so that, you can read as much as you wish to. Its customizable display is meant for clearing out visual clutter. This way you can focus on the information that you love.
Not in a mood to read? Want to free your hands? Pocket is one of those offline reading apps that has an inbuilt text-to-speech feature. Turn on Pocket's "listen" feature and listen to your favorite content while you are on the go or while you are working out at the gym.
2. Article Reader Offline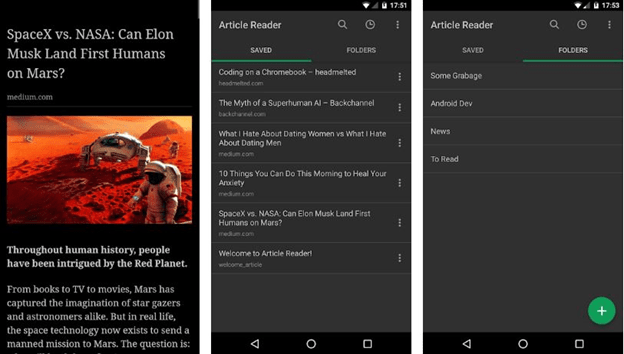 Rating: 4.5 Stars
Article Reader is touted as one of the best and credible offline reading apps for android. This best read it later app is packed with features that take offline reading to the next level. At this point of time, it doesn't let you save video content and filters it during the search but rest everything is just on point.
Features
You can export any article to PDF format and read it later on any device, thanks to its cross-platform functionality.
The app is extremely is easy to use. 1-2-3 that's how easy it is. Open link in your browser, copy the link to clipboard and open article reader.
It has a text-to-speech functionality and the saved articles do not take much space on your disk.
Also Read: Best Do Not Disturb Apps for Android
3. PaperSpan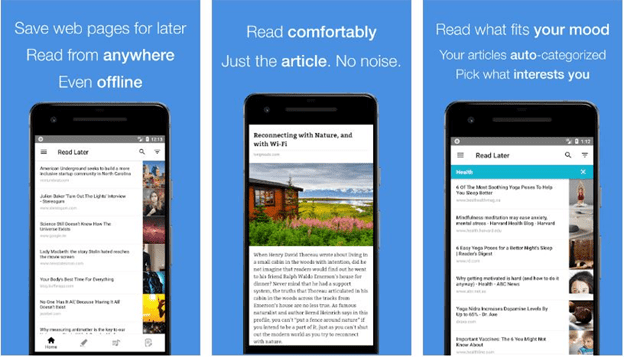 Rating: 4.4 Stars
Last but certainly not the least, making it to the list of best offline reading apps for android is PaperSpan that lets you read, listen and save articles that interest you.
Features
A lightweight app that lets you read, manage and listen to offline articles all at once.
Categories are assigned to articles. This helps you choose articles as per your mood.
You can keep an important part of an article by highlighting it and then, save it for later reference.
Best of all, the app is ad-free.
4. Wallabag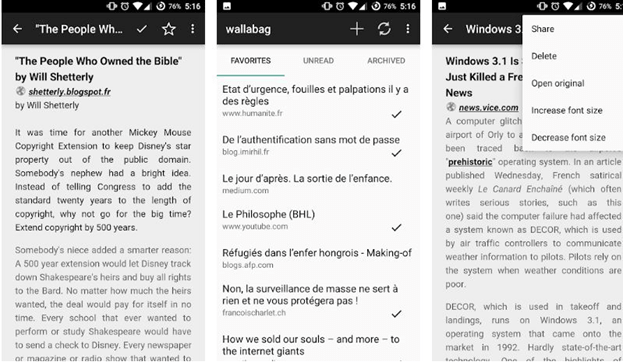 Rating: 4.3 Stars
Another great offline reader apps for Android that lets you save articles to read later offline reading is Wallabag. Immaterial of the device you have – smartphone, desktop, laptop or e-reader, Wallabag stays with you everywhere you go –
Features
It has a very comfortable and friendly view (quite like a UI of a webpage).
It has easy compatibility with other offline reading apps for android. You can import data from apps like Instapaper, Readability, Pinboard, etc.
Wallabag is an open source platform and offers API documentation to developers who wish to connect their apps.
It offers TTS functionality and tags using which you can listen and manage your content.
5. Instapaper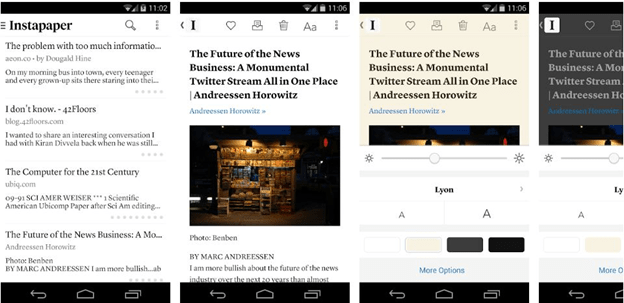 Rating: 4.1 Stars
If you wish to take your offline reading to the next level and want a newspaper like reading experience, Instapaper is just the right app for you. It is undoubtedly one of the best offline reading apps or offline apps available on Google Play store. It looks quite simple, but has a lot in store for you –
Features
It trims blogs, articles and other forms of content in their most basic form. You thereby get a simplistic, no-nonsense interface where you can enjoy your content seamlessly.
You can download up to 500 articles on your tablet or smartphone and unlimited articles on the website.
You can change the view to a dark mode or tweak the brightness settings for night reading.
6. Amazon Kindle
Rating: 4 Stars
Your internet has just crashed and few chapters of your favourite thriller are at stake. Time to switch to offline reading with Amazon Kindle. You can easily download a millions of bestsellers book for offline use and read it later.
Features
The offline reader app for Android lets you customize font type, size and margins
It comes with a built in dictionary, Wikipedia lookup and several search tools with the help of which you can learn about new words, people and places
You can track what percentage of book you have read so far
You can easily bookmark places and take notes while you are reading the book
You can pick from where you left off by syncing your book and reading progress across several devices.
7. Flym News Reader
Rating: 4.2 Stars
Can't miss your daily dose of the latest news even while you are in the plane or on a train. Flym is possibly what you need. It is an offline reader app for reading news. The best part about this news reading app is that it has no ads. It fetches and displays news containing websites in the most mobile-friendly manner.
Features
Gives a great offline reading experience when it comes to news reading
You can even import or export list feed from OPML
Search intrinsically into your news articles
Save news articles offline with high quality images
It is an open source project
8. Google Chrome
Rating: 4.4 Stars
You might wonder why has Google Chrome made it to the list. We agree that it is a browser which is its first skin but it beautifully doubles up as an offline reader too. And, it doesn't matter what device you have in hand. That being said, it does make pages look beautiful on Android devices as well.
Features
Chrome offline has a dedicated button for downloading pages offline
You can reach downloads offline easily with the help of its download home
Access offline content on all device smartphones, tabs, you name it
9. Feedly
Loved a blog or an article and want to save it for offline reading?  Use feedly, an  offline reading app for Android which connects you to over 40 million feeds. Which practically means, you can select a feed in your niche and access it even when you don't have the internet.
Features
It is a handy RSS reader that lets you download webpages from around the web
Cross compatibility with several other apps like Zapier, IFTTT, OneNote, Pinterest and many more
Covers a wide range of topics such as business, entrepreneurship, photography, tech and many more 
10. For ave Web Page Free – Read It Later Offline
There are times when we want to save webpages for offline reading. Save Web Page Free solves that problem and helps you save a webpage for future reading especially when you don't have access to the internet.
Features
Offers data backup and restore feature
You can save a webpage as MHTML or even in image format
Batch delete saved pages
Customizable interface
The offline reader app for Android even comes with a full screen mode as well
Now, with so many apps not letting you break your reading rhythm, ditch the "no-network" "no-Wifi" blabber and head on to a reading-spree.