Table of Contents
Gone are those days when we used to buy a factory-built PC. Today, everybody is technically smart enough to tear down an assembled CPU on their own. The reasons we buy a factory-built PC is we get a warranty, we don't know how to assemble a computer, how to select the best computer configuration, What components of a computer are required to get it to the desktop screen, or where to select the best components of a computer to assemble a desktop tower. Now as we get a warranty with every individual component of a computer, we can simply upgrade our computer assembly to get the best ever gaming experience.
We'll suggest you with the best-assembled desktop computers that will provide excellent performance, gaming, streaming, and productivity, all at a great price. So stay on the cutting edge in 2019, and get one of the best computer configurations assembled for the best gaming computers of the year even if you're just going to use Facebook and surf the internet later.
Best Gaming Computer Configuration
A gaming computer comprises of almost main components of a computer along with some high-end computer assembly to give the best performance.
Case
Monitor
Operating System
Central Processing Unit (CPU)
Motherboard or MoBo or Mainboard
Graphics Processing Unit (GPU) or Graphics Card
Gaming Peripherals (Keyboard, Mouse, Headphones, JoyStick)
System Cooling — CPU cooling and chassis airflow
Storage — SSD and/or HDD
Power Supply Unit (PSU)
Memory Card (RAM)
Speakers
"Tips: Prepare a list of components of a computer with prior compatibility check with each other devices before you make any purchase.

If you're building this PC because you want to play a specific game, ensure to check the game's recommended system requirements prior to purchase."
Computer Configuration Simplified
Here we have bifurcated selected computer configurations as per the price range and best match for a gaming computer. Gaming PCs are more demanding in terms of high-end system configuration. You can still choose from the available options and can buy external peripherals as per your need for example Monitor, Speakers, Mouse, Keyboard, etc.
Best Gaming Computer Configuration Under $1000.00
CYBERPOWERPC Gamer Xtreme VR GXiVR8020A6 Gaming PC – $799.99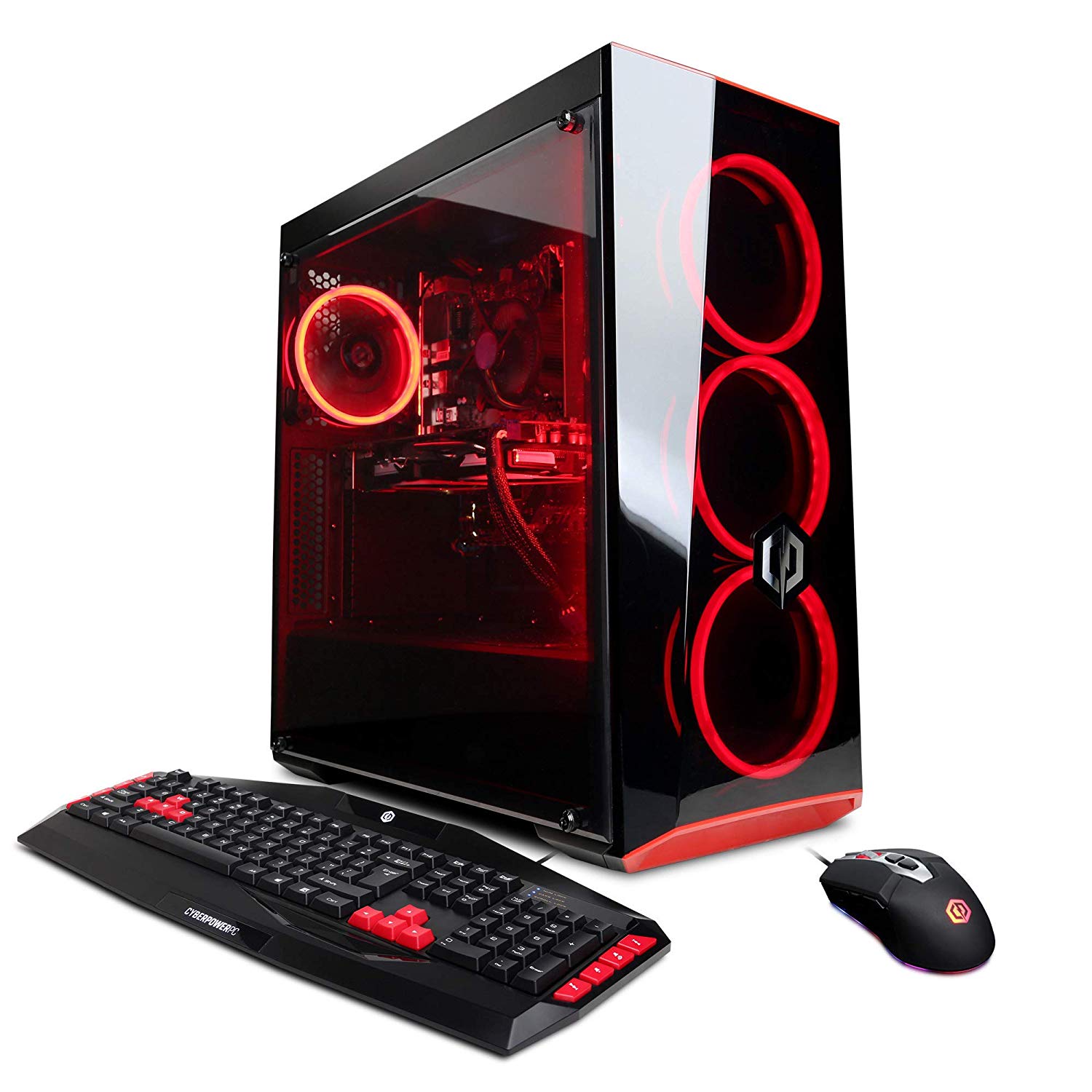 Configuration: (Intel Core i5-9400F 2.9GHz, 8GB DDR4, AMD Radeon RX 580 4GB, 1TB HDD, 802.11AC WiFi, Win10 Home) Black
Features
System: Intel Core i5-9400f 2.9GHz 6-Core | Intel B360 Chipset | 8GB DDR4 | 1TB HDD | Genuine Windows 10 Home 64-bit
Graphics: AMD Radeon RX 580 4GB Video Card | 1x DVI | 1x HDMI | 2x DisplayPort
Connectivity: 5 x USB 3.1 | 2 x USB 2.0 | 1x RJ-45 Network Ethernet 10/100/1000 | Audio: 7.1 Channel | Gaming Keyboard and Mouse
Special Feature: 802.11AC Wi-Fi adapter | RGB 7 Colors Gaming mouse
Warranty: 1 Year Parts & Labor Warranty | Free Lifetime Tech Support
Get it on Amazon –
Best Gaming Computer Configuration Under $1500.00
iBUYPOWER Pro Gaming PC Computer Desktop – $1497.99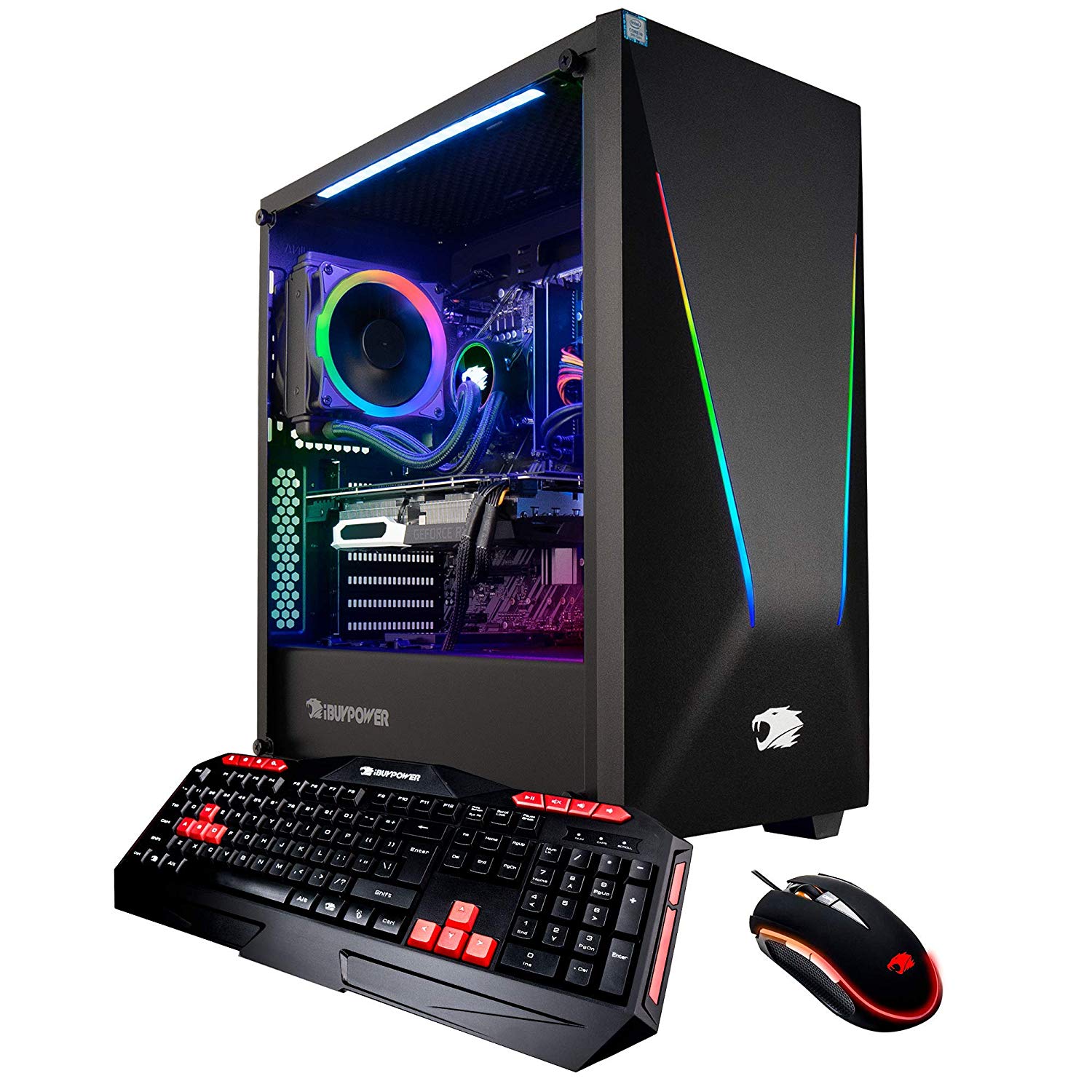 Configuration: Intel i7-9700k 8-Core 3.6 GHz, Geforce RTX 2070 8GB, 16GB DDR4, 1TB HDD, 240GB SSD, Z370, Liquid Cooling, WiFi Ready, Windows 10, VR Ready (Trace 9230, Black)
Features
System: Intel Core i7-9700k 8-Core Processor 3. 6 GHz (4. 9 GHz Max Turbo) | Intel Z370 Express Chipset | 16GB DDR4 2666MHz RAM | 1TB 7200Rpm HDD | 240GB SSD | Genuine Windows 10 Home 64-bit high-end
Graphics: NVIDIA GeForce RTX 2070 8GB Dedicated Gaming Video Card | VR Ready | Display Connectors: HDMI, DisplayPort, DVI | play your favorite games on ultra!
Connectivity: 5 x USB 3. 1 | 1x RJ-45 Network Ethernet 10/100/1000 | Audio: 7. 1 Ch. HD Audio | 802. 11AC Wi-Fi + Bluetooth Ready
Special Add-Ons: iBuyPower signature trace Tempered Glass RGB Gaming Case | Liquid Cooled | 802. 11AC Wi-Fi + Bluetooth Ready | Free iBuyPower Gaming Keyboard & Mouse
Warranty: 1 Year Parts & Labor + Free Lifetime Tech Support | Assembled in the U. S. A
Get it on Amazon –
Best Gaming Computer Configuration Under $2000.00
Dell's Alienware is one of the most trusted and branded gaming computers in its league. This gaming budget machine is loaded with 6th generation Intel 7 processor and 8 Gigs of GDDR5 NVIDIA graphics which makes it the best match for the gaming system in this price range.
Alienware AUR5-12571SLV Desktop – $1849.99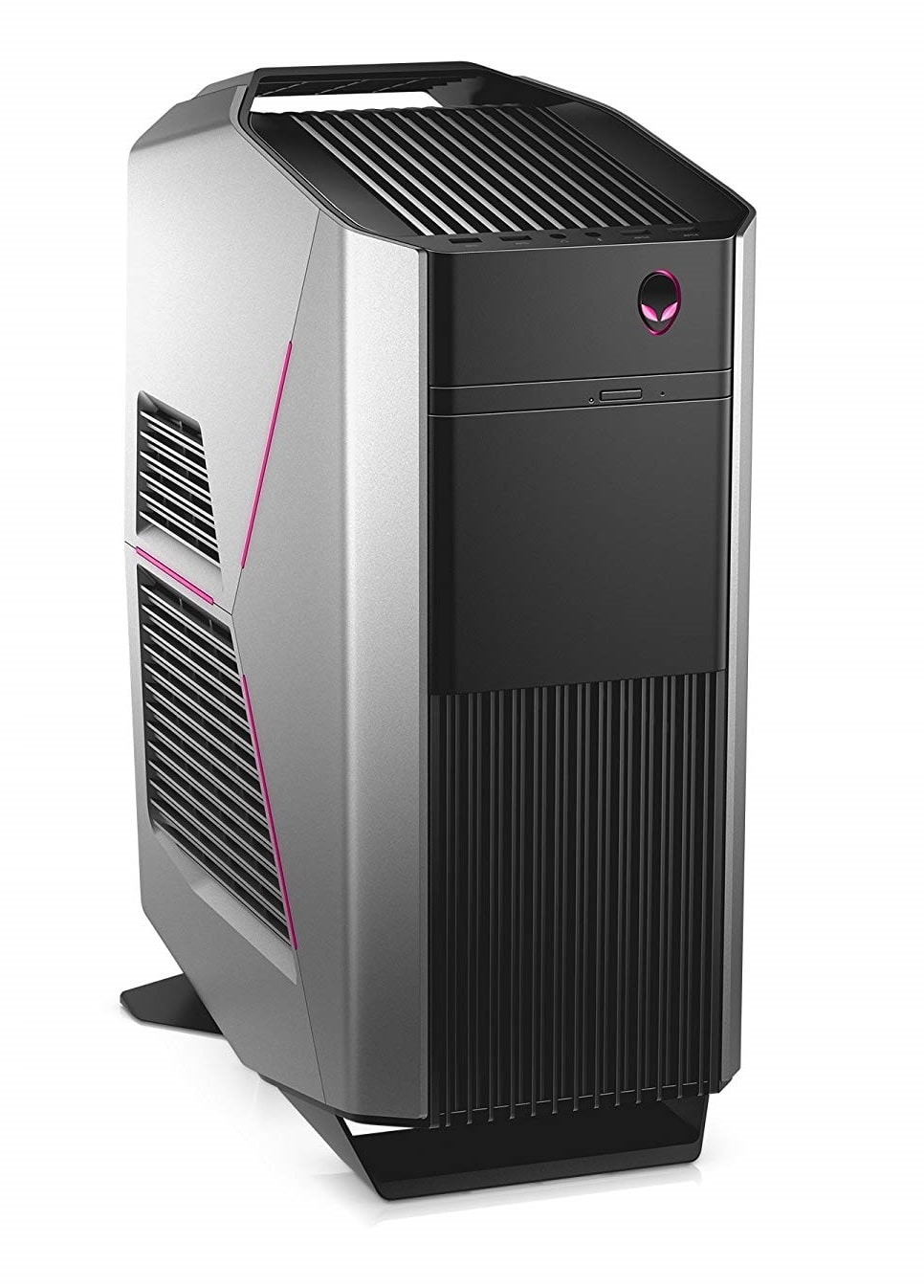 Configuration: (6th Generation Intel Core i7, 16GB RAM, 256GB SSD + 2TB HDD), Epic Silver
Features
Intel Core i7 6700, up to 3.4 GHz Processor with NVIDIA GeForce GTX 1070 with 8GB GDDR5 – founders edition
16GB DDR4 included; 64GB maximum
256GB M.2 PCIe SSD + 2TB SATA 7200Rpm HDD; tray-loading Dual layer DVD burner
No monitor included
Windows 10 Home operating system; silver
Get it on Amazon –
Also Read: Computer Monitor Not Working : Diagnostics & Troubleshooting
Best Gaming Computer Configuration Under $3000.00
Its transparent look makes it the most attractive tower for a gaming machine. With this configuration and transparent RGB LED rays, this is one of the most budgeted gaming machines with good configuration.
SkyTech [RTX 2080 Ti Version] Supremacy VR/4K Gaming Computer PC Desktop – $2999.99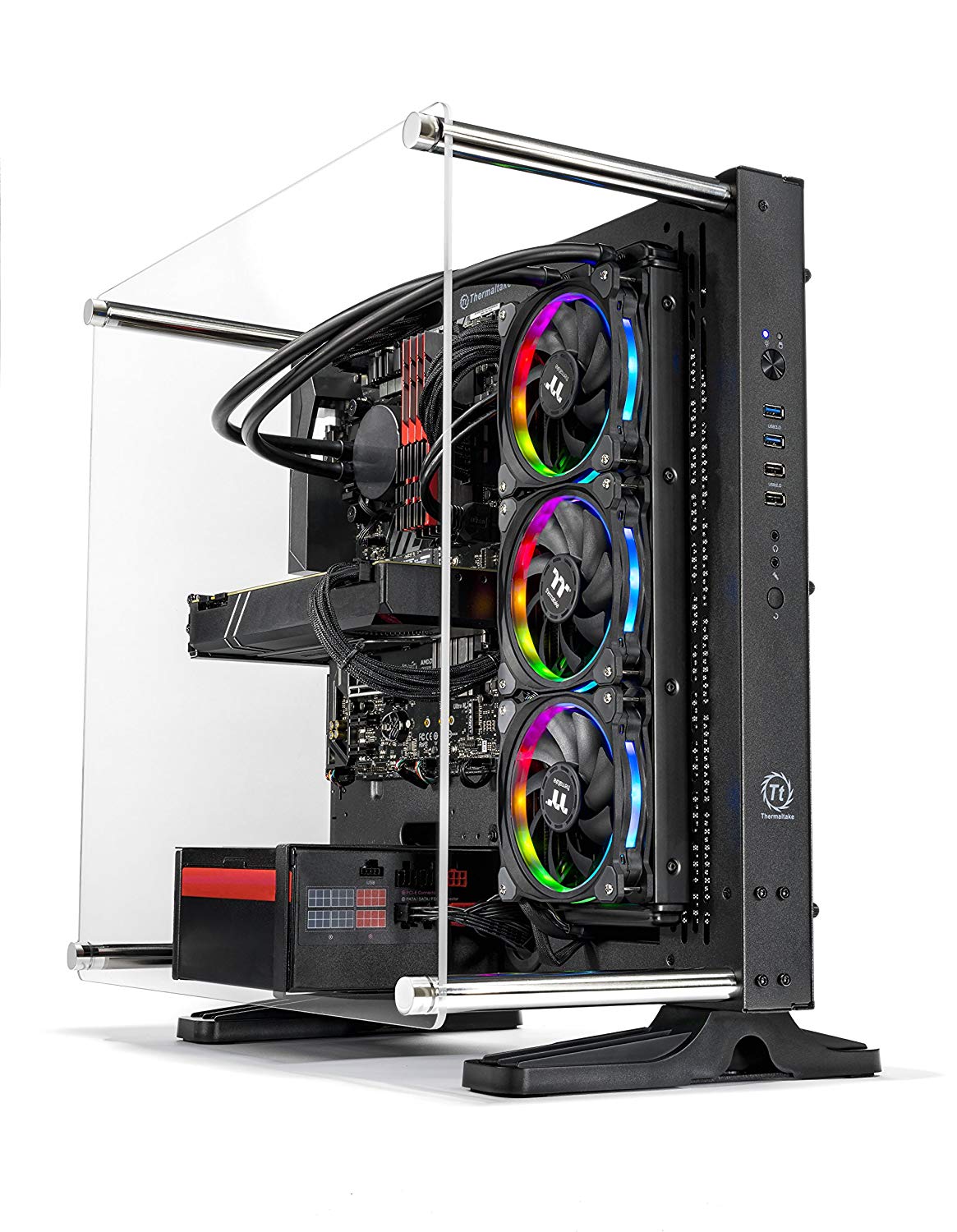 Configuration: i7-8700K, 500GB Samsung 970 Evo SSD, RTX 2080 Ti 11GB, 360mm RGB Liquid Cool, 2TB, 32GB DDR4, Windows 10 PRO
Features
Intel i7-8700K Coffee Lake 6-Core 3.7 GHz CPU Processor | Blazing Fast Samsung 970 EVO M.2 500GB NVMe SSD | 2 TB 7200RPM Hard Drive
NVidia GeForce RTX 2080 Ti 11GB GDDR6 Video Card with Ray Tracing | 32GB DDR4 3200 SDRAM | Windows 10 Professional 64-bit | Z370 Gaming SLI Motherboard
11AC Wi-Fi for the best internet range & speed | No bloatware | 1 x USB Type-C, 3 x DisplayPort, 1 x HDMI
VR Ready | Special Thermaltake RIING PLUS RGB 360mm AIO Radiator Liquid/Water Cooling Assembled by SkyTech PC | Powered by 80 Plus GOLD Certified 750 Watt Power Supply
Open Frame Case with Thermaltake Triple Layer Cable Sleeves Extension (16AWG wire) | 1 Year Warranty on Parts and Labor | Lifetime Free Technical Support
Get it on Amazon –
Best Gaming Computer Configuration Under $5000.00
This is one of the coolest designed gaming towers with high-end configuration to never miss even a single millisecond of the screen frame. It has got a smart and sleek design with a liquid cooling system to deliver the best gaming performance without raising the temperature.
CORSAIR ONE PRO i180 High-Performance PC – $4968.99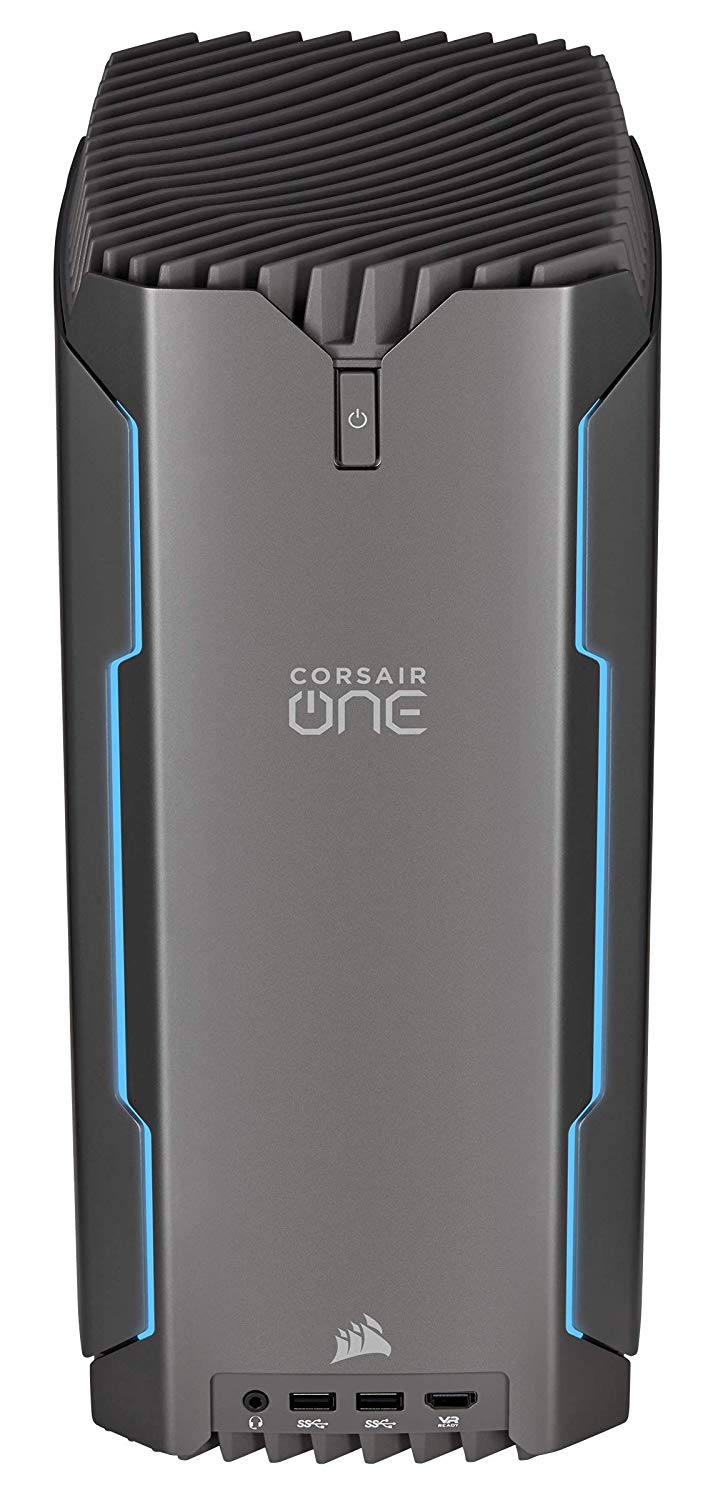 Configuration: i9-9920X,RTX 2080 Ti,960GB M.2 SSD,2TB HDD,32GB DDR4,Windows 10 Pro
Features
Intel Core i9-9920X twelve-core processor, NVIDIA GeForce RTX 2080 Ti graphics and award-winning CORSAIR 32GB DDR4 memory
Built-in RGB light pipes and powerful CORSAIR iCUE software allow you to personalize your system's look and instantly sync lighting profiles across all your CORSAIR iCUE compatible products
Patented assisted convection liquid cooling system for higher clock speeds, lower temperatures, and minimal noise
Connect up to four 4K HDR displays for multi-monitor productivity, or HTC Vive, Oculus Rift and Microsoft Mixed Reality headsets
Front I/O panel equipped with two USB ports, a 3.5mm audio jack, and a VR-ready HDMI port
OS: Windows 10 Professional
Get it on Amazon –
Bonus
Highest Gaming Computer Configuration
If you have a gaming DNA and want to become a professional gamer, you should have deep pockets to afford a Hi-End gaming station. This beast machine is loaded with the top-end configuration to deliver uninterrupted and powerful gaming performance. This is an ultimate gaming machine every gamer dream about.
Adamant Custom 18X-Core Liquid Cooled Workstation Desktop PC – $9799.99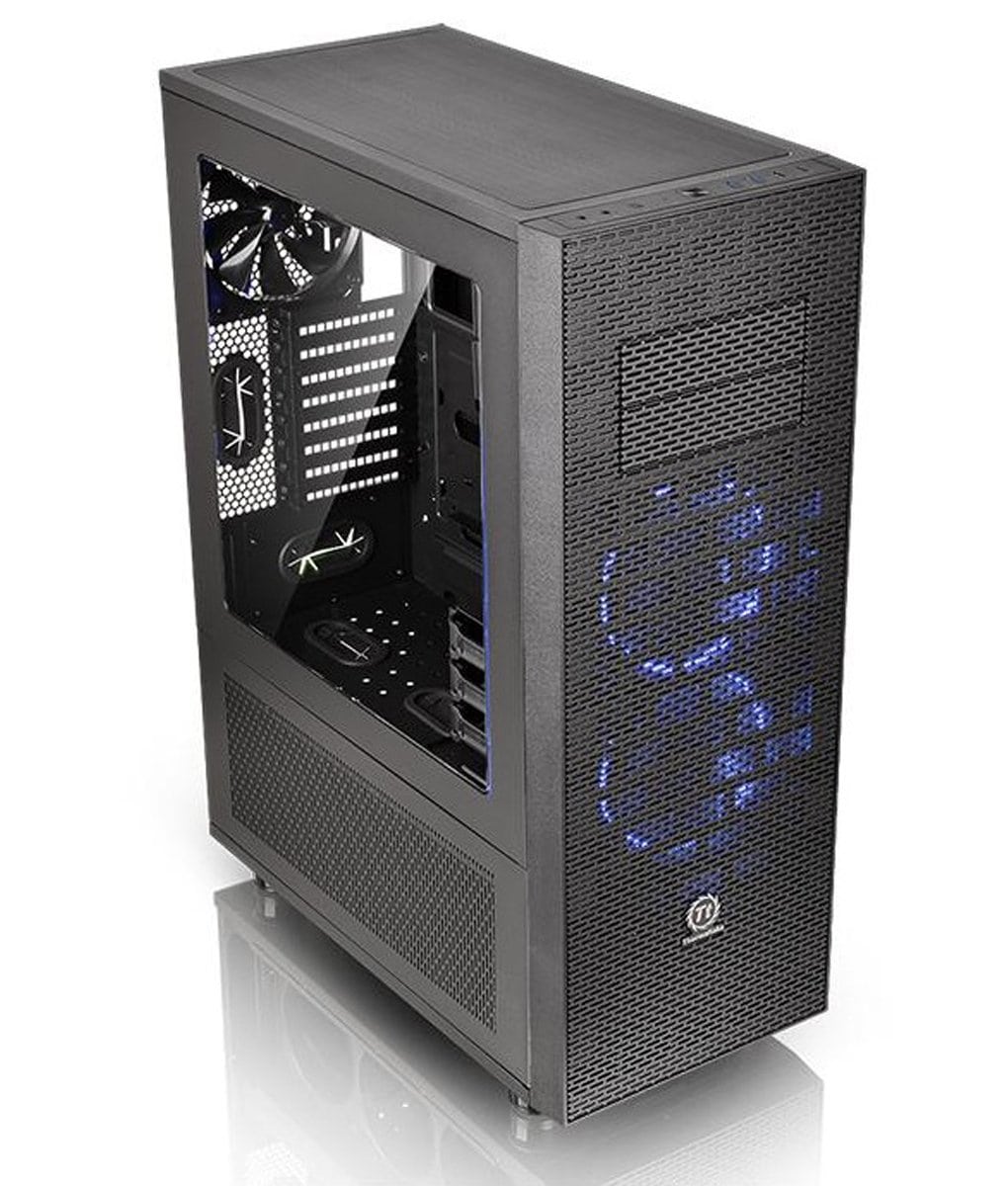 Configuration: Intel Core i9 9980XE 3.0Ghz ASUS Deluxe 128Gb DDR4 2TB NVMe 970 EVO SSD 10TB HDD 1000W PSU Nvidia GeForce GTX Titan V 12Gb
Features
CPU 18-Core Intel Core i9 9980XE 3.0Ghz || 240mm Liquid CPU Cooler || MB ASUS PRIME X299-Deluxe
RAM 128GB DDR4 High Performance Memory || M.2 SSD 2TB NVMe S Samsung 970 EVO || HDD 10TB Storage Drive
GPU NVIDIA GeForce GTX TITAN V Volta 12Gb || PSU Thermaltake Toughpower 1000W 80 PLUS Gold
12X Asus Blu-Ray || OS Windows 10 Pro 64-bit || 2x Gigabit LAN, 2x 802.11ad Wi-Fi, Bluetooth V4.1
Assembled and Tested, 3 Years Parts / Labor Warranty || Free Lifetime Tech Support || 1-2 Business Day Shipping
Get it on Amazon –
Summing Up
Here we have compiled computer configuration for the best gaming computers which are a pre-assembled desktop gaming pc available in the market. Regardless you know how to assemble a computer, you won't be able to beat these system configurations at the give price tags. All the components of the computers are purchased in bulk with heavy discounts and built with a company warranty making these assembled CPU a branded one. These gaming computers will surely rock your mind within your budget with the best ever gaming performance.
If this article turned out to be helpful to you, please like and share this with your colleagues.