The Internet is capable of answering all of your questions. After all, it contains a sea of information on almost every topic under the sun. But at the same time, you can't deny the fact that the Internet also has its own share of downtimes. What would you do if you are in a situation where you have no access to the web and you have to deal with a document with not so easy vocabulary? You can always download the sources for offline use and as far as vocabulary is concerned, there are variety of offline dictionary apps that can make your life as easy as ABC.
Check out our list of most recommended offline dictionary apps for Windows, to easily understand the meanings of words right on your fingertips and will not have to battle with difficult terms.
Must-Try 10 Best Offline Dictionary Apps For PC (2023):
Listed are the most popular & useful offline dictionary programs that will let you know about a word instantly without an active Internet connection.
1. The Free Dictionary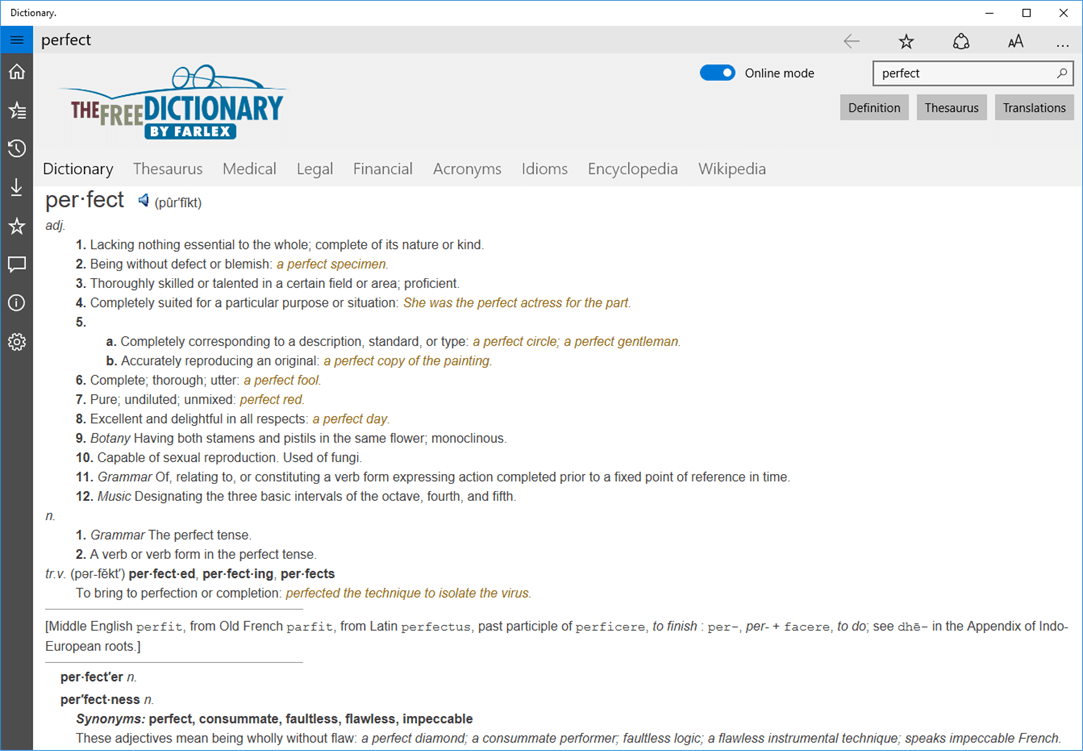 The widely acclaimed "The Free Dictionary from Farlex" is possibly the most comprehensive dictionary on the web. What's even better? It has now come up with a free offline dictionary version that lets you have access to word meanings even when you don't have an internet connection.
Features:
This English dictionary app Contains specialty dictionaries – where you can find meanings of words from varied domains like legal, financial, medical, etc.
Access several other dictionaries in over 13 languages and translate words in 40 languages of more.
The free dictionary app also gives you an opportunity to contribute to humanity – You get badges while you learn and exchange them for meals for hungry children
Rating on Microsoft Store: 4.7 Stars
2. WordWeb Dictionary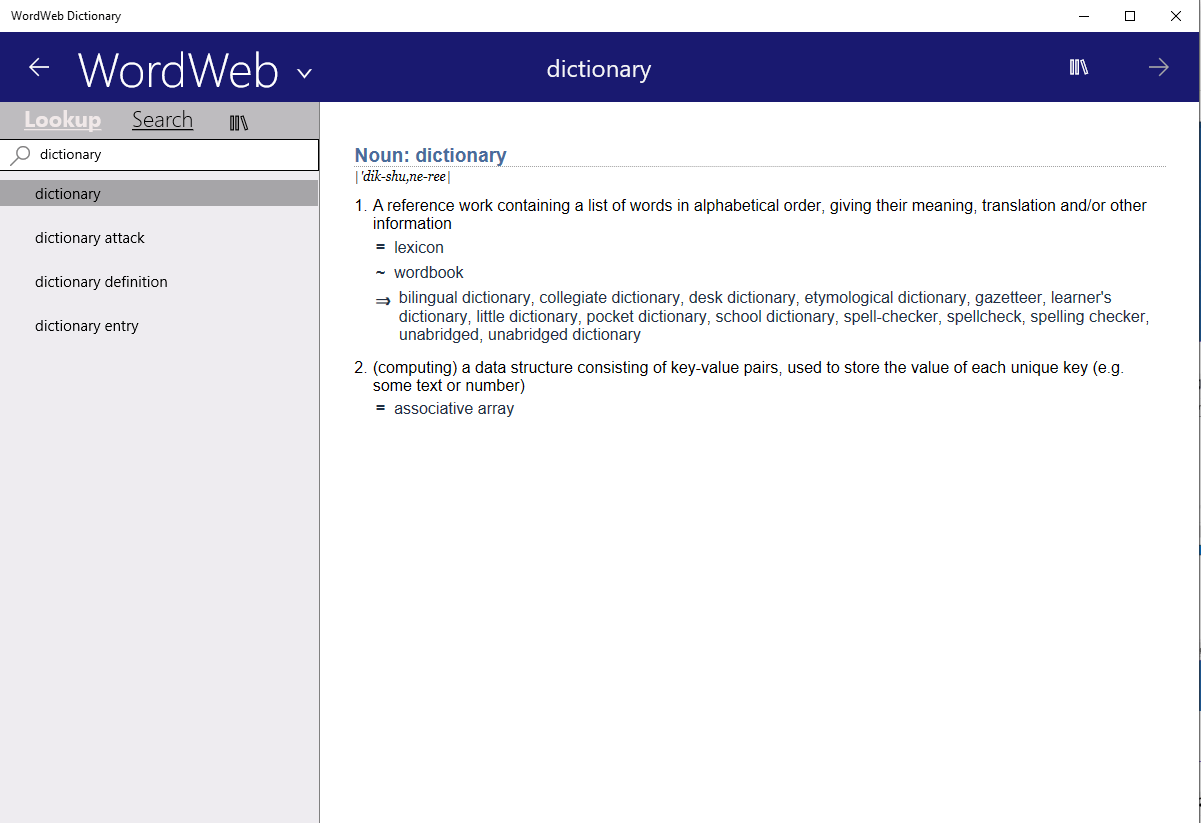 WorldWeb Dictionary is one of the best dictionary apps available. It has meanings of more than 85000 words and phrases, all of which can be accessed with just one-click. Not just that, for any word or phrase, WordWeb also gives you comprehensive information on several other aspects related to the word such as synonyms of the word and parts of speech.
Features:
 The English dictionary app offers One-click look-up of a word in all versions of Windows
Correct pronunciation notation symbols and easy to understand examples for the usage of the word
Easy integration of other dictionaries such as Collins, Oxford, Chambers, etc
WordWeb dictionary is free dictionary app, you can even choose a paid version of the app as well. The pro or the paid version includes more than 70000 audio pronunciations. It even gives you the facility to add new words. In addition to that, with the paid version of this offline dictionary, you can also search for your choice of web references.
Rating on Microsoft Store: 4.6 Stars
 3. Advanced English Dictionary
AED short for Advanced English Dictionary is a free offline dictionary for Windows has everything that you would expect from an outstanding offline dictionary app. It comes preloaded with a database of meanings of over 400000-word entries. Also, AED has a very pleasant, clean and very modern interface that makes the experience even better.
Features:
 The English dictionary app offers clear phonetic notations of words
Audio pronunciation (UK and US) of words along with etymology
Automatic word suggestions automatically appear as you type the words in the search bar
Clipboard search lets you copy your entire content and find its meaning
Easy navigation – you can move back to previous words
Image gallery for nouns
Rating on Microsoft Store: 4.5 Stars
 4. The Sage English Dictionary and Thesaurus

It's a fantastic English dictionary app with a corpus of 12.4 million words can never go wrong. Let's delve a little more on the numbers, the dictionary offers etymologies of more than 82000 words and over 1.9 million relationships which are inclusive of synonyms, hyponyms, antonyms, hypernyms, etc. Both the free (standard) and paid versions to come with a myriad of features which put it amongst the best dictionary apps available.
Features:
Choice of view – retro, classic, speller assistant or e-paper
Comprehensive rhyme assistant that suggests you rhymes of a word on several criteria
Contains an integrated anagram research
You can search definitions from words or vice-versa
5. Perfect Dictionary
It's a comprehensive and free dictionary app for Windows PC, a perfect option for all the inquisitive individuals out there, who search for each mysterious word that comes across. The offline dictionary lets users gather all the information related to a specific word at one place.
Features:
It helps download multiple language packs, including Greek, Portuguese, Italian, Japanese, Arabic and so on.
Doesn't work as a plain dictionary app for PC, it even offers a dedicated translator.
Unlike most of the dictionary apps for Windows mentioned here, what makes Perfect Dictionary standout, is its ability to pin the definition tile in the start menu. Probably a great way to remember difficult words & its meaning.
6. English Dictionary – Offline
As the name entails, English Dictionary is an excellent offline free dictionary app available for PC and other devices. The utility helps users to understand the meaning or words in an easy and uncomplicated language. You can even download the definitions and other information for later reading.
Features:
Using this best dictionary app for PC, you can know about the grammatical category, synonyms, hyponyms, antonyms and understand about the word with real examples.
It even has suggestion-based search and works with spell checking algorithms to ensure faster and accurate searching of desired words.
Unlike most of the offline dictionary apps for Windows, it comes with audio pronunciation (UK accent, too) & live tile or notification for the 'Word of the day'.
7. Ultimate Dictionary
Next on our list of best free dictionaries for desktop is Ultimate Dictionary. It is free to install, easy to use and contains an exhaustive collection of dictionaries in one. You can use the dictionary in languages like English, Spanish, French, Polish and more.
Features:
Find your information for a word search in just one lookup.
Get complete information related to a specific word: its definition, synonyms and translation in a bunch of popular languages.
Known for fast searching, this offline dictionary app for Windows also has a special scan mode to instantly translate words without any hassles.
8. LingoPad
Our list of Top 10 Best Dictionary apps for PC is certainly incomplete without mentioning LingoPad. The multilingual application is available in English, Spanish, Arabic, Chinese, Japanese, Turkish and so on. It even gives you the ability to import your wordlists, so that you can save time and use the dictionary for PCs simultaneously.
 Features:
Highly customizable free dictionary app for Windows desktop.
You can make the most out of LingoPad with associated shortcut keys.
Supports importing your own words for faster detection of words. It even supports automatic translation on clipboard changes.
9. Stardict
Here comes an open-source and cross-platform dictionary app that contains more than 100 free dictionaries currently. You can easily get access to the huge database of dictionaries without spending a penny. It even features a dedicated option for full-text translation, you just need to click the icon 'text translate' to complete the process.
Features:
Has a 'scan selection word' & 'glob-style pattern matching' feature.
Offers built-in search capabilities and an ability to add lexicons in multiple languages.
Interface might feel outdated but it has easy to navigate buttons and works with a plethora of free dictionary apps for Windows.
10. Artha Dictionary
Last but not the least in our list of Best Offline Dictionary Apps is Artha Dictionary. It is available as free and comprehensive in nature to get the accurate results in the least time. It even suggests spellings for misspelled words and works with powerful regular expression-based search.
Features:
Artha Dictionary displays relative words such as synonyms, derivatives, definitions and antonyms.
Artha Dictionary features an intuitive interface and it is highly compatible with Windows & Linux operating systems.
It shows passive notifications (balloon tips) instead of standard notification pop-ups that might
People Also Ask:
Q1. Does Windows 10 Have A Dictionary?
Well, Windows 10 (October 2018) update brought plenty of new upgrades, including some to Microsoft Edge as well. One of those was a built-in dictionary that you can use while you are in a reading view, or checking an eBook or while working with a PDF file.
Q2. How Do I Add A Spell Check For Windows 10?
To add an automatic spell check for your Windows 10 desktop, all you have to do is:
Go to the Search bar & look for Settings.
From Settings menu > go to Devices.
Navigate to the Typing menu from the left-panel.
Now, toggle on the options – Autocorrect Misspelled Words & Highlight misspelled words
Close the Settings and you are done!
Q3. Which Is The Best Dictionary For PC?
Though we have already shared the best bunch of offline dictionary apps, one of the most popular among users is WordWeb. It proffers comprehensive information on several aspects related to a specific word, including its synonyms and parts of speech.
To Wrap Up
Words are so intriguing, isn't it? But at times, they can baffle you. With the above mentioned offline dictionary apps and several others for Windows, you will never ever have to scratch your head to find meaning or context of phrases and words.