Table of Contents
Fishing games are becoming popular each passing day. Previously fishing games were playable only in 2D environment. But, with changing times more 3D and realistic games are being developed. With the enhancements in the graphics, multiplayer option is also one of the features added to fishing games that makes them more realistic. We have listed 10 best fishing games to play on Android devices. These fishing games provide different locations for fishing, all these locations are a copy of the real locations to give the phone a more realistic look.
Before we begin playing these amazing fishing games lets optimize our Android device to enjoy the uninterrupted gaming experience. For this, you can use Smart Phone Cleaner – Speed Booster & Optimizer.
This Android optimization application will not only clean junk from your Android but will also boost your phone memory, optimize game performance and do a lot more.
Click Here To Download Smart Phone Cleaner
Best Fishing Games for Android
1. 3DCARP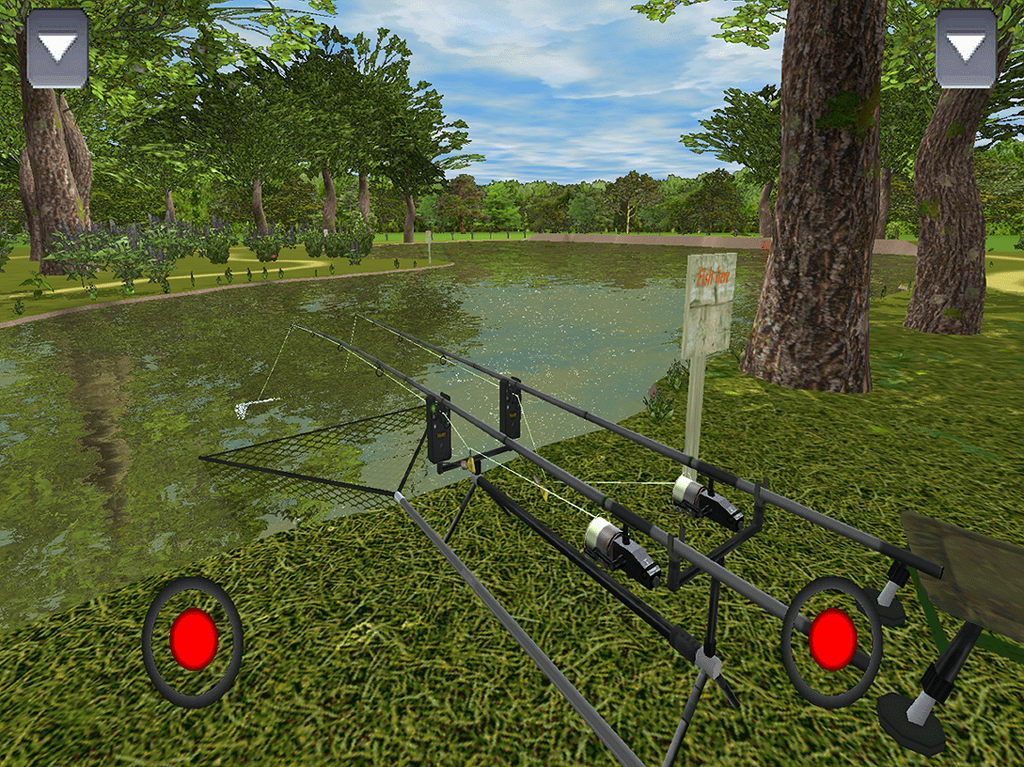 3DCARP is one of the best fishing games that includes 4 rivers and 8 lakes where you can catch 28 different types of fishes. This free fishing game provides a different environment system which means you can enjoy fishing during the day, night, spring season winter season, autumn season, and winter. This is a Carp fishing, based game but it includes various other types of fishes too. To lure your favorite fish, catch these fishes you can use different types of fishing rods and baits.
2. Ace Fishing: Wild Catch
Ace Fishing: Wild Catch is one of the best and popular fishing games for kids that you can use on your Android smartphones. Ace Fishing offers customizable fishing rods with fishing lines and will help you catch different fishes.
This game contains locations from around the world like the Amazon river and China. These different areas contain their native fishes, you have to fish all-round the map to catch all the fishes.
You can compete with the players around the world and see where you stand in the global ranking.
This game is basically free but it includes in-app purchases.
3. Fishing Break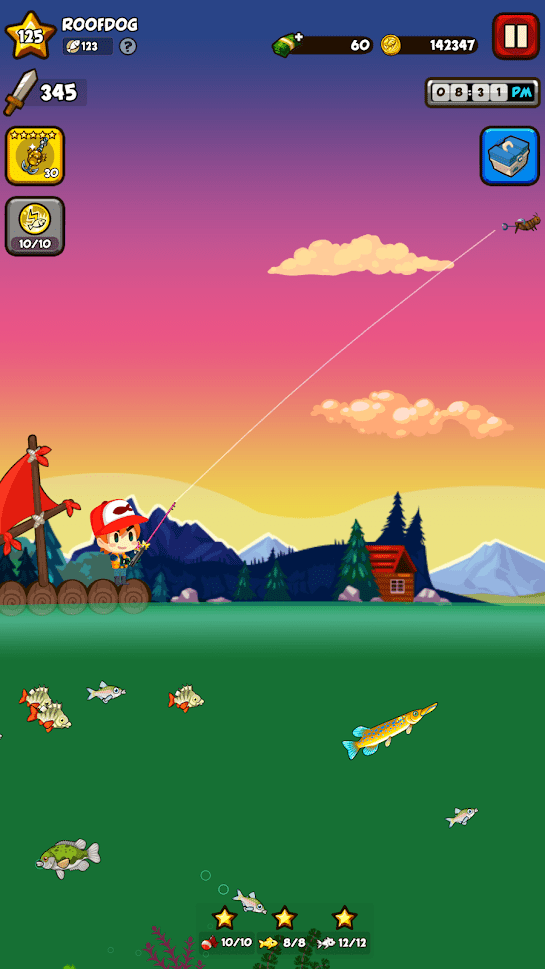 Fishing break – fishing game for kids gives the ability to fish all around the world. It also enables users to upgrade their fishing gear and catch rare fishes. You can fish in 22 different places and 8 different worlds. There are hundreds of different fishes and more than 200 elemental fishes to catch. You will also get different achievements by catching the fishes and climb all the way up to the top beating your friends by catching rare fishes.
4. Fishing Hook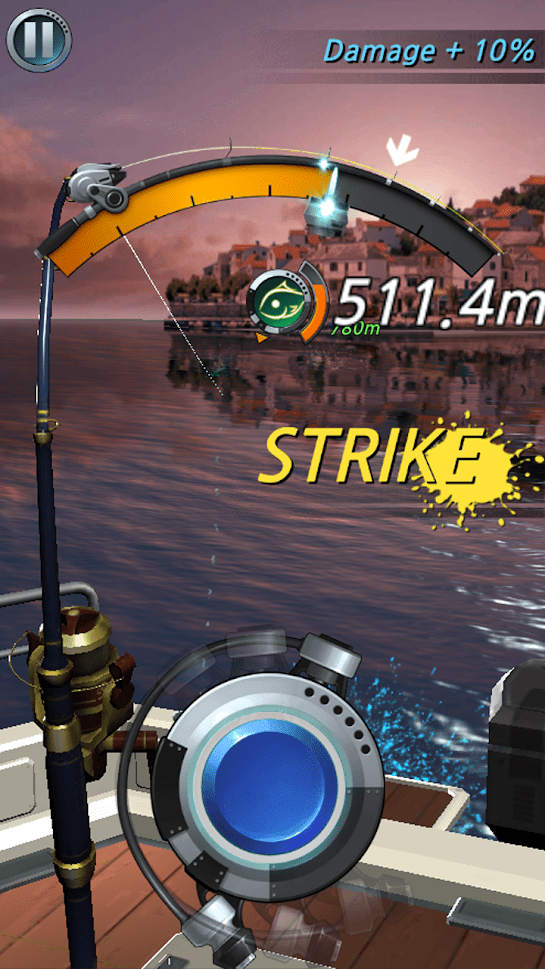 Fishing Hook is one of the most realistic fishing games for kids that you can find. This game has some basic rules that you need to follow while fishing like pulling the button to catch fish, but it gives damage to the fish and by pushing the striking pin will bring fish near you. It supports 16 different languages with achievements and ranking. This game will bring fun while catching the fish.
5. FishingStrike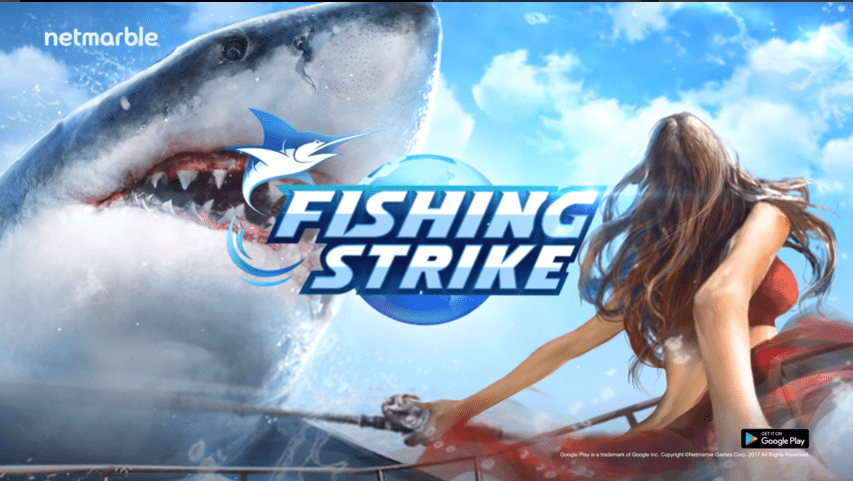 FishingStrike lets you to travel around the world and become the best fisherman ever. You have to catch fishes in order to rank up and to upgrade your fishing gear.  You can catch up to 500 different varieties of fishes from around the world. This game also consists of virtual reality and augmented reality objects that make it more modern. Also, you can catch fishes anytime, as this game does not have energy constraints.
6. iFishing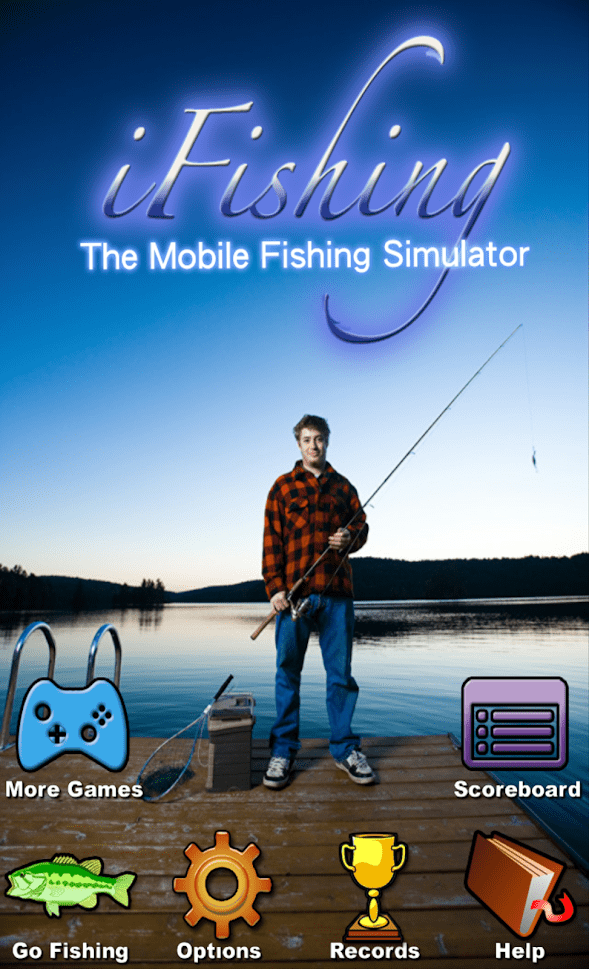 i Fishing was previously available for iPhone users but is now also available for Android users too. It is not a fishing game it is a fishing simulator with most realistic and in-depth graphics. This game comes with 3 difficulty levels and 15 lakes to go fishing. For fishing, you can get different tackles and lures. There are many types fishes available for catch using the fish finder available which makes it more realistic. It is a paid game, so you have to pay one time upfront.
7. Let's Fish: Sport Fishing Games. Fishing Simulator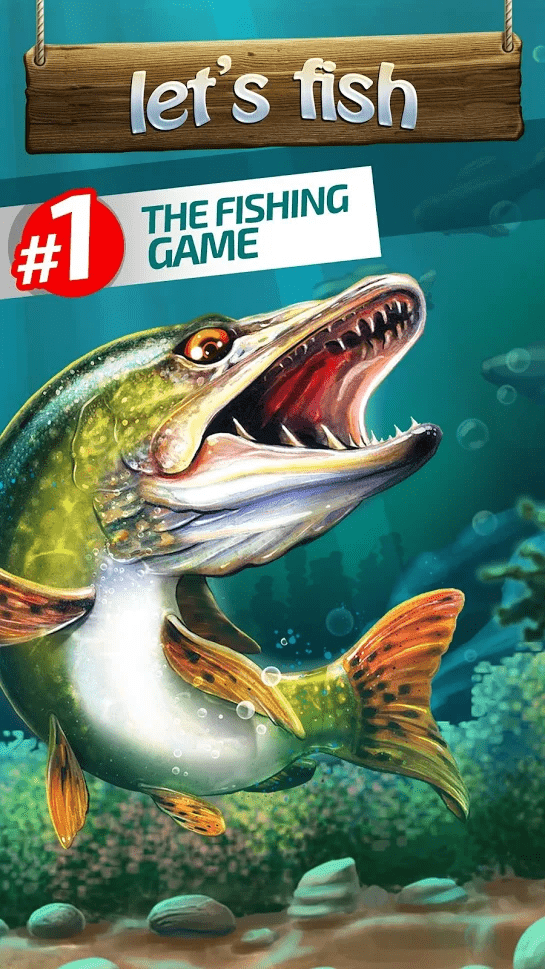 Let's Fish: Sport Fishing Games. Fishing Simulator is one of the best fishing simulator and best fishing game available for Android. This game contains over 60 locations with over 650 varieties of fishes to catch. This free fishing game also contains varieties of lures which need to be replaced after a certain amount of time. One of the main features of these games is its multiplayer PvP mode which means you can play with your friends online. This fishing game for kids also has a ranking and achievement system so you can check your place amongst other players.
8. Master Bass Angler: Free Fishing Game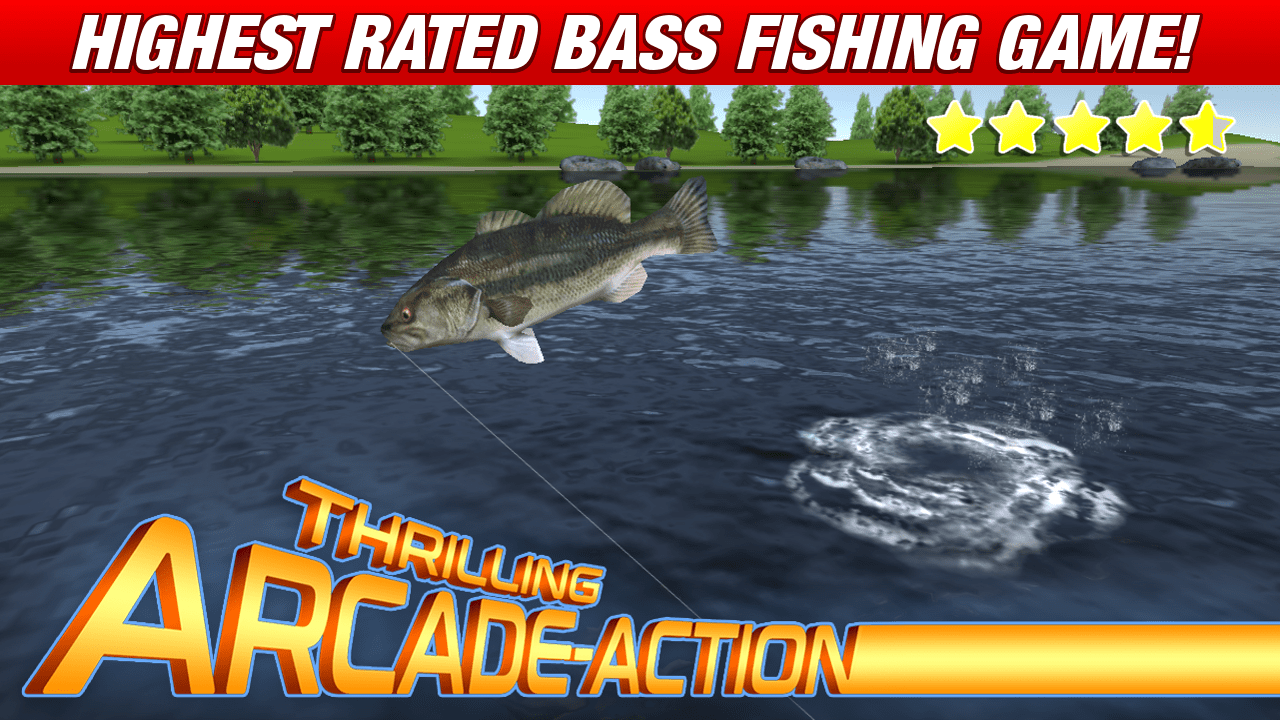 Master Bass Angler: Free Fishing Game is one of the best arcade fishing game available for Android. This game allows the player to fish in 7 different lakes located all around the United States. This game contains various upgrades like gear upgrades, lure upgrades, and talent upgrades using which you can catch rare fishes. Players can also play bonus rounds upon leveling up. Online multiplayer feature is also available. This game is easy to learn and play which makes it more entertaining.
9. Rapala Fishing – Daily Catch
Rapala Fishing is one of the best arcade style fishing game available for Android platform. It gives players a realistic 3D experience and provides 24 different locations for fishing. Apart from normal fishing this game also provides a multiplayer option which lets players compete with other players all around the world. Creators of these games boast that there are no energy bars and timers so you can catch fish all you want.
10. The Fish Master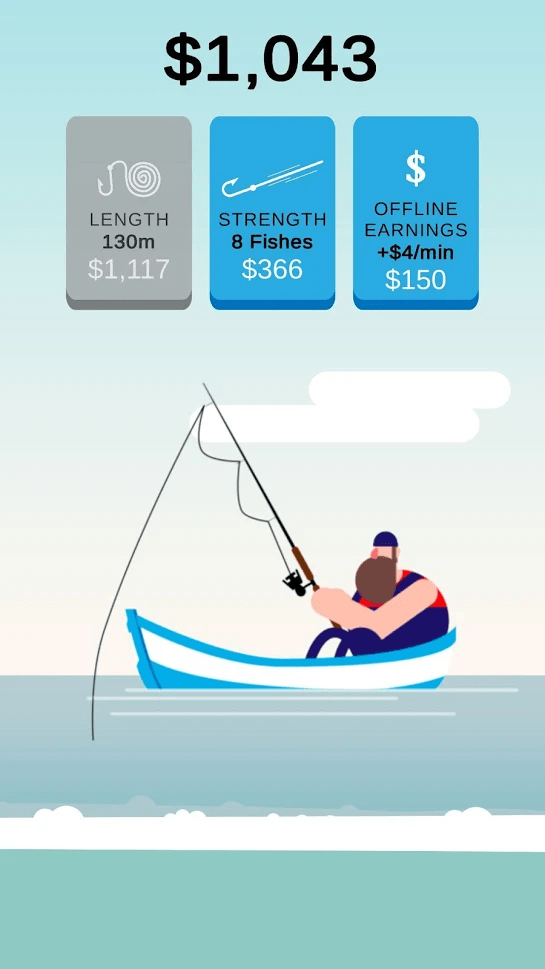 The fish master is a 2D style, arcade fishing game which lets you catch in a 2D environment. You can catch as many fish as you can. This free fishing game lets you fish deeper and catch different fishes. Moreover, you can earn money from catching fish. This is a basic fishing game and a great way to kill some time.
Note: This app is no longer available on Play Store.
As Fishing games are becoming more and more popular. Here we have listed 10 best fishing games for your Android devices, that will change your perception for fishing games. If we've missed anything, or there are other games that we forgot to mention please leave us a comment and let us know which came you enjoyed playing.