Indeed, we pledge to stay healthy every year, but hardly stay committed to our resolutions. Well, you are not alone mate! Due to a busy schedule, we barely get a chance to hit the gym floor every day and sweat it out with heavy workouts.
Instead, we can install a calorie tracker app which will work as a fitness instructor for you. Yes, there are various calorie calculator applications that can give you a perfect insight into how much calories you have taken. Here we are mentioning the choicest list of best calorie counter apps, which are being adored by everyone.
Also Read:  Best Office Workout Apps For Android and iOS
Best Calorie Counter Apps 2023
1. MyFitnessPal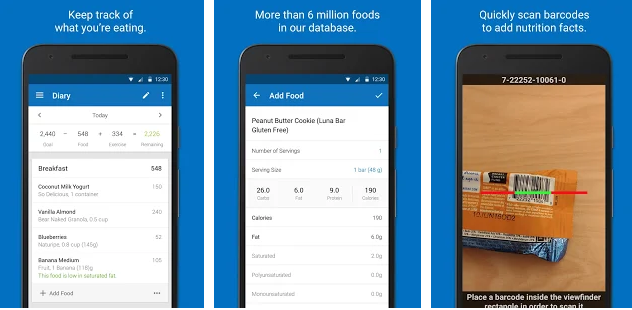 As the name says, this amazing calorie calculator app will work wonders for you. Hence, you can count it as your fitness friend. If you are looking to tone up your body or want to lose weight MyFitnessPal has everything covered for you.
This app has a huge food database around the world where users can pick their favourite delicacies. You can also add food and recipes to your personalized category. This calorie tracker app is all set to monitor all the nutrients which you are taking, and which is good /bad for your health.
Install this amazing food calorie counter app from here (Android Users) and here (iPhone Users)
Also Read:  Best Health Apps For Android
2. Calorie Counter & Diet Tracker- Spark People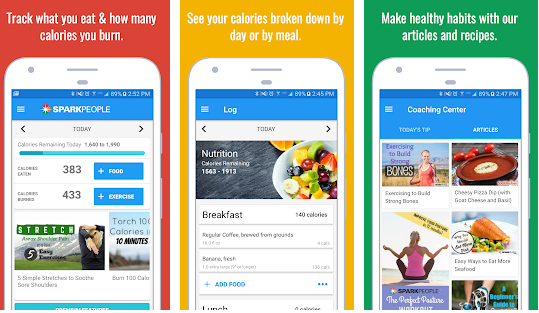 This app works as a calorie counter to lose weight and pledge to make you healthy with its interesting articles and yummy recipes. You can use its calorie charts, fitness tracker, exercise clips and carb counting options to make you fit and fine. There is an extensive calorie chart which will help you to stick to your fitness goals.
Additionally, take benefits with its BMI chart and monitor your weight process regularly. And don't forget to make use of its' diet calculator which will reveal the exact nutritional information from its food database.
Also Read: Best Vegan Recipe Apps and Sites for a Healthier and Eco-friendly Diet
3. Calorie Counter – MyNetDiary
MyNetDiary is the best calorie counter app which helps you to achieve your goal with ease. This application works as a nutrition assistant who will monitor your diet and works as a calorie calculator, exercise tracker and so on.
"Simpler…Quicker…Also, It Looks Nicer- The New York Times"
This is a beautifully curated application with interactive food icons that can give details of intake calories. What more? Get this amazing calorie calculator app from here (Android) and iPhone users can get this app from here.
4. Cronometer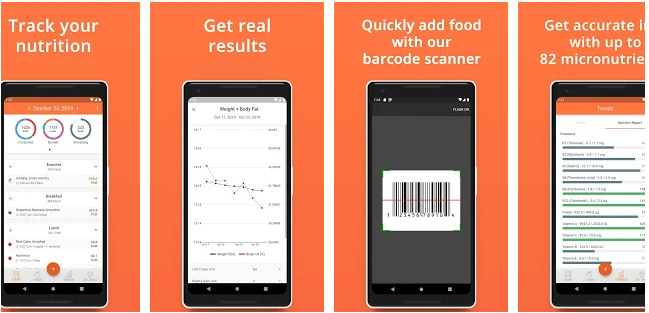 Here comes the Cronometer, another key player of the best calorie counter app. You can track your daily nutrients whichsoever you are taking and can get the real results. With its amazing barcode scanner, you can add food in its food database.
You can also create a personalized food library by adding delicacies and recipes. Another is its fasting timer, which will count your fast data easily and efficiently. This application is available on Google Play Store and Apple Store.
5. Calorie Counter by FatSecret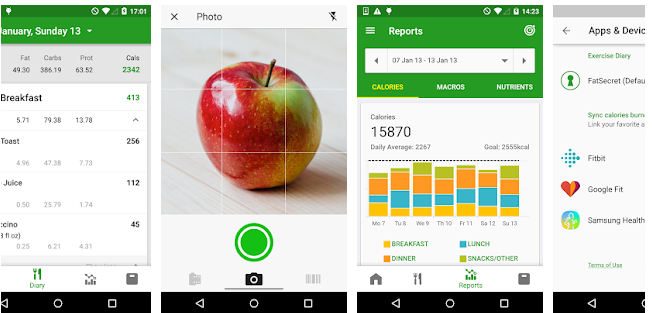 Fat Street is the last application on our list of the best calorie counter apps. You can get accurate details of calorie intake with its colorful chart. And the best part is everything is free to use in this app. Sounds amazing, isn't it?
You can trace the record of your weight, the food you're eating, and exercise you are doing. Get connected with people from the Global Community who are willing to live a healthy life and want to achieve fitness goals. This amazing app is available for both platforms, i.e iOS and Android.
Which App Will You Choose As An Ideal Calorie Counter To Lose Weight?
Every one of us encounters love/hate relationships with food. It can make you healthy or ill, depending on the choice of meals you are taking. It's always suggested to eat right and track what you are eating to lead a healthy and blissful life.
To help with your fitness, we have listed the calorie tracker apps that will end by giving you details about your food intakes. You can pick any of the food calorie counters from the list and start your healthy day.  If you are already using any of calorie calculator apps or you have used before.
Let us know in the below comment section, we will update them on our list too.
We're Listening!
Definitely! Our readers are important to us. We supervise all your comments and thoughts, which help us grow even more! We hope you like this article. Additionally, don't forget to follow us on social media platforms and subscribe to our newsletter for more tips and tricks. Don't forget to share our work. Keep encouraging us. And Yes! We are open for conversation!