Your smartphone surely has a powerful processor that prevents all sorts of lags and makes your device run smooth. It indeed has spectacular storage. You may go on and on and shower praises on your smartphone's specs (we don't deny, Android smartphones are great!). But, all said and done, in case your Android phone shuts completely down, in case your phone is dumped in water and shows no signs of reviving, what will you do? Will you shed sweat, if not tears? You'll be earnestly praying that how good it would have been if I had considered Android backup.
Now if you are wondering how to backup Android phone in the best possible manner, we have some great tools lined up for you. So, before such tragedy hits you, here's our recommended list of the best backup apps for Android.
Best Backup Apps for Android Phones
1. Right Backup Anywhere – Online Cloud Storage
Apart from Android, Right Backup is available for all platforms like iOS, Windows and Mac.
Files you can create a backup of
If you are looking for best backup apps for Android, you needn't go any further as Right Backup is a great Android backup tool. It's a great way to create a backup of your important videos, music, pictures, and documents.
You can backup any files of your choice. If you don't want to create a backup of all the files, you can even do that.
Free and premium features
With a free account, you create an Android backup of up to 100 MB whereas with the premium version you get up to 1 TB of backup space across several devices and you can even share files with anyone.
2. Google Drive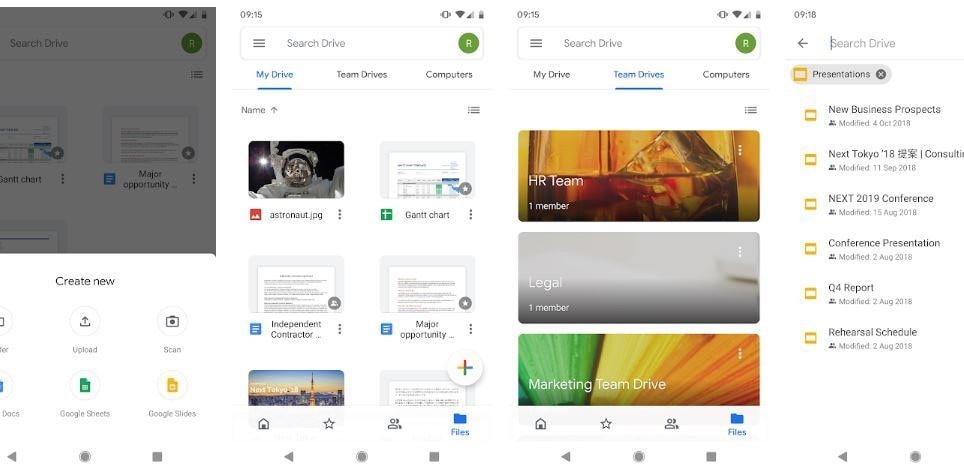 Files you can create a backup of
This Android backup tool needs no introduction since it is possibly the safest way to create a backup of your files. You can create a backup of all types of files – documents, audio files, videos, and pictures.
Google drive lets you backup data on Android in the easiest possible manner as it is accessible on all devices like computers, smartphones, and tablets. This makes it easy for you to access your files from anywhere. You can even share your files and folders with others and not just that you can control the level of accessibility and allocate rights to view and edit files.
Free and premium features
The free version gives you up to 15 GB Android backup storage whereas with premium versions you can get up to 1 TB storage.
3. G Cloud Backup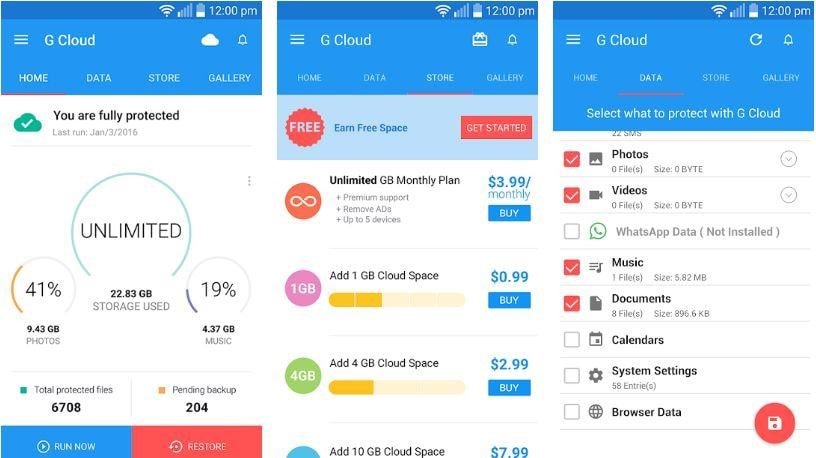 Files you can create a backup of
The Android backup app lets you create a backup of contacts, images, music, photos, call logs and so much more.
It is one of the best backup apps for Android whose highlight is its security. At the outset, it is backed by SSL and 256-AES security. The app also has a functionality where you can protect your app using a password. Talking about features, you can backup files in versions with one tap sign in. You can easily move from one device from others and expand your storage. The files are automatically synced as and when Wi-Fi is available.
Free and premium features
The file backup app for Android gives you up to 1 GB as a free storage space for and then you can make your way up to 10 GB.
4. My Backup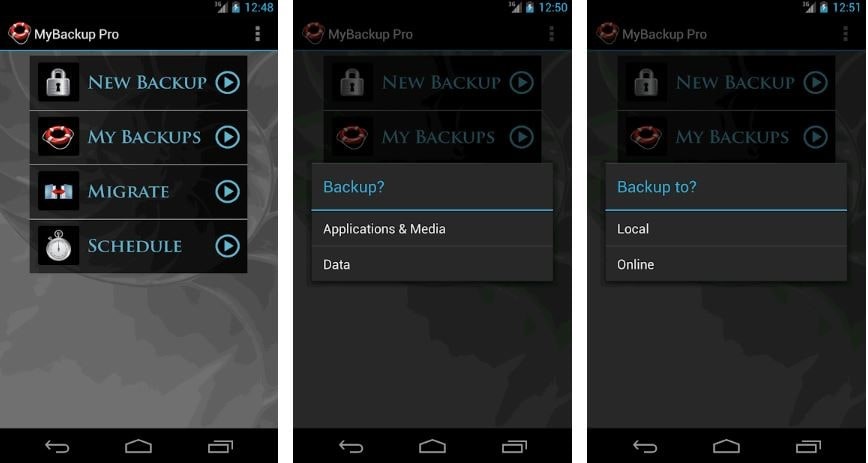 Files you can create a backup of
It supports most types of files including photos, videos, music, call log, contacts, applications (this will require rooting the device), SMS, MMS, Home Screens (from certain devices), dictionaries, etc.
Free and premium features
With the free version, you can create a backup on an SD card or OTG. But, the restoration will only be done on the same device. Whereas with the premium version the backup can be done on several Android devices. The best in both free or premium versions is that you can schedule automatic backups.
5. Backup Your Mobile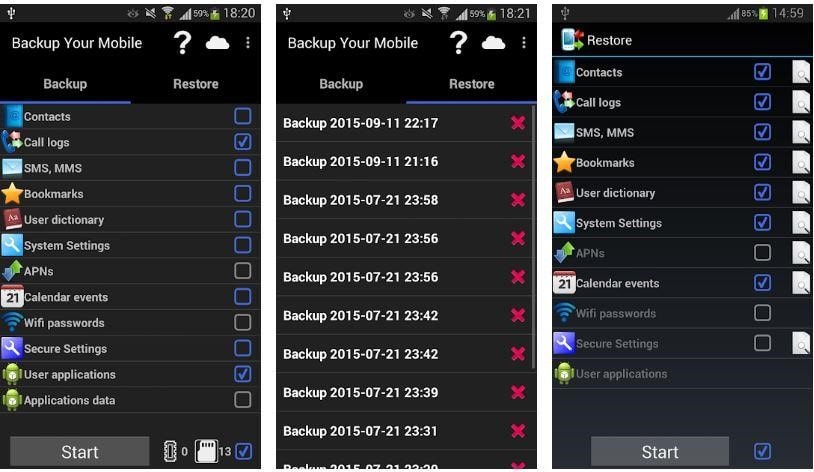 Files you can create a backup of
Apart from files and applications, you can create a backup of your system and security settings (you need to restore it on the same android version), text messages (SMS), call logs, contacts, Wi-fi passwords (requires rooting), bookmarks and browsing history apart from other files and applications.
Free and premium features
Backups can be made and taken from platforms like OneDrive, Dropbox and Google Drive. The app creates versions of backup.
The data on your smartphone is as precious as your smartphone itself. A simple step such as taking a phone backup could possibly be the best thing you could have done to save that precious data.
We hope that with the above list we have made your life easy. If yes! do give us a shoutout in the comments section below.