WhatsApp is the most used chat application with voice and video call support. Still like every major application WhatsApp too needs updates. These updates make WhatsApp user's favorite, helps the app to stay ahead of other chat applications.
Keeping up with the trends, WhatsApp is updating its messaging application. Here we will enlist the upcoming features that you will see new WhatsApp update.
QR Code for adding new contact number:
WhatsApp will introduce QR code system that will let users add phone numbers in a single click. After the update, the need of adding phone number manually will be eradicated. To use QR code simply scan it and you are done the number will be added to the contact list.
This new feature is somewhat similar to WeChat application.
Every user will have a unique QR code that will be linked with users phone number and upon scanning the QR code WhatsApp contact number will be added to the scan list.
Dark Mode:
Every major application like Facebook messenger, Gmail, and Chrome all have Dark Mode and WhatsApp has been working on it. But with the latest update, Dark Mode will finally be added to WhatsApp. Dark Mode will change background to dark. This feature will make application easier on the eyes and will give the application a whole new look. Apart from these advantages, dark mode will help you save phone battery.
To learn how to add Dark Mode read how to add Dark Mode to WhatsApp.
Fingerprint Authenticator:
Adding fingerprint authentication in WhatsApp will make the application more secure. This new feature will add another layer of security to the WhatsApp chat application. To open WhatsApp user will need to authenticate themselves using the fingerprint. This feature will remove the need of third-party locking application; however, for other application, you'll still be needing third party application to secure them.
Until, then you can use Locker for Whats Chat App – Secure Private Chat application to securely lock the chat.
To download it scan the QR code below.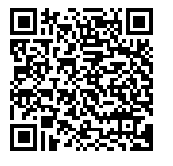 Share WhatsApp Status on Facebook and other social media websites:
WhatsApp will introduce a great feature using which users will be able to post their WhatsApp status on Facebook, Instagram, Google Photos, and Gmail in just one click. After the update no longer users will have to share WhatsApp status manually on Facebook and other websites
WhatsApp users will be able to share their WhatsApp status form the application directly.
Contacts Ranking:
WhatsApp will recognize the contacts you interact with most and based on it WhatsApp will put them in your favorites list. Thus making the application more user friendly and contacting easy.
We hope that you like knowing new upcoming features of WhatsApp. If you have other features in mind that should we missed, do comment below.
Moreover, you can check out our Facebook, and YouTube channel for information about the latest tech trends.
To read more articles like this on your smartphone scan the QR code below: