Table of Contents
Since the dawn of the Internet, mankind has been on an innovation spree, exploring all the possibilities that can be achieved through sending and receiving data packets across the globe. From emails to video conferencing, ordering clothes, food, and medicines to intangible services, booking tickets and hotels to hiring taxis, banking to cloud storage services, it seems we have done it all that could have been done with the Internet. But there is one astonishing Internet service that has been overlooked for many years. And that service is Reverse Image Search Engine.
What is Reverse Image Search?
To search an image, type in the words that best describe the image and your search engine will flood you with many results. But what if you have an image and want to find out other images similar to it or know its origin. Then you would have to input an image instead of words and that is known as Reverse Image Search.
Reverse Image Search Engines are specially designed to display image results, exact and similar, to the image that the user has uploaded. They do not take keywords as input but require an image which acts as a basis of search and helps search the Internet for the same image uploaded on different websites, irrespective of size or resolution.
What can you use it for?
Reverse Image Search is one of the most useful features discovered in today's era. The possibilities of this application are limitless, but since it is not well known, it has not reached its full potential. Some of the uses of Reverse Image search that I could think of are:
Identify unfamiliar objects in images. Many a time, you might come across an image where you would not be able to identify the object in the picture. You can run the image through the reverse image search and obtain similar looking images and hence it makes it easy to identify that object. Even if you run an image of a conceptual bike or car that does not exist, chances are you may still get a fewer search and be able to know which website the image was uploaded in the first place.
Identify similar images. If you require similar images to the one you have, then Reverse Image Search is the best option you have. You may not know how to describe what you have in your image and hence it would be difficult to type in the keywords to obtain such similar images. Even if you type in the keywords, you may not get what you desire. However, if you upload your image and search for similar images, it would definitely give you a promising result. You can also find out which online shopping website offers the same T-shirt your friend was wearing at the party.  Professionally speaking, users can get various sizes and resolutions of the same image for blogging.
Identify false rumors. Social media has a lot of benefits, but one serious drawback is that it can spread false rumors as quick as forest fires. All you must do is to forward the image sent to you by someone in your contacts. Using Reverse Image Search technology, you can run the image through the internet database and find out the date and context for which this image was uploaded. Generally, 50% of these images seeking public images are old images with new captions.
Identify Plagiarism. All professional who works with images can use this technology to identify if their images, created or clicked, have been used by others without appropriate permission. One of the features includes displaying all the websites which have uploaded the image you are searching for. Photographers could identify if their pics have been stolen by someone and demand remuneration.
Identify People. Using these search engines, we can identify celebrities, artists, painters and even lost friends. When you upload a picture, it brings out all the similar pictures and the list of websites which contain a lot of information about the picture uploaded.
What websites provide this service?
There are quite a few websites providing this technology. Let's start with the leader on innovative technologies in the 21st century:
Google Images. Google has its own dedicated website for images. The widely used Google Images consists of the largest database of pictures of all categories. Due to its enormous content, the number of images indexed is higher than other sites which means the possibility of providing a fruitful result is extremely high. It is free to use and does not provide restrictions on file sizes or types of images uploaded. The steps to use Google Reverse Image Search are listed below:
1. Open Google images and click on the camera icon which states "Search by Image".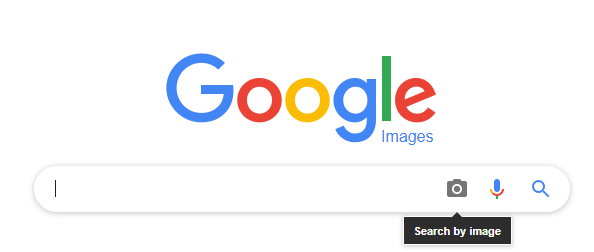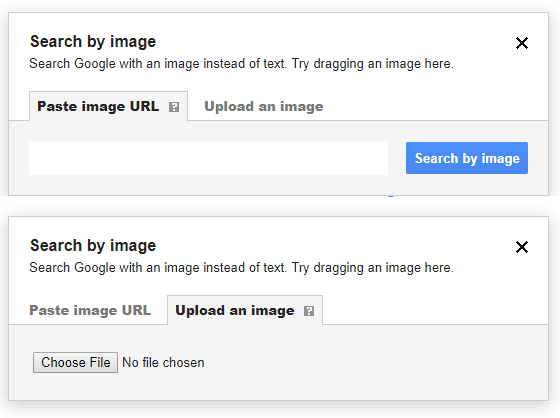 2. You will receive a popup box with two options.
You can paste the URL of the image in the first tab and click on the button beside it.
Alternatively, you can click on the choose file button and a box will open displaying your Windows Explorer. Navigate to the location of the image, select it and click on open.
3. Within seconds a search result will appear on your screen displaying the exact matches on the top followed by similar matches.
Other steps:
Drag and drop an image on the Google search bar on the Google images website and it would automatically display the results.
If you are surfing the web using Chrome browser and want to search an image posted on the web, you can simply right click on the image and click 'Search Google for image'.
An easy to use the feature by Google. Though it is not clear what algorithm Google uses but it would be comparing various attributes like size, color, shape, and resolution among various images stored in its database.
Also Check: How to Stop Spam Calls on iPhone and Android
Bing Image Feed. Bing is the second most used search engine after Google. It is undoubtedly reliable as it is Microsoft's own project. Apart from its huge database which includes the MSN network, it provides the feature of Reverse Image Search Engine. Click on the first tab 'Images' on the Bing homepage or visit Bing Image Feed and click on the camera icon.

A box opens asking you to search with a picture instead of text. You can drag your image or click on the 'Browse' link which opens a box displaying the Windows Explorer, allowing you to choose a file. Or you can paste the image link in the box below.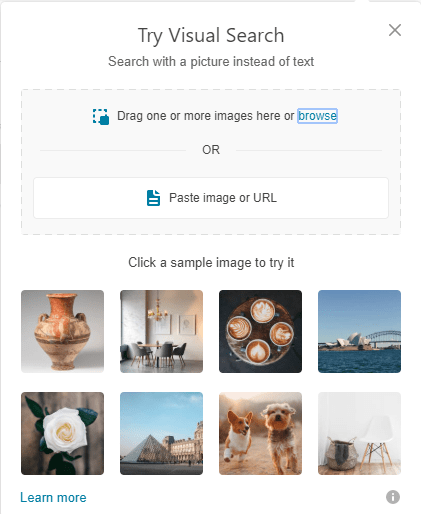 It seems that all Reverse Image Search Engines provide the same options. However, there is an added feature which Bing provides. It allows the user to crop a section of the Image uploaded and search for a portion of the image only. For example, if you have a picture that displays mobile and a laptop, the initial search would find images like the one uploaded and the results displayed would have a mobile and a laptop in the same image. If you crop your image, highlighting the mobile-only, the results would then change, displaying images similar to the mobile-only, minus the laptop.
Also Read: How To Spot Fake Videos On The Internet
Tineye. TinEye provides unique features along with its Reverse Image Search Engine. Based out of Canada, it claims to have a database of 37.5 billion images to date. The steps to find other copies of your image are the same as other websites. You can either upload the image or provide its link and get the desired result. You can track if a copyrighted image is stolen or used illegally.

Most importantly, there are a few restrictions while using TinEye. First, it only supports JPEG, PNG and GIF image format. It does not support BMP and others. Second, the upload size is limited to 20MB. Third, the free version allows up to 150 searches a week.
However, a unique feature supported by TinEye is a multicolor search engine which would display the result of those images which are chosen by the user. The user can choose up to 5 colors and the resulting images would only contain those 5 colors.
Multicolor: Search by color. This tool is a must-have experience. In the above image, I have chosen two colors and the result displays all the images which comprise of those two colors only.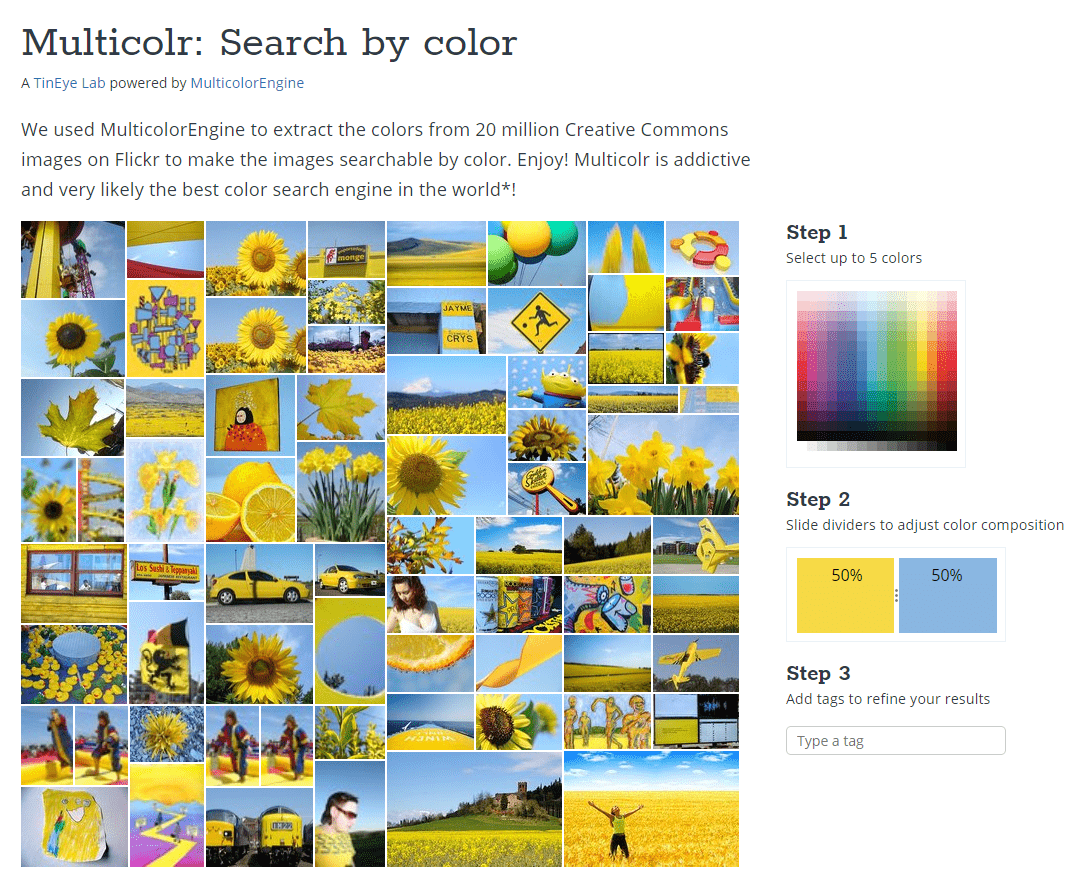 Yandex. Yandex is a search engine which is managed by Yandex N.V. It is headquartered in Russia and provides similar features to Google.com including the Reverse Image Search Engine. The service is free and works smoothly with the primary aim to track duplicate images. The home page of Yandex gives you a search bar with a few icons on the top providing you other options.

Click on the first icon that is labeled as 'Images'.

It would open the Yandex Images section where you have a camera icon. Click on the 'Camera Icon'.

Next, you would get three options which are quite similar to Google images.
a. Click on 'Select a file' and upload the file from Windows explorer
Or
b. Drag the image file by holding the left click on your mouse from your computer next to the 'Select a file' button.
Or
c. Type or Copy/Paste the URL of the image in the box on the left and click on the 'Search' button.
The results are displayed in an organized manner with The Original image is displayed with the different sizes it was found. Next section displays similar images. And finally, all the sites where the image is displayed are listed.
Social Catfish. Social Catfish provides its users with a facility to use the Reverse Image Search Engine with a difference. It also scans social media websites like Facebook, LinkedIn, YouTube, Skype, and many others. However, it is a paid website and requires a subscription.
The above websites provide search results from across the whole worldwide web. However, there are a few website specific Reverse Image Search engines which provide results from their own database only.
Pinterest Visual Search Tool. This tool is one of the most advanced among the ones developed. It was the first to allow the users to choose a specific portion of an image, zoom it, and then search for it. The results are displayed almost instantly with the search results displaying visually similar images.
Pinterest requires users to create an account before being able to use this service. Once created, you can browse across thousands of images, and if you come across something that you don't know, you can use this tool and it will display similar images from Pinterest's database.
Karma Decay. This is a simple and useful tool, exclusively for Reddit users only. It proves beneficial when you post content on Reddit as you can check your images and avoid reposting the same content again. It searches for the images in all the subreddits as well.
Can I use Reverse Image Search on Mobile Phones?
Yes, of course, you can, though it is not as simple as a desktop mode. But let me provide you with a few steps and workarounds to make it easy.
Android Phone.
Google images will open in your Android Chrome browser but will not display the camera icon. This will prevent you from uploading an image from your phone. If you are keen on using Google for your image search then open the website Google Images and click on the three vertical dots on the top left of your screen. A dropdown list will appear. Look for the word 'Desktop Site' and click the checkbox next to it. The Google reverse Image search will reload into its desktop version and you will have the camera icon which can be used to upload any image from your phone.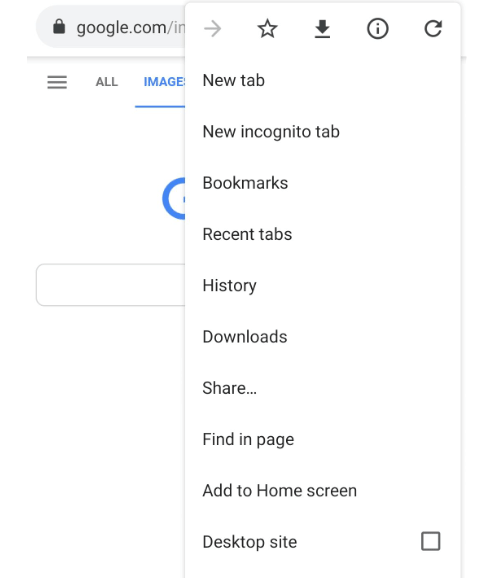 The only issue with using desktop site mode is that the website does not align itself as per the mobile screen and may appear enlarged. If that happens you can always lower down the alignment by pinching your fingers on the mobile screen.
If the Desktop Site does not appeal to you then you can always use an alternate site 'Labnol' which uses Google Images as its search engine and the results displayed would be on Google Image search results. It only acts as a front-end tool to upload the image as the camera option is disabled in the Google image mobile version.

Another option is to use the Bing Image Feed. It functions the same as the desktop version and the camera option is visible in the exact same place.
Next, we have Tineye, which also maintains the same look as on a desktop. The only difference is the Camera button is replaced by an upload button on the left of the search box.
Finally, the option is through Apps which perform the same task of locating exact and similar images. A few efficient and trusted apps are 'Search by Image' by Palm Team for Android and Reversee for iOS.
That ends the journey into the world of Reverse Image Search. I have listed the best ones I could find and what can they be used for. Also, I have listed the step to use this on a mobile device. If you think I missed any Reverse Image Search Engine, do let me know in the comments section below.