Anonymous texting has its own benefits. You can talk to strangers without any apprehensions of being judged. Or if you don't wish to share your identity with someone whom you don't know well, you can choose to keep the communication anonymous. But what we know for the fact is that in a normal scenario when we send a text or make a call, our phone number or email gets disclosed, right. Below mentioned are some awesome anonymous text apps for Android that will help you stay anonymous.
Anonymous Text App For Android:
1. Signal Private Messenger –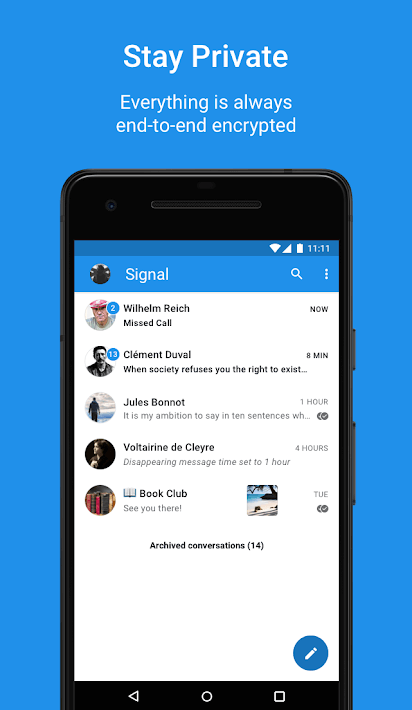 This is a highly rated free anonymous text app available on the Google Play store and has over 10 million downloads. One of the best features of this app is that it offers to make a message disappear after a specific time period, thereby keeping your message history anonymous and tidy.
This anonymous texting app works terrifically across all the network, so much so that the signal is optimized so that the app can operate even in the most constrained environments.
Another great aspect of this anonymous text app is that it has a state of the art open-source signal protocol which ensures that all your conversations are secure from one end to the other.
2. Wickr Me – Private Messenger
Wickr takes anonymous texting to a whole new level. it lets you be in full control of who can access your messages and most importantly, how long you want your messages to be accessible. After the time you have specified, the messages will vanish.
Another thing that reinforces its anonymous texting capabilities is that you don't require an email address or phone number to register on Wickr. Plus Wickr, even does not store any chunk or metadata from your communication, not even on its servers.
3. Confide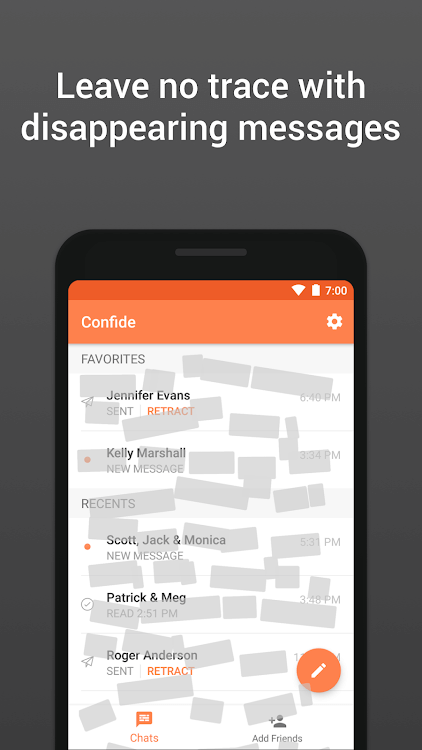 Confide is so many things under one umbrella. This free anonymous message app completely destroys messages after they are read, provides screenshot protection and delivers end to end encryption. Moreover, Confide is also available for both Android as well as Desktop.
Apart from its spectacular features, confide is famous worldwide for its steadfast customer support. This means you only need to report your issues (if any) and they'll be resolved promptly.
4. Surespot Encrypted Messenger
Download Link Not Available
Just like other anonymous message apps in the list, Surespot too provides powerful end-to-end encryption and gives you complete control over your messages, especially the ones you have sent.
In fact, when you delete a message you have sent, the same will also be removed from the receiver's device too. Another great thing is that unless and until you choose to make files shareable, they won't become shareable.
Also, when Surespot says that it is an anonymous texting app, it certainly means it. That is because it, in no way stores your email address or phone number, something which raises questions of data mining and unwanted advertising on several other apps.
Last but not least, the app has spectacular customer support too!
5. Dingtone – Free phone calls, free texting SMS on free number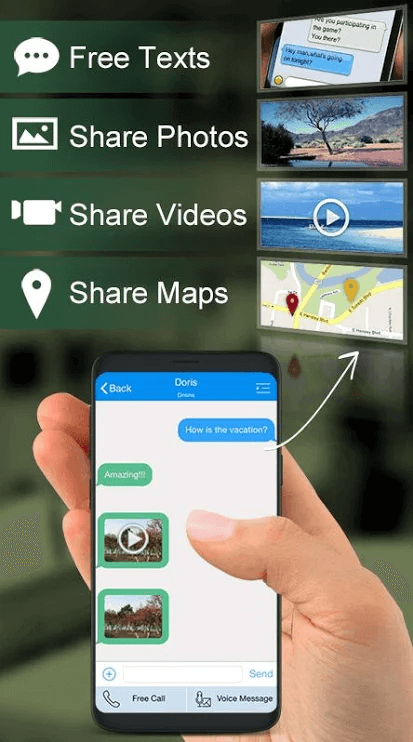 With Dingtone you get a free number that you can use as a 2nd line in alliance with the local area code for free texting and free calling. The best part is that with the help of this app you can send texts or make calls in over 200 countries.
While most of these SMSs and calls are free, you might have to incur minimal costs depending on the region.
To Conclude
With the above apps you can comfortably send anonymous text-free but what you should keep in mind is that your motive should never be to intrude into someone's privacy. Also, while you will surely be able to make new friends and talk to new people with anonymous texting, you should pay a lot of caution when using these apps.
Next Read: How to Stop Spam Calls on iPhone and Android
Follow us: