The Dual-Screen Laptop is definitely going to be the next generation laptops as every monster manufacturer has stepped into the new production line of dual-screen laptops. There was a time when touch-screen laptops were the innovation of the decad but this concept of the dual-screen laptop got a new twist in the charm.
Last year Asus innovated the laptops by replacing the screenpad with a 5.5-inch touchscreen and launched Asus ZenBook Pro and now Asus has recently launched Asus ZenBook Pro Duo with another benchmark. HP also tried to get a 6-inch second screen on above the keyboard though it couldn't grab the attention of consumers.
This combination of style cum power is loaded with a 4K OLED primary screen and a 3,840 x 1,100-resolution touchscreen above the keypad area that makes it a perfect blend of dual-screen laptop. Asus ZenBook Pro Duo is a powerful machine with a flagship Core i9-9980HK processor, 32GB RAM, and Nvidia RTX 2060 graphics. Let's explore what else it got in this innovation.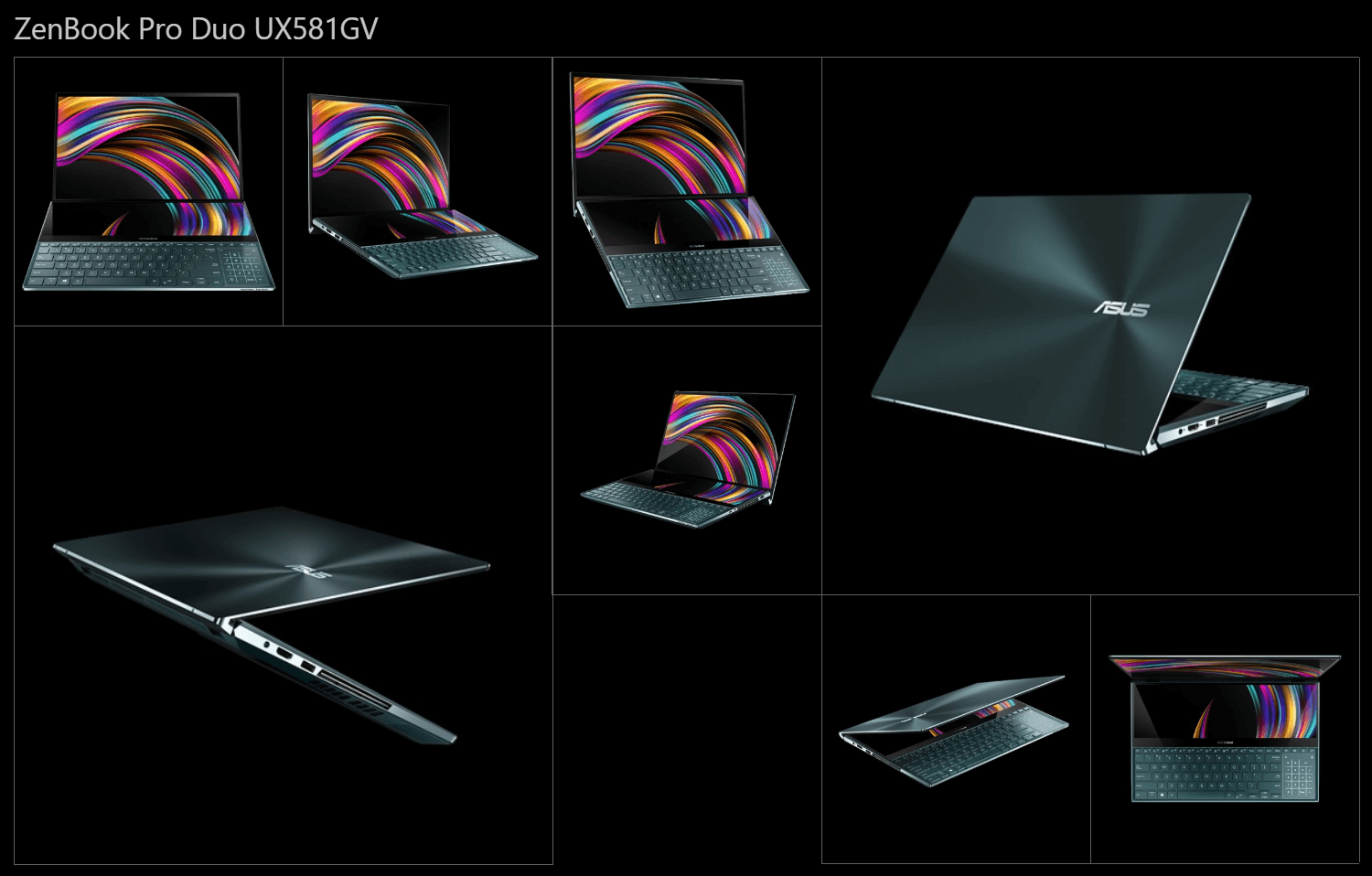 Technical Specifications
| | |
| --- | --- |
| Display | 15.6 inch 4K (3840 x 2160) OLED HDR touchscreen 15.6 inch 3840 x 1100 ScreenPad Plus |
| CPU | 2.4-GHz Intel Core i9-9880HK |
| Graphics | Nvidia GeForce RTX 2060Intel UHD Graphics 630 (integrated) |
| Memory | 32GB DDR4-2666 |
| SSD | 1TB PCIe NVMe |
| Networking | Wi-Fi 6 (802.11ax) |
| Video Memory | 6GB |
| Bluetooth | Bluetooth 5.0 |
| Ports | 2x USB 3.1 Gen 2 Type-A, Thunderbolt 3, HDMI 2.0, Headphone/Mic combo jack |
| Audio | 2x speakers certified by Harman Kardon |
| Camera | IR (Windows Hello support) |
| Touchpad Size | 2.4 x 3.4 inches |
| Battery | 71Wh Li-Polymer |
| Power Adapter | 230W |
| Operating System | Windows 10 Pro |
| Dimensions (WxDxH) | 14.1 x 9.7 x 0.9 inches / 359 x 246 x 24 mm |
| Weight | 5.5 pounds (2.5kg) |
| Warranty Support | 1 Year Limited Warranty |
| Price | $2,999 |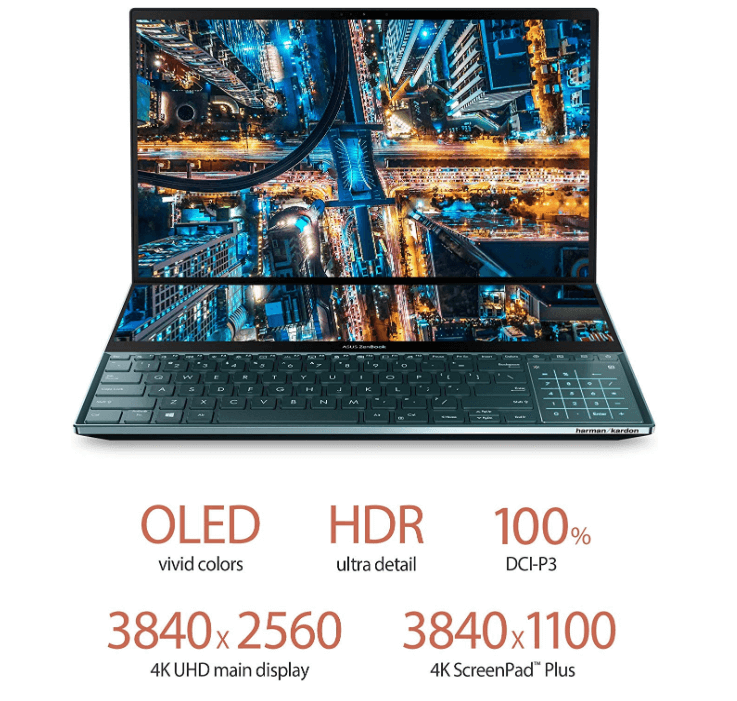 Logic Behind the Concept
In the past few years, dual-screen has become an essential need for swift computing. We tried to gather as many reasons as we can for the logic behind the concept.
"ZenBook Pro Duo is loaded with a dedicated Turbo Fan button to boost cooling whenever needed"
Vertical Display
We have been using side by side screens for a long time with dual monitors or flip horizontal screens attached to the laptop. It was convenient for the user however when the vertical dual-screen got introduced, it turned out to be more comfortable to just twist your eyes rather than turning the neck. Even the hand movement is lesser in vertical display than rotating the pointer left-right.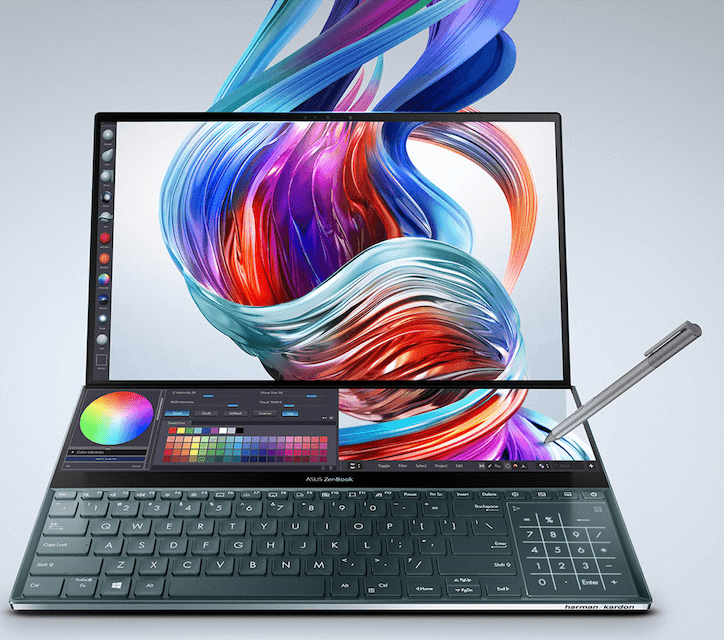 Get Extra Screen Without Occupying Extra Space
With dual monitors or dual-screen laptops, more amount of space was required to get an extra screen. Extra hardware was required to establish extra connections for bigger screens. Asus ZenBook Pro Duo made it innovative and utilized the existing space on the laptop and gave you extra room to lay over your multiple windows.
Good Bye Alt + Tab
The innovation of dual-screen laptops cut down the need for Alt + Tab while using a laptop to switch between multiple windows. Asus ZenBook Pro Duo made it easy to cut down on to and fro to switch between screens on a laptop as we now have room for multiple windows at a time.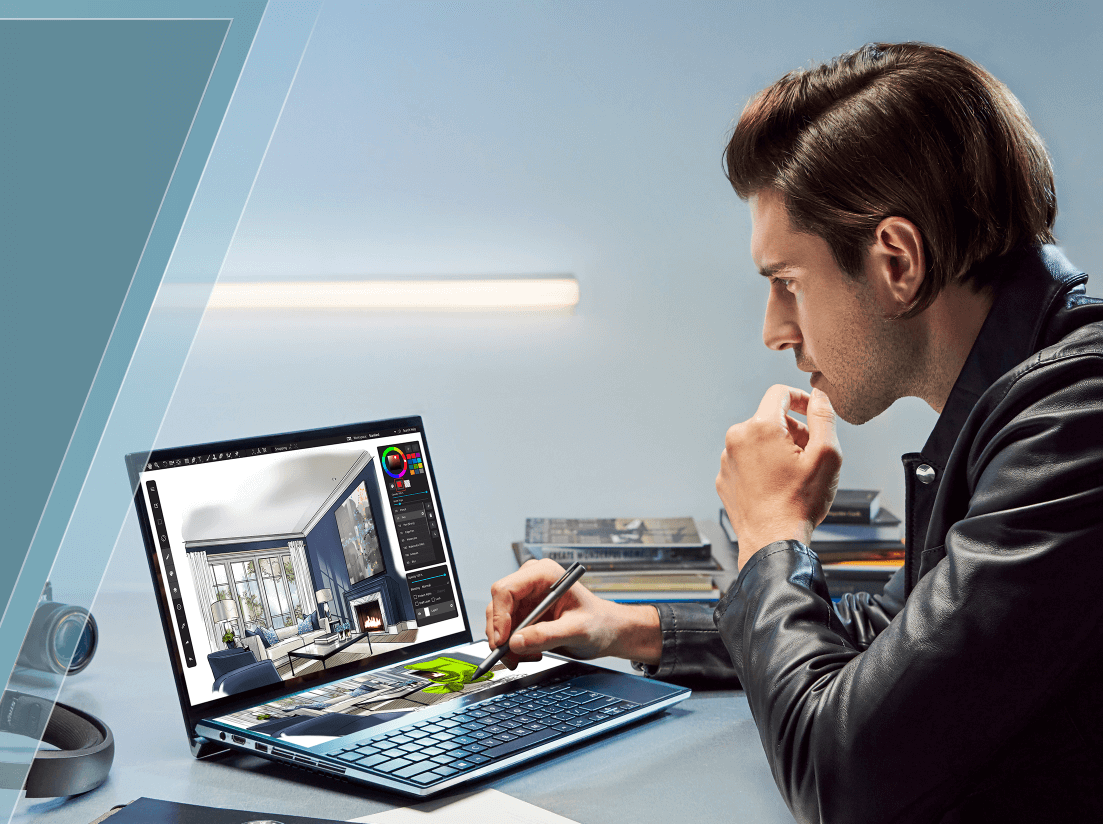 Multitasking Fantasy Came True
Those who got too many tasks on the plate can definitely make the most out of dual-screen laptops. Multitasking is made easy with this innovative technology as everything is right in front of your eyes.
The Asus ZenBook Pro Duo's secondary screen is edge-to-edge from the main screen. It fills the entire space of the top half of the keyboard deck that can fit in more than 2 windows side-by-side for multitasking.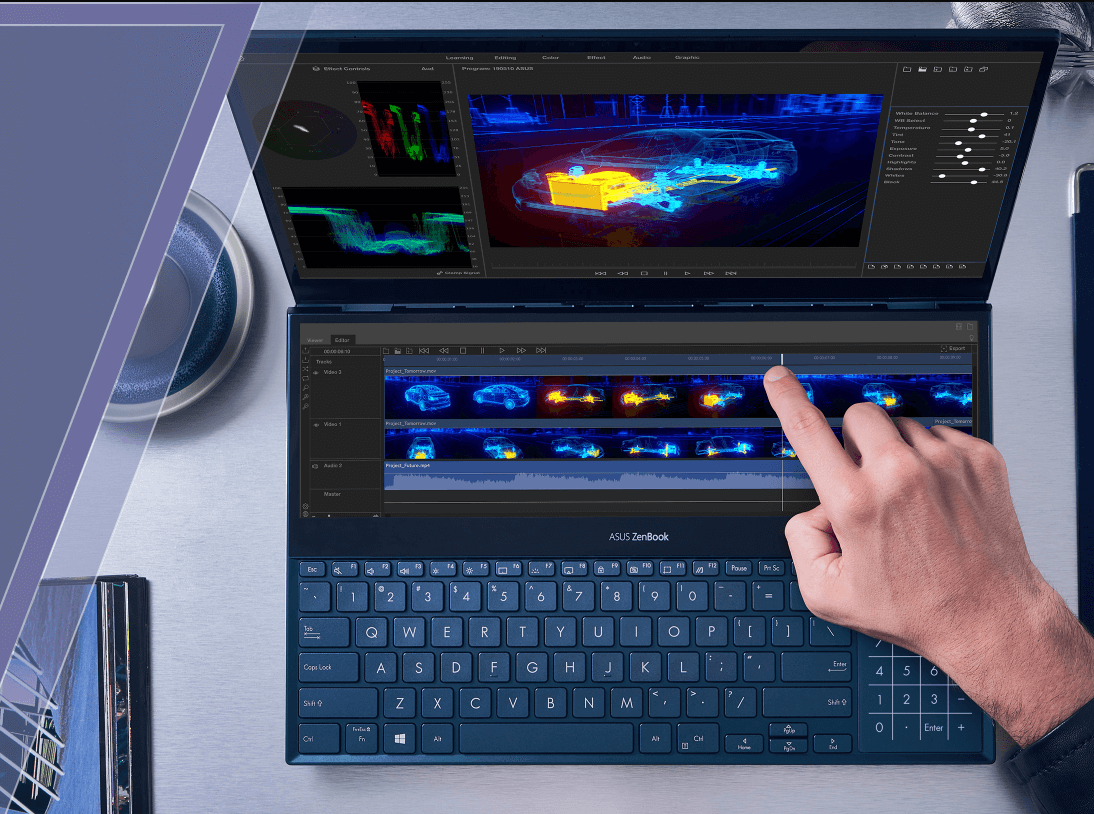 Asus ZenBook Pro Duo Pros & Cons
| | |
| --- | --- |
| Asus ZenBook Pro Duo Pros | Asus ZenBook Pro Duo Cons |
| Innovative Gaming Machine | Thick And Bulky |
| Surprisingly Gorgeous OLED Dual-Screen | Average Battery Life With Dual-Screens |
| Powerful Hardware For Multitasking Champions | No SD Card Slot In Such An Expensive Laptop |
| Dual-Screen Functionality Made Easy With Touch Screen | Screenpad Plus Could Be Better |
| Exceptional Multi-Core Performance With Speedy SSD | |
| Futuristic Gaming And Overall Laptop Features | |
| Dual-Screen + touch-screen laptop | |
"ZenBook Duo series supports IR web camera with Windows Hello support on Windows 10"
Most Innovative For
There are many of us who can be benefitted from the innovative design of ZenBook Pro Duo. It is the best fit for Video Editors, Designers, Architects, Music Producers, Professional Gamers and creative people.
Asus ZenBook Pro Duo allows creative people to explore more and get the most out of the dual-screen technology with powerful configuration. Its intuitive design and ease of access is very user-friendly for creative people.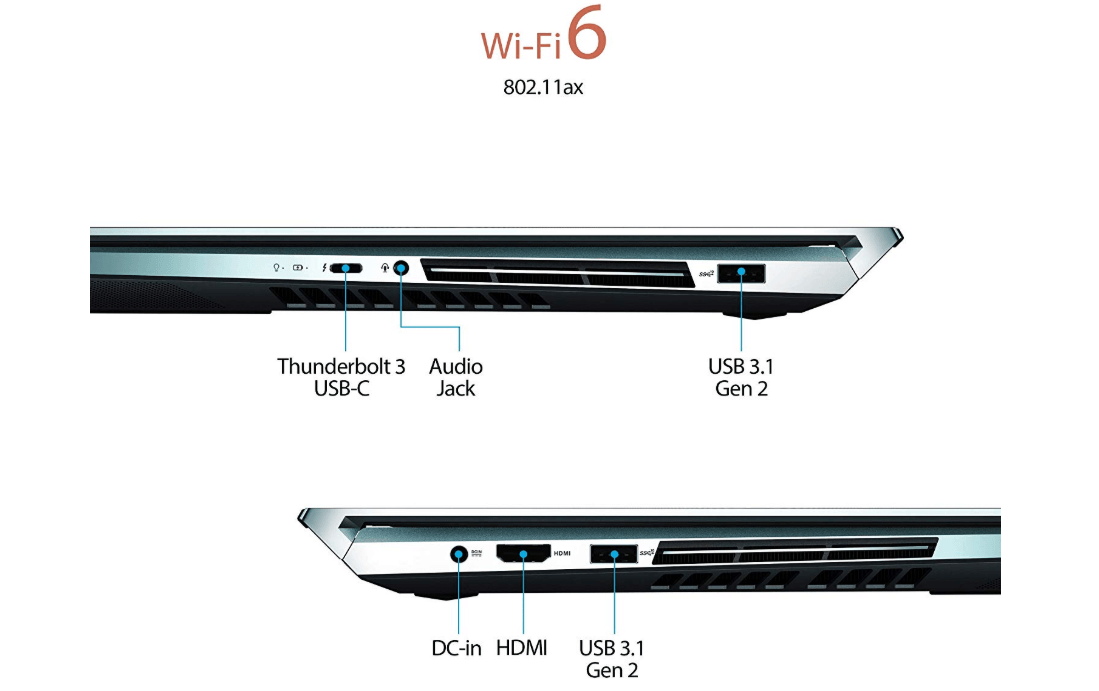 What You Compromise?
Though, this is a wonderful machine, this Asus laptop lack in a few aspects. There could have been more ports to support multiple connectivities with this dual-screen laptop. It has got 1 USB-Type C (Thunderbolt 3), 2 USB-Type A, and an HDMI port however the SD-card slot is missing.
It could have been more attractive at this hefty cost. The front looks superb with the dual-screen laptop look however the rear of the flap could have been more eye-catchy. You may also face some issues with fullscreen apps and games.
"ZenBook Pro Duo is powered by the Intel Core 9th-generation processor combined with 32GB RAM"
How long will it last?
The technology of the dual-screen laptop will boom and we may see more of such breed however will Asus ZenBook Pro Duo be able to sustain in front of tech rivals, that's a big question. Though the warranty for this expensive technology is just for a year that is way too less for a new invention.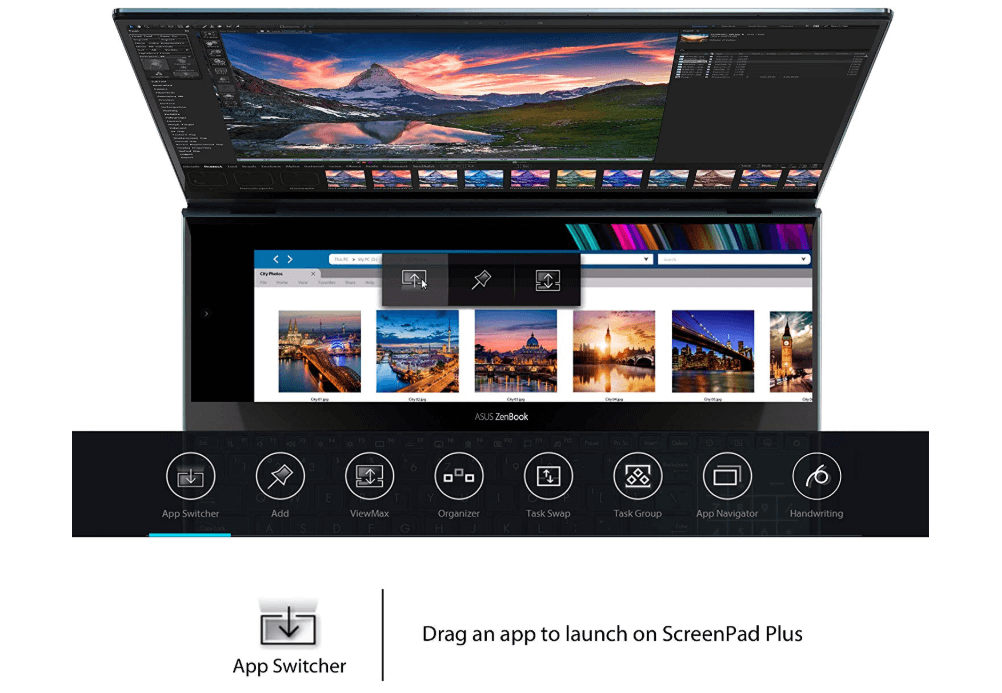 Should You Buy It?
If you have got a creative hand and you want to live up with the latest technology, if you got deep pockets and can make use of dual-screen laptops as a professional, Asus ZenBook Pro Duo is for you. Though I personally can't afford a first-hand $3000 laptop even if it's in my dreams.
Where to Buy?
You may find various deals from different vendors however it is recommended to buy it from the manufacturer. But if you will try to get it from the manufacturer site, it will still navigate you to different stores including Amazon. You need to be cautious in Processor selection as you may end up buying Intel Core i7-9750H instead of all new Intel Core i9-9980HK.
Summing Up
Asus ZenBook Pro Duo is overall a wonderful innovation and a powerful dual-screen laptop. This touch screen laptop will not only amaze you but you can flaunt around with people around you and always stay on the peak of performance with its multitasking intuitive features. With the use of screenpad plus, this Asus laptop is going to get perfection in your creative hands.
If this article turned out to be helpful to you, please like and share this with your colleagues. For more such tips, tricks and tech-related updates, click on the bell icon to get regular updates from Tweak Library. Do share your thoughts about this article in the comment section.
Follow Us: