Table of Contents
Many problems can be fixed using Windows Troubleshooter.
Windows troubleshooter is a small tool that will diagnose and automatically fix common problems. These problems can be anything from network to Windows Update and from Bluetooth to audio and many more.
Troubleshooter was already available in Windows for a long time, but now you will find it directly integrated into the settings in the Windows 10 Creators Update.
You can follow these steps to Troubleshoot the issue you are facing with your Operating System. You can access the troubleshooter in the Settings app
How to troubleshoot the problems on Windows 10
If there is something wrong with your Windows 10 Creators Update you just have to run the troubleshooter on your system to resolve the issue.
To open troubleshooter settings follow the steps below:
Go to Settings.

Now click on Update & security.

From the left pane click on Troubleshoot.

Now from the given list select the one that describes your issue, and click the Run the troubleshooter button to start troubleshooting.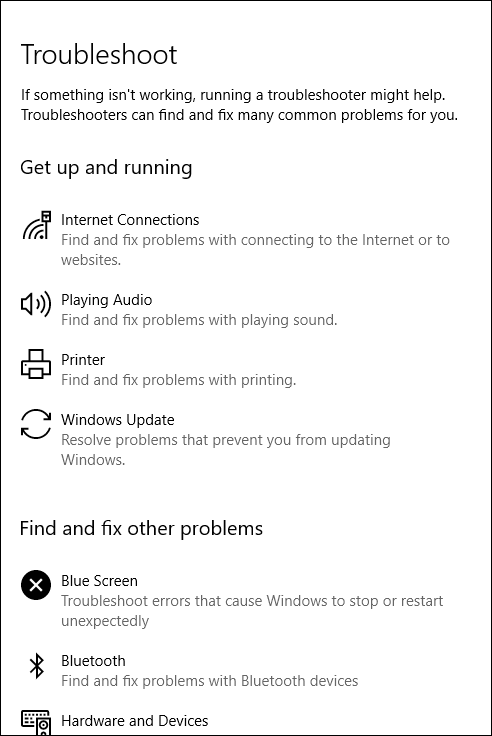 Troubleshooter may provide some directions to fix the issue once you've followed the directions. Your problem will be resolved.
Sometimes you will also get an option to apply or skip the fix.
You will also be provided a detailed report of the issue to view it click the View detailed information.
The Troubleshoot page is divided into two sections, which includes Get up and running and Find and fix other problems sections. Which contains 19 troubleshooters in total to fix a different problem which you may encounter when using Windows 10
Wrapping up the troubleshooter:
If you find any problem in Creators Update, first thing you should do is to use these troubleshooters which should resolve the issue first hand. If not you can always rely on other sources to resolve the problem.