Adoption of mobile payment is weak in the USA. If we look at other countries, almost two-thirds of the consumers prefer to use mobile payments and will go for Apple wallet. Though, just 8% of Americans are using mobile payments. As per studies, Americans need a reason and incentives to adopt mobile wallet culture and Apple believes that they have got the reason to launch their all-new Apple Card.
If you're among the Apple's fan followers, it's recommended to take a look at the Apple Card. Apple has partnered with Goldman Sachs to design Apple's Card the Apple way. Goldman Sachs is America's renowned multinational investment bank and financial services company who believes that acceptance of Apple Pay gift card will increase from 70% to 99% in the US. Rewards for Apple purchases and transactions made using Apple Pay Wallet are reserved for Apple which makes it more of an incentive program for using Apple's technology.
About the Apple Card: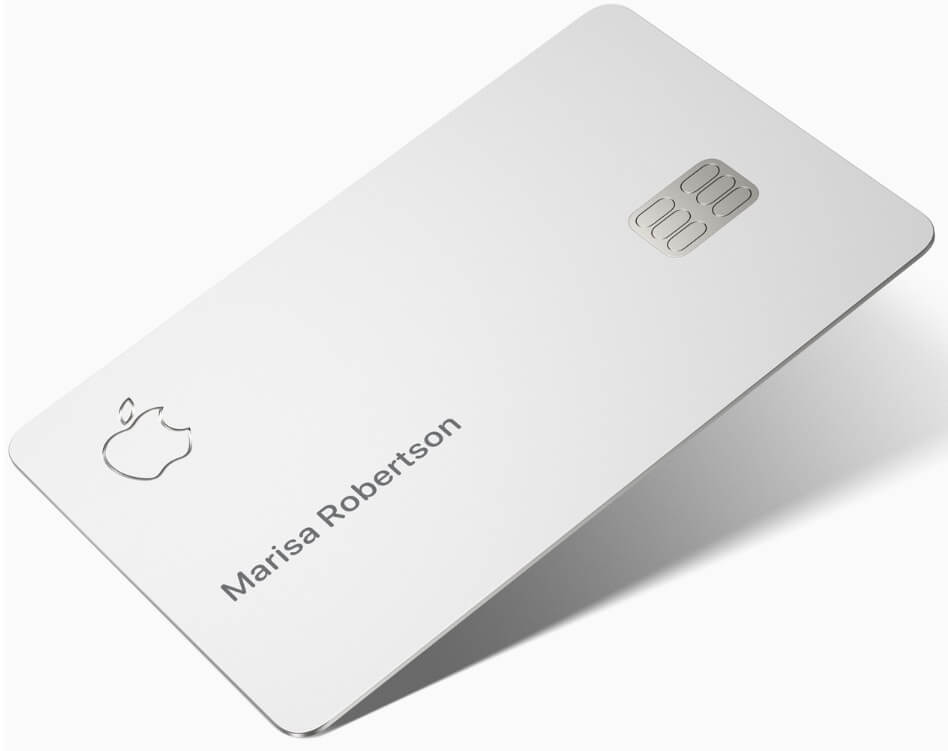 RECOMMENDED CREDIT SCORE –

REGULAR APR – 12.99% – 23.99% Variable
ANNUAL FEE – No Annual Fee
REWARDS EARNING RATE – Earn 3% for every $1 spent at Apple.
Earn 2% for every $1 spent using Apple Pay Wallet.
Earn 1% for every $1 spent on all other purchases.
FOREIGN TRANSACTION FEE – 0%

Best For:
If you shop a lot on Apple store, this card is worth a swipe as the rewards will be higher and will be accumulated in your Apple Wallet. If purchasing outside of Apple or without Apple Pay Wallet, one should better use other card options with no-annual-fee and pay 1.5% or 2% cashback on all purchases clubbed with a variety of benefits.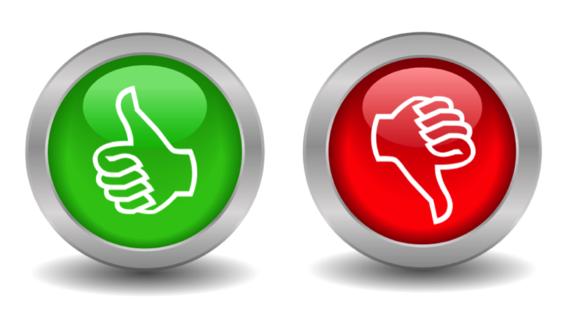 | | |
| --- | --- |
| Pros | Cons |
| Financial-management too | Useful only for Apple users |
| Great rewards rate on Apple Pay purchases | Titanium Apple Card only offers 1 percent on non-Apple purchases |
| 3 percent cash back on purchases from Apple | Other credit cards offer better Rewards & Benefits |
| Beautiful and practical credit card app interface | |
| Low end of APR range is among the best | |
| Gorgeous titanium Apple Card | |
| No annual fees | |
Final Verdict
Apple Card is a trending credit card experience with new features, however, it'll benefit you only if you shop a lot on Apple store. Apple credit card will tempt you to stick with Apple devices and services.
APPLE CARD'S ADDITIONAL INFO

MAX LATE FEE 
None
MAX OVERLIMIT FEE
None
MAX PENALTY APR 
N/A
GRACE PERIOD 
Unknown
ONLINE RESPONSE 
No
CASH ADVANCE APR
N/A
CASH ADVANCE FEE
None
FOREIGN TRANSACTION FEE
0
SMART CHIP 
Yes, unknown
Rewards on Apple Credit Card:
Discover cashback of 3% on Apple products
Discover cashback of 3% through selected merchants like Uber and Uber Eats, though Apple says they have plans to add more.
Discover cashback of 2% on all purchases you make through Apple Pay Wallet App
Discover cashback of 1% on everything else when you use the physical card made out of titanium.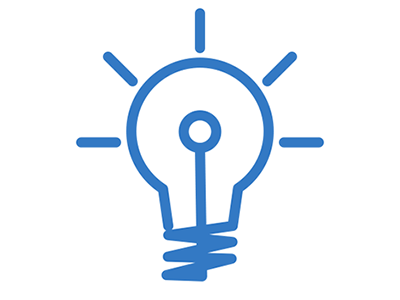 Tip: "Apple Card comes with a Credit Card debt tool that calculates and shows the amount you pay each month affects the amount of interest you owe to Apple."
Learn More About Apple Credit Card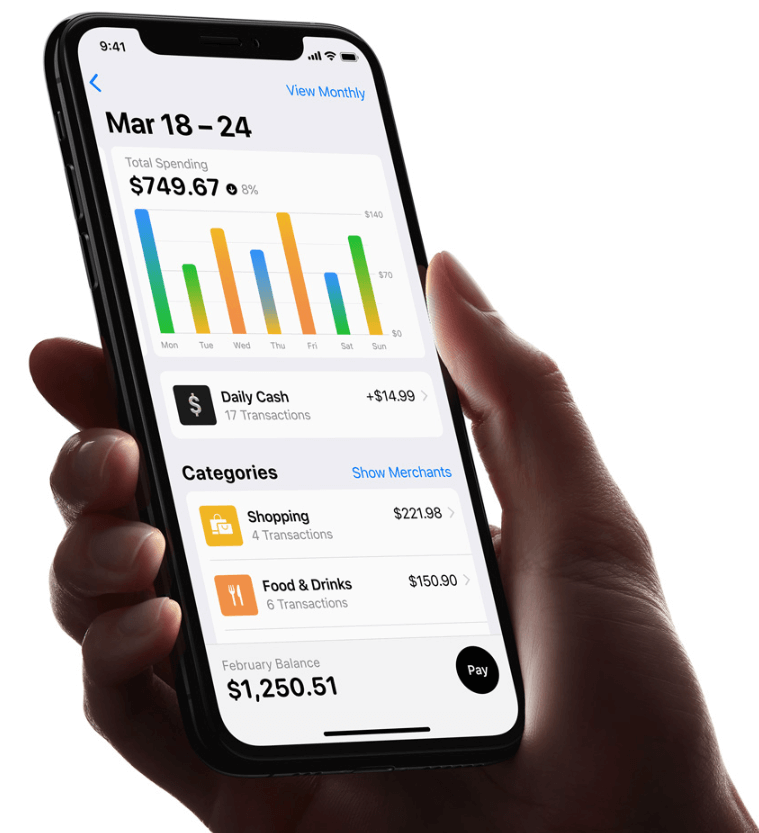 Most Useful For People who want
Superfast credit approval
Analyze their shopping habits
A sleek & unique statement interface
A credit card to suit their Apple fans lifestyle
Instant ability to pay off the balance right from their iPhone
A profound understanding of what paying off a balance means
Continuous communication with their credit card activities
Fast access to Daily Cash reward payouts
Reminder alerts to pay bills
Not Useful For People who want
To use an Android / Windows phone
To evade being exposed to more debt buildup
To avoid being made fun of for having an Apple Card
To use third-party mobile wallet apps
Does Apple Card Affect Your Credit Score?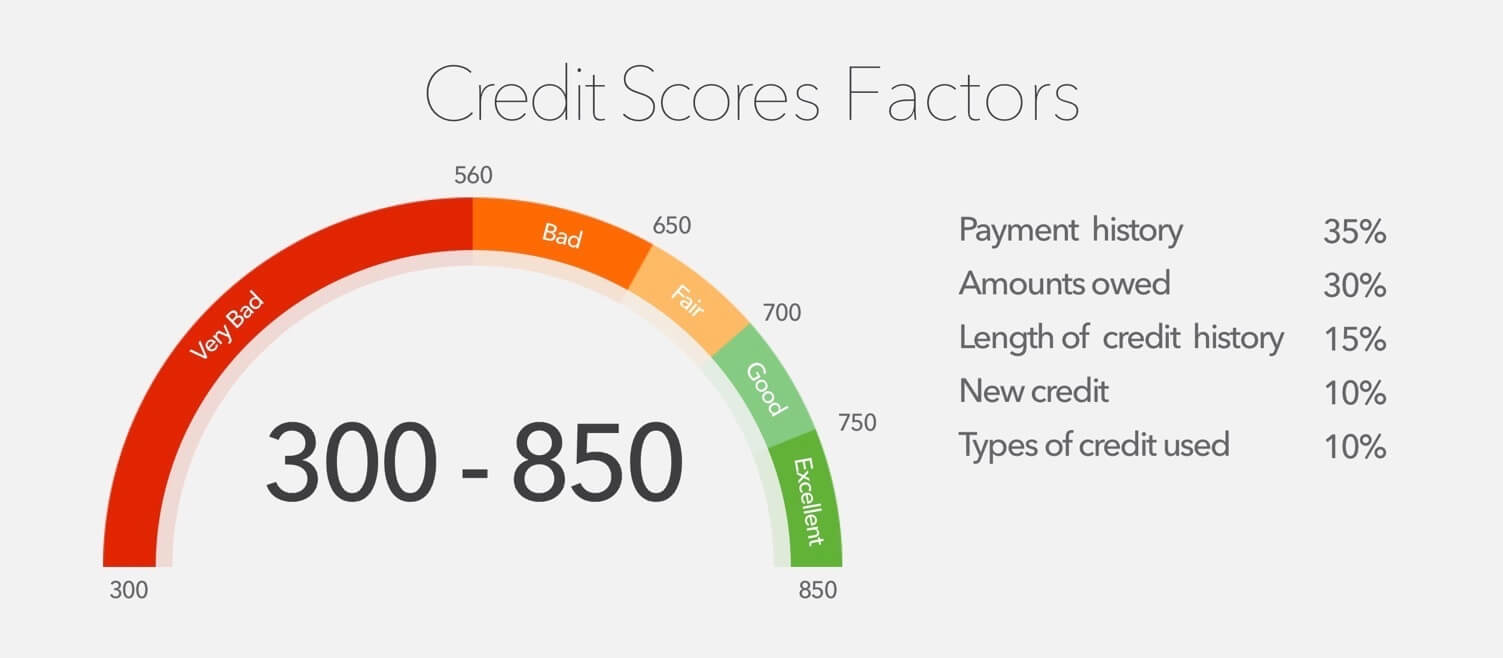 There have been rumors that the Apple credit card will put an impact on your credit scores. Well, it's plain and simple, when you tap to apply for the Apple Card and fill out your information, add your social security number and annual income, Goldman Sachs doesn't pull a hard inquiry on your credit.
"You're pre-approved for a new Apple Credit Card"
By applying for Apple Credit Card, you are simply asking for a pre-approval of your Apple Credit Card.
If you're declined, it does not affect your credit score.
If you're approved and you accept the offer, Goldman Sachs does a hard inquiry, which may have an effect on your credit score.
How Long Does it Take to Apply?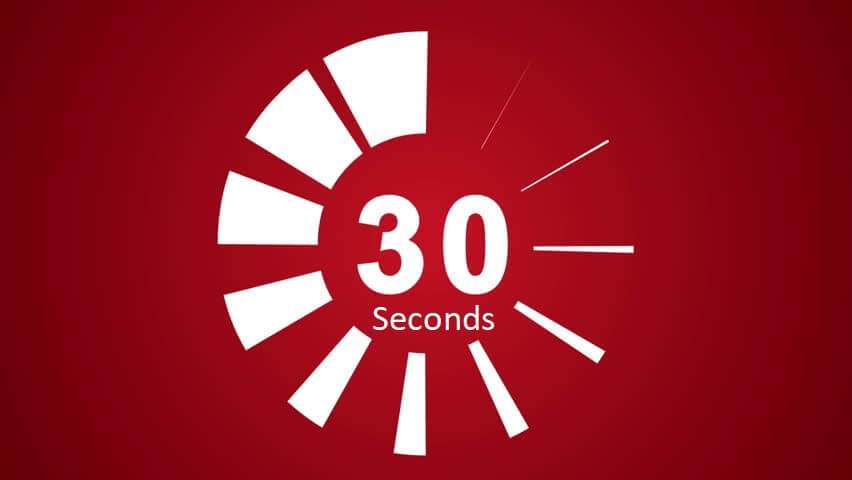 It's much easier to apply for an Apple Credit Card than to apply for any other bank's credit card. No paperwork, form filling, website visiting, store visit is required to apply for Apple Card.
It's all set up by Apple Pay. From start to finish, including acceptance of the offer, it takes about three minutes. The actual wait time to get an approval is about 30 seconds.
"Yes, you can use Apple Card to pay for anything!"
Instant Notifications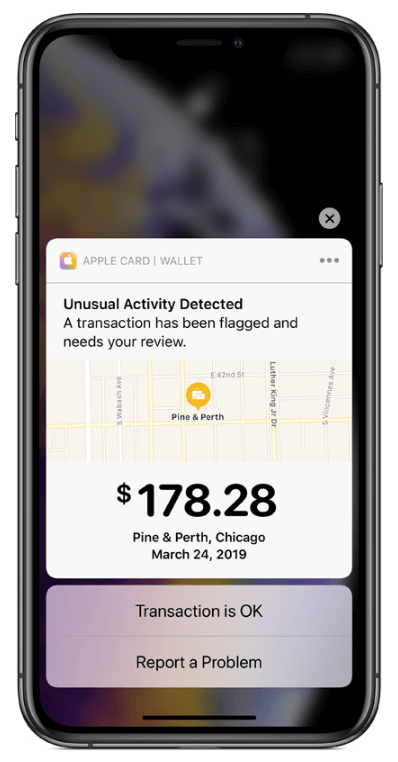 Whenever we install a new app we immediately disable any notification offers. But, for Apple Card, You would love seeing all activities appearing right on your Lock screen, regardless it's a transaction or an update to your Daily Cash rewards, or a reminder to pay your bills.
When we get a transaction notification, it's like getting a receipt sent directly to our phone, confirming that the transaction went through. It's very satisfying.
Fees Levied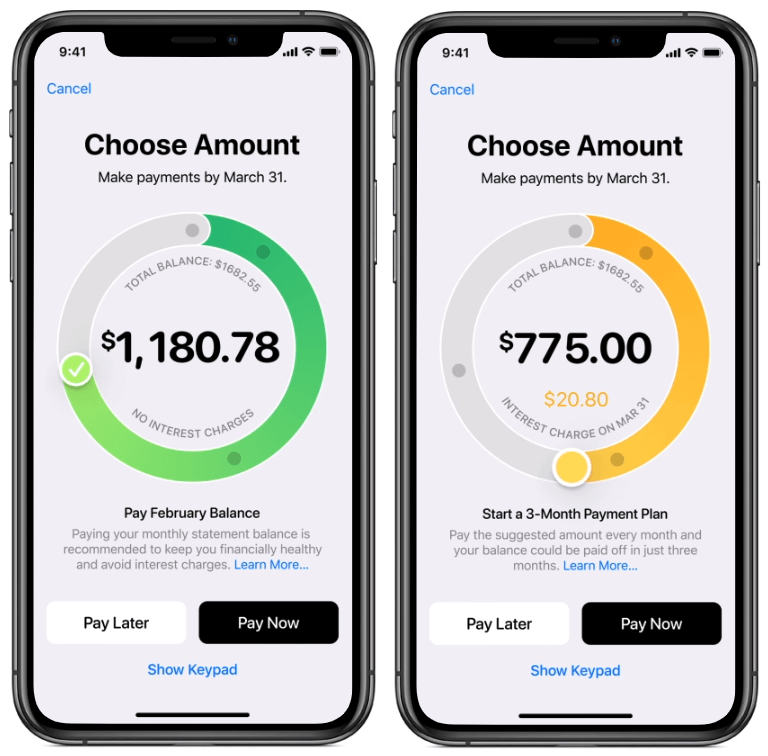 Apple Card doesn't charge you any additional fee for anything except interest charges. It doesn't offer things like cash advances or balance transfers hence there is no additional fee imposed. Late Fee or missed payments don't carry any additional fee but will result in additional interest accumulating on your balance. Dozens of countries accept payments using Apple Wallet, so if you find Apple Pay gift card acceptance abroad, you'll be happy to know that Apple Card doesn't even charge a foreign transaction fee.
"It's All Free except Interest Charges!"
Redeeming Rewards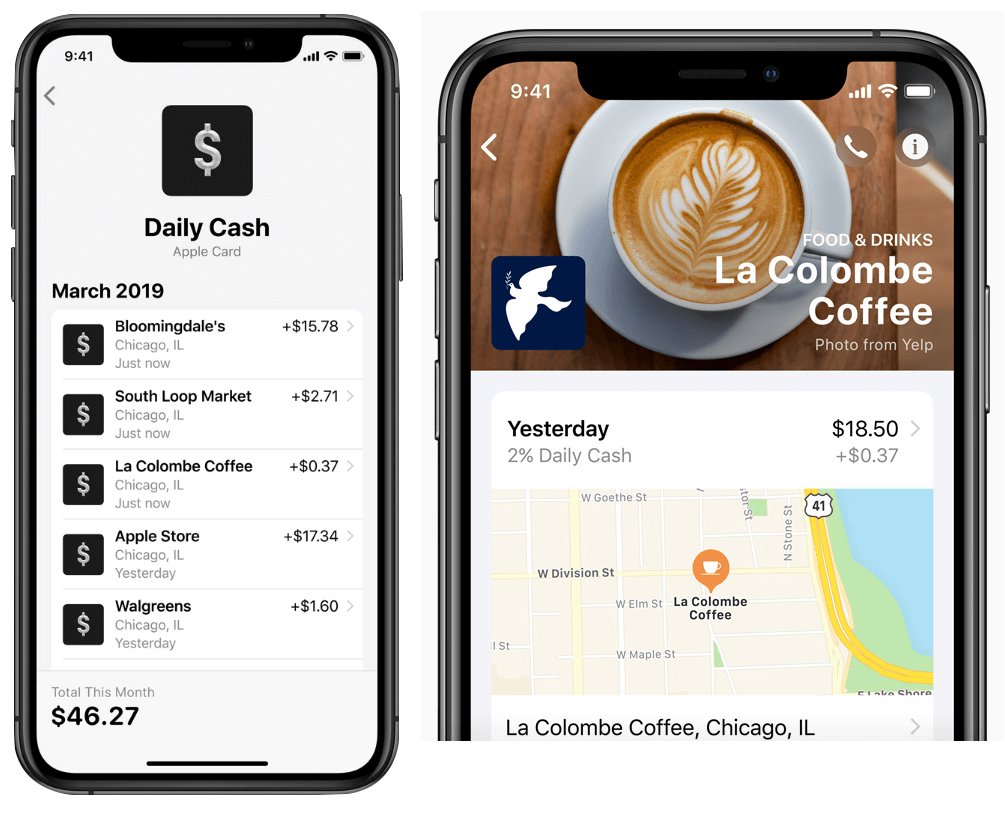 Daily Cash automatically accumulates on your Apple Cash Card account, which you can use for any purchase that you pay for with Apple Pay gift card. Users without an Apple Cash Card account can redeem their Daily Cash as a statement credit on their monthly bill.
Security Features
Numberless Credit Card: Both the physical and virtual Apple Credit Card have no numbers labeled on them. For non-Apple Pay transactions on apps or websites needing a card, the Apple Wallet app or Safari web browser auto-fills a virtual card number.
Integrated Map Data: Tap a transaction you don't recognize to pull it up in Maps and see where it occurred. It helps remind the purchase or claim for a refund if it's still unknown.
Wrapping Up
If you hate waiting in a queue or want to save on the Apple store, Apple Credit card will actually help you save a lot of money in your Apple pay wallet. However, if your spending more on other marts, Apple credit card won't be a good option. It's good to have an Apple Card to flaunt and to get those additional savings on all Apple purchases. Sadly, for Android users, this isn't an option to consider.
If this article turned out to be helpful to you, please like and share this with your colleagues. For more such tips, tricks and tech-related updates visit Tweak Library and if you are more into tech-related videos do watch and subscribe to our YouTube channel. You can also reach us on Facebook and Pinterest.
Next Read: Get Apple Student Discount on Macbook And Other Apple Products