Do you know what is a file extension and why it's so important? Well, a file extension is shown at the end of a file and starts with a period which is followed by a few characters. For example, the file myhomework.pdf ends .pdf, a file extension that might be associated with Adobe Reader Document on your Mac. However, the default setting for Mac OS is to not display a file's extension as those file extensions are hidden. As an instance, image files with the .png extension will ignore the .png at the end of the filename, and apps will likewise discard the. app extension.
However, depending on your need, you can show or hide an individual or the entire files filename extensions on your Mac.
Why Show filename extensions on Mac?
If you have not set up your Mac to show file extensions, it can potentially harm your Mac likewise, you have open an unknown file on your Mac without checking its Extension.
For example, let us assume that you come across a new file named as "document001" on your Mac. It is not a good idea to click on such an unknown file without taking a look at its extension, especially if you do not remember creating a file with such a name.
It can be a potentially harmful file or can be a virus. So, it is important that you enable the option to show file name extensions for files on your Mac.
How to Show/Hide File Extension On Mac (Individual Files)
First, you select the individual file for which extension you want to show or hide.

Now, right-click on the unknown File and then select the Get Info option in the contextual Menu that appears.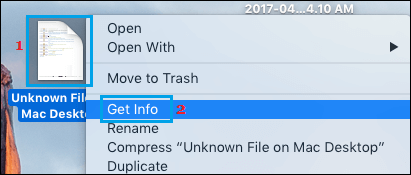 In the pop-up window, click on Name & Extension to expand the section.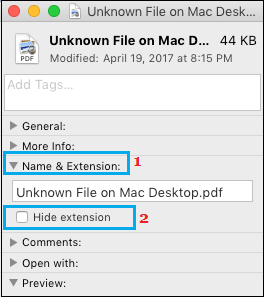 Finally, check/uncheck the box next to Hide extension

in order to hide/show the file extension.
How to Show/Hide Filename Extensions For All Files On Mac:
Open on Finder Icon on the taskbar of your Mac.

Now, click on the Finder option on the top menu-bar of your Mac and then click on Preferences in the drop-down menu.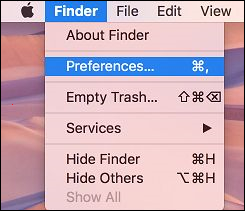 Finally, click on the Advanced tab and then check/uncheck the box to Show all filename extensions in order to hide/show the file extension.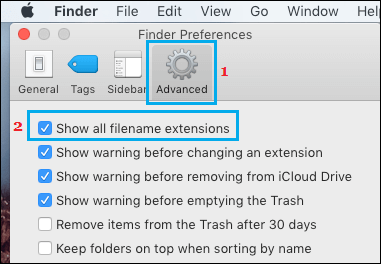 It's as simple and quick as that. If you like to hide filename extensions on mac , then follow these easy steps.
Also Read: How To Use Touch ID On MacBook Pro