In the past few years, our addiction for social networking websites or apps has increased a lot. However, initially, only youth seems to be addicted but now people of every age group are active members of these social sites. Among all the social networking websites, Facebook is one of the oldest and most popular, and this is the reason that it has now more than 1.94 billion monthly active users.
If we look around, then we will find that most of us start our day by posting a status update and ends it with reading our news feed on Facebook. This itself shows our inclination towards Facebook.
However, we guys need to understand that making our account secure is more important that posting a status an update, as there are a lot of prying eyes over our personal data.
In this article, we will discuss Two-factor authentication of Facebook and learn how to use it, if not already used.
Also read: How To Download Your Personal Facebook Data
How to enable Two-factor authentication:
Two-factor authentication is a security feature that helps you to protect your Facebook account, in other words, it is a protective shield that makes your account more safe and secure. Once you enable this security you will be asked for a security code in addition to your login password.
To get the things started first sign into your Facebook account.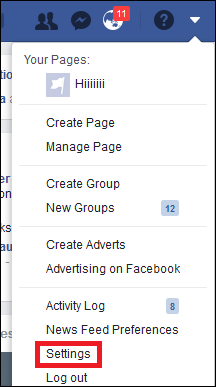 Once you signed in to your account click on ∇, at the top right corner of your screen, and select Settings.

In the new window that opens click on Security option.

Now, in Security Settings option click on Two-factor authentication.

To enable Two-factor authentication, you have to click on Set up.

You will now receive a dialogue box, asking for your confirmation. Click on Enable to continue.

Once you click on Enable, you will receive a confirmation that Two-factor authentication is now enabled.
Now log out from your account and confirm that Two-factor authentication is enabled.
Sign into your account and enter your password.

You will now receive a box asking you to enter the 6 digit login code. There are several methods to get a security code like Sms codes sent to your mobile phone, security codes from Code Generator, tapping on your security key on a compatible device, security codes from a third party app and using one of your printed recovery codes. Get the code from any of the methods and enter it in the Login code box.
Please note that for getting a login code on SMS you need to have your phone number registered with Facebook. However, the best way to get the login code is to open Facebook app and generate a code using Code Generator.
Facebook has done their part by introducing Two-factor authentication feature, however it is now our prime duty to protect our account by enabling this feature.