Sometimes, people who love reading books, most of the time gets too busy to sit down on the couch and spend a few hours to read their favorite book. Sometimes, cooking food, baking cookies, knitting sweaters, and exercising gets in the way of quality reading time. Using the VoiceOver, the amazing text-to-speech feature you could just get your device to read to you Text, iBook, Kindle apps and much more. Or you could invest some money to download audiobooks from iTunes or a third-party digital audio book supplier.
Using VoiceOver in iBooks can be slightly tricky. The gestures that you are generally using on your iPhone will not work and you have to practice using single, double, or triple tapping with one, two, three, or four fingers to move around on your device.

To activate VoiceOver please read: How to use VoiceOver on iPhone

Here's how you can navigate through iBooks with the VoiceOver activated so, you can have your favorite books read to you while you are busy doing your chores.

Go to iBooks and select the book you want your iPhone to read to you. Open the first page of the book, or whatever page you wish to read.
Triple-click the Home button to turn on VoiceOver.
(If you find the different functions and gestures of VoiceOver confusing, then you should probably just turn it off by Triple-clicking the Home button. Until you had some practice with this feature).

Single-tap on the body of the page or the words of the book using one finger to select it.
Swipe downward with two fingers on the screen to activate VoiceOver.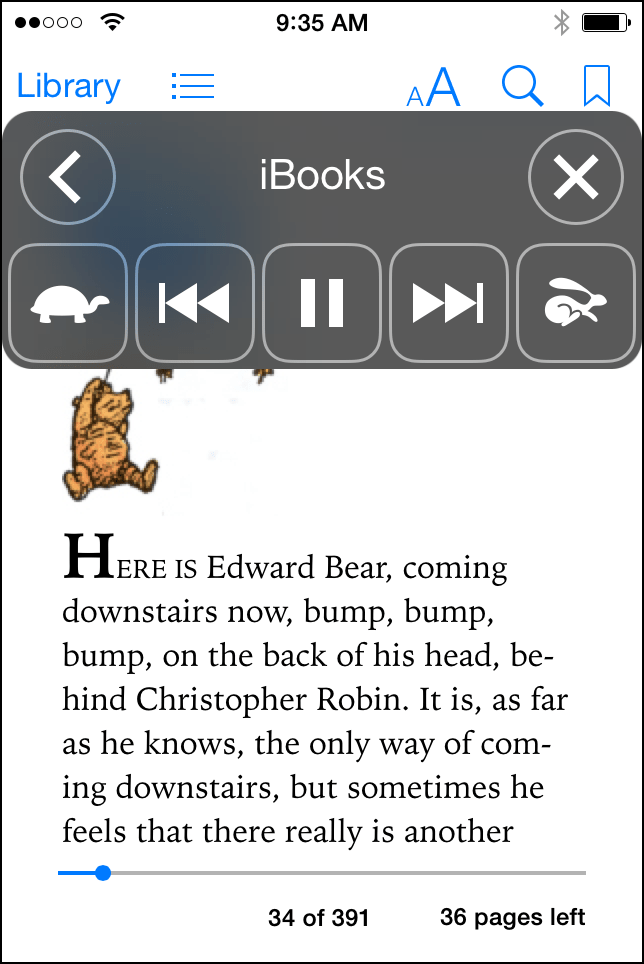 Once the VoiceOver is activated, the iBook will be read to you and even the pages will turn automatically. Single-tap the screen with two fingers to stop reading.

Now you can get your device to read to you so that you can free your hands and eyes for more important tasks, like driving or making dinner.