Ever wondered how the booking page information is auto-filled with your name and other personal details? You will be amazed at the amount of information your browser and Google collect. Feel the need to get it fixed? Keep reading to find the way.
Today, it is so easy to get to know about your likes, your vacation spots and even your home address from the information spread all over the internet on different links.
Also Read: How Apps and Websites Harvest Information and What They Do With It
Information such as full name, home address, office address, date of birth, email address, phone number, your education, your relatives, friends and much more comes under personal information.
Often these can fall into the wrong hands and can be misused. Identity theft and giving more information than you plan is a problem. Some sites even collect your Social Security number which can cause more harm.
Where they collect data from?
They source the public database of Government – Census records, electoral lists, marriage registration bureau, land purchase or sell records etc. Furthermore, largely from the websites that we have willingly given too much information. Also, your job portals accounts which have information on your education and email addresses.
And then there are social media platforms where we all happily share all kinds of stuff happening in our lives, but which can be the most hazardous. As these contribute most in leaking our interests and likes to various advertisers and online marketers. Hence, all the information scattered around the Internet is our own data feed.
Data collection work
Data brokers such as Whitepages, Spokeo, Peoplefinder, PeekYou have a big game ahead of them for the Internet game changers.
Why are they collecting your data is the question! Well, basically they are doing it to sell the information hence collected by others. These are mostly then distributing according to the categories to relevant advertising firms online. We keep getting the associated ads with the help of our own given private information.
How to remove your info
The procedure to opt for these websites is also available and very direct, to approach them.
Writing to them is one way and it requires a lot of paperwork and identification to be more secure.
And authentically, this is the best method, but we have other options for you as well. You can surf the Internet and get as many websites which are untraceable, so how do we write to as many people.
Seems overwhelming, try another method of going to the helpers who carry out this tenuous work for you.
There can be a lot of websites which have collected your data and have been sharing it with others. To solve this, you can either politely ask them to take it down and for sensitive information, you can also sometimes send a legal notice. Although the private companies are not liable to that as you grant them permission for using all the data once you use such things.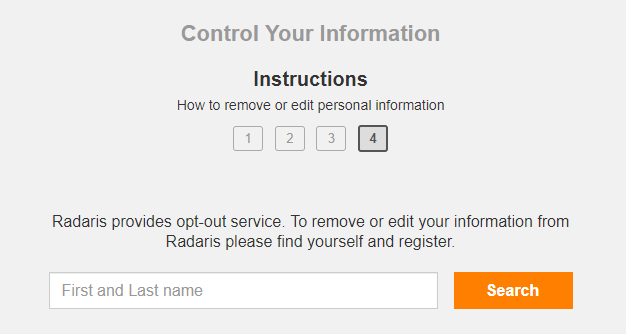 However, websites like Radaris, provide you with an option of removing your name from their directory, all you have to do is simply inform them to take it down. You are given the option of removing all the information that's on their portal or to be a specific record with a reason for the request.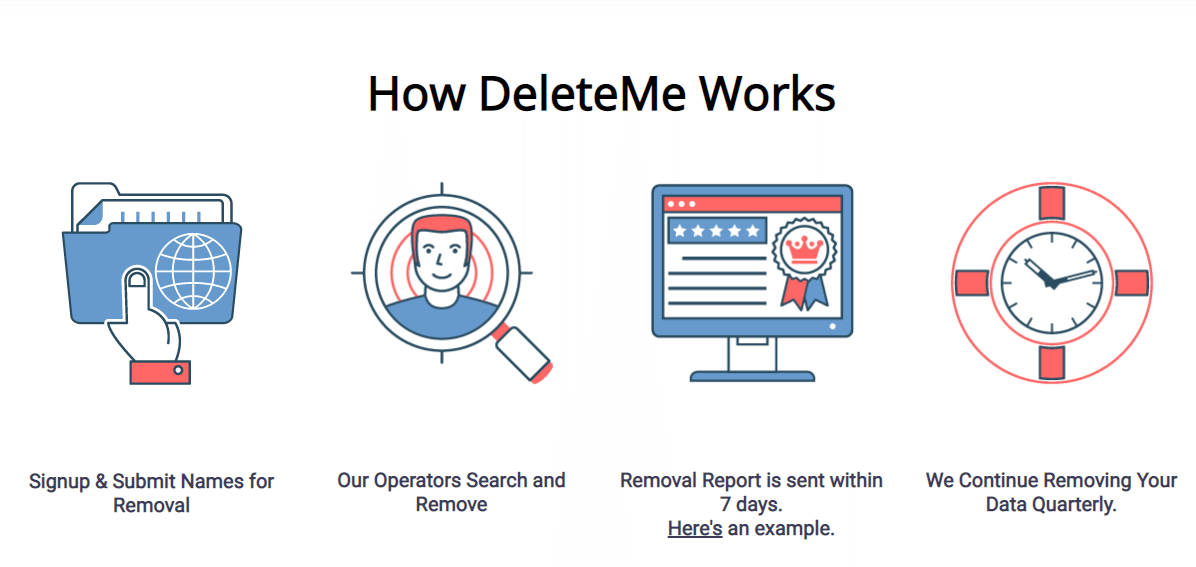 Other options are available which can do this work for you on your behalf.
The product named DeleteMe by Abine.com is one such trusted name from last 8 years. However, they charge you for doing that, you can still find the steps to remove yourself for free.
All you got to do is open up the website and submit the information you want as removed from all the websites listed on it.
What You Can Do?
Who do you follow on Instagram or what YouTube videos do you have in your liked folder, what did you comment on Twitter? Whether now or from 3 years ago, your digital prints are all over the Internet. You have probably forgotten by now, but online life doesn't really let you forget all easily. It can possibly create problems when getting a new job for the background check can't overlook certain things in the list.
So, it will be smart to keep your tabs on the check and all your social media profiles locked up from public viewing. Almost each social media portal has in its settings to make it safe for you. Moreover, you can always delete the unnecessary content. Defy from giving too much of the information of the locations you are visiting.
On every browser, you need to make sure that you turn off the tracking. For that, go to Settings and Turn on the Do Not Track which stop marketing websites to access your data to a certain extent.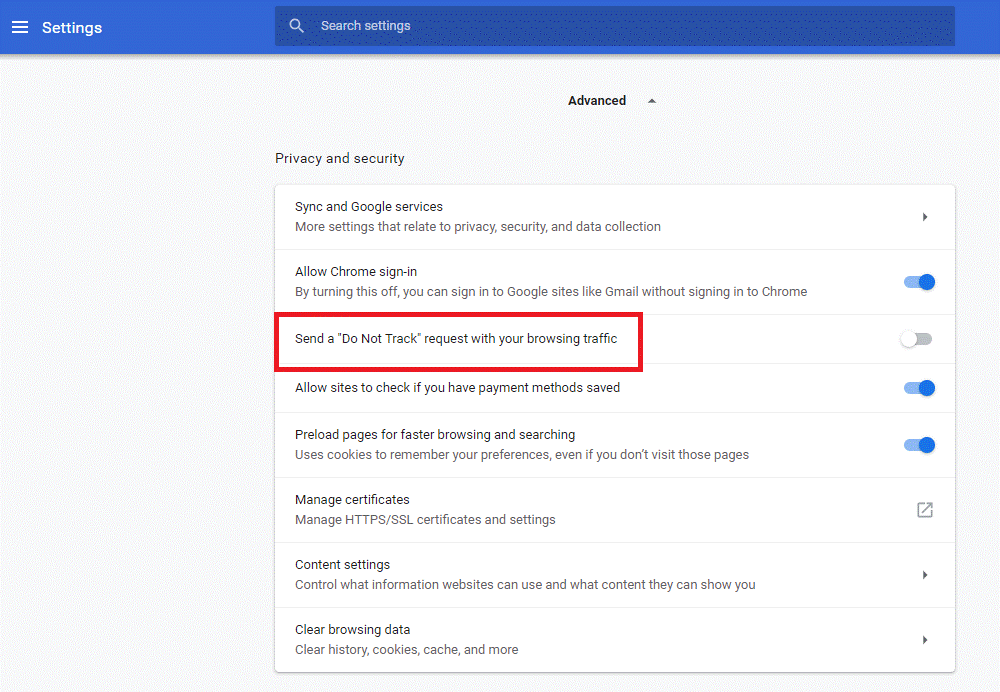 One can always get a VPN to make browsing safe and barring the websites from taking up your information.
Another good trick is to keep a separate account for all the personal and professional work. Since it's not completely feasible, you can at least try not to link your professional emails with random websites.
Conclusion:
Unfortunately, you can't completely wipe out your presence from the virtual world. But you can always limit it and make sure to use it wisely. You can always check the information by entering your names on search engines and clicking on the results showing your personal information. You can also contact Google, to clear the cache if the text from the page has been removed but you still get the link on the search results.
Must Read: How to choose VPN to Secure Your Personal Information
It is very important to understand that it is quite difficult to delete the entire searches by any of the methods. That might take deleting your online identity from social media, Govt data record websites etc. and wiping out all the given information on your friend's accounts also.
Being careful is what is the need before signing up any account of any kind online. Also, you must read the terms & conditions before going further. You can take any of the measures which are suitable for you to make you invisible to an extent.