Getting Started with Paint 3D:
Fully loaded with features, Windows 10 Creators update have given a major revamp to its primitive MS Paint in form of Paint 3D. With the all new Pint 3D making 3D objects looks like a cake walk.
This application lets you create your own 3D models and create scenes with multiple 3D objects. These objects can float in space and you can also experience these drawings in 3-Dimensional space.
You can download amazing 3D models or creative scenes from Microsoft's Remix 3D website and can even export your own creation to share them with others.
Just update your Operating System and you are all set to use the all new and innovative Paint 3D.
Let's get started with Paint 3D:
Paint 3D is a simple yet exciting and modern application to work with. When you launch the application, you will see a welcome screen on which you will see three buttons New, Open and Paste.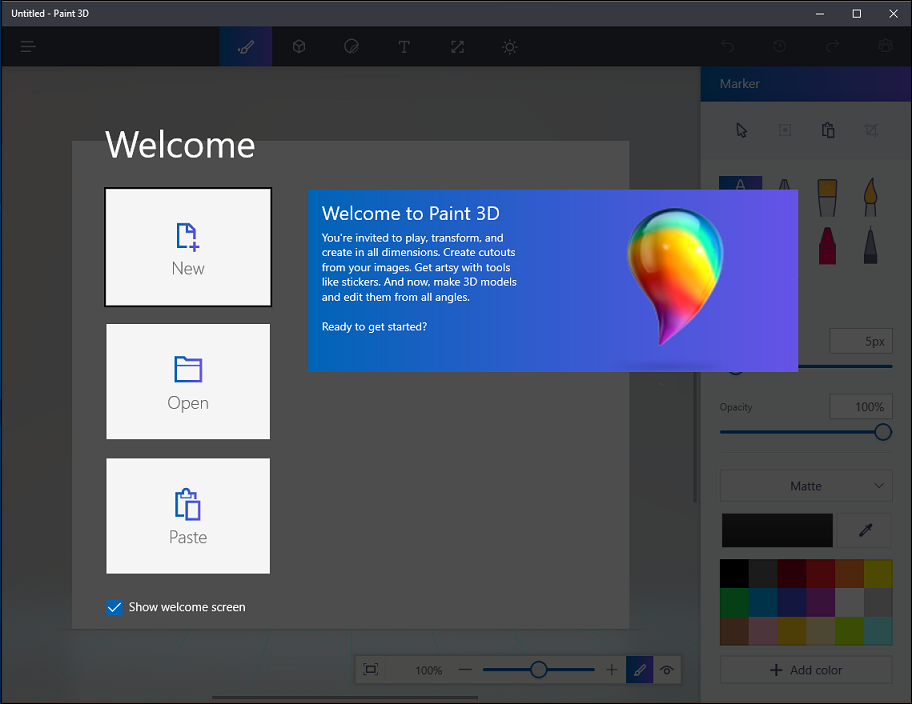 You can either open a new canvas by clicking on New button or open a canvas on which you have been previously working on by clicking on Open button.
This application also lets you directly paste your copied text or item on its canvas by simply clicking on Paste button.
Let's get started with creating 3D objects on a canvas:
From the Welcome screen tap New to get a blank canvas. This canvas can be used for drawing beautiful art work. Get creative and imaginative to create amazing 3D objects.
Paint 3D comes with pre-made beautiful and wonderful 3D objects, which can be used as a reference for the art work you are designing.
To draw 3D objects simply click on 3D Object Button from the top bar.
Once you tap the 3D button, you will be presented with a list of predefined 3D objects in the right pane. Here, you can select any 3D object of your choices and then start exploring your creativity. You can also draw simple 3D doodle objects with this.
Remix 3D:
Paint 3D also provides an amazing feature called Remix 3D which lets you download creative models created by others which can be integrated into your artwork. Not only this, you can also upload and publish your creativity. Tap the Remix 3D icon in the far right of the toolbar to access Remix 3D.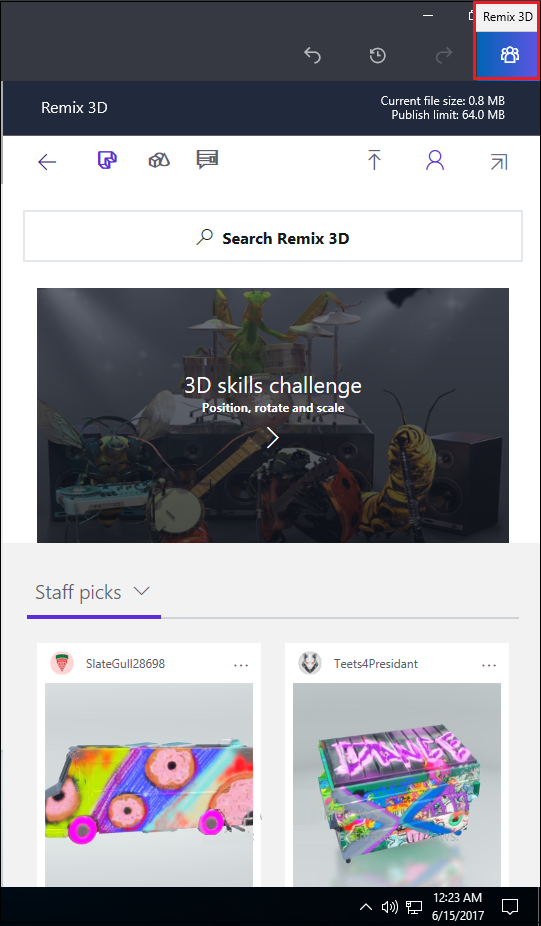 Note: This Remix 3D feature only works when you are connected to the Internet. This feature will remain grayed out if you are not connected to the internet.
Pens and Brushes:
All 3D objects can be personalized with new and modern brushes and pens. The different types of brushes and pens give an amazing effect to your creations. Just select any of them to make your artwork amazing.


Stickers:
The all new Paint 3D also provides ample options for stickers. As the name implies, Stickers feature lets you choose from a varied list of exciting stickers that you can stick to your 3D objects and thereby making them more realistic.
Stickers can be accessed by clicking on Stickers Button on the top bar and then clicking on the Stickers button from the right panel.
Users can also use Custom images to make creations more wonderful. To convert any image into a sticker you only need to paste the image on the canvas and then tap Make 3D button. Now click on Make Sticker button to use the image as a sticker.
Once your image is in the sticker form, simply drag and drop it on the 3D objects you have created. This will not only make your creation more personalised but it will also help you to create marvelous artworks.


Textures:
You can also give textures to your images and 3D objects that you have created. To do it just click on stickers and then click on Textures button.  This will give special effects to your drawings and other 3D objects making it more extraordinary.

Lighting Effects:
After finishing your artwork, you can give lighting effects to your artwork by clicking on the Effects Button on the top bar. This effect will make your designs full of amazing effects.


Time Machine Feature:
In the end, you can review all the process using Time Machine feature, to use this feature you can use this feature by clicking on Time machine button located on the left side on the top bar.
This feature will let you review all the steps you have taken to create a masterpiece and let others see it.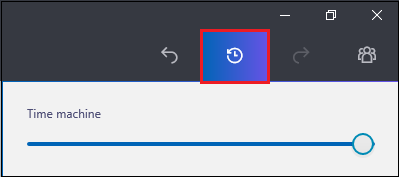 With all new Paint 3D, you can create wonderful creations which were not possible with native MS Paint. Now get going and start creating your artwork.