Ninety percent of the world uses Microsoft Windows Operating System and there are some countries where the use of a pirated version of Windows is at its peak. Microsoft has taken precautionary measures to block pirated versions of Windows 10 however people who use a non-genuine version of Windows are also smart enough to bypass all the filters.
At times, it happens that we use a genuine copy of Windows however we still get an error message stating "This copy of windows is not genuine". And when we try to activate windows using the windows product key, we fail and "Windows is not genuine" repeatedly.
Well, many of us are unaware of how to activate Windows, and even if we know, we fail to activate Windows even with a genuine Windows 10 product key. Here we are going to solve this mystery of activating Windows and fixing Windows 10 product key activation issues.
Windows Product Key
A Windows product key is a combination of 25-character code that is used to activate Windows. It's an alphanumeric key that comes in a set of 5*5. Apart from a 25 digit product key, A digital license is also used in Windows 10 to activate Windows 10 that won't ask you to enter a product key. Without using a Windows product key or a digital license, you won't be able to activate Windows on your device.
Where to Find The Windows Product Key?
If you are using a retail or physical copy of Windows, the Windows product key should be labeled on the card or inside the box.
If Microsoft Windows came preinstalled on your PC, the Windows product key should appear on a sticker underneath or behind your device. If you feel that you have lost or damaged the Windows product key, You should contact the manufacturer or Microsoft Support Team.
If your Windows is already activated or came preinstalled and activated, you can find the Windows product key on in the system properties window.
"There is no way to find your Windows Product Key in your System Settings."
Why do you see "This Copy of Windows Is Not Genuine" OR "Windows is Not Genuine" error message?
There can be various reasons behind such error messages. The most reasonable reasons are listed here.
The most realistic reason can be that your copy of Windows is really not genuine. You have got a cracked version of Windows product key and activated Windows for the time being but as soon as Windows update runs, it detects that the copy of Windows is actually not genuine.
The second closest reason for activation errors can be that your computer is infected with malware or virus and trying to fool you around. Once you click on the error, it will navigate you to a different site and they will ask for money to activate your Windows, which again will be a fake Windows product key.
Another reason can be that you or someone have tried to use the same activation key on multiple PCs and the conflict is caught in Windows updates. In whatsoever circumstances, you are advised to contact a genuine retailer or direct Microsoft Support Team.
How to Activate Windows?
If you want to fix 'Windows Is Not Genuine' error message you can follow these troubleshooting steps:
Enter a Valid Product Key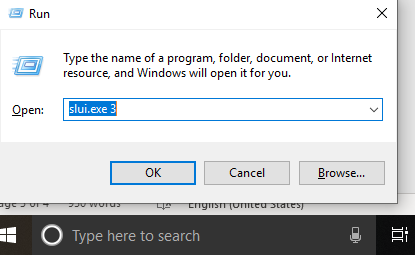 If you have a valid Windows product key on a sticker beneath your laptop or beside your computer CPU, you may try to enter the product key. Press (Win + R) to open Run Dialogue Box. Type 'slui.exe 3' and press enter (Without brackets). It will open the Windows Activation section under Windows Settings. Enter the product key and follow the instructions.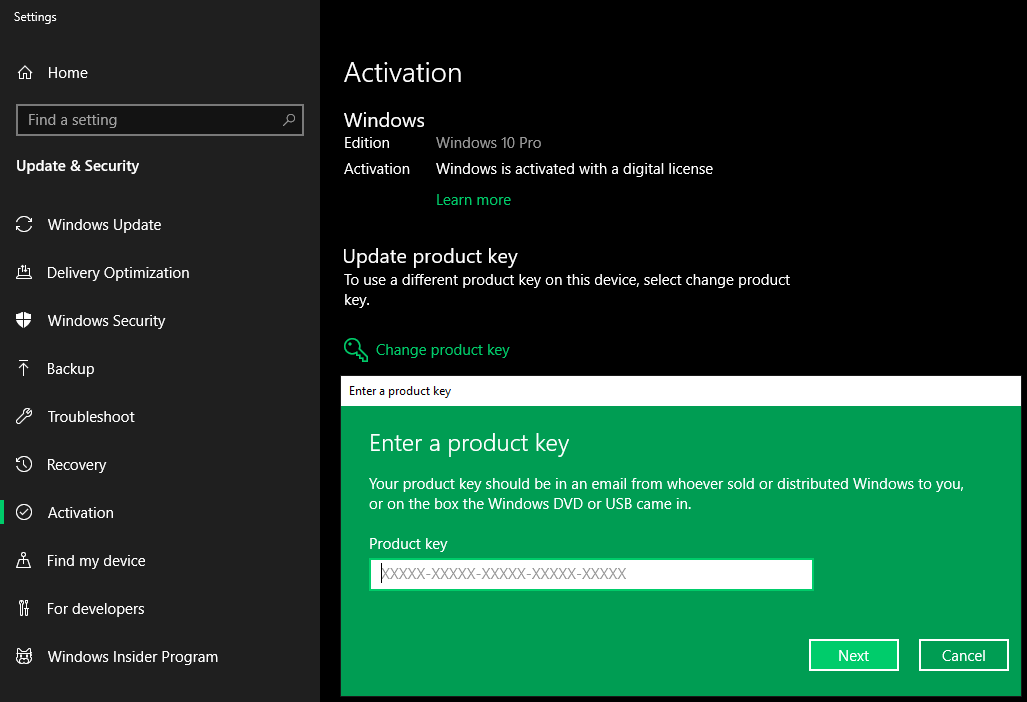 Try To Reset The License Information
You can reset the information stored in the Windows Information Center. There are chances that the information is correct but corrupt. Resetting the information shall remove the error message forever.
Press (Win + R) and type CMD and press enter to open the command prompt. Type in SLMGR -REARM and press enter or SLMGR /REARM and press enter if you get an error. You should see a message displaying 'Command Completed Successfully'. Click on the 'Okay' button and restart the computer. If you see any activation instructions, follow them and your issue should be solved.
There are other ways to fix this error message like fiddling around with Registry settings or reinstalling the Windows Operating system however it is recommended to take proper assistance from a certified technician else you may lose your precious data.
Activate Windows 10 License via Microsoft Chat/Phone Support
The best way to activate Windows 10 is through Microsoft's Chat/Phone Support. Activation steps are very simple to follow.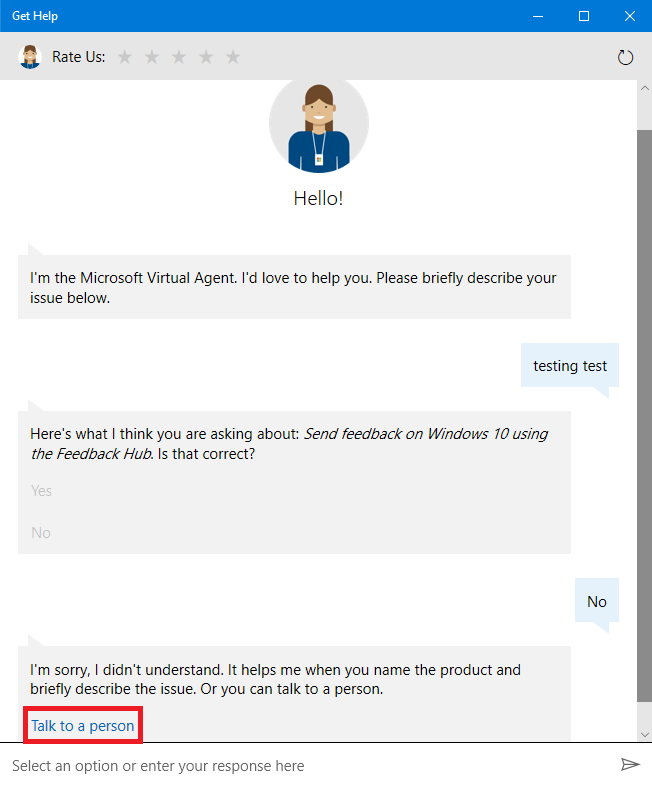 Step 1. once you have formatted/reinstalled/ or on the message to activate windows, Press (Win + R) and type 'SLUI' and press 'Enter'. Windows Activation wizard will be open on your screen.
Step 2. Select your country or region and go next.
Step 3. On the next screen, you'll see the Installation ID and a Toll-Free number to call. If you are connected to the internet, you can also use the Chat option available on the screen.
Step 4. Once you call the toll free number provided on the window, they would be able to assist you to activate windows using the Installation ID on your screen.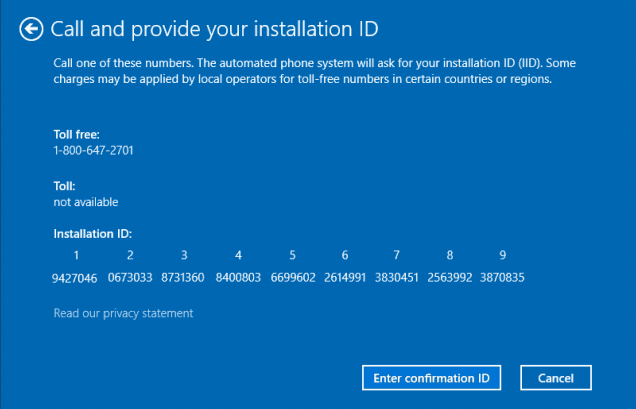 If you are looking for chat support, or a call back from Microsoft, you may follow these steps.
Step 1. Click on start and search for 'Get Help' and click on the 'Get Help' App.
Step 2. A new window will open with Microsoft Virtual Assistant.
Step 3. Type 'test' and press enter, on the response, click on 'NO' and 'NO' again until it gives you the option to chat with a live person or arrange a callback. You may need to go through multiple options depending on the intelligence of your Virtual Assistance and responses.
Once you reach a support representative, you need to provide the 42 digit Installation ID and the rep will provide you a 42 digit activation code. Enter it in the set of 6 and click on Activate Windows. You will receive a confirmation message stating "Windows is Activated". It will also confirm that you are now running a genuine version of Windows.
Summing Up
We have covered various steps to figure out the Windows product key to activate windows. You might have genuine windows 10 product key however it can give you an error message stating 'This copy of Windows is not genuine'. You can activate windows 10 by performing above troubleshooting or contacting Microsoft Support or Retailer.
If this article turned out to be helpful to you, please like and share this with your colleagues. For more such tips, tricks and tech-related updates, click on the bell icon to get regular updates from Tweak Library. Do share your thoughts about this article in the comment section.
 Follow Us: