Google Photos One App Solution For All Your Photos
Google Photos come preloaded in almost all smartphones, you just have to log into your Gmail account.
Google Photos provide one step solution to all your photos like Backing Up, organising and Editing. This service will back up, store and organize your photos as soon as you capture them.
Features
Search for People, Places, and Objects
Google Photos will automatically arrange your uploaded pictures by location and by date. Google can recognize the subject of your photos using advanced image recognition and Google's large database.
You can search photos for anything: a wedding you attended, pictures you took during the holidays, pictures of your pets, food and much more. On the bottom right corner, tap the search icon to search for photos.
Groups could be the places you visit, people you know, or objects such as food, cars, bikes and more. On the top, you'll see several Faces that Google Photos have spotted in your uploaded photos.
Label Similar Faces and Group Them Together
Google Photos can group similar faces together. You can search for your photo library for photos of selected people. Face groups and labels are private, and won't appear to anyone. To create a label for a face group, tap "Who is this?" located on the top of the group. After you labeled a face group, you can search with that label.
If you want to change or remove the label's name, then tap on the Options and choose Edit or Remove name label.
You can also merge groups, to do so label both the groups with the same name. When you confirm the second name, Google Photos will ask you if you want to merge the face groups. You can also stop grouping similar faces together in "Settings.
Change Backup and Sync Settings
Your Photos and Videos are backed up to a particular Google account. However, you can change which account you wish to use, which photos to back up in Google Photos settings.
There are different backup and sync settings, you can change them according to your need.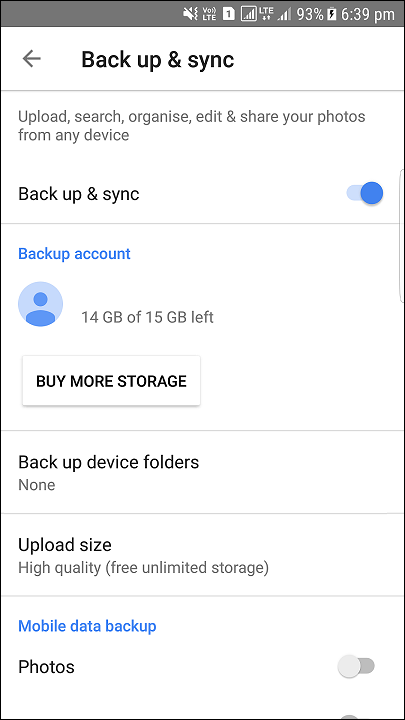 Backup Photos From Other Apps
Google Photos' auto-backup is handy, but by default, it only backs up those photos taken with the default Camera app. If you want to backup photos which you took from other Android apps, you just need to know where those apps store the photos they take.
Open the Google Photos' app on your Android phone, and go to backup and sync settings.
Now go to Back up device folders.
Now choose which folders to include or exclude from the backup process.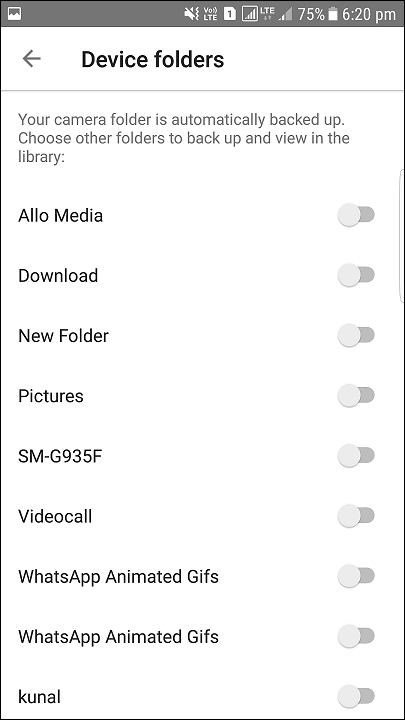 Pinch to Change View
There are four options using which you can arrange icons which are as Day view, Month view, Comfortable view and Year view. You can move between the views simply by pinching in or out. You can also pinch on an image to open it, and can also pinch out to a full-screen image to go back to the image list.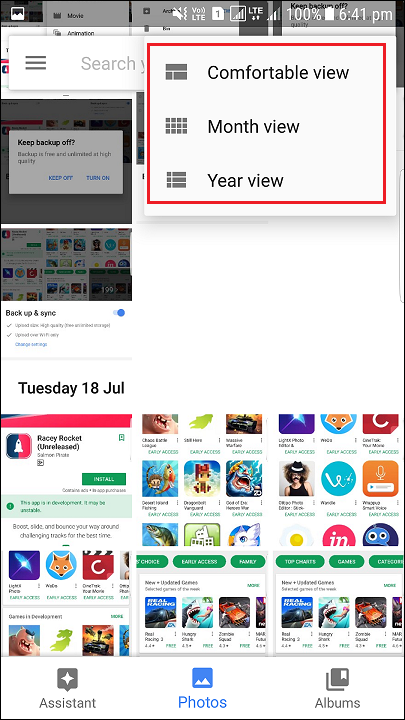 Select Multiple Photos with a Single Tap
If you want to select multiple pictures, Google Photos allow you to select multiple photos at a time. In Google Photos, long-press on any photo to start selecting the photos. Then without lifting your finger, drag upward, downward, or sideways. This process will allow you to quickly select a series of photos without lifting your finger or you can tab on the month name to select all picture from that month. You can do the same if the pictures are sorted date wise and it will select all the pictures from the same date.

Recover deleted Photos
If you accidentally deleted the wrong photos or just changed your mind after deleting the pictures. All you have to do is go to the Bin folder, and recover the pictures. You can also delete those images permanently from the bin.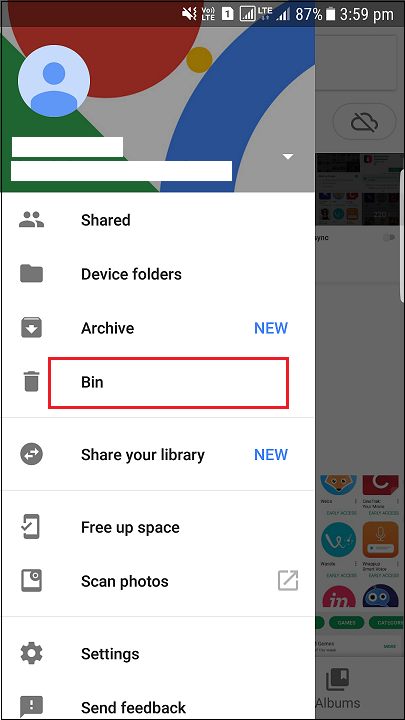 Upload Pictures with the Desktop Client
You can also upload pictures from desktop. You just have to drag-and-drop the pictures from the desktop to Google Photos Web. Using the desktop uploaders you can also automatically upload photos from the digital cameras and SD cards when you plug them in, which is a great feature if you take pictures from other device.
Show Photos on a TV with a Chromecast
If you have a Chromecast, then install the Chromecast app for Android or iOS and make sure that your devices are on the same Wifi network as your Chromecast. On the top right, you will see the cast icon, click on the cast icon to display pictures on the TV.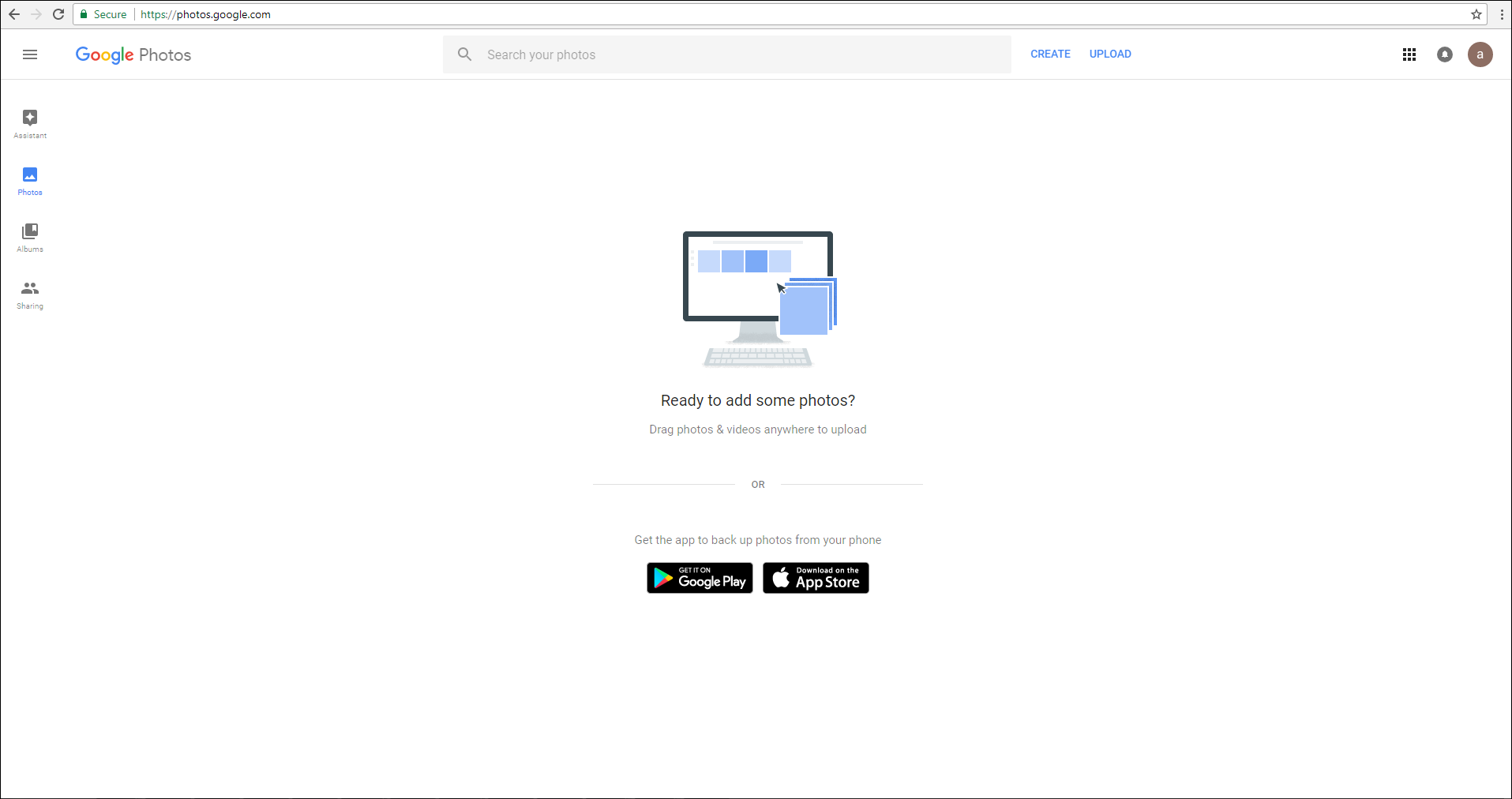 Download All Your Photos at Once
If you want to download all your media from Google Photos that you have uploaded, then you can use Google Takeout. Log in to your Google account and go to Google Takeout page. You can download all the media as a ZIP file instead of selecting pictures individually.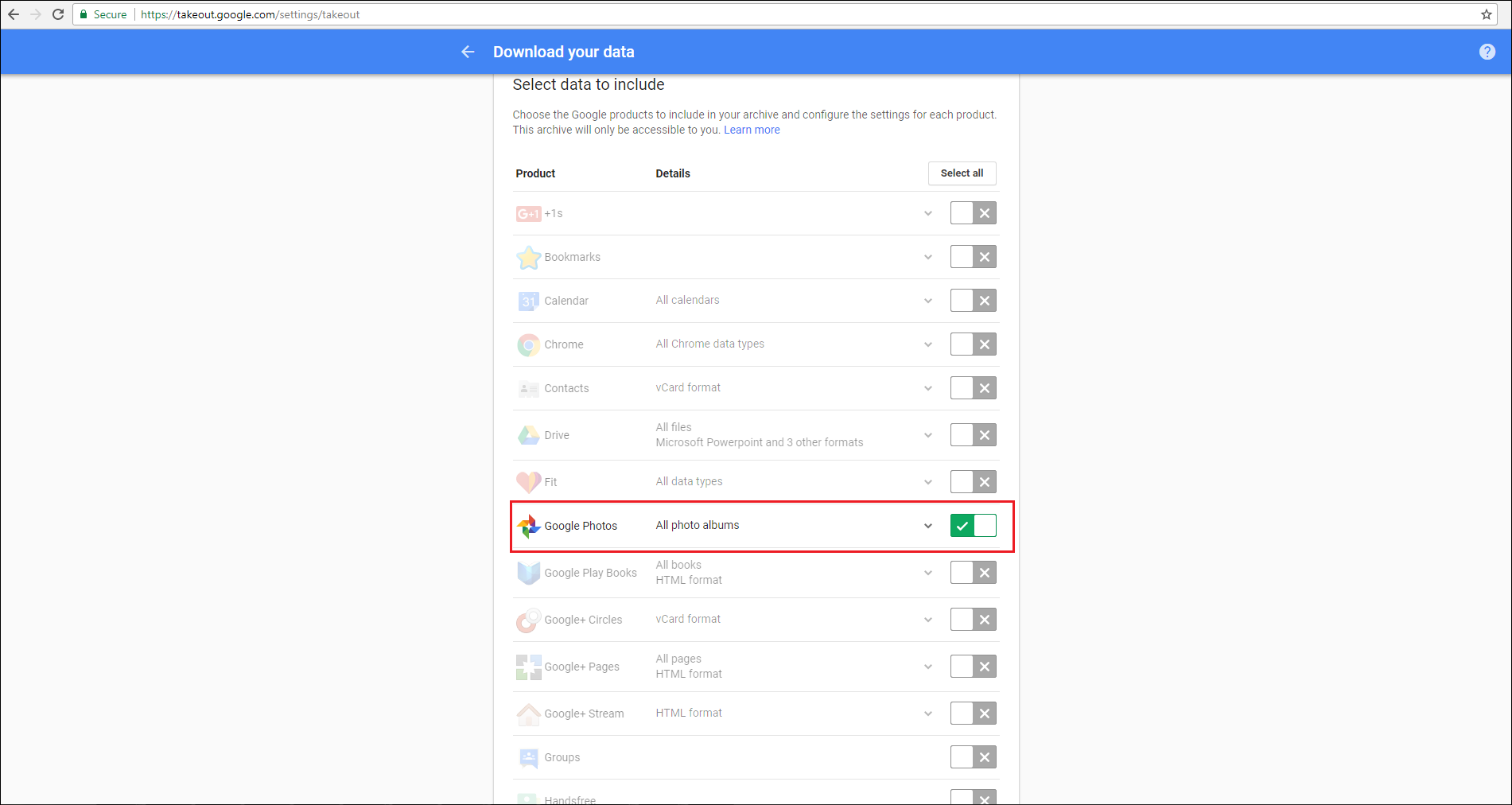 Make Google Drive and Photos Work Together
Google Drive and Google Photos work perfectly together. You can see the Google Photos Folder in Google Drive.
To enable this feature in the Drive, go to the Google Drive settings from a browser and check Automatically put your Google Photos into a folder in My Drive.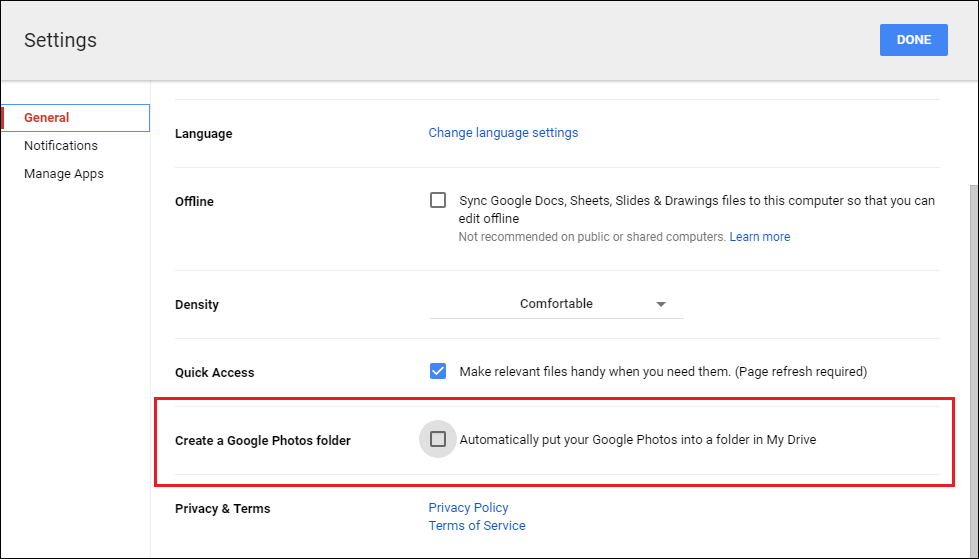 Send Images and Videos to Gmail and YouTube
If you have linked your Google Photos to the Google Drive, you can easily attach any of your Google Photos in an email message. Simply click the "Insert from Drive" option in Gmail, then go to the Google Photos folder. You can do this with YouTube, too. Just go to the YouTube Upload Page and there's an option to import clips straight from Google Photos.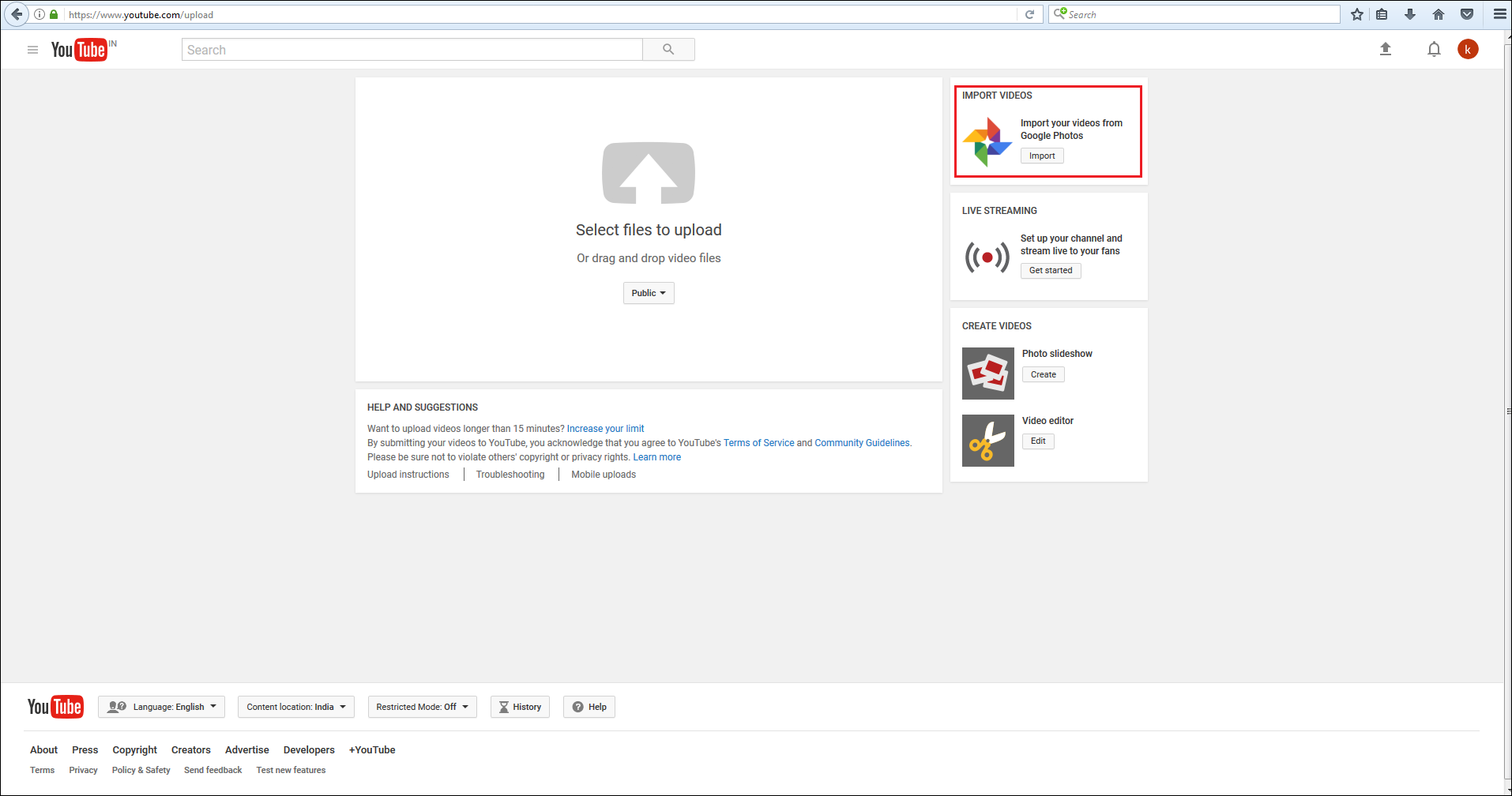 Share Photos and Videos with Anyone
With Google Photos, you can easily share an image, album, movie and a story with anyone. Anyone with the link can see the photos, so review them before sharing them and delete the ones that are no longer required.
Select the photos and videos you want to include, and tap "Share." Get the link to your album and send it to your friends or family. You can also let others add Photos to the album by turning on Collaborate.
You can share the album through email, WhatsApp or any messenger app of your choice.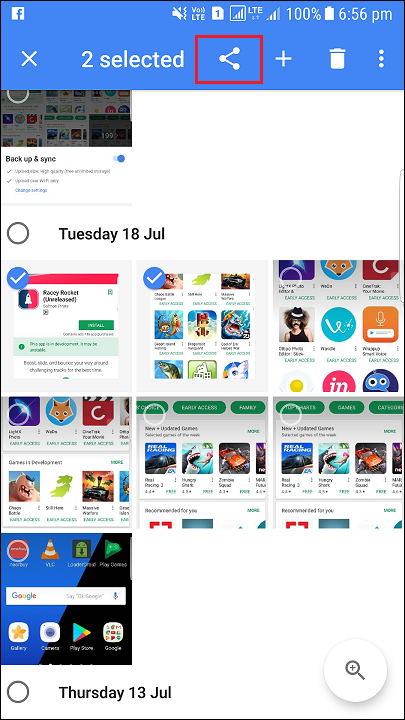 Also read: How to Share Photos and Videos with Anyone Using Google Photos.
Hide Where Photos or Videos Were Taken
The location data helps Google group pictures together, but if you wish you can hide this data when you share photos with others. Go to Settings of Google Photos. Now in the Location section enable Remove Geo-location, it will remove the Geo-location information from the photos and the videos that you shared with a link, but not by any other means.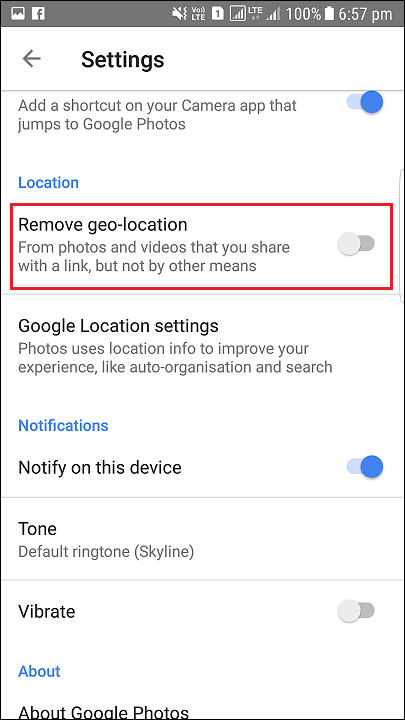 Use Google Photos While You're Offline
You can also use Google Photos if you aren't connected to a Wi-Fi or mobile network. If the Backup and sync is enabled, then photos and videos you take a while
Make Albums Movies Animations, and Beautiful Collages using Your Photos
You can create collages or animation using your photos. You can also create Albums using the pictures taken
Edit Photos
Google Photos lets you edit the pictures and you can add filters, crop photos much more. If the Backup and sync are enabled then your edited pictures will get uploaded to the Google Photos library. Open Google Photos and touch the photo you want to edit and click on the pencil icon.
Once you are done editing your photo, tap on Save. Original copy on the picture will be in your Google Photos library so that you can easily recover the picture if you are not satisfied with the editing.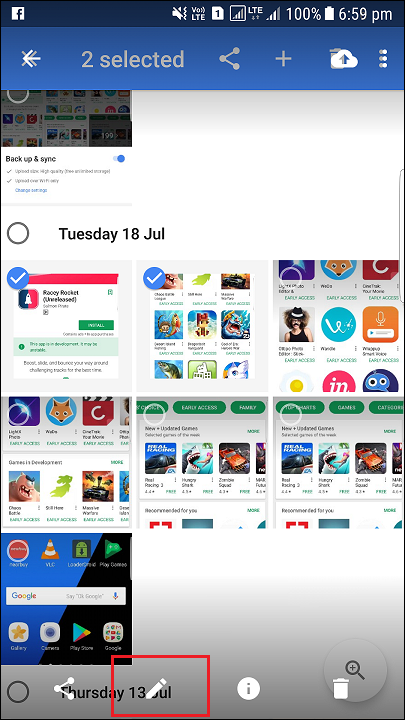 Google Photos is the default photo app on stock Android phones, and it is more than a normal gallery application. It will automatically backup your pictures. Google Photos also offer free unlimited storage, so take advantage of Google Photos.