Wireless chargers haven't always been a great substitute for USB chargers or Power banks, however, the convenience of charging in the air to juice up your phone throughout the day makes it great. A wireless charger next to your bed or on your work desk makes the area cord-free and a bit stylish. That means no more plugging and unplugging throughout the day and your phone remains fully charged on the go.
There are several companies in the market trying hard in the battle of Qi wireless chargers. Many of those companies, like Belkin, Anker, Samsung, Mophie, and others, are stimulating well in terms of compelling designs, high-end power, and the ability to efficiently juice up your iPhone or other smartphone devices. While on the other hand, some rival companies are just there for competing for the price.
Here we have compiled the best wireless chargers and wireless charging pads that are compatible with Qi-enabled devices like iPhone XR and iPhone XS OR Samsung's Galaxy series including Galaxy S10 handsets.
Best Wireless Chargers for iPhone & Android
1. Samsung Fast Charge Wireless Stand – $39.99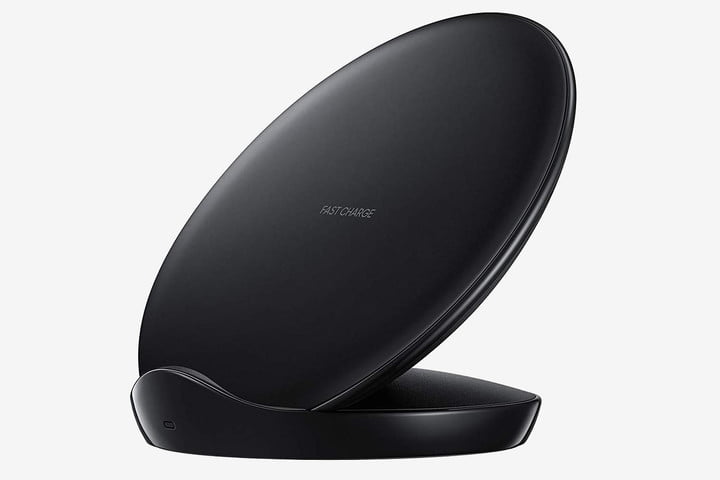 Samsung wireless charger stand doesn't look much classy in front of its flat charging pads however it is again one of the best wireless chargers available in its range. Samsung wireless charger is a good deal at $40 as it supports both 7.5 Watts charging for iPhones and 10 Watts charging speed for Samsung devices.
It comes with a micro USB powerful adapter which keeps it working. It is also equipped with a little fan inside the stand which keeps the charging coils cool. The 45 Degree angle is appropriate for activating Face ID for random use on a fall resistant stand.
"BEST QUICK CHARGE STAND"
PROS
CONS
9 to 13.5 Watts charging for Samsung devices
Not very case friendly
Sleek design for a comfortable hold
Expensive & might be hard to align
Fan at the back to keep Charge pad and Phone cool
Multicolored LED light for Charging Status
2-3 coiled Qi Wireless Charger
2. Anker PowerWave 7.5 Stand – $49.99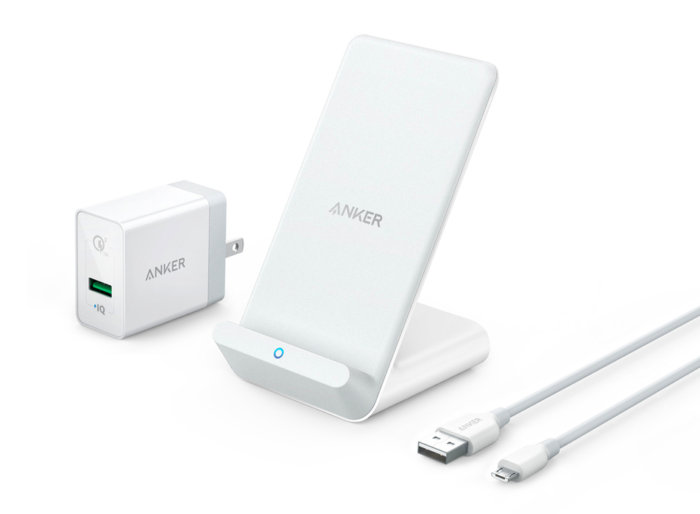 Anker is known as the market leaders in Power banks and smartphone accessories. Anker PowerWave 7.5 Stand is one of the best wireless chargers Anker has designed so far. This device may support 7.5 Watts to 10 Watts fast charging. Anker PowerWave is compatible with all the latest models of iPhone, Samsung, and other Qi-enabled devices. When you unbox the device, you should find a MicroUSB cable, Anker PowerWave 7.5 Stand Pad and a Quick Charge 3.0 power adapter to power up the pad, or you can use it as a standalone charger.
"THE BEST WIRELESS CHARGER FOR ANDROID PHONES"
PROS
CONS
7.5 to 10 Watts fast charging
The cooling fan is too noisy
Includes power adapter to be used as a standalone charger
Supports Android, iPhone and Qi-enabled devices
3. Fuse Chicken – $84.95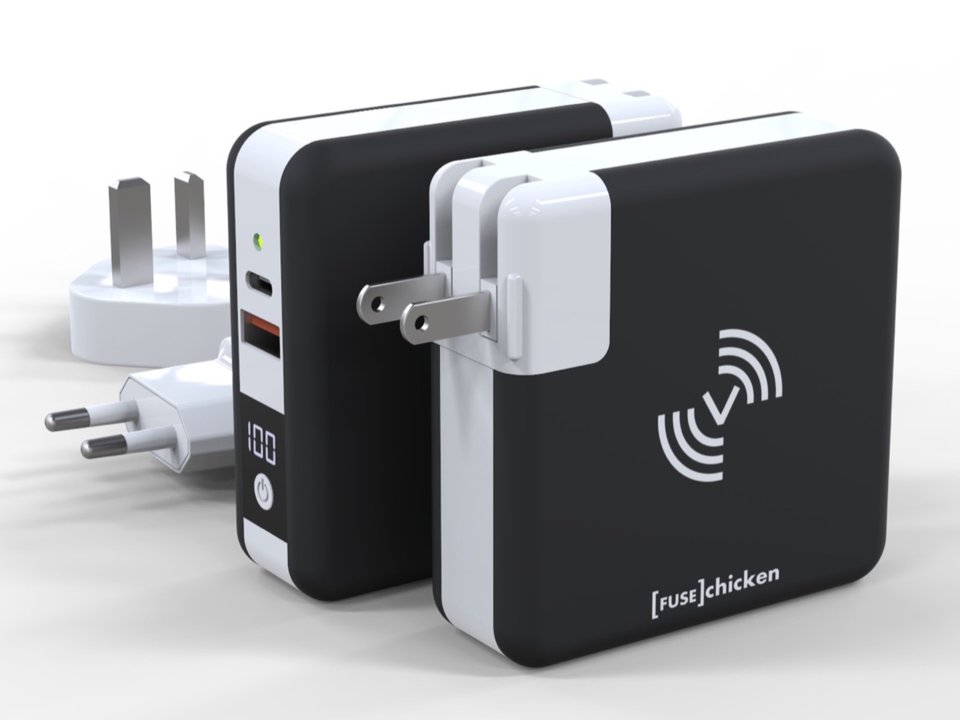 The Fuse Chicken Universal All-in-One World Travel Wireless Charger is a combination of a wireless charger, battery pack, and travel adapter which makes it a perfect choice for jet setters. Fuse Chicken gives you a variety of options to charge your smartphone. If you use it as a wireless charger, it amplifies you with a 10 Watts energy and alternatively, you can use it as a Power Bank with 6700mAh. It also got a small LED Battery indicator to display the level of battery left in the power bank. It's built with 2.4A USB Type-C port and a USB-A port and a USB-C laptop charger so that you can juice up Smartphones, Laptops, Tablets or headphones at the same time.
PROS
CONS
10 Watts fast charging for Android and iPhone
Bit Expensive as compared to others
Work as a wireless charger or Power Bank
Adapter selection is limited
Supports Android, iPhone and Qi-enabled devices
6700mAh Power Charger for on the go charging
All-in-one charger with a compact design
4. Google Pixel Stand – $71.00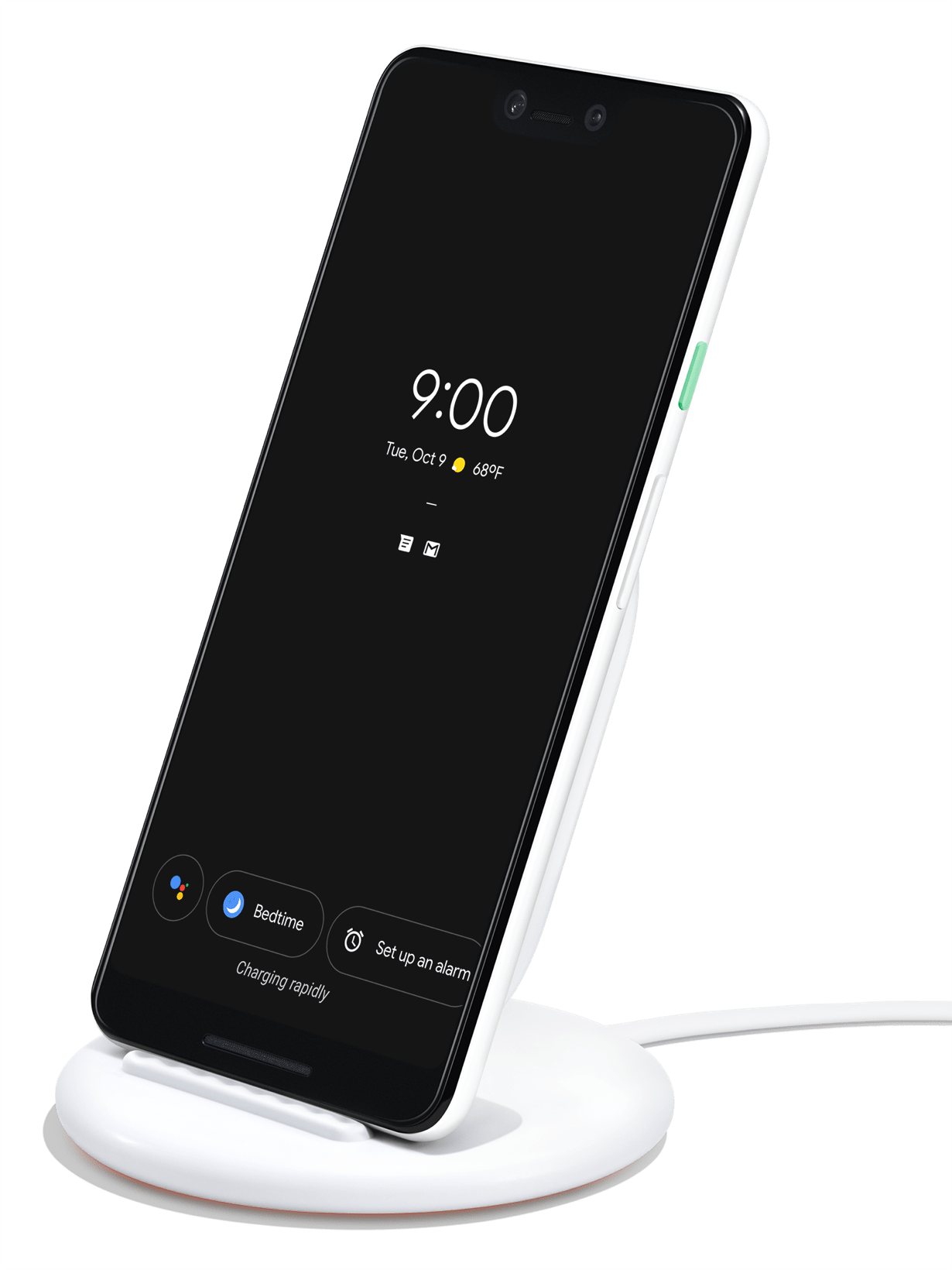 The Google Pixel Stand is compatible with all the smartphones which support Qi-enabled devices with great capabilities, it is shortlisted in our best wireless charger's roundup. It's included with USB Type-A, USB Type-C and cable charging with up to 10 Watts wireless charging and 18 Watts USB power charging. Its stylish white finish is made up of polycarbonate with a soft silicone base to keep the grip intact. Its two coils allow you to charge in portrait and landscape position. A small microprocessor inside the wireless charging pad recognizes Google Pixel phone and puts it into 'Do Not Disturb' mode or acts as a digital photo frame when it is placed on the stand.
| | |
| --- | --- |
| PROS | CONS |
| 10 Watts charging for all devices | Better compatibility with Pixel only |
| Stylish design with a comfortable hold | Not pocket-friendly |
| 2-3 coiled Qi Wireless Charger | |
Also Read: Best Power Banks of 2019 – An Ultimate Guide For Portable Chargers
5. RAVPower – Best For Techies – $29.99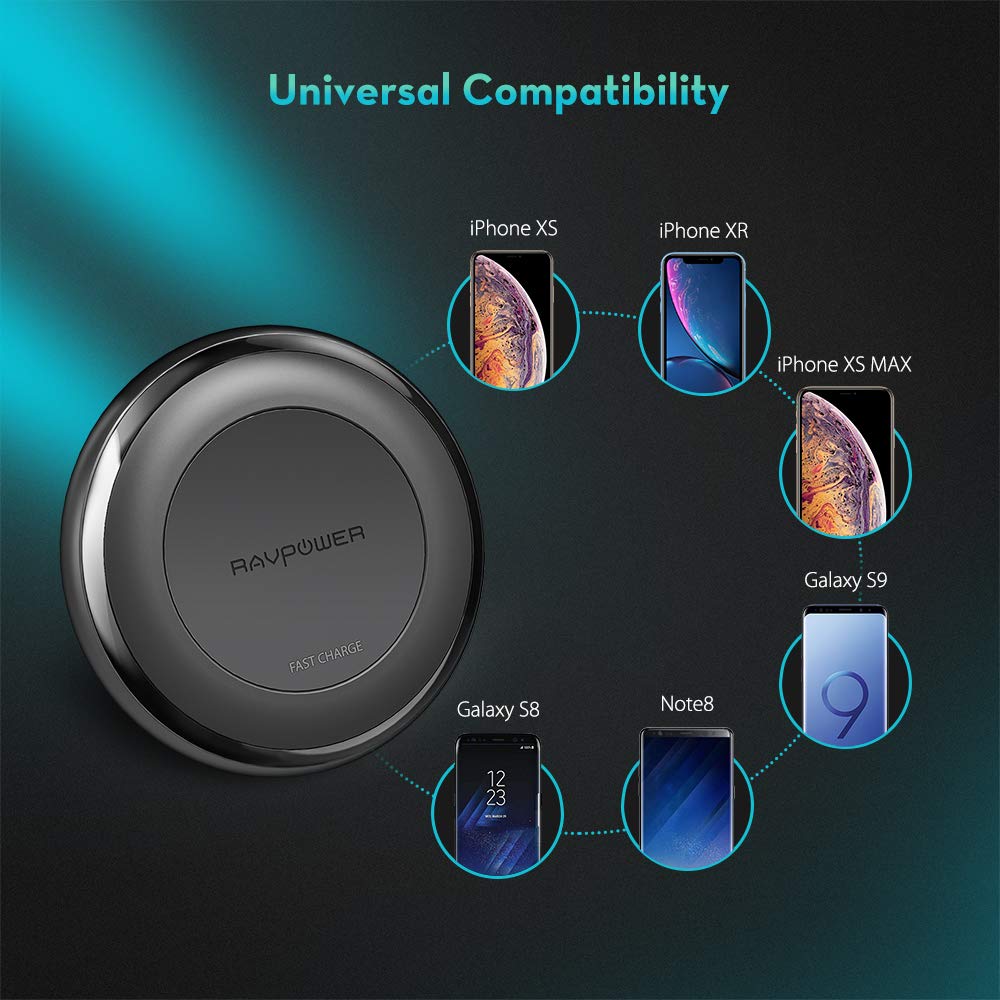 The RAVPower is one of the best wireless chargers you can bank upon. It's a Qi wireless charger that means it is compatible with most of the Qi-enabled devices like iPhone X, 8, 8 Plus, Samsung Galaxy S10, S9, S8, S7, and the Note 8 and above series.
The looks are so attractive that it looks like a spaceship launchpad, sleek and stylish however to be really honest, we don't agree that this is the fastest wireless charger available in the market. This wireless charger charges smartphones with a speed of 7.5 Watts while on the other hand there are some serious wireless chargers which take it up to 15 Watts and as low as 3.5 Watts.
| | |
| --- | --- |
| PROS | CONS |
| Greatest, Smart & Sleek Design | Orange LED light doesn't change the charging status even when the phone is charged. |
| HyperAir Technology to detect iPhone promptly | Doesn't support AirPods |
| Prevents overcharging, overheating, overvoltage, and overcurrent | |
| Fast & Free 24W QC 3.0 Adapter | |
Summing Up
We have covered the best wireless charges for Android and iPhone devices. There are dozens of other options however we have tested and compared the best and branded Qi wireless chargers which are compatible with brand-independent Qi-enabled devices. These wireless charges can be used in both ways, as a Wireless Charger as well as a Power Bank. Whether you are looking for a substitute to apple airpower or you are looking for an iPhone charging pad which can juice up your Android devices as well, you should always go with the high-end compatibility and fast charging option.
If this article turned out to be helpful to you, please like and share this with your colleagues. For more such tips, tricks and tech related updates visit Tweak Library and if you are more into tech-related videos do watch and subscribe to our YouTube channel. You can also reach us on Facebook and Pinterest.