Are you concerned with the fact that everything you do online is being watched by government agencies, hackers and big data houses?
Most of us use the free email addresses registered at Gmail, Yahoo, etc. because the chances of someone looking into our emails are negligible. And if we consider we got nothing to hide, then a less secure email service seems like the right choice; But is it?
Choosing a free email service provider might be right at some places, but does it mean you can overlook email protection?
A large part of our daily life is spent online and most of those activities revolve around email. Hence, it is important to know about the best email service provider that is more secure than Gmail, Yahoo, and others.
Do you know when you create an email account at Gmail, you allow Google to scan your emails for keywords. This means it's you who helps Google curate personalized ads based on the data collected from your email and search history.
You are a product for Google, that's why Gmail is free
Certainly, this doesn't mean Google is selling your data or is unprotected. But if you want to secure your email and stop email providers like Gmail and Yahoo from scanning your data, you need to switch to secure email providers that offer advanced security and encryption features.
In this guide, I am going to list the best and secure email service providers that are a great alternative to email services like Gmail and Yahoo. Check out the list to know more about these best secure email service provider 2023.
Before that I will try to answer the most common questions:
How you can increase your online security and privacy?
The most obvious answer to this question is to keep a check on your online activity and do not click on malicious links. Okay, this is what everyone knows and follows what's new?
Secure email service providers who have their servers in the most secure countries offer end to end encryptions, 2FA and other security features that your Gmail and Yahoo fall short of.  Obviously, you must be thinking nothing can be better than Gmail and Yahoo but trust me once you use any of the enlisted best email service provider you will know the difference.
Some of the email services listed below also include virus scanning, spam filters that will help you stay one step ahead of attackers.
This is why we have curated a list of best email services for you. Services like CounterMail, ProtonMail, Tutanota, are amazing and they offer online privacy that you look for.
List of Secure Email Providers in 2023
1.  CounterMail: Secure email provider
Pros
Secure and easy to use
Always encrypted account
Man In The Middle (MTM) attack protection
Diskless Web Servers
Anonymous email headers
Compatible with Windows, macOS X, Linux, and Android.
Cons
Product price on a higher side
Old Design and Outdated User-Interface
First on our list of best secure email providers is CounterMail. A secure and easy to use an online email service provider that uses strong encryption protocol to protect data.
Moreover, using CounterMail you can access your email account anywhere and anytime without any worry, as the account remains encrypted and anonymous.
To encrypt data using CounterMail no special skill or training is required. CounterMail, encryption works automatically and transparently. Not only this, unlike other competitors CounterMail's servers are diskless. This means there is no hard drive they run via CD ROM to ensure anonymity.
But there's a downside if you lose or forget the dongle you will not be able to log in.
2. ProtonMail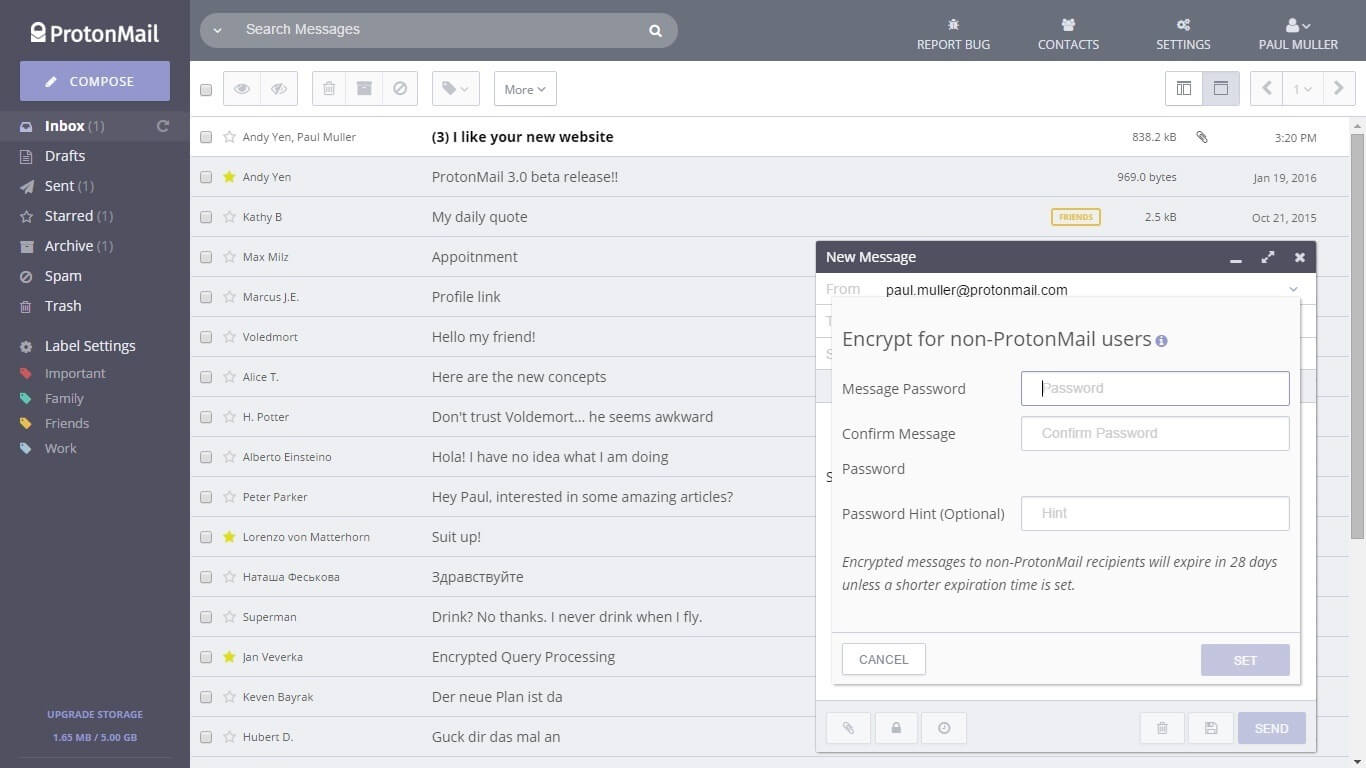 Pros
Switzerland based secure Email servers
Full End-to-End Encryption
Zero-Access Construction
Anonymous Email no need to share personal information to create an account
Open Source.
Cons
Plan upgradation on the higher side
Limited Cloud Storage Space
ProtonMail is one of the best email providers and most importantly its servers are located in Switzerland. This means your data is safe from people who try to get their hands on to your data via strict Swiss privacy laws.
Moreover, you do not need to share any personal information to create a secure email account. Creating an account is free and setting up Proton mail- best mail service is just as easy as with Gmail or Yahoo.
ProtonMail automatically secures all emails with end to end encryption. This means every email you send until it is opened the recipient, it stays encrypted. Alongside, if the receiver is not using ProtonMail you can send an unencrypted mail. But this doesn't mean mail is not secured. Using ProtonMails encrypt feature you can send an email and the recipient can decrypt it using that privately shared password.
3. Hushmail: Enhanced email security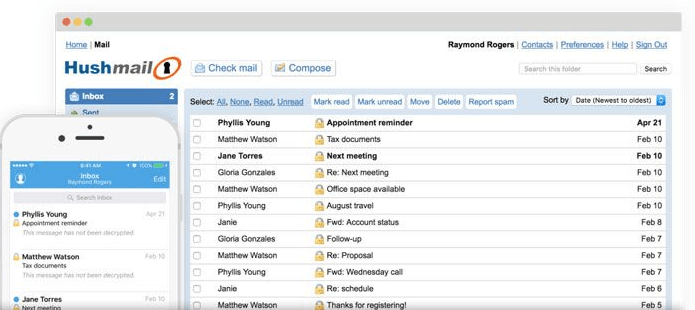 Pros
Two-step verification (optional)
User-Friendly
Spam filter autoresponder
Secure environment for Non-Users
Cons
Needs an alternate email address and phone number during sign up
Trial version is valid for only two weeks
Hushmail is another best secure email service provider that has been around since 1999. It works on both iOS and the web. Using this service user can send encrypted messages to Hushmail users and non-users.
Hushmail believes in simplicity, privacy clarity, and all these values are very well seen in its user interface. To encrypt email and provide security Hushmail uses OpenPGP encryption. Non-users receive a link to view encrypted mail. Once they click on the encrypted email they get redirected to a secure website to view the message.
In addition to this, an extra layer of security can be added in the form of a security question. This means before opening the email recipient will have to answer it.
4. Tutanota: Make securing emails possible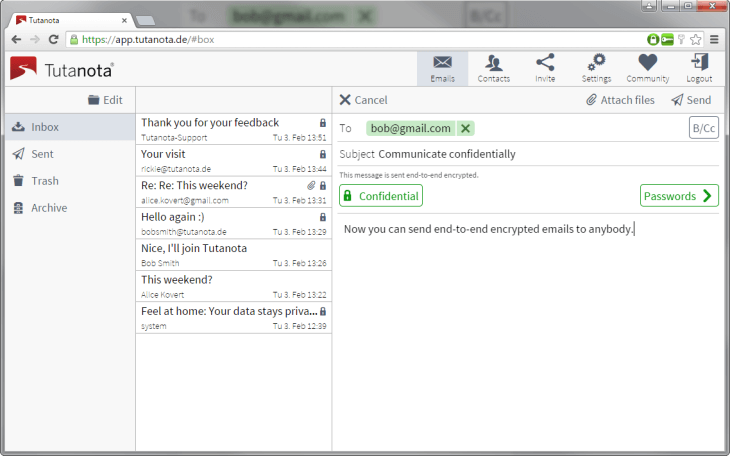 Pros
End-to-End Encryption and 2-factor authentication
Open source email security service provider
Compatible With All Devices & Browsers
Ad-free secure email service
Cons
Unable to import contacts in bulk
Expensive
No support for IMA
Similar to ProtonMail Tutanota is one of the best secure email services. Tutanota is an open-source and web-based email application. Regardless of the device, you're using Tutanota works on almost all devices. This means you can use this email service on any platform.
Tutanota encrypts all emails and if any email has to be sent outside the system  Tutanota specifies a password for the user to view the message in the browser.
Tutanota's servers are based in Germany, so German privacy laws are applicable. Its web interface is so simple to use that you can easily make an email private or not in just one click.
To encrypt email Tutanota uses AES and RSA encryption. You can create an email account with domains like @tutanota.com, @tutoanota.de, etc.
In a free account, you get to create only 1 email address with up to 1 GB of data storage.
5. Runbox : Secure and Private Email hosting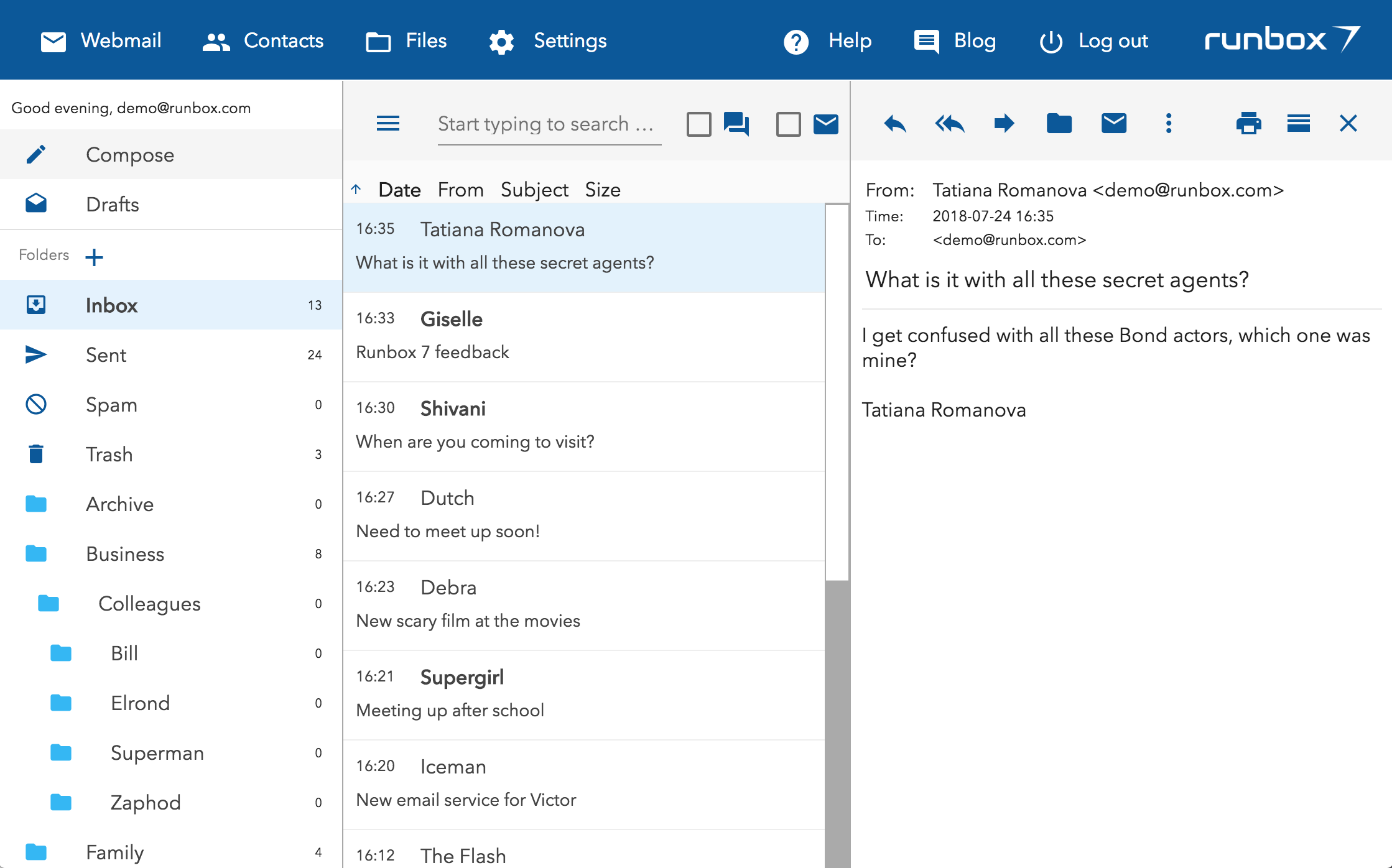 Pros
Protected by Norwegian privacy legislation
End-to-End Encryption & Valve
Servers are powered by renewable hydroelectricity
Cons
Less storage space
No app for smartphone
Runbox is the world's leading hydro-powered email service that stores your email in a maximum-security data center and protects the communication with Two Factor Authentication, PGP encryption, etc.
Runbox offers flexible email plans, you can select the plan that suits your needs. Once you subscribe to Runbox you can add more accounts and can easily upgrade your plan and expands with add one whenever required.
Moreover, the Runbox account includes CalDAV service using which you can save calendar items and reminders on our server and sync them across a variety of devices like laptops, phones, computers, etc.
Runbox also offers features like virus scanning, intelligent spam filtering, email forwarding, etc. Its support department is available 24/7, to offer full and extensive support along with guides.
One of the major advantages of Runbox is its full integration functionality with email providers like Outlook, Gmail, Yahoo Mail, etc.
6. Kolab Now: Access email quickly and securely on the go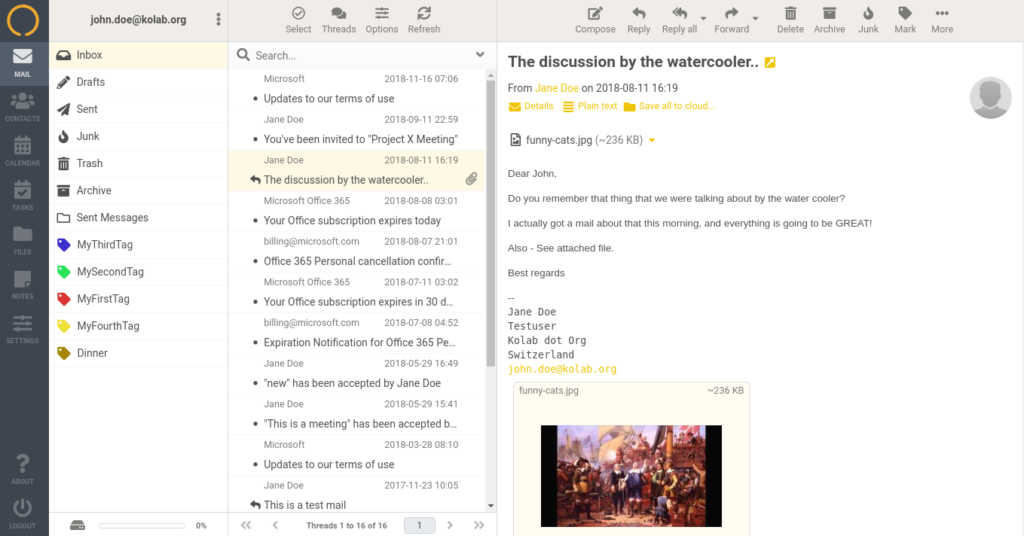 Pros
A slew of advanced features
Data is not shared with third parties, scanned for data mining, or advertising purpose.
Fully open-source
Data servers located in Switzerland
Cons
A few people doubt its security system
Kolab Now offers end to end encryption this means all your transmitted data is stored securely. Moreover, this best secure email service provider protects your data under Switzerland law. Like other secure services Kolab Now doesn't monitor your data, sell it to third parties, or display ads.
Kolab Now is a completely open-source, web-based email service provider, that would never risk your data. In addition to this, Kolab Now offers a fully integrated calendar, contact list, and similar features.
7. Mailfence: Secure and private email service
Pros
No tracking, no ads, no spam, etc
Belgian privacy protection law
End-to-End Encryption, full interoperable OpenPGP service
Progressive Data Security Laws in Belgium
Safely store and edit your documents online in one click
Cons
Restricted Storage Space for All Plans
Mailfence is a smart yet easy to use a secure email service provider. It is browser-based, this means you can easily manage your keys at one place. Using Mailfence you can import contacts, create groups for data sharing. Moreover, using Mailfence you can put your appointments in a calendar and do a lot more.
8. Posteo: Secure and comprehensive email service provider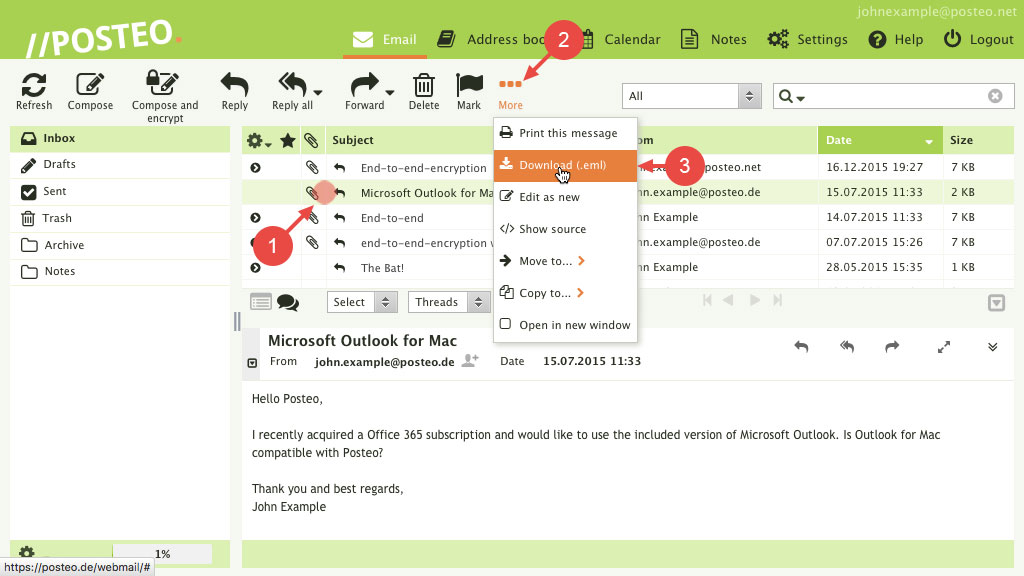 Pros
Sync calendar and address book
Germany based server
Two Factor Authentication
Ad-Free website and ad-free email account
Cons
Need to select payment method during account registration
Not the Best Security Systems
Posteo is an open-source, Germany based email provider that is somewhat similar to ProtonMail and Tutanota. It is an email service provider that falls outside the jurisdiction of FiveEyes nations.
Posteo email service is ad-free and it focuses more on user privacy by using an innovative encryption method.
To create an account you do not need to provide name, address or backup email address. Posteo works on data reduction policy hence do not collect user data. Moreover, Posteo anonymizes all subscription payments.
Let's Wrap It Up
When you want to enjoy online privacy using Gmail, Yahoo and other services are not right as they do not provide any high level of protection. When you use these services you agree to share your data with these big companies as your data is no longer private. Your data can be easily accessed by hackers or government institutions who may request these companies to share the details.
Hence, to keep all your email data private and secured, you must use any of the above best email service providers.
Every email service provider listed above knows the importance of data privacy more than Gmail and Yahoo. Most of them offer end to end encryption to keep your data safe from onlookers, interested third parties and bad guys.
One thing is for sure: changing sides and using one of these secure email providers will bring a massive improvement in terms of your online privacy.
Follow Us: