Ever thought that photo editing was only meant for seasoned artists with high-end and bulky computers? Maybe it was in the past. Things have changed now. Since everyone is hell-bent on posting picture-perfect snaps on social media platforms (like Instagram, Facebook and so on), it is fortunate that your smartphone could just do the trick for you.
A photo editor app is all that you need. Listed below are some of the commonly used photo editor apps for Android. 
Disclaimer: There are tons of other best photo editing apps for Android too and in no way are we endorsing a particular app. 
The main intent here is to show that photo editing is something that can be done on the go (for example while you are in the metro, shuffling stations!) and since they are so easily accessible, an artist that resides deep down inside would definitely surface.
Best Photo Editing Apps For Android 2023
Let's Save The Best For The Last
An App That Needs A Special Mention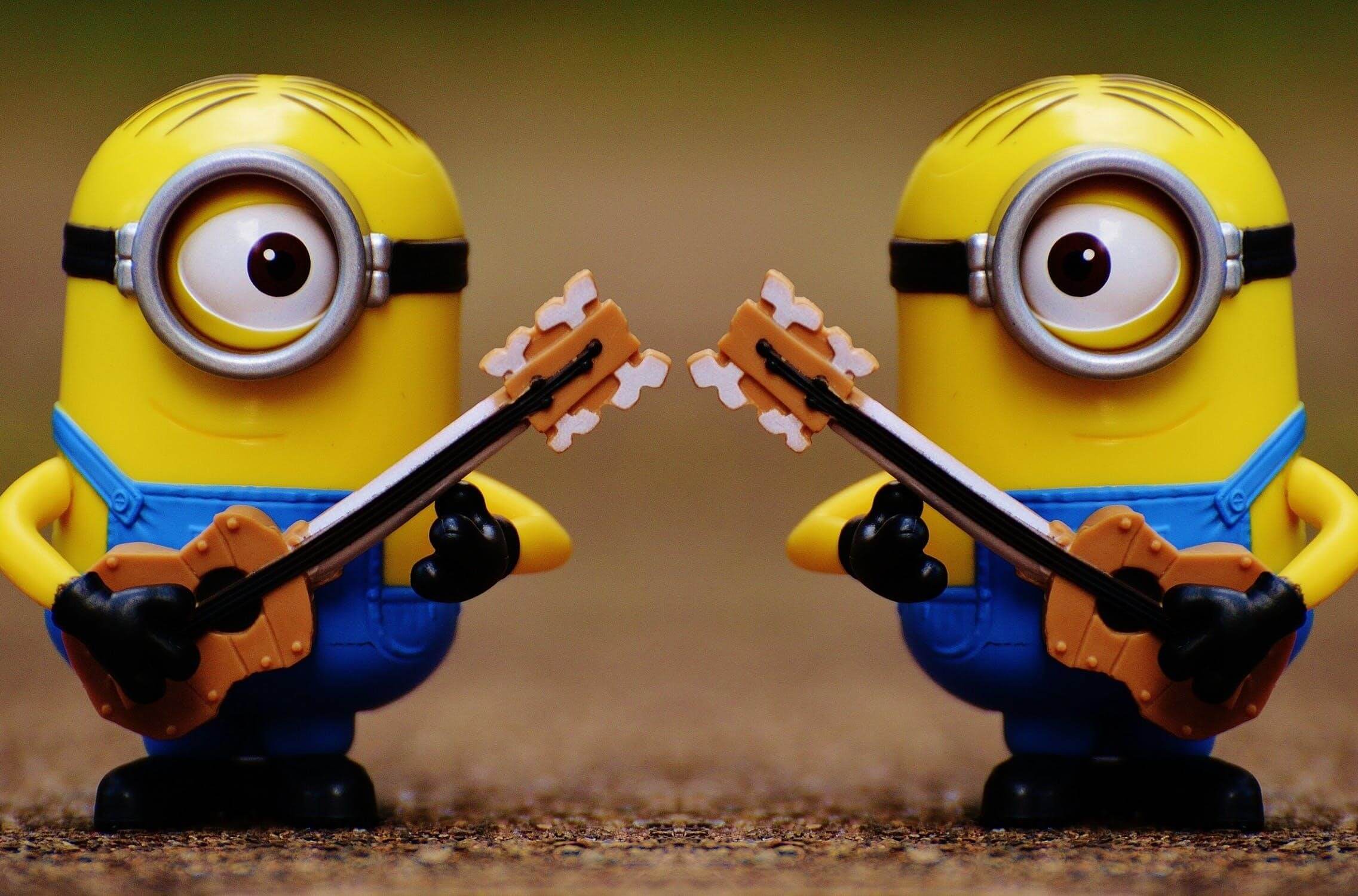 Let's honour Retrica, a photo editing app that might not be as comprehensive as the other mentioned Android photo editors in the list but, when it comes to basic photo retouching or adding filters, this app is just as good. 
In fact it won't be wrong to say that Retrica is probably the best beauty camera app you can download from the Google Play Store and best photo editing app in its own right!   
First thing first, no matter whether you are into photo editing tools or not, you will be able to use this app without any difficulty. The filters are engaging and will mesmerize you the moment you splash them on your images. Talking about filters, they are well sorted under the head favorite, recommended and all. 
Personally, you'll love the filters under the recommended list as these are the filters that go best with the image on the platform. And, once you have dashed filters onto images to your heart's content, it's time to flaunt your images on social media!
1. PicsArt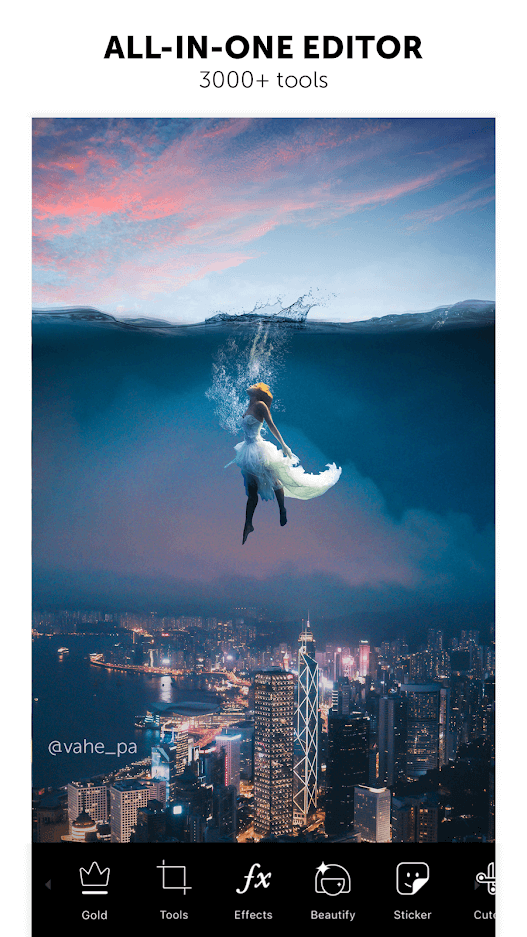 Let's start the list of Best Photo Editors for Android with PicsArt.  A great photo editor app for Android for editing photos. Quite like Retrica this photo editing app will help level up your photo editing game. PicsArt is an Android photo editor which is a right blend of many popular editing tools and filters, this Android photo editing app makes for an obvious choice. Plus, if you feel you have what it takes to be the next designing champ, you have a community to test your photo editing skills. Let's have a look at what this photography app for Android has to offer
Pros
Cons
●     Lightweight with an easy to use interface

●     You can create layer wise effects to keep a track of edits made to the images

●     Multiple photo editing and drawing tools

●     No problem while making tweaks or doing adjustments to effects or filters

●     Prompt customer support

●     The app lags occasionally

●     Free version shows ads that at times is irritating
Rating on Google Play Store: 4.3 Stars
No of Installs: 500 Millions +
2. Fotor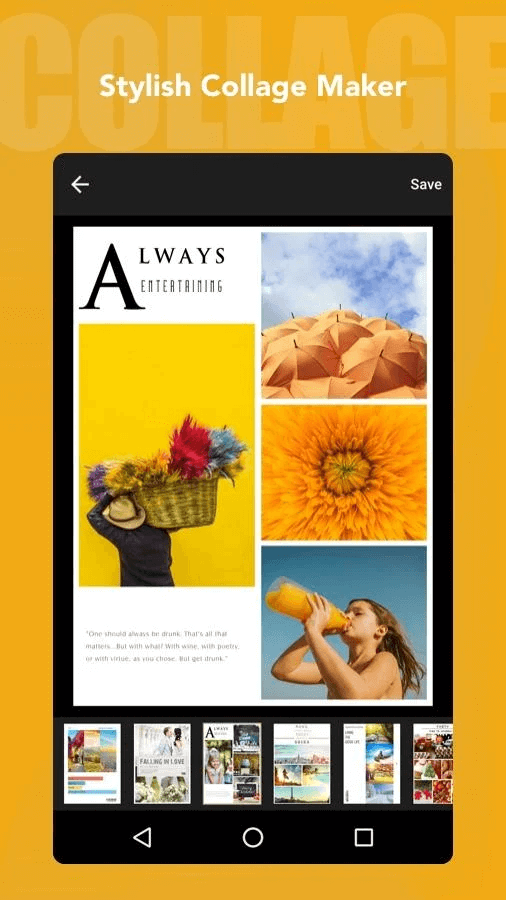 Fotor is yet another photo editor app for Android and is one of the best beauty camera apps that you can download from the Playstore. Used by both the beginner and seasoned photo editors. It comes with powerful filters and grids to make photo editing a piece of cake. 
Pros
Cons
●     Contains speedy graphic engine for faster image processing and uses patented HDR technology

●     Professional photo editing tools using which you can change RGB levels, alter pixelation, add stickers, texts, create 100 different kinds of collages and magazine like effects

●     Availability of tutorials to help gain mastery

●     Large social network

●     Fotor is an intelligent Android photo editor that doubles as a RAW converter as well  

●     You probably won't be able to create an image from the start

●     Fotor Pro may prove to be a little pricey at $8.99/ month or $3.33/ month. This is billed annually●     The presence of ads
Rating on Google Play Store: 4.6 Stars
No of Installs: 10 Million +
3. Pixlr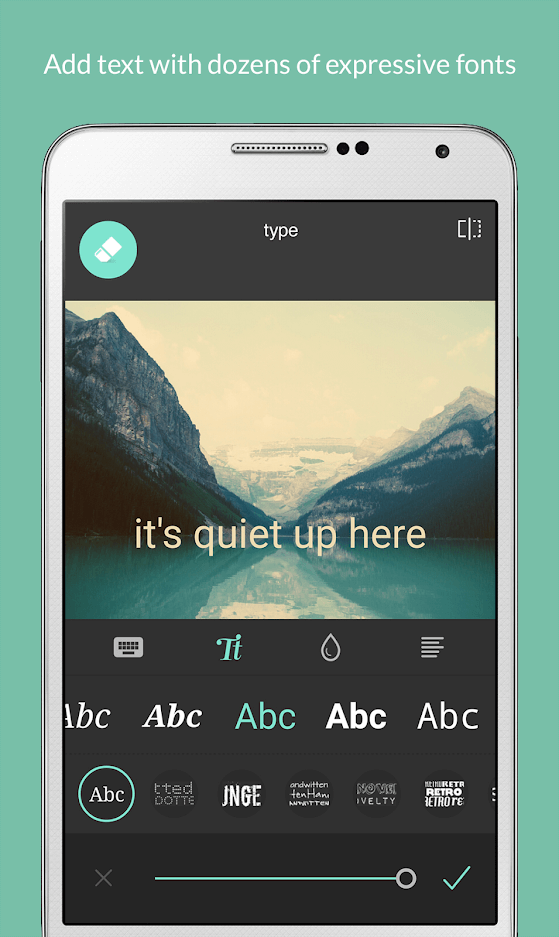 Pixlr is a free online photo editor manufactured by Autodesk. If you are into the designing domain, chances are you are already familiar with who they are and what their software can do. 3DS Max, Maya, don't need a mention for their creations. As with Pixlr, it is undoubtedly one of the best photo Editor for Android that makes photo editing a child's play.
Pros
Cons
●     Pixlr can prove to be a great Android photo editor app especially for beginners as it is easy to learn

●     You can balance colours with one tap using the Auto-Fix option

●     Offers layer wise editing which few photo editors for Android offer

●     You get a myriad of effects, overlay, filters that you can play with

●     Free and doesn't take much of your devices resources.

●     While Pixlr uses most image formats, it doesn't support TIFF image format

●     The help section may sometimes not be that helpful with certain topics
Rating on Google Play Store: 4.4 Stars
No of Installs: 50 Million +
4. Adobe Photoshop Express: Photo Editor Collage Maker
Adobe Photoshop Express is probably one of the best photo editing apps for Android. It contains several photo editing tools that'll sure make photo editing a fun task for you. Say, you are not happy with boring color correction that offers just a few tweaks to your image. Come in Adobe Photoshop Express that offers more than 60 unique looks, endless textures and blend effects for your images.
Pros
Cons
●     Major features of this photo editor app for Android are available for absolutely no charge at all.

●     Simple interface yet Adobe Photoshop Express offers tons of tutorials that will help master each tool

●     Tons of photo editing filters and text effects. You can change the magnitude of each of these effects or filters by tweaking their intensity.

●     Social media platform integration – you can share edited photos on social media with ease

●     Since it is a stripped down version of actual desktop app, you might not get some features like clone stamp tool, photo merge or even the brush tool

●     If you are opting for creative cloud membership, you might have to shed $4 or $5
Rating on Google Play Store: 4.6 Stars
No of Installs: 100 million +
Download Adobe Photoshop Express: Photo Editor Collage Maker
5. Snapseed
Coming in at number 1 and possibly the best photo editing app for Android is Snapseed. Have our word for it, this is one of the Android photo editors that can give desktop photo editor a tough fight, hands down! You'll be amazed at the number of photo editing tools that pop up when you tap on the tools option. 
And, this photo editing app comes right from the house of Google!  Needless to say, Google houses only the best photo editors for Android.
Pros
Cons
●     Despite being free, there are no ads to bug you

●     This photo editor app for Android is exactly what beginner editors need. It has simple interface – all filters, tools, and other options are sorted under styles, tools and export

●     Tons and tons of tutorials that'll make you a master editor in no time at all. For instance, wanna master vignettes, there are tutorials which will help champion this art.

●     Photo editing tools like the headpose, grunge, photo tuning and many more are not seen in various other photo editing apps

●     The Android photo editor app lets you export and save files in a number of formats

●     You'll have to be slightly careful of the changes you make before saving or exporting changes you make to your images

●     Social sharing though available could confuse a little bit
Rating on Google Play Store: 4.6 Stars
No of Installs: 100 million +
Give Your Creativity A Shake – Use Best Photo Editing Apps for Android
Many of us have had that yearning of being a photo editor. Now is the time to become one – thanks to the best photo editor apps for Android. At least, when it comes to posting images on Instagram, everyone seems to have their artist awaken. And, that's what  photo editing tools are made for. 
With a photo editor app for Android, all you need is to toss in all your creativity, put a dash of filters, some effects, a small tweak here and there and you are all good to rise and shine.
Also Read: How SNAPSEED Is An Ultimate Photo Editing App For Your Mobile?