The Best Password Managers of 2019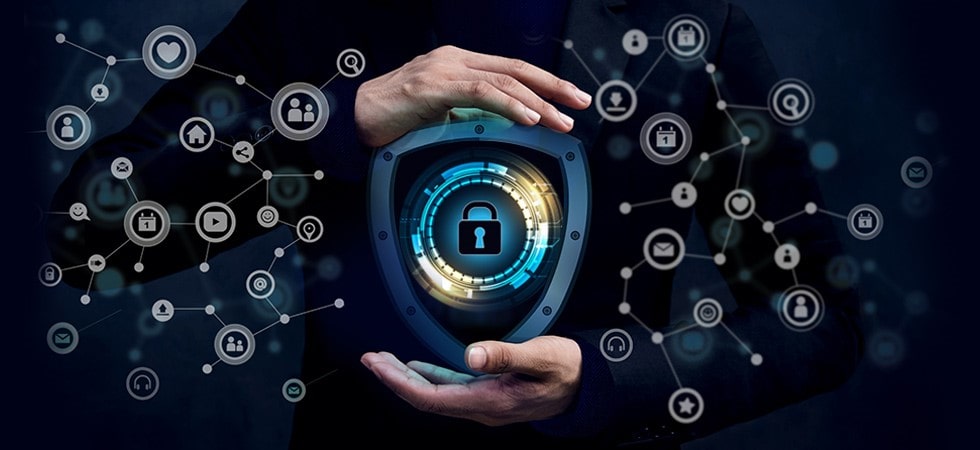 There are people who are still using their kid's Birthday OR their Marriage Anniversary as a password to safeguard their accounts. You must be fed up of remembering important passwords on sticky notes. Well, now is time to ditch sticky notes and get a password manager software to manage all your passwords and identity related information.
As per best practices, you should use a different password for every individual account but remembering all your passwords may sound hell lot of task to do. When you want to use strong credentials that are difficult to crack, and you forget the exact match yourself, you end up getting into trouble. Here we have tested, compared and concluded best possible solution to all your password related problems. We have listed top 5 password managers to provide digital security on multiple platforms. Password managers for all devices generates strong passwords for your multiple accounts using a combination of alphabets, numbers and special characters, and stores them all in an encrypted vault. Now if you are puzzles to choose one of the best password manager software of 2019, you may consider going through the ranking and features.
How Can Password Manager Help?
Once you've logged into a password manager, these programs can automatically fill username and password whenever you visit a site that requires a login.
There are a lot of good ones available online however we have selected the best password managers with limitless features and functionalities for digital security on multiple platforms. All of them does well in storing passwords, but we have listed out tools with advanced feature support, like syncing your passwords on multiple devices and changing them with a single click, automatic sign-ins to your favorite and most frequently visited sites, taking care of security of your accounts with password encryption and many more.
Now say goodbye to lost password anxiety! Passwords are meant to be forgotten.
Top 5 Password Manager tools of 2019:
1. TweakPass
TweakPass has topped the chart in our list of password managers available in 2019. It's unique features and functionalities made it rank as the best password manager software of 2019. All you need to remember is the master password to access the application. You also get access to 24/7 Email support if you forget your Master Password, or you need assistance in tweaking your account. TweakPass Password Manager and vaults are secured with PBKDF2 SHA-256, AES-256-bit password encryption & HMac ensuring complete digital security of your credentials. It has got multifactor authentication process to ensure that a correct Master Password is used to access the vault.
One thing which excited us during tests was the offer of $100,000 as a prize to break it however we couldn't. TweakPass team is constantly working on its development part to make it the most robust and world-class tool for managing passwords.
Product Features
Premium starts at $29.95
Two Way Authentication
Autofill Web Forms with multiple identities
Compatible with Windows
Imports from Chrome, Firefox
Actionable Password Strength Report
Application Password
Detailed Dashboard
User Friendly
2. LastPass…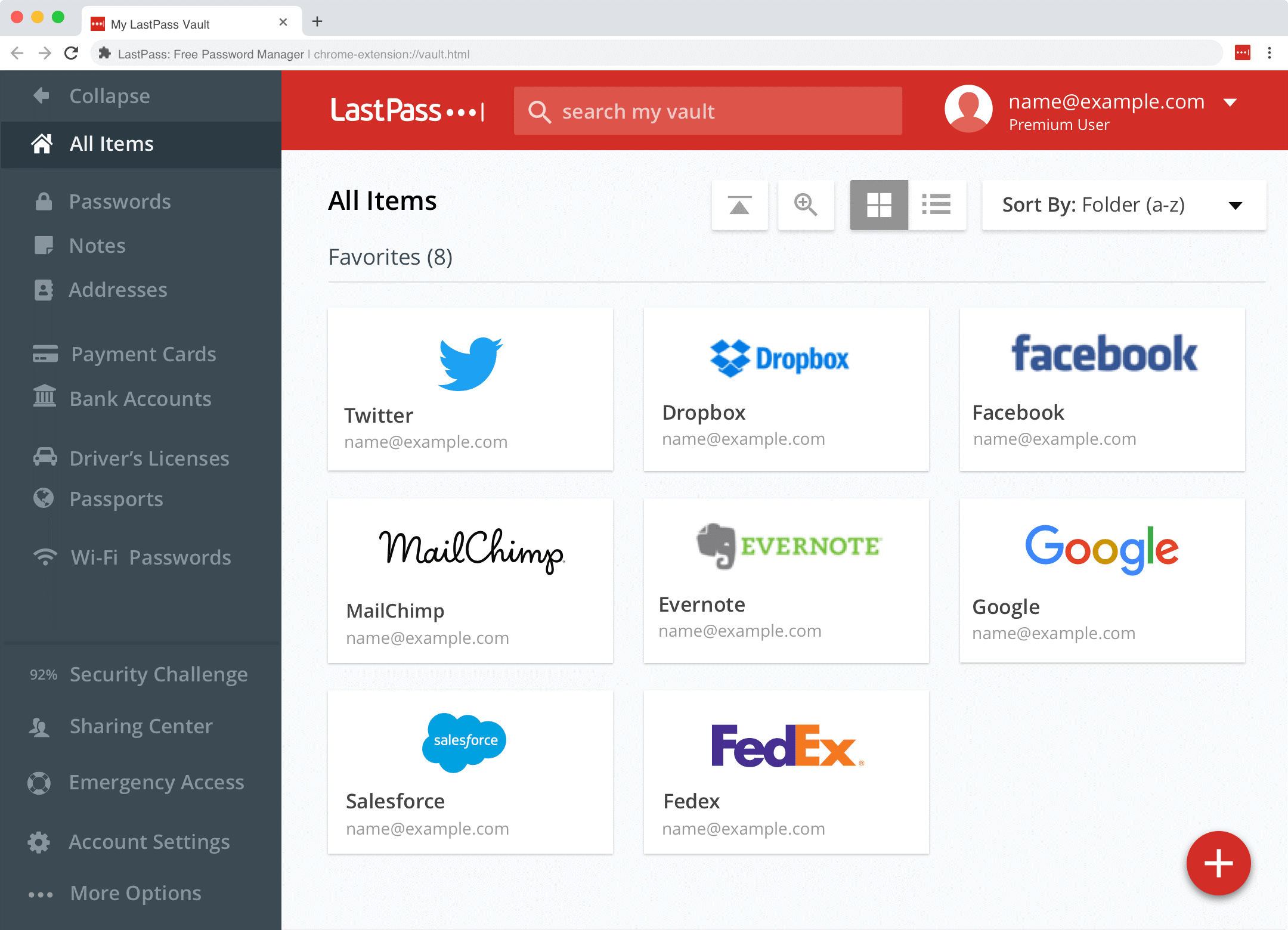 LastPass is again the most trusted and favorite password manager of millions of users. As others, this tools also comes in two variants – Free version and Premium version. Both of them are competent enough to generate and store unlimited passwords for multiple websites and secure them in a vault that is protected with your master password. With multi-factor verification for additional digital security, this software also includes hardware authentication on multiple platforms like Windows, Mac, iOS and Android.
It automatically refuses to autocomplete forms when it encounters a known phishing website. If you are not satisfied with the product and wants to switch, you can export your data at any point in time to import to a rival password manager product. Premium version offers you secured cloud storage for your extreme important files along with advanced multi-factor authentication. It also comes with a contingency plan so that your loved ones can access your accounts in case of emergencies.
Product Features
Premium starts with $36.00
Stores unlimited logins
Automatic form completion
Generates strong passwords
Imports from Chrome, Firefox, Edge, Safari and Opera
Compatible with Windows, Mac, Linux & Android
3. 1Password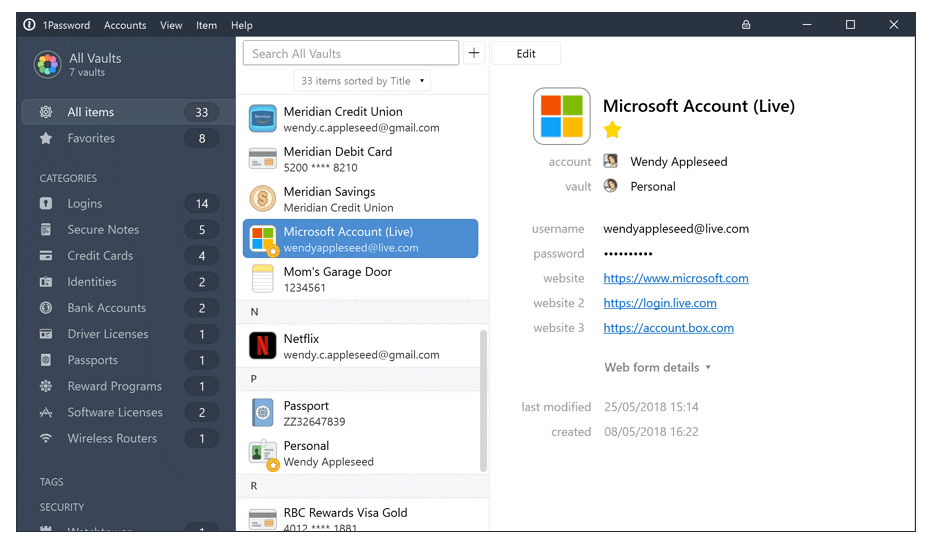 Next most popular and reliable password manager for all devices is 1Password. This product also stores unlimited username and passwords with an option of secure sharing and the most exciting part is its strong password generator which generates unique passwords. The software is also equipped with digital vault which allows you to securely save everything, your login credentials, credit card information, sticky notes, personal information and network passwords.
The premium version allows you to sync everything on your hard drive, as well as you can also sync your information between devices through iCloud, Dropbox, or any other convenient method.
Product Features
Starts with $35.88
24/7/365 email support
Travel Mode to safely cross borders
Stores unlimited passwords, items, and 1GB document storage
Apps for Mac, iOS, Windows, Android, Linux, and Chrome OS
Two-factor authentication for an extra layer of protection
Easy to restore deleted passwords
Easily syncs everything
4. Dashlane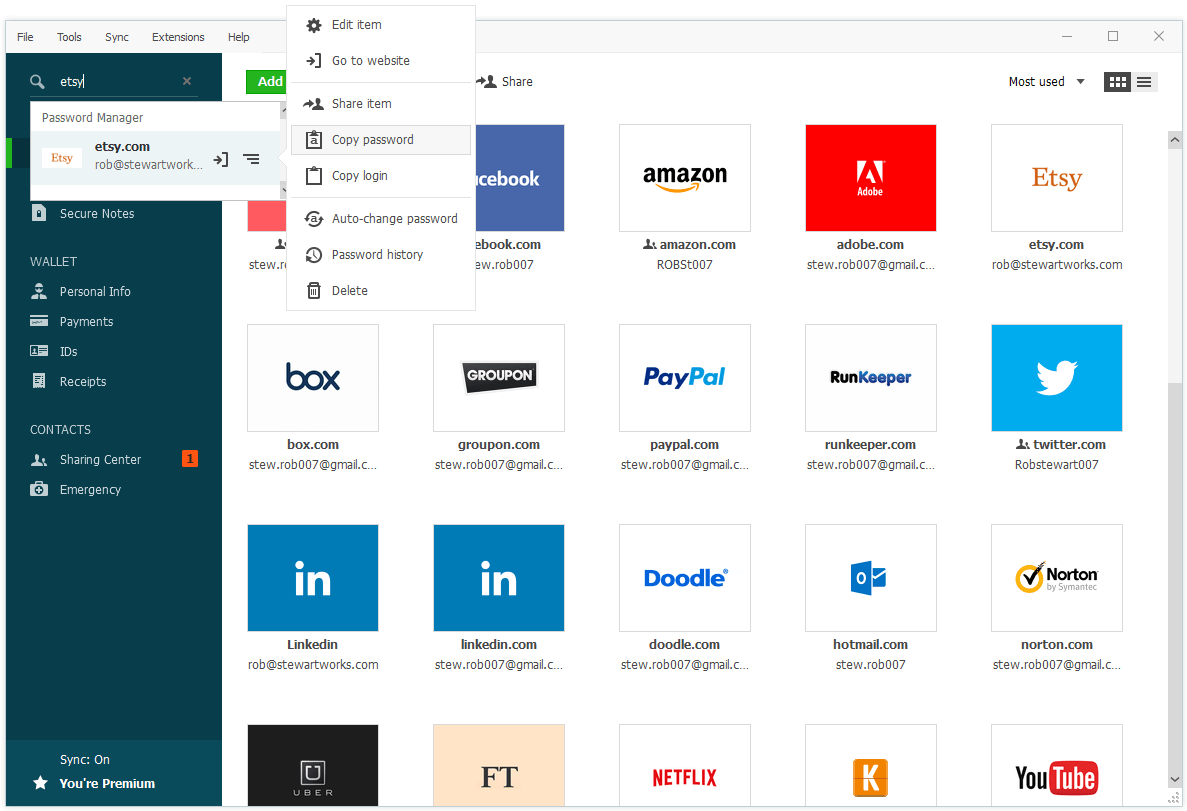 Dashlane is again one of the most commonly used password managers across the world. This product is listed in our best password manager list due to its unique sync system across all your Windows, MacOS, Android, and iOS devices. Dashlane also comes with essential and innovative password management features which includes VPN link protection. It also scans Dark Web for compromised account details which isn't an option with rival products. It captures online shopping receipts for further references.
Product Features
Starts at $39.99
Unlimited password storage
Instant form and payment autofill
Premium version syncs across every device
Dark Web Monitoring with personalized alerts
VPN for Wi-Fi protection
Secure file storage
5. Sticky Password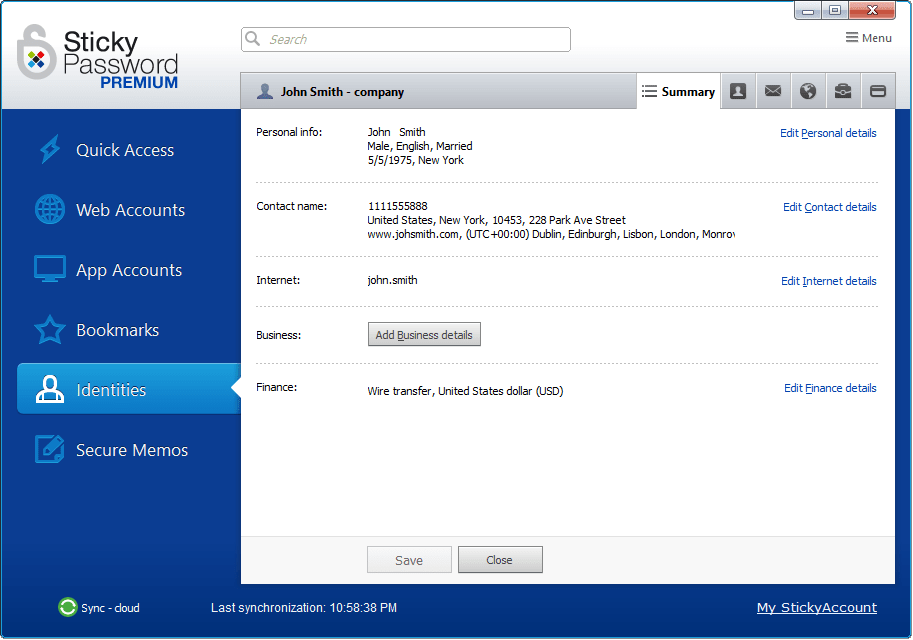 Sticky Password is last but not the least password manager in our top charts. Sticky Password Premium solves all the purposes one could imagine from a password manager. Although, it lacks some advanced features such as digital inheritance. If we keep looks aside, Sticky Password is one of the best password managers with robust security features. If you never want to lose your password, simply select no-cloud Wi-Fi sync option so you passwords stay safe on your home network.
Although Sticky Password couldn't work with Edge, but it does provide support for Google Chrome, Chromium, Thunderbird, Firefox, Pale Moon, Comodo Dragon, IE, Opera, SeaMonkey and Yandex on Windows, Android, iOS and Mac systems.
Product Features
Starts at $29.99
Syncs across all devices
Two-factor authentication
Manages application passwords
Secure no-cloud Wi-Fi sync available
Online console manages trusted devices
Analyzes and rates the strength of your passwords
Also Read: Password Spraying: Hackers' New Reverse-Tactic To Target Accounts
Conclusion
Overall all password managers work on the same platform however few of them are featured with advanced options which makes them rank in our best password manager list. All of these above password managers comes with 1-month free trial option which can be examined before taking a call. Do let us know about your choice on password manager software of 2019.