In this era of digital life, it is hard for parents to keep their kids away from smartphones. Kids now a days get their first exposure to smartphones at the age of 3 years. We as a parent also handover the phone to them thinking they will play games on phone and we can have some peace of mind till then however we never know when kids are navigated to objectionable or dangerous websites. Teens are mostly attracted to various new Apps like TikTok, Snapchat or Kik. Filtration of content is very important for kids and at time we need to restrict our kids to be exposed to unknown or unwanted vulnerable Apps. A parental control App or App locker is the best solution to stay safe and keep our kids away from objectionable content.
The best parental control Apps can help you tracking your kid's daily activity on smartphones and keep a close eye on who they are talking to, what they are searching or what they are viewing. It also helps kids to understand what is appropriate for them or what they are not supposed to browse. There are a lot of parental control Apps available in the market however we have tested and reviewed the best parental control software so that your child is completely protected, and only safe and filtered content is allowed on your kid's screen.
CYBER DANGERS YOU SHOULD BE AWARE OF
What is cyberbullying?
Cyberbullying is a kind of Blackmailing or Ragging. Bullying done over digital devices like smartphones, tablets or computers over social media or websites.
1 out of 10 kids attempt to commit suicide after being cyberbullied.
What is sexting?
Sexting is sending / receiving or forwarding sexually explicit messages among groups or an individual. These messages may include photos, videos or text shared through digital devices.
1 out of 7 kids receives unwanted sexually explicit messages or sexual solicitations through online activities by online predators.
Who are online predators?
Online predators are pedophiles who are sexually attracted to children and who hide themselves with a teenage profile to become a friend and then abuse children on the Internet.
3 out of every 10 teens who sexted online with someone falls under the risk of getting registered as sexual offenders.
Common Features of Parental Control Apps
Messaging – Keep a tap on messaging Apps (WhatsApp, Snapchat, Tinder, FB messenger, etc.)
Kid Tracker – Keep a track of your kid's GPS location using Family Locator and Places
Review all downloaded, shared/received Photos and Videos on your kid's device
Schedules – Schedule screen time out on weekdays and weekends
Texting – Inspect your kid's call logs & text/media messages
Are compatible with iOS and Android devices
Provides 24/7 live support
App Blocker – Block internet and Apps on one tap
App List – Configure allowed and denied Apps on your kid's device
Porn Blocker – Filter and block adult / sexual content on browsers & Apps
Examine Sent/Received/Deleted text messages for content including date and time
Block unsecured activity on Internet and examine search requests, saved bookmarks and browse/download history
Our Top 5 Parental Control Apps
1. Qustodio
5. Boomerang
| | | | | | |
| --- | --- | --- | --- | --- | --- |
| Feature – (Bold = Free) | Qustodio | Kaspersky Safe Kids | Norton Family Premier | Zift/Net Nanny | Boomerang |
| Price | Free to $96.95/year | Free to $14.99/year | $49.99/year | Free to $89.99/year | Free to $30.99/year |
| Number of devices | 1 to 10 | Unlimited | 1 to 10 | 1 to 20 | 1 to 10 |
| Platforms | Android, iOS, Kindle Fire, Windows, Mac | Android, iOS, Windows, Mac | Android, iOS, Windows | Android, iOS, Kindle Fire, Windows | Android, iOS |
| Web portal for parents | Yes | Yes | Yes | Yes | Yes |
| Call logging | Android only | Android only | None | None | Android only |
| Text logging | Android only | Android only | Android only | None | Android only |
| Text content | Android only | None | Android only | None | Android only |
| Call blocking | Android only | None | None | None | Android only |
| Text blocking | Android only | None | Android only | None | Android only |
| Geofencing | None | Yes | None | None | Android only |
| Location tracking | Yes | Yes | Yes | Yes | Yes |
| Location history | Yes | None | Yes | Yes | Yes |
| Web monitoring | Yes | Yes | Yes | Yes | Yes |
| Web filter | Yes | Yes | Yes | Yes | Yes |
| Time limits | Yes | Yes | Android only | Yes | Yes |
| Scheduling | Yes | Yes | Yes | Yes | Android only |
| App management | Yes | Yes (limited on iOS) | Android only | Yes (limited on iOS) | Android only |
| App blocker | Yes | Yes (limited on iOS) | None | Yes | Yes |
Also Read : Enable Parental Control / Restricted Mode on All Devices Your Kids Use
1. Qustodio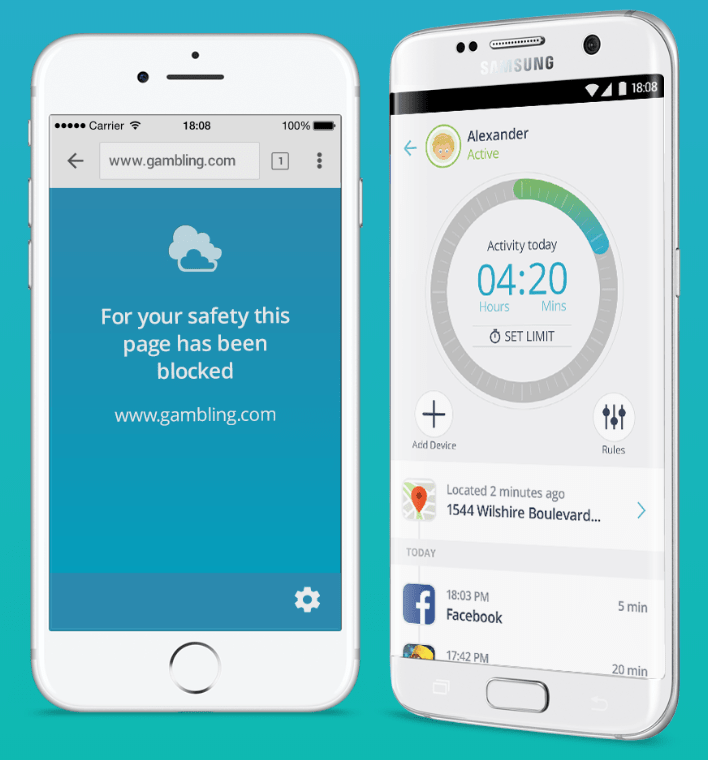 Qustodio is world's biggest company in parental lock software solution for families. Qustodio is available in six languages and supports all versions of Windows PCs iOS and Android devices. Qustodio comes with awesomeness and ease-of-access for users and has superior features for advanced protection.
Features:
Extended Reporting – Full report on device usage history
Time limits by device – Set time limits and schedules for internet activity
Basic Protection – Offers best in class web filtering engine, and reporting features
Games & Apps blocking – Decide upon allowed and denied games and applications
Advanced Monitoring – Monitors posts, pictures, friends and lot more on social networks
Panic Button for Android – Additional SOS button on your child's device to send location and alerts
Call Tracking and Blocking for Android – Track frequent calls and block unwanted callers
Track SMS for Android – Examine text activity on your child's device
Location Tracking for iOS and Android – Track your child's location
Priority Support – 24/7 support on Application and devices
2. Kaspersky Safe Kids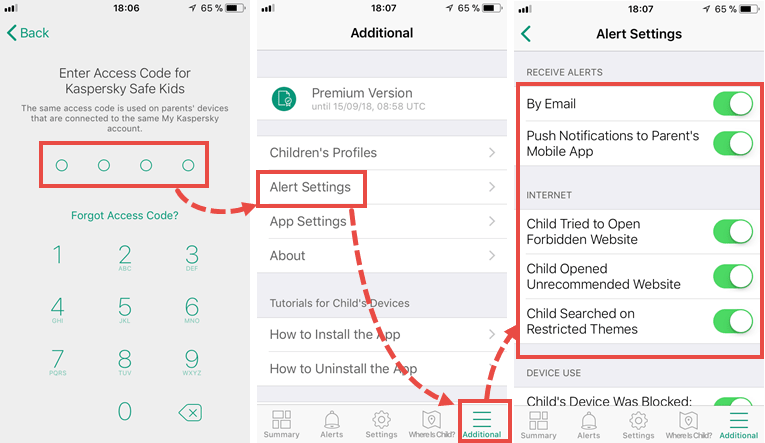 Kaspersky Safe Kids is one of the most popular and cost-effective App to enable the best parental control configurations on your kid's devices. The child and parent App connect through 'My Kaspersky Account' which can be set and accessible on any device. It helps you to regulate your kid's activities and fetch proper reports with customized settings on your child's device.
Features:
Online Content Filter – Protect kids from inappropriate content
Child Locator – Locate your kid on a map & set a fencing for them to stay in
Apps Usage Control – Manage App usage by screen time, category or age restrictions
Real-time Alerts – Get proper alerts on access of bad sites & Apps, leave safe zone & more
Battery Tracker – Get notified of low battery on your kid's device to stay in touch
Screen Time Management – Manage allowed screen time on your kid's devices
Social Network Monitoring – Track your kid's social networking activity
3. Norton Family Parental Control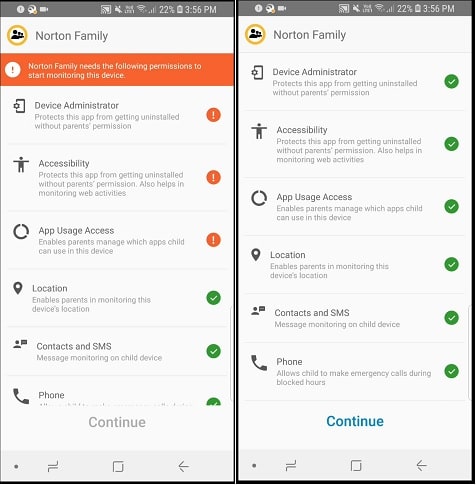 Norton is one of the largest used parental control software around the globe. Norton Family application can be used on multiple devices allowing you to get control on all the devices your children use. It secures your kid whether they're out of home or at home using their devices.
Features:
Web Supervision – Filters allows and blocks unsuitable websites
Time Supervision – How much time allowed to spend on a device
Social Networking – Monitors social networking activity on all portals
Search Supervision – Online search keyword filters for safe search & browsing
Personal Information Protection – Avoids sharing sensitive information (Phone#, Address, etc.)
Mobile App Supervision – Select which Apps are allowed or blocked for your kid
Instant Lock – Lock kid's device instantly still being in touch with the kid
Video Supervision – Checks snippet of each videos which is played
GPS location tracking and fencing of your device with alerts
Email Alerts – Get notified about any suspicious activity
Tracks calls, SMS messages and other messaging Apps
Compatible with Windows / Mac OS / iOS / Android
Prices start at $49.99 a year
Also Read : How to use Mac Parental Control on Mac OS High Sierra
4. Zift/Net Nanny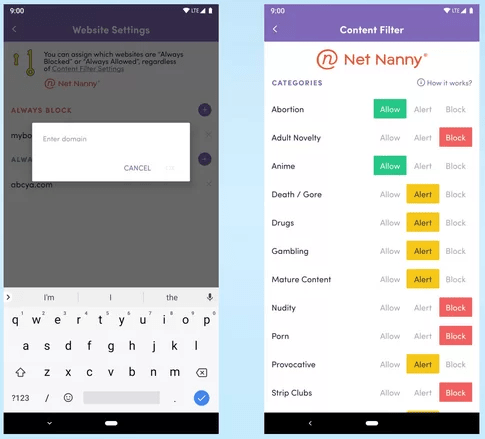 Net Nanny as the name suggest, is a parental control App for your kid's online activities. It is becoming popular day-by-day with millions of users around the globe. Net Nanny's has improved drastically on instant reporting of online searches and gives clear visibility on App activities done by your kids. It is built to give real-time alerts on Porn, Weapons, Suicide, and Drug related content.
Features:
Internet Filter – Control your family's online activity on the web and devices
Parental Lock – Advanced parental lock settings for additional security
Block Pornography – Instant limitations on exposure to adult content or pornography
Set Screen Time – Configure your family's screen time, set specific hours with scheduling
Website Blocker – Block unwanted, untrusted & unsuitable websites for your kid
Block Apps – Instantly block Apps on your child's smartphone or tablet
5. Boomerang Parental Control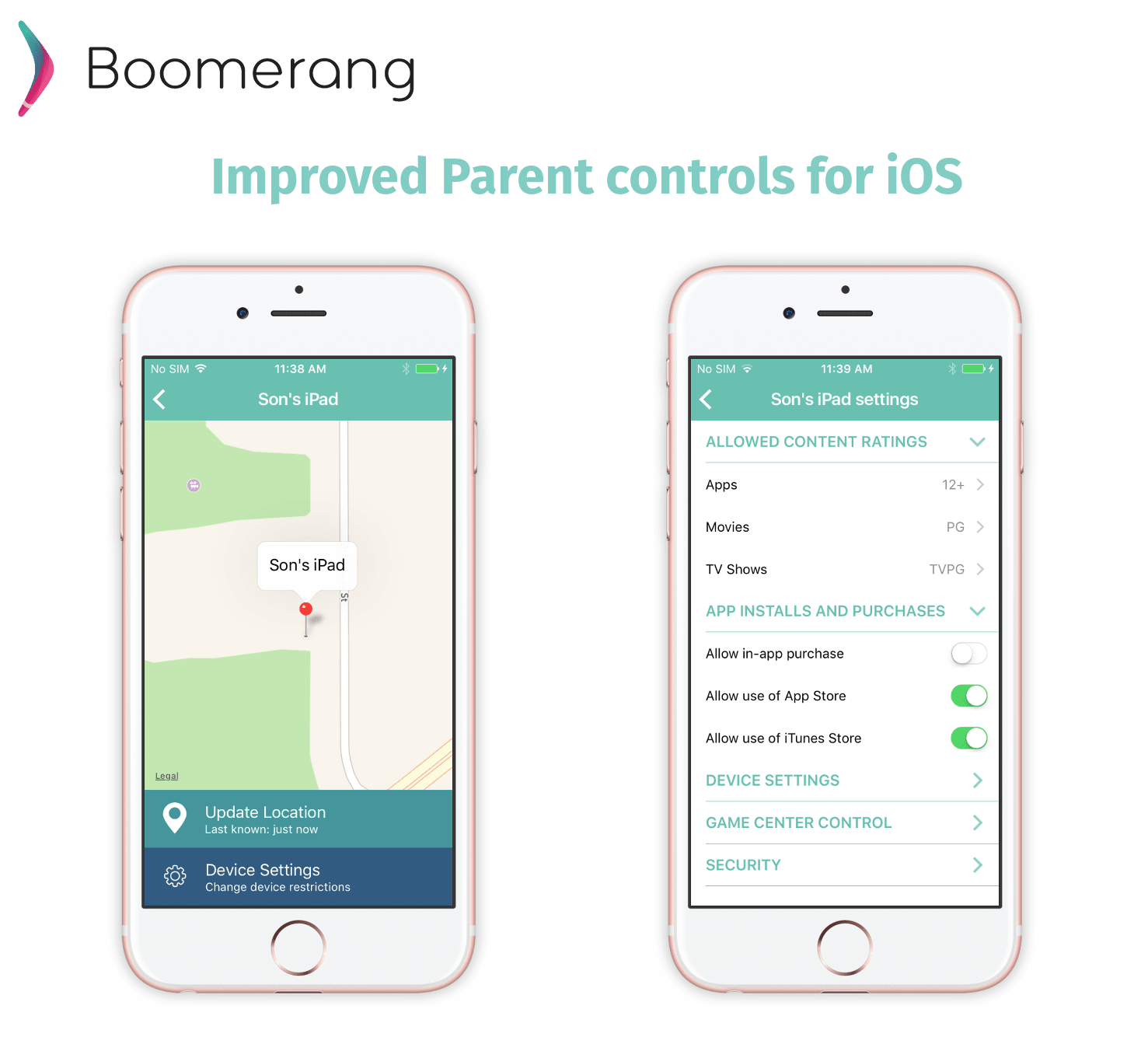 Boomerang was established by a team of three fathers with eight kids considering the same issue as every parent face with their kids. Being an IT professional, their kids also used to spend a lot of time on gadgets and their biggest concern was to keep their kids safe online. Thus, they designed this App to prevents kids from viewing violence, pornography, and hateful rhetoric. Boomerang ensures that kids don't become addicted to devices and never encounter objectionable content through any which means.
Features:
Encourage good Apps and block unrated Apps on your kid's device
Time Limits – Allow, block, or customize daily screen time as per the need
Call Management – Decide who can call on your kid's device or can be called
Text Messages – Monitoring important keywords to identify censured content
Get notified about new Apps your kid is interested about, instant allow or deny access
Bedtime Reinforced – With time scheduler, your kid gets bound to go to bed on time
24/7 GPS location tracking of your kid's device and set boundaries on map
Easy to setup, Pair and configure settings on your child's devices.
Safe search, safe browse by filtering out inappropriate websites
Conclusion:
Smartphones have exposed a new world to our kids for learning and communicating with the world. Kids of today's era do not carry quarters for making calls at a local payphone anymore. They always want a smartphone to be engaged and express their feelings through text, images and video. This race of technology also brings new amplified challenges like cyberbullying and sexting. Putting a tap using best parental control software on our kid's device can definitely give us peace of mind that the devices in our kid's hand is harmless for them.
For more such tips, tricks and tech related updates subscribe to Tweak Library and if you are more into tech-related videos do watch and subscribe to our YouTube channel. You could also reach us on Facebook and Pinterest.