Table of Contents
"Flash Player will no longer be supported after December 2020" is the notification being displayed by web browsers across the world, informing the people approximately 18 months before that is going to happen. This message shot some questions in my mind and I decided to do a little bit of research. I have shared all my findings with you here.
What is Flash Player?
How did I use it ever?
How can I update it while it still exists?
What will happen once Flash Player ceases to exist?
Are there any alternatives to Flash Player?
What is Flash Player?
When you surf on the internet, you must use a program called a browser to do so. A browser helps to display the web content uploaded on the worldwide web across the globe. But in most cases, website developers use many tools to make the webpage attractive and grab user's attention. For these tools to be displayed, the browser needs assistance from small programs called plugins, which integrate themselves with the browser.
Adobe Flash Player is one such type of powerful plugin which assists the browser to play videos, games and interactive content.
Adobe Flash Player was one of the most popular plugins – a must-have plugin for all browsers – but it began losing its popularity as it has become vulnerable to online threats. Many instances of hackers using spyware and malware trying to infiltrate computers through flash player plugin have been highlighted.
Adobe Flash Player is a relatively old plugin and is not updated to be used on mobile browsers.
Many web browsers have released updates disabling flash player by default and provide prompts to the user to activate it if required on specific websites. This way the Flash player is always kept disabled and temporary enabled by the user during a current session.

How did I use it ever?
Flash was the only platform used since the year 2000 to provide life to webpages and games. It was widely used to play video and audio content on the web, animations and gizmos on a web page. As early as 2005 even YouTube used Flash Plugin to display its content. The major applications are:
Websites. Most of the websites used interactive websites as a part of their marketing campaign, using flash tools and plugins. Notable users include Hewlett-Packard, Cartoon Network, Disney, Nike, Nokia, General Electric, HBO, Motorola, and World Wildlife Fund.
Rich Internet Applications. Many websites use RIA to create web applications like Speedtest.net.
Video games. Many popular games were created with Flash, the names of some of them might shock you. Clash of Clans, FarmVille, Hundreds, Machinarium, Adventure Quest and Angry Birds are to name a few.
Film and animation. Noted animation includes Pound Puppies, Clone high, Wow! Wow! Wubbzy! Are to name a few.
If you have watched any of the above animations or played any of those games, then you have been using Adobe Flash Player in your life.
How to update Flash Player?
Adobe has not stopped working on the Flash Player project completely yet. It does release a few updates periodically. If the Flash Player is not up to date, then you might receive an error message as shown in the figure below: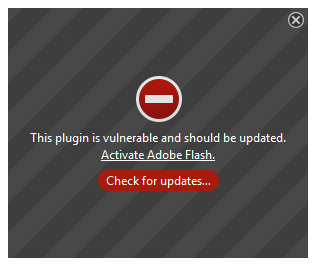 Some browsers might update all the plugins automatically, but others will require the user to update the plugins manually from the developer's website. To update Adobe Flash Player, follow the following steps:
Click here to open the official website for Flash Player.
The first section would automatically provide your system details.
The second section would consist of optional offers.
The third section would include the terms and conditions and the Install Button.
Uncheck the optional offers.
Click on the Yellow Install button.
Note: It is a very small sized file of 33.2 MB and the download completes fast.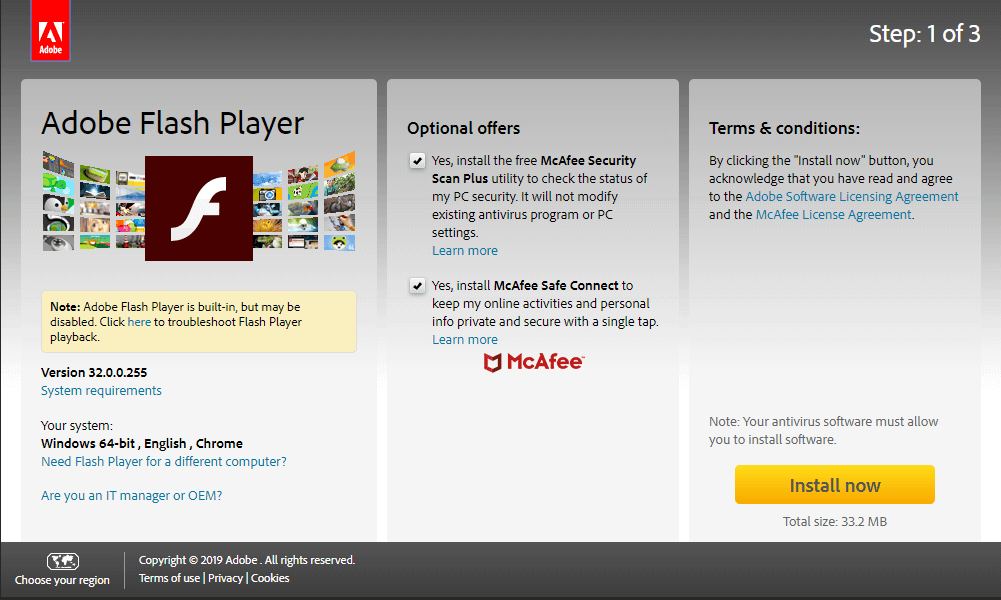 Once you click on the install button, an executable file gets downloaded on your computer.
Locate that file and double click to being installation.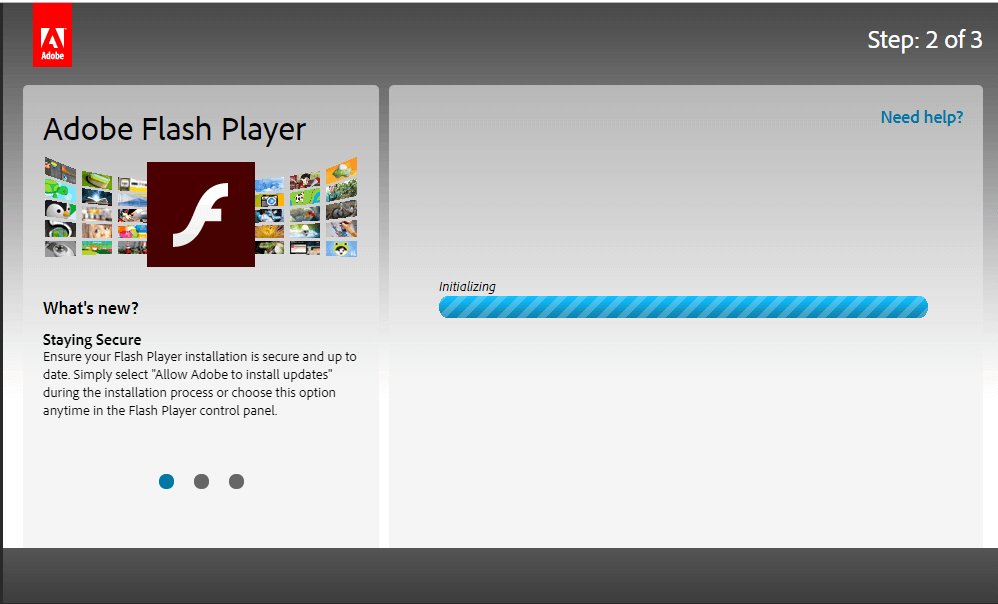 Once the installation is completed, a new browser page opens to confirm the installation.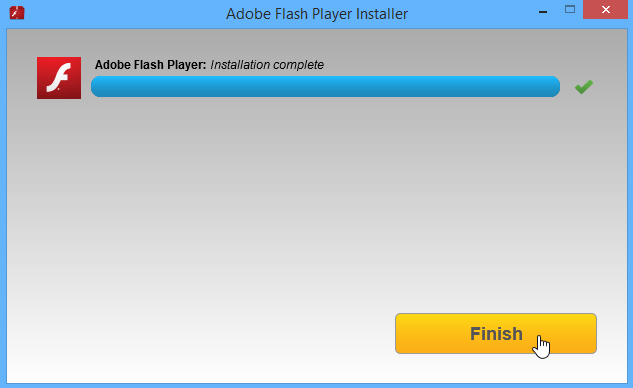 What will happen once Flash Player ceases to exist?
Once the Flash Player is no longer supported, all the content built on Flash will face issues to run as designed. Hence it would be a great idea to convert the Flash content to HTML 5. There might be issues where certain portions might not get converted. In such cases, it is recommended to revamp certain portions of the content and migrate the rest.
As for the Flash Games are concerned, a project has already started by the name of the Flash Point preservation project. It currently includes 178GB worth of games and special software that is sized at 200 MB to play these games. It is being updated constantly. The team knows that it has until December 2020 to complete the project and save as many Flash games it can. You can download Flashpoint from here.

Are there any alternatives to Flash Player?
HTML 5 is one of the reasons why Adobe is saying goodbye to Flash.  HTML or HyperText Markup Language version 5 is a coding language that designs the basic structure of the webpage. It has improved in its functionality from the first version and now it does not require any external plugin to assist in displaying interactive content on the webpage. With the increasing vulnerabilities in Flash Player and the constantly updating HTML, the need for an extra plugin that would perform the same functions is no longer required.