Who They Are?
Acronis True Image has set high standards in the field of cyber protection with its innovative range of software for Storage, anti-ransomware, backup, disaster recovery, and file sync and share solutions. Acronis cloud storage has thoroughly worked on advanced technologies like blockchain-based data authentication, AI-based active protection technology, hybrid-cloud architecture with award-winning records.
Acronis True Image Home has worked robustly to protect all your data in all the environments irrespective of cloud backup, physical storage, virtual data, mobile or PC data and applications at a comparatively low cost.
Since 2003, more than 1400 employees are working enthusiastically in 18 countries and won the hearts of more than 5 million customers. Acronis cloud backup services have worked with more than 500,000 business and most of them fall in the top 1000 fortune companies. Acronis True Image Home offers support in 30 languages in over 150 countries and turned out to be the best online backup services. It has got more than 50 thousand partners and service providers for uninterrupted service and support.
What is Acronis True Image?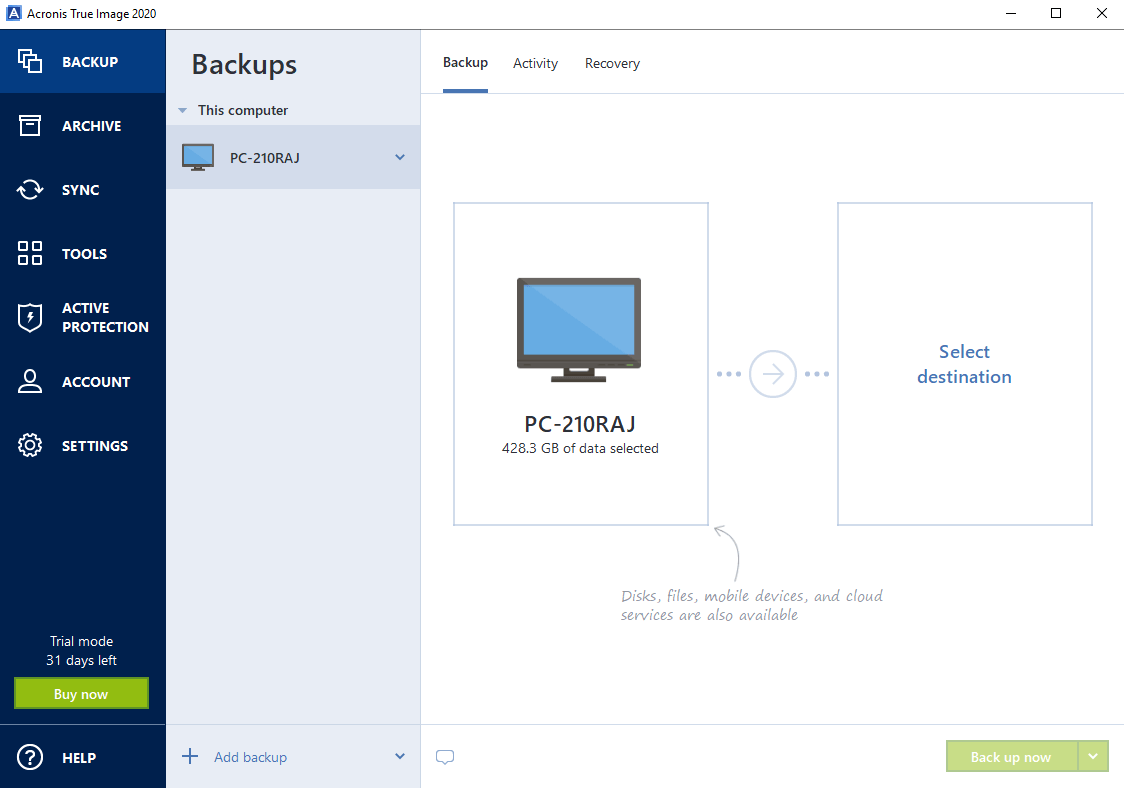 Acronis cloud backup was first introduced as a disk imaging program. With the success of its performance, it has developed a full suite of backup services. Acronis online backup not only offers Acronis cloud backup services but also offers full disk image backups, disk partition backup & restoration, sync, and online backup services.
Acronis True Image Home is fully compatible with Windows PCs, Servers and MacOS thought few features may not work properly on Mac machines. Check out the list of features on Windows & Mac.
Installation & Setup Process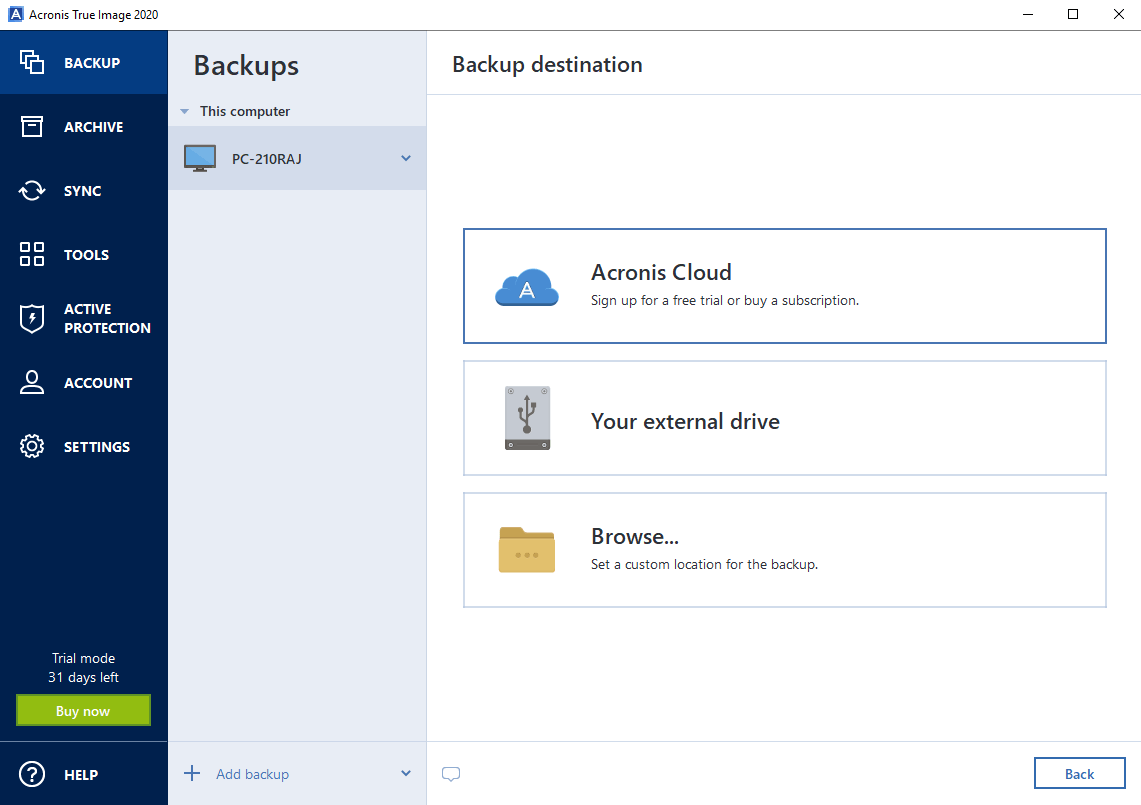 Acronis True Image Home installation and setup process is quite simple. The installer comes with a large file of over 500MB and takes a few minutes to install. If you already have an account, you can directly sign in and activate your product else you can sign up for a new service.
Acronis True Image Home interface is quite simple and intuitive with seven tabs on the left-hand side panel with clear labels throughout the interface that makes it the best online backup service.
By default, it takes a backup of the entire hard drive that can be customized to a single folder, a partition or the hard drive. Once it comes to select the destination folder, you can choose from the cloud storage, a local folder or an external hard drive. It doesn't allow you to select two destination folders at a time.
Once the setup is complete, you can directly initiate the backup process by clicking on the 'Backup Now' button or you can schedule the backup process on an hourly, daily, weekly, fortnightly or monthly or to a nonstop backup option.
Acronis True Image Features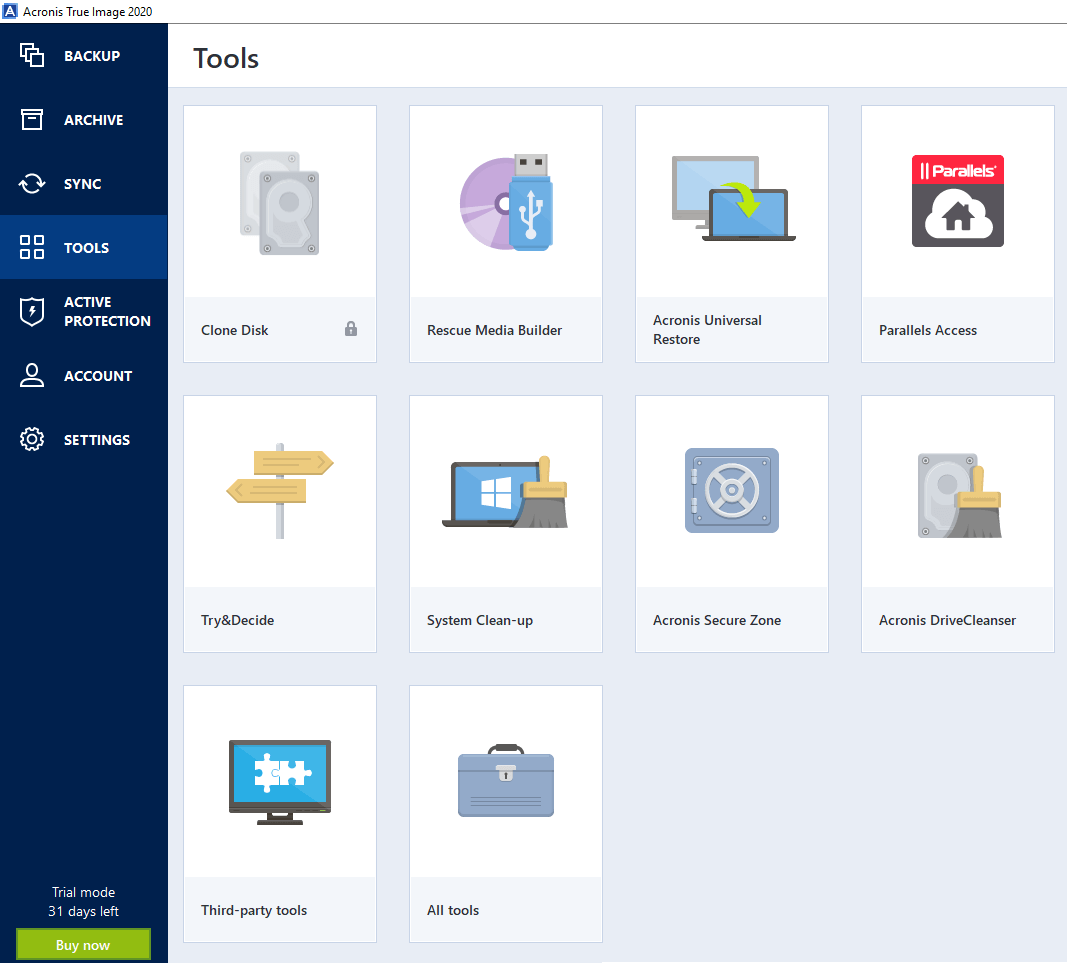 Acronis cloud storage is a true and reliable business backup service. You may expect a complete business solution from its comprehensive range of services.
Disk Imaging Tool
Acronis online backup is intuitive in taking a disk image of your business system and protecting your system files and folders. It helps keep a copy of your valuable data on Cloud backup, Network space or local system. You can quickly backup and restore your data from the servers.
Virtual Server Protection
Transactions from all types of servers are safe and secured irrespective of a human interface or fully automated process. Acronis cloud backup services eliminate the data migration risk from any of the six supported hypervisors between physical or cloud backups. Acronis ASign establishes a strong authenticity of your files with E-Signature and regulates compliance and authenticity issues with blockchain notary certification.
Cloud Protection
Acronis True Image Home also offers additional backup and protection on your Microsoft Azure VMs, Office 365 mailboxes, and Amazon EC2 cloud workloads. You can process secured transactions from cloud to cloud, cloud to a virtual system, cloud to physical machine (C2C, P2C, V2C, C2V, and C2P, etc.) or vice versa with Acronis True Image Home Cloud protection encryptions.
Fastest Recovery Mode
Acronis cloud backup services help experience the fastest backup and recovery process keeping security matrixes into consideration. Acronis cloud storage's Instant Restore function can reduce the time to a few seconds to backup or restore your Windows or Linux as VMware. You can also recover bare-metal servers remotely by using WAN connection.
Customizable Storage Options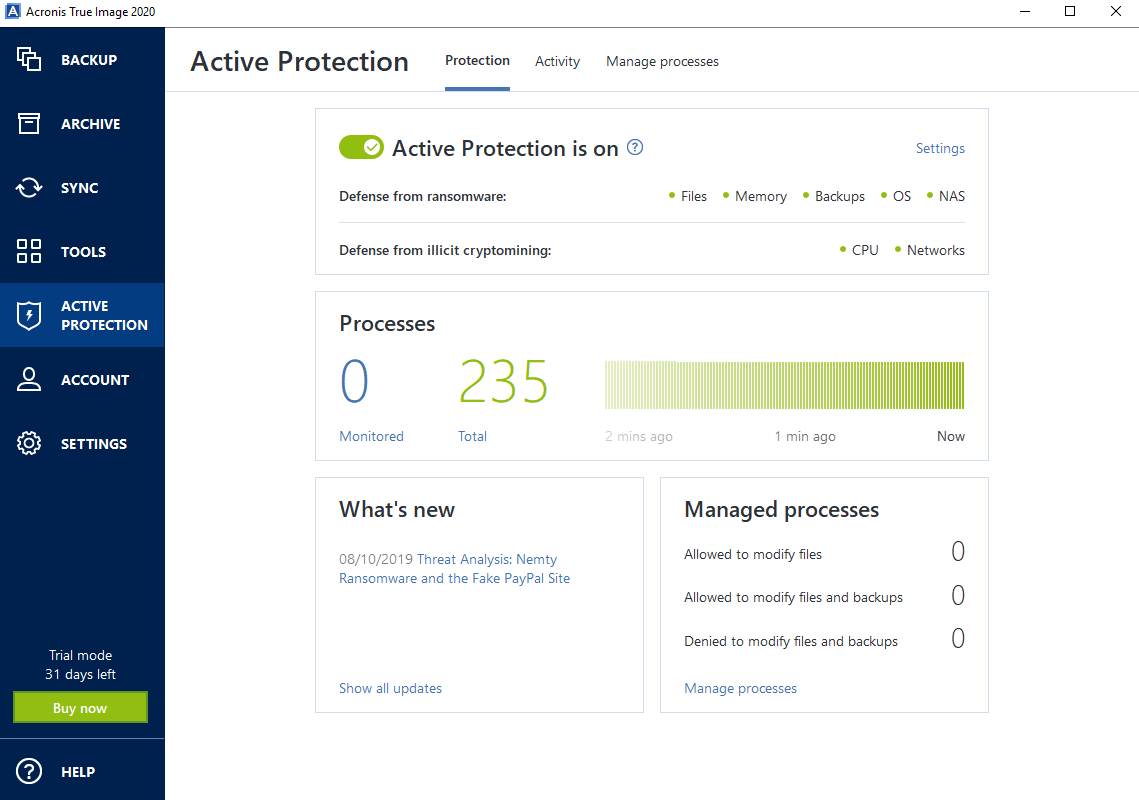 Acronis cloud storage offers disaster control over your data as you can recover cloud backup from any of the 14+ reliable and secure data centers. Your data is safely recorded on rewritable Tape Drives and stored in Tape Libraries for disaster recovery. You get the option to customize your storage space and manage cloud backups.
Spontaneous & Accessible Management
For huge servers and database, your IT department can access, manage or delegate roles as per the legitimate administrative rights. Action time can be reduced on a customizable dashboard to resolve queries with quick insight.
Acronis True Image Pros & Cons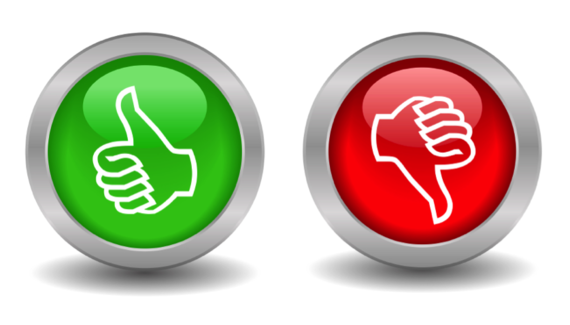 | | |
| --- | --- |
| Acronis True Image Pros | Acronis True Image Cons |
| Instant Backup & Restore | Slow Web Interface Reported |
| Fast Upload And Download Speed | Comparatively Expensive |
| Excellent Desktop & Mobile Interface | |
| Full Disk Image Backup, Sync & Restore | |
| Data & Ransomware Protection | |
| Backup On Multiple Locations | |
Acronis True Image Pricing
Acronis Cloud Backup services range between $49.99 per computer per year and $319.99 for 5 computers. The storage space starts from 250 GB to 5 TB with flexible customizable plans.
Privacy & Security Feature
Acronis online backup claims to consistently use end-to-end (AES-256) Military Grade security that ensures that nobody else has any knowledge about the content of your data stored, not even Acronis. It also allows you to set up a local encryption key that is not recoverable in any circumstances for additional encryption.
Bottom Line
Acronis True Image is the best online backup service as it offers additional features like SOP Notary, ASign blockchain, and other extras with the most intuitive desktop management system for cloud backup services. Acronis online backup is the most robust cloud backup and restore services with its top-notch interface. It has extra security measures, flexible backup preferences, ransomware protection and many more to offer. The web interface and mobile app usage may disappoint you a little bit, however, it is overall an amazing cloud backup service.
If this article turned out to be helpful to you, please like and share this with your colleagues. For more such tips, tricks and tech-related updates, click on the bell icon to get regular updates from Tweak Library. Do share your thoughts about this article in the comment section.
Follow Us: