How To Schedule Your PC To Shutdown
It's advisable to power off your system when you're not using it, but sometimes we forget. This guide will help you configure Windows to automatically shutdown at a specific time.
You should schedule a task with a rule to prevent the shutdown of your system if you are working.
To do so please follow the steps below:
Click on Start, type "task scheduler," and then click on Task Scheduler.
 

In the Task Scheduler window, you will see the Actions pane on the right hand side, click on Create Task.




Create Task window

in which you will see General tab. In this tab enter a new name for the task you are creating.

Now, checkmark both Run whether user is logged on or not option and Run with highest privileges options and select your version of Windows in Configure for.

Next, switch to the Triggers tab and click on New to create a new trigger.

In the New Trigger window, set the dropdown menu in Begin the task to On a schedule. Now set up whatever schedule you like and click on OK.
Now in the Create Task window, go to the Actions tab and click on New to create a new action.


In the "New Action" window, set the Action drop-down menu to Start a program. In the Program/script box Type shutdown. Now in the Add arguments (optional) box, type "/S" which is a basic shutdown command.


Note: If you also want the command to force any running applications without warning users, type "/S /F" into the box.When you're done, click on "OK."

Now back in the Create Task window, go over to the Conditions Tab. In this enable Start the task only if the computer is idle for option and set the timing you'd like. Also, set the task to Wait for idle according to your need.


Note: Enable "Stop if the computer ceases to be idle" option to stop the task if you start using your PC. Also, enable "Restart if the idle state resumes" to measure idle time again when you stop using your PC. After all the setting is done click on OK and proceed to next step.

Now at the end, go to Settings tab. 

Here, you can set your task up to run successfully if it fails to run.
This lets the task shutdown your PC if you're up using it for much longer than you expected. Enable "If the task fails, restart every" option and then set your preferred timing. When you're done, click "OK" to create the task.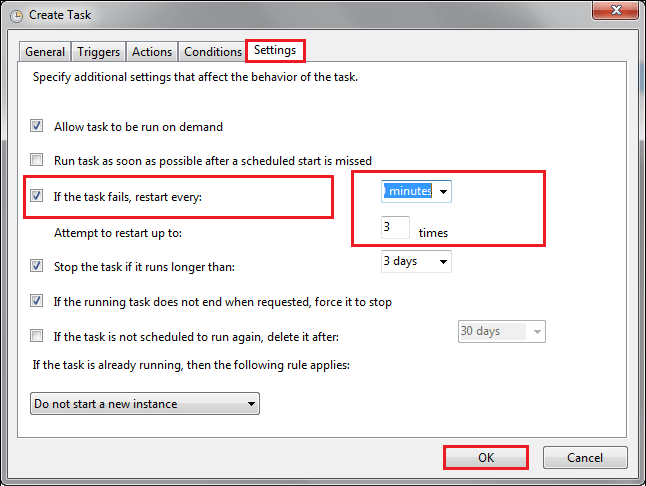 Now you can exit the Task Scheduler. From this point, your system should shut down automatically at whatever time you scheduled—unless you are not using your PC.