Facebook, undoubtedly is one of the most visited social networking platform to stay connected with our loved ones. This is the primary reason since its inception that Facebook's users keep on increasing day by day. We as a user performs various activities on Facebook like upload photographs/videos, likes, comment, share, post status updates, chats with our friends and many more. Now Facebook provides another feature to its users where they can download their complete personal data. I have used the word complete because now you can get all your data which you have uploaded to Facebook, be it your photos or your conversation with a friend.
This feature allows you get a consolidated personal information in just few minutes. And guess what, this information even includes the one which you can't get even after logging into your account, for example: the advertisements that you have clicked.
However, the only limitation is that there's no option available to select any individual data to download.
Also read: How to Set Two Factor Authentication for Facebook
How to get started:
To get started first you have to sign into your Facebook account.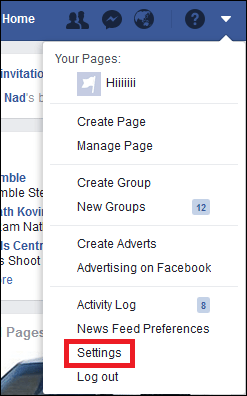 Click on the arrow at the top-right corner of the screen and select Settings.

In the window that opens click on Download a copy.

Now click on the Start My Archive button.

Once you click on Start My Archive another prompt will state that it will take a little while for Facebook to gather your data. Again, click on Start My Archive to start the archiving of data.

Once you click on Start My Archive you will receive a prompt stating that your information will be send to the email address (registered over Facebook). Click on OK to continue.

Now after a few minutes' sign into your email account, you will find two emails from Facebook. One is regarding the request you have made and another is the confirmation email that the download is ready. (Please note that if you are using Gmail as your email service provider then you have to click on the Social tab to get the emails.)

Open the email with the subject "Your Facebook download is ready." At the end of the email you will find a download link. Click on that link to download your data.

This is the final step. As this download contains sensitive data therefore you need to authenticate by punching in your Facebook password to start the download process. Enter your password and click on the Submit button to start.
So, by just a few clicks and you will get all your personal data from day one of your Facebook experience. Now cherish your past memories, relive your memories by reading your posts and conversations.