Table of Contents

Undoubtedly, Android is a great Operating System and has always proved it. However, accompanied with all the positives, it also has its own set of flaws that can't be overlooked. Amongst the major loopholes of an Android is, its Apps get force closed at any time. Not only third party applications that crash every now and then, also applications from Android follow the same path. Quite prone to getting closed, all of them display the error message saying "Unfortunately, XYZ has stopped unexpectedly" where XYZ is the name of the application.
One such application that gives a similar error is Google Maps saying "Unfortunately, Google Maps has stopped". Being highly susceptible, is the real reason of frustration for many who use it religiously for navigation.
Listed below are some tips that you can follow whenever you come across this error:

Clearing Cache of Google Maps:
Clearing the cache at times be an easy resolution to the problem of the app crashing. Clearing cache regularly also decreases the frequency of the occurrence of the error. For this:
Go to Settings > Applications > Google Maps.
Here, click on Clear Cache to delete the cache.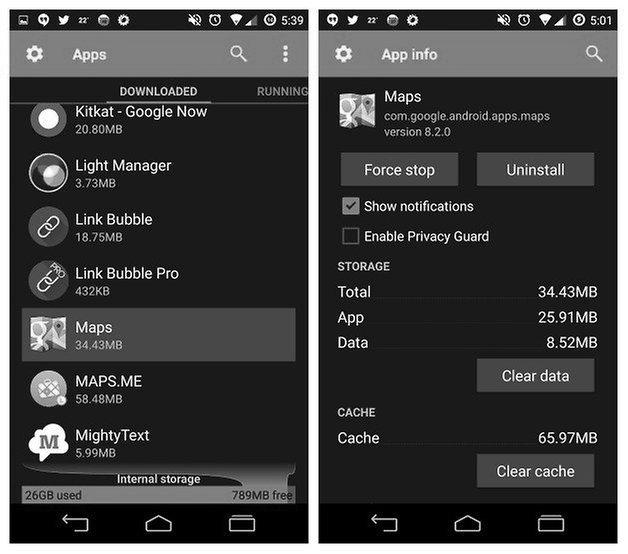 Update to the Latest Version of Google Maps:
Sometimes updating the application that crashes can also prove to be a resolution. Likewise, with Google Maps updating it even resolves the problem. All you need to do is download the latest version from Google Play Store (if available) and you are good to go.

Restarting your Android:
Restarting too is one of the most common solution. Even the problem under discussion at times get resolved by simply restarting the phone. Just hold the Power button and then tap Restart.

Perform a Factory Reset:
Sometimes, all the above-mentioned tips fail to resolve the problem. However, there remains a trick that can do the job. Performing a factory reset can do the job for you. However, one important thing that needs to be kept in mind while performing a factory reset is that you should have a complete backup of your data and files, as resetting a phone erases all the information on your phone.
To factory Reset your phone navigate to Settings and look for the option to Reset. Tap Reset and follow the onscreen instructions to factory reset your Android. Reboot and restore your data that you have backed up.
In Samsung Note 5 go to Settings > General Management > Reset. Please note Reset options may be present under different categories in Settings in other phones.

The above-mentioned tips and tricks can prove beneficial while you face problem of apps crashing abruptly.