Did you ever thought of logging in to your computer with facial recognition one day? Yeah, it's true. With Hello feature in Windows 10, it is now possible to log in to your PC with Facial Recognition. Face Recognition feature of Windows Hello is really attractive and you don't have to worry about forgetting your password any longer.
Windows Hello is a rather personal way to log in your Windows 10 PC with just a look. However, this requires more than just the webcam on your PC or laptop, a special camera hardware with IR capabilities which is currently provided by Intel with its RealSense set ups.
With an Intel RealSense camera, which can either be a built-in or an external camera, you can set up Windows Hello to log in to your computer without touching a button. It's very easy to set up, so here's how to do it.
As already stated, you need an Intel RealSense camera to make this work. However, without the necessary hardware, you won't see the options to set up Windows Hello.
Click on the Start button. (i.e. Windows icon on the bottom left corner of your screen).
Go to Settings, and click on Accounts.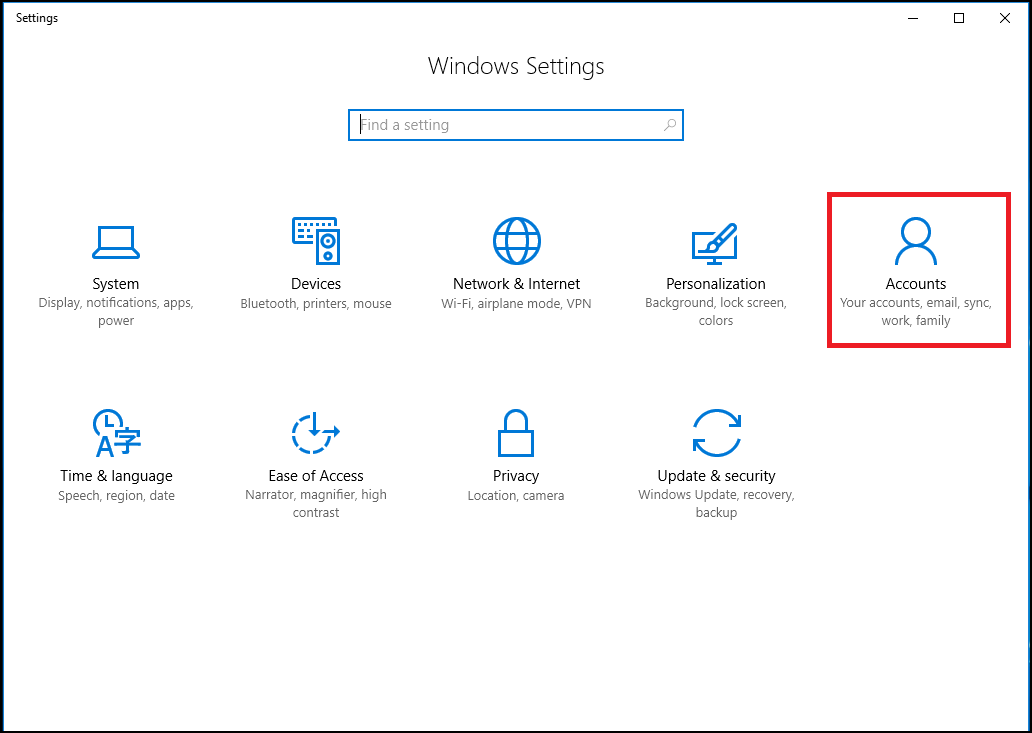 From the Accounts window, click on Sign-in options on the left pane. If you don't see an option to Set-up Windows Hello, it signifies that the PIN is not set and you must set a PIN to proceed. This option can be found directly above the Windows Hello section. Once you've done that the options to set up Windows Hello will unlock.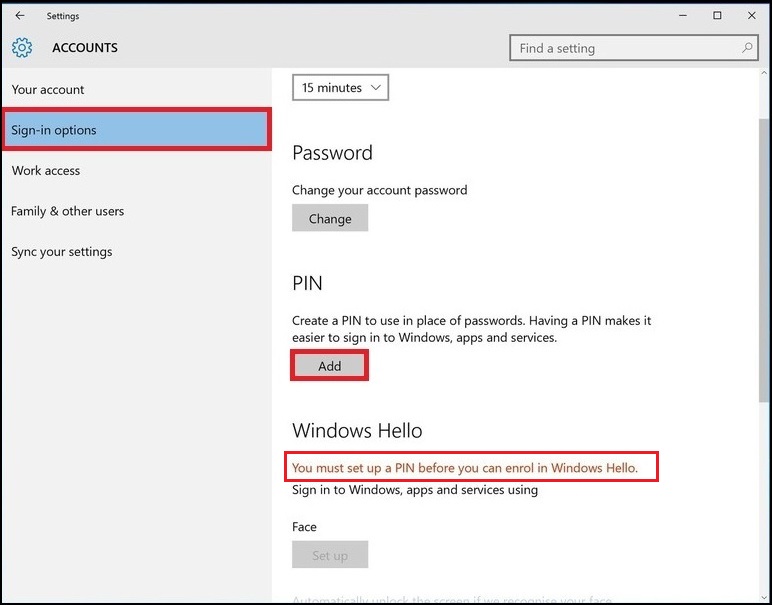 Scroll down to Windows Hello, click on Set Up under Face. Since we're looking at facial unlock, you'll see an option for Face.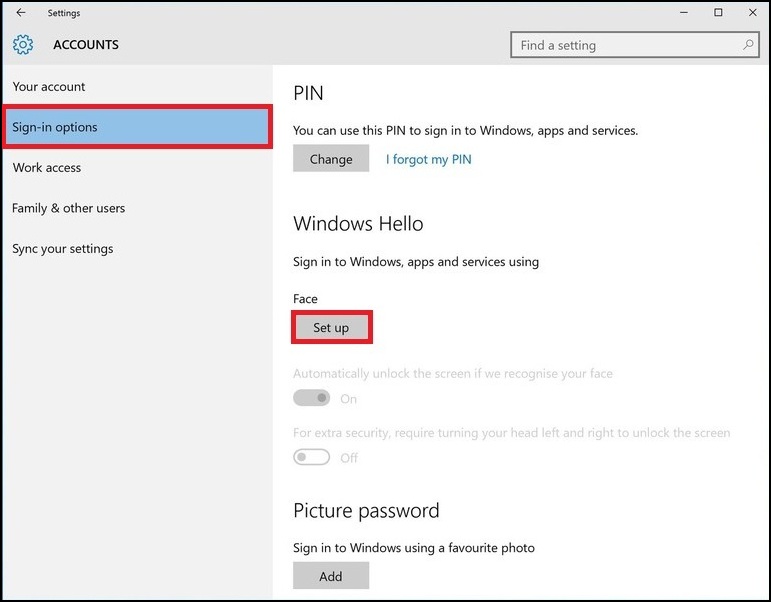 The next window is a Welcome window and will give you a description of what Windows Hello is. Click on Get started.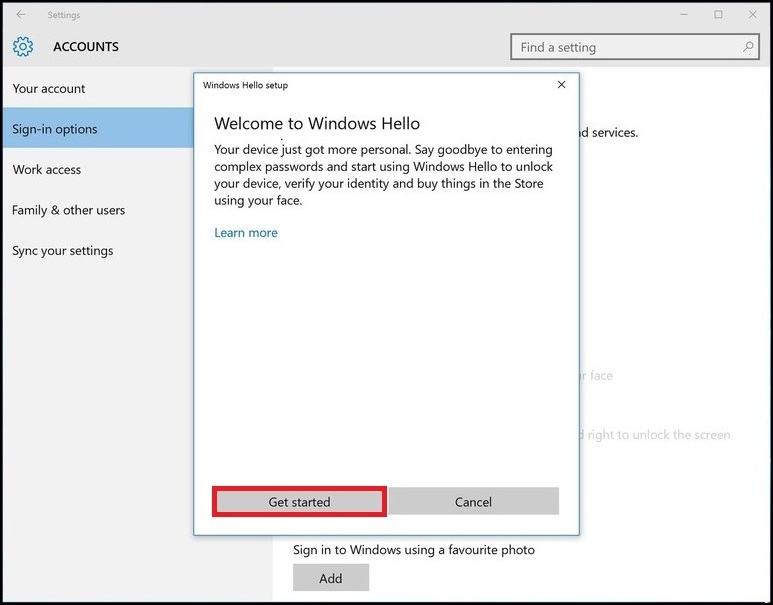 Position yourself correctly so that your face is in the center of the frame that appears on the screen. The camera will automatically do what all it needs to do to register your face.
NOTE: This procedure will be quick.
Once done, you are given an option that allows you to improve recognition. This is very useful if you wear glasses or hat, as it will allow you to be recorded with them on and without them on.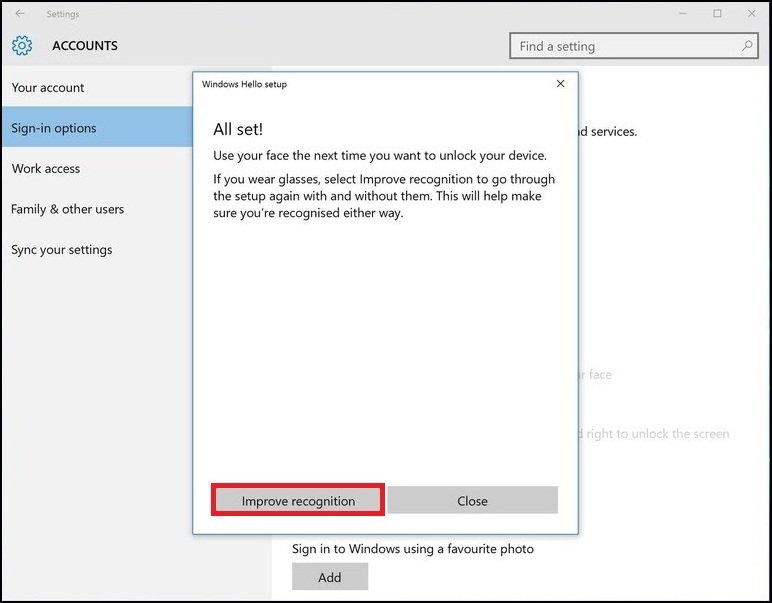 And that's it! After following these simple steps you'll be all set with face recognition on Windows Hello. So, when next time you log in to Windows, the RealSense camera will be searching for your face to authenticate your login.