Table of Contents
Recently, Firefox released an Android version of its private browser Firefox Focus. Firefox Focus is a very simple and a unique browser. It provides internet privacy with ad blocking built in at the core. It is in a private mode, means it does not track history or cookies.
Firefox Focus blocks ads, analytic trackers, and social tracks automatically, which allows a seamless feel. Its user interface is an esthetically-pleasing ombre of pinks and purple.
It shows the number of ads and trackers blocked on the page with a button to disable tracker blocker in the menu. There is also a persistent notification when the app is running in the background that you can click and clear the browser instantly.

Firefox Focus New Features for Android:

Firefox Focus has added a few new features below for Android.
Ad tracker counter: It comes with a counter to list the number of ads that are blocked per site while using the application.

Disable tracker blocker – For sites that are not loading correctly, you can disable the tracker blocker to quickly take care of it and get back to where you left off.
Notification reminder – When it is running in the background, it will remind you through a persistent notification and you can easily click to erase your browsing history.
Let's take a look at how to use Firefox Focus New Features on an Android.
Requirements:
Android Lollipop(5.0) or higher
Download & Install Firefox Focus:
Search Firefox Focus on the Google Play Store from your Android device. From there, tap on "Install" when prompted.
Check It Out & Browse Everywhere:
Once you've installed the app, open Firefox Focus and check it out for yourself. The welcome screen devotes you an abbreviated description on what exactly Firefox Focus blocks, and then you have a two-in-one search and address bar.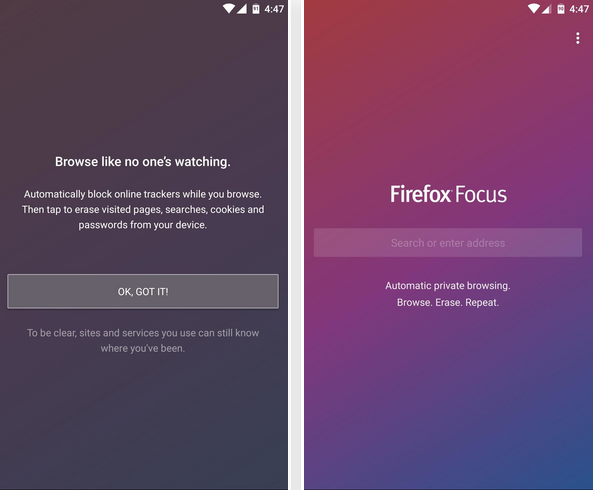 In Settings, you can change the default search engine and toggle the Privacy trackers, as well as set Firefox Focus as your default browser.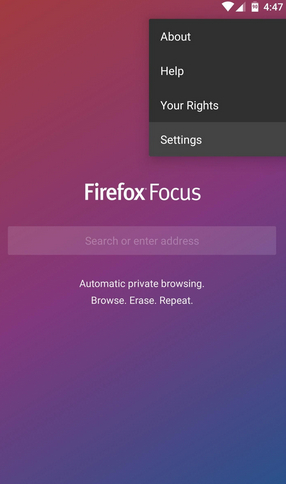 But the best feature is a moving action button at the bottom of the screen that lets you eradicate all browsing history and trackers in one click. In this way, it looks like the Google Chrome's Incognito Mode, but you have total control over how long your data is saved. If you want to keep cookies active, just don't press the button — but otherwise, all traces of your browsing history can be deleted in one click.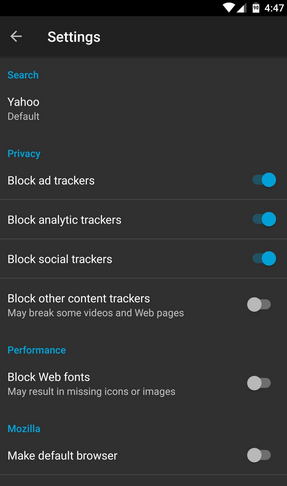 Firefox Focus is a basic browser which does exactly what it's supposed to, and it's good at that. It might not be a browser for everyone but it can be an ideal browser for when you wish to open links through other apps or just a simple, safe browser.