What To Do When Your Gmail Account Is Running Out Of Space?
If anyone of you feels that your Gmail space is unlimited then you are wrong. Yes, guys, your Gmail space is not unlimited and you have a total storage of 15gb for your account, and once this space gets exhausted you cannot even send or receive emails in your account. Also, you cannot upload your photos and videos to Google Photos in high quality and sync between Google Drive and My Drive will automatically stop. If anyone sends you an email, then it will bounce back to the sender. You can only overcome this problem either by clearing space or by purchasing additional space from Google.
What makes your Storage Full?


Once you start facing storage problem, first of all, you need to check that what makes your storage full, as your Google storage is shared between Google Drive, Gmail and Google Photos.
Google Drive: Most of the files in your "My Drive," including document files, images, videos, along with the items which present in your Trash.
Gmail: Mails and attachments, including Spam and Trash folders.
Google Photos: All the photos and videos which you store using the "Original" size.
However, the photos and videos which you store using the "High Quality" size do not take your Google Drive space.
How can I Check my Current Space in Google Drive Storage?
As discussed earlier that by default Google provides you with 15gb of storage which is shared across Google Drive, Gmail, and Google Photos. Therefore, it keeps on reducing when you start using any of these three. You can anytime get the current status of your storage by visiting the link below:
www.google.com/settings/storage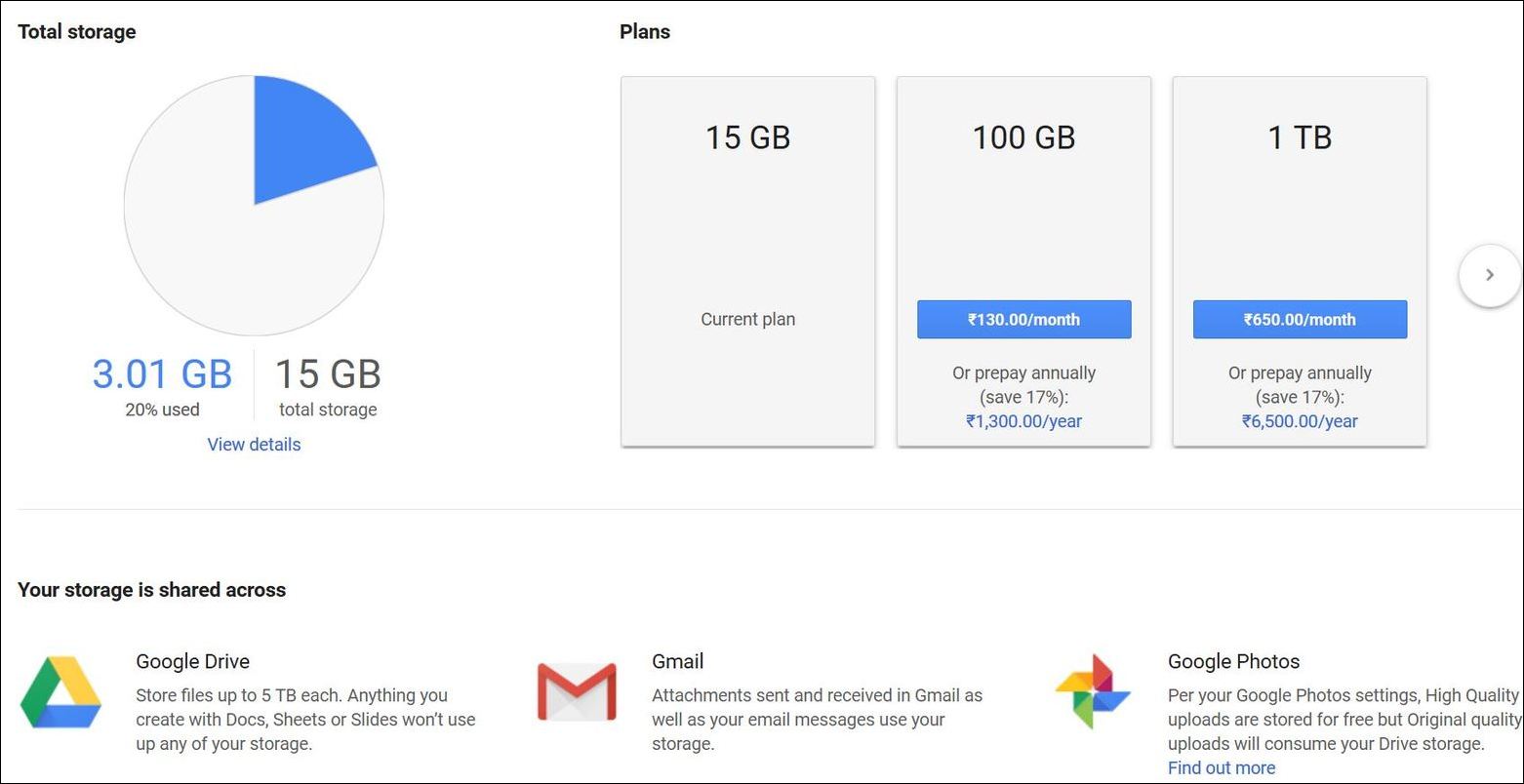 Once you click on the link it will show you the used space. You can also get the detail information regarding your storage by clicking on view details.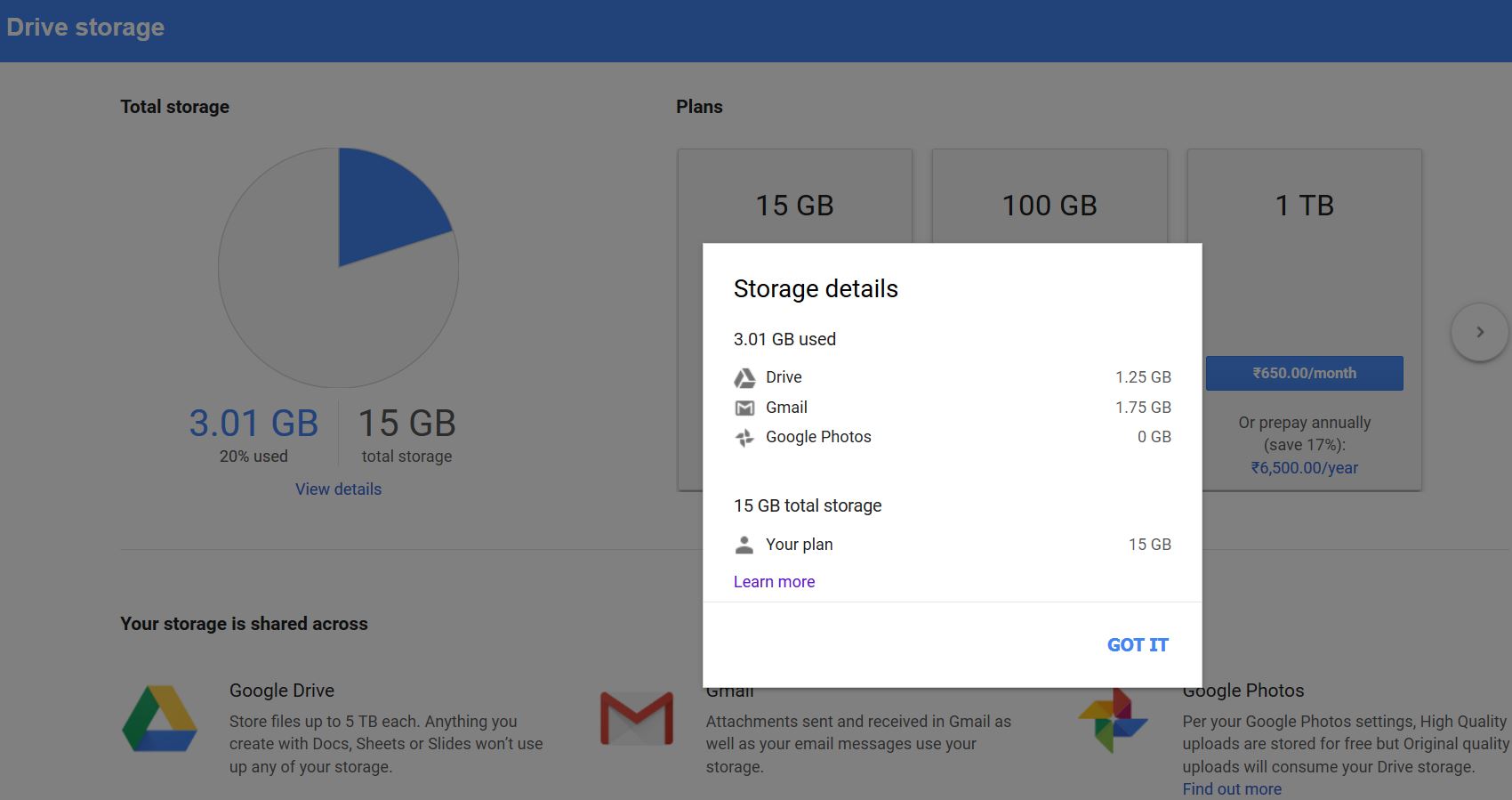 Once you click on View Detail, it will state that how much space is used by each component.
How to Free up Space in Google Storage?
Delete large emails: Anything in your Gmail account consumes the space, especially the emails which contains attachments. These attachments can be of an image file, a .mp3 file, or simply a document file. Therefore, the size of email differs from the type of attachment it contains. However, if your email does not contain any attachment then it won't take much of your storage.
Now to get the things started first you have to search for the emails with contains large attachments. Suppose you wish to sort the emails which are greater than 5mb or more. You can easily locate these emails by typing size:5m or larger:5M in the search bar.



This will sort all the emails which are of 5mb or more. Now find out the emails which you really need and delete rest of the emails. Deleting these emails will free a subsequent space of your Google storage.
Empty your Spam and Trash Folder: Though Google automatically deletes the Trash in every 30 days, however, if you need instance space than you have to empty your Spam and Trash folder right now.
Erase old emails: Though emails without attachments won't take much of your Google space, however, if you have thousands and thousands of emails then surely they will. It would be better that you just delete the emails which are older than 2 to 3 years. You can easily search your older emails by typing: older_than:2y. It will list all the emails which are older than 2 years. Now you can easily delete emails and free handsome amount of space.
Delete large files from Google Drive: If you delete the large files from your Google Drive then you can free a subsequent amount of space. Just visit the link below to see your files which are consuming space in your Google Drive.
https://drive.google.com/drive/quota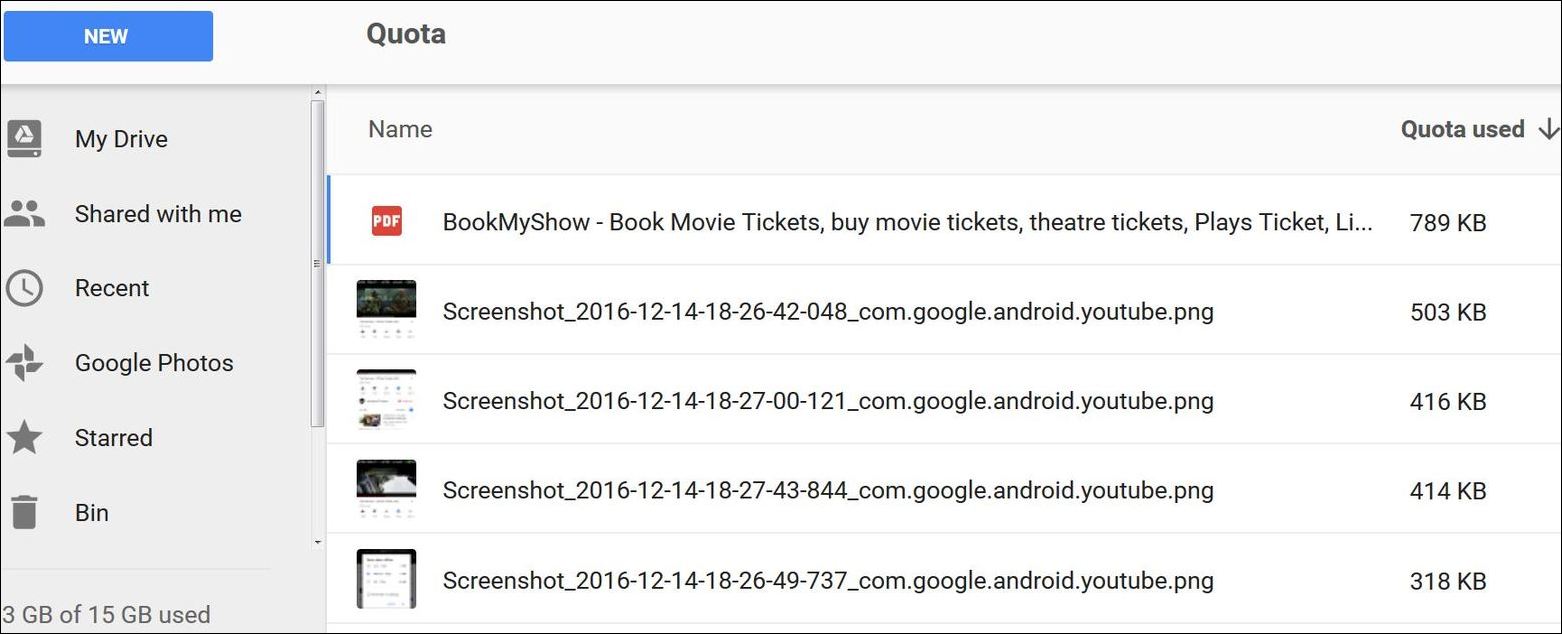 Now select the files which are no more important and put them in the trash and then permanently delete them.
Delete Videos and Photos from Google Photos: You can store images on Google Photos in two qualities. One is in High Quality where Google gives you unlimited storage, however, if your photo is larger than 16MP then it will be automatically resized to 16MP. The other one is Original Quality where you have limited storage, however, your photos will not be resized if they are greater than 16MP and will be stored in their original form. So if you have photos which are stored with Original Quality and you no more want them then simply delete them to free your space.
However, if you guys feeling lazy and do not want to try any of the above steps to free your space then you have to spend some money. It means that you just need to buy additional storage. You can purchase any of the storage plans by visiting this link below:
https://www.google.com/settings/storage
From here you can purchase any storage plan as per need and requirement.
Though Google gives you an option to purchase additional storage, however, it's far better to free some space by ourselves. It will not save our hard earned money but also organize our Gmail, Google Drive and Google Photos.