What Is Google Authenticator?

Everyone wants his Google account secured from hackers and spammers, and this is the reason that many of you are using 2 step verification process to protect your account. Before moving further let's have an overview of 2 step verification process. This process is introduced by Google to strengthen the security of Google Account. Now, whenever you sign in to Google, apart from entering your password, as usual, you'll be asked for a code which is sent to your phone via text/voice call. In this way, it is an added layer of the security for your account. Let's now move further and imagine a situation where you need to access your account and your phone says "No Network Coverage". So what next, you cannot access your account as you can only receive the code via message/call. It is a situation of deadlock from which you cannot skip due to the added layer of security. So, it means that this 2 step verification will cause the problem in a zone where your phone has no network? The answer is NO, as Google has also provided a way to get the verification code even though your phone is offline, via Google Authenticator App.
How does Google Authenticator work?
Google Authenticator works with 2-Step Verification for your Google Account to strengthen the security of your account. It supports both the HOTP and TOTP algorithms for generating one-time passwords. Whenever you need to sign in to your Google account, you will enter your username and password. After that, you will be asked for a code, which you can easily get by this app. To enhance the security, the authenticator changes the code after every 30 seconds.
Also read: What is Google 2 step verification?
How to get started with Google Authenticator?
First of all, you have to download and install the app from play store/app store if you are an Android or iOS user. Now if you have already activated 2-step verification process then visit the link below, and then sign into your account.
https://accounts.google.com/b/1/SmsAuthSettings#devices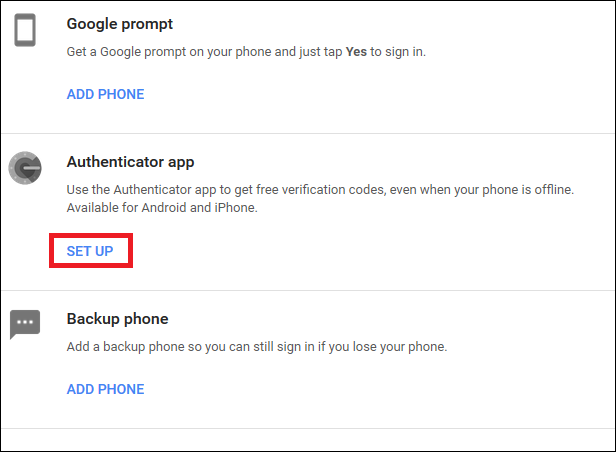 You will be redirected to the page where you will find the option of Authenticator App. Now click on Set Up option.

You will receive a prompt, which will ask the type of phone you have i.e. an Android phone or an iPhone. Select the option and click on next.

Now you will receive another prompt, with the description of how to get started, along with a QR code.

Now you have to launch the Authenticator app on your phone and click on Begin.

Click on Scan a barcode and scan the barcode on your computer screen (refer to point 3).

You will now receive a 6-digit code on your phone.

Now, go back to your computer and click "Next" on the Set up Authenticator dialog box.

Enter the code from the Authenticator app on the Set up Authenticator dialog box and click Verify

You will receive a prompt stating that now you can use the authenticator to sign in into your account. Click on Done to proceed.

 The Authenticator app is now set as default for second verification step.
Now the next time when you will sign into your account, you will have to provide the code from Google Authenticator app.
The best part of Google Authenticator is that it can issue codes for multiple accounts from the same mobile device. However, you have to repeat the above process for each account. So now if you start using Google Authenticator then you do not need to worry about the codes even if your phone is in offline mode.