What Is A Runtime Error And How To Fix It

Runtime error is an annoying and frustrating experience for many computer users. It is an error that occurs during execution of a program, it may be a software or hardware problem that prevent a program from working correctly. Run-time errors might cause you to lose information in the file you're working upon or corrupt it, cause errors, or prevent you from using a specific feature of the programs.

Common causes of the Runtime errors

:

Out of the multiple reasons for occurrence of runtime errors, following are just a few examples.
Poor Programming

– A runtime error can be caused by poor programming practices. If the programmer loads his software with memory leaks, then you might receive multiple runtime errors. There is no way to fix this error since it lies in the software.
Virus or Ad Ware

– These programs run in the background undetected and can be of huge damage. If you are currently running a virus protection program on your computer, ensure that it is fully updated.
Other software

– If there is a program running on your computer that has been written poorly, it can affect other programs. In a Windows environment, many things are shared, and if a rogue application steps into your arena, there is a possibility for a runtime error to occur.
Damaged hardware

– If you have an old computer, and if there are some hardware issues like your air cooling unit is out, degradation in service can occur. Any of such event can cause a runtime error.
Common steps to fix Runtime Error

:
Open the "Task Manager" by Pressing Ctrl+Shift+Esc on your computer and see the list of programs you are running.
Press the "Processes" tab and stop the program which is causing the conflict by clicking the 'End Process' tab. Because most of the time runtime errors are caused due to the conflicts with running programs, you can eliminate the problem right away by ending the program causing the conflict.
After stopping the programs, check for a reappearance of the error message. Continue until you notice that the run-time error message has stopped appearing.
Check for the update for respective products causing a conflict, can be a possible resolution to the runtime error caused by it.
If the error persists, uninstall and reinstall the program by downloading the latest version of the same from the software's official website.
Run-time errors may sometimes occur because of an error within the running program itself. Check for bug fixes that might be available for your program.
Run-time errors are also seen to be caused by plug-ins, add-ons or some added software installed on your PC, which is associated with the affected program. Remove the add-ons or plug-ins one by one, if any of these is generating the error.
Re-installing the Runtime Libraries:
In most of the cases, re-installing the runtime components of the runtime libraries can provide a resolution.

"Microsoft Visual C++ Runtime library is causing the runtime error", is one of the most common runtime error encountered by almost every user
A possible solution to the above-mentioned error is provided below: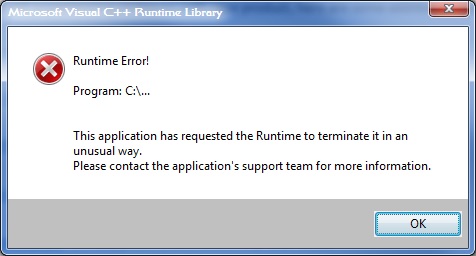 Step 1: To uninstall the package:
From Control Panel, open Programs and Features.
Find Microsoft Visual C++ Redistributable Package and click on it.
Right-click on it and select Uninstall.
Restart the computer.
Step 2: Download and install the latest package of Microsoft Visual C++.
(Warning: Some programs may stop working if Microsoft Visual C++ Redistributable Package is not re-installed properly).

These are only a few of the causes and the common fixes for runtime errors. I hope this helps you the next time you receive a runtime error.

Also Read: How to fix Runtime Error in Internet Explorer