Table of Contents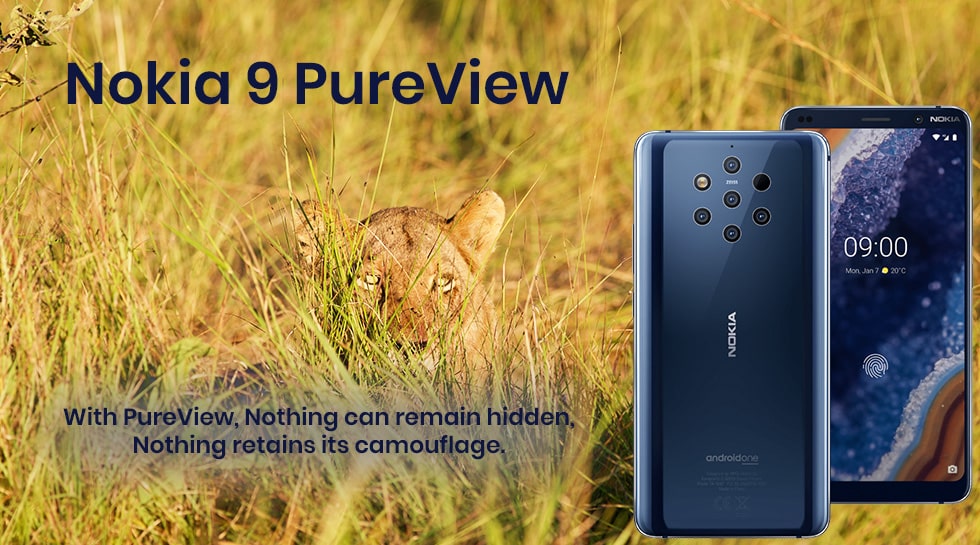 What is it?
Every Mobile manufacturer is trying to capture the global market by spending millions in R&D and inventing new technologies or discovering an alternate way of using the existing ones. Speaking of technology, we have notches from a wide display reducing to a v shaped and finally a dewdrop notch. And latest of them all is to remove the notch and introduce popup selfie camera.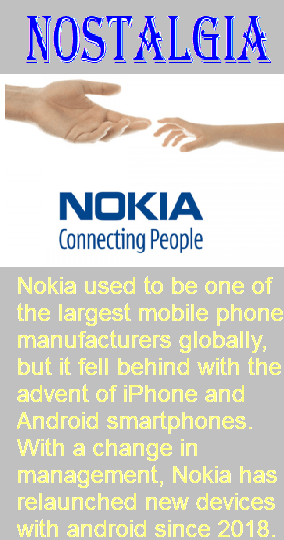 We also can use our fingerprint to unlock our phone and if that sensor was not good enough on the back, mobile innovators got it on the display screen. Finally, we started with one VGA camera at the back of our handset and now have 48 megapixels with two additional cameras for depth sensor technology making a total of 3 cameras. While photography enthusiasts were still figuring out the reason for the third camera and how it could enhance their images, Nokia released a mobile device with 5 cameras at the rear.
The Nokia 9 PureView smartphone was launched recently. It packs five 12-megapixel cameras with an aperture of f/1.82 on the rear, with a 20-megapixel camera on the front for selfies with the same aperture. It captures the same photo from all the five cameras together and stiches them together to churn out one phenomenal-looking and highly detailed image. Native black-and-white shots can be attained with the triad mono lenses, which Nokia says will produce sharper, richer images. Collaborating not only with Zeiss but also Adobe for the Nokia 9, you can use Lightroom to edit images shot on the phone, including RAW-format pics.
What are we getting?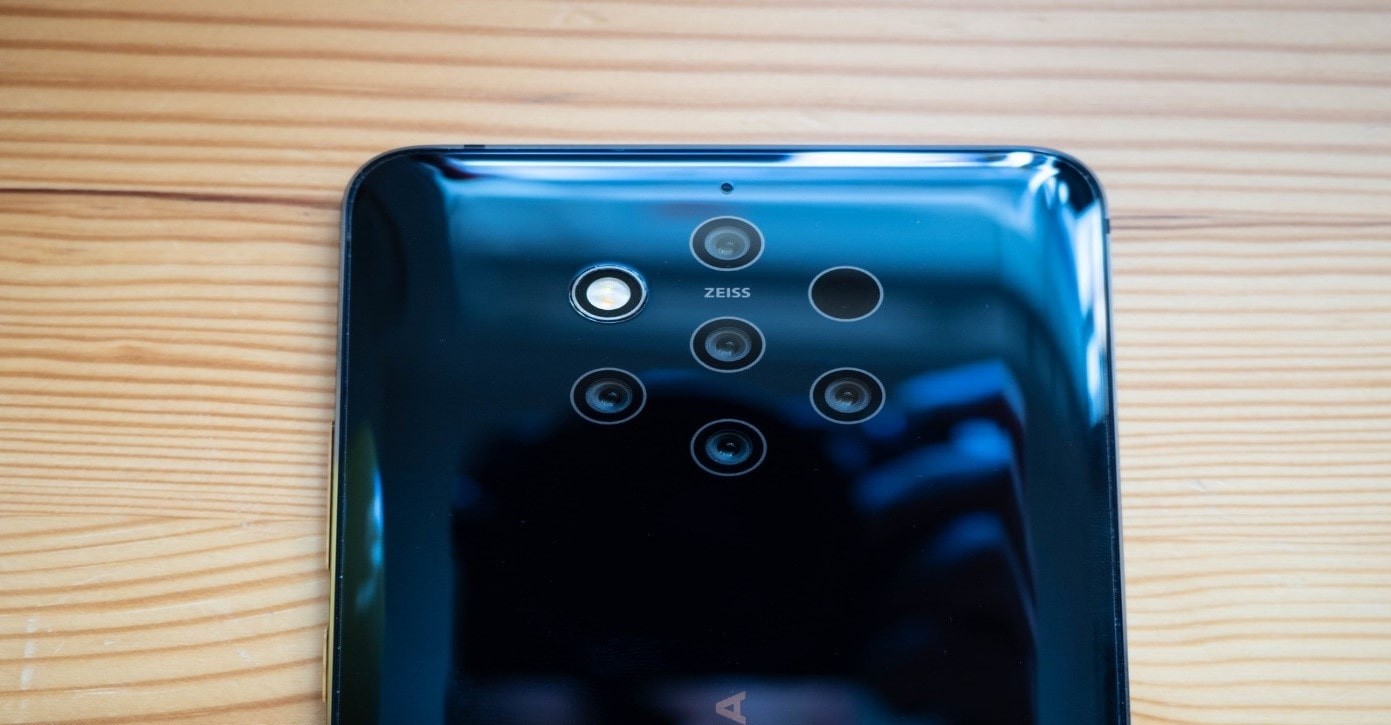 1) The Phone itself.
Nokia 9 PureView smartphone launched in February 2019 boasts of a glass body of midnight blue color sandwiched in chrome trim and flanked by silver-lined volume and power buttons. The phone has a stunning look, which gives the user a feel of holding something significant. The Nokia 9's panel is fairly luminous, reaching a peak brightness of 430 nits which exhibits more vivid colors that burst off the display. It also features Face Unlock 2D which is quite reliable as it uses the 20MP front camera to assist with the unlocking of the device. The front display based on "Classic Nokia" design, without any type of notches, has an attractive appealing look.
Nokia has provided an in-display fingerprint screen scanner providing solitude to the five cameras and the dual-LED dual-tone flash at the rear. It has opted out of the conventional 3.5mm jack but it bundles a pair of decent headphones and a USB-C dongle in the box.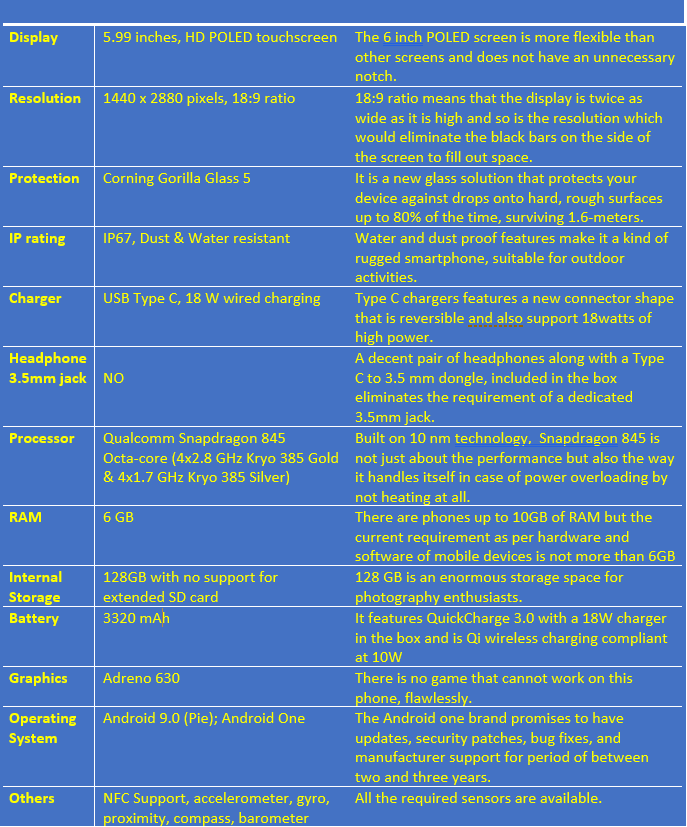 2) The Super Penta-Camera
Almost half of the phone is its camera components assembly which consists of five 12 MP Sony's Carl Zeiss cameras with f/1.8 aperture and 1.25um pixel size, the flash, the ToF camera and the 20MP front camera also with f/1.8 aperture.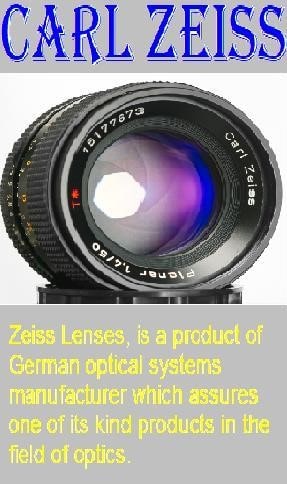 The placement of the cameras is explicably designed and positioned in a hexagonal formation, flushed with the back of the phone leaving no bump. Three of the cameras, the top, right and left one are monochrome – creating a triangle, while the central and lower camera have an RGB sensor, work simultaneously to capture a frame. It has also added Light's lux capacitor for image processing which produces the highest quality and most information-dense images ever seen in a smartphone. Apart from the above-mentioned specs the Nokia 9 PureView Camera also features:
High Luminosity: Working in perfect unison, the five 12 MP cameras collect up to 10 times lighter than a single smartphone camera color1 sensor.
Native black-and-white photography. Certain photographers continue the tradition of B/W photography as it lends a certain timeless quality to the images.
Refocus: The five cameras create an incredibly accurate depth map of your image. The depth sensor is also on by default, and that adds even more data to the image, so you can change the focus after taking the photo.
Ultimate Bokeh: Powerful blur effect control for beautiful bokeh photos
Pre-Installed Adobe Photoshop Lightroom: It enables the user for powerful RAW photo editing and a heap of creative tools on your phone
What is the Technology used?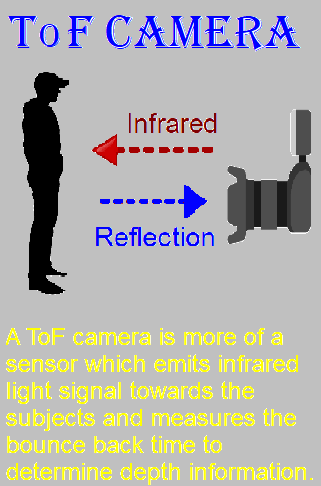 When the user clicks the snap button all the five cameras captures a picture which are then combined resulting in an unbelievable 12MP image. The intricacy involved in processing a 60-megapixel photo into a single 12-megapixel, does not take a toll on the camera and phone experience. The process is designed such that the huge data is handed over quickly to the Snapdragon 845 platform where processing is handled by the CPU, the GPU and image co-processor. Nokia claims that Snapdragon 845 is being utilized to its full power which is a result of R&D by a combined effort of HMD, Light Zeiss and Qualcomm.
As to why the sensors are placed resembling an arachnid formation, Nokia states it was carefully placed for optimal camera functionality. It also stated this design is the best solution after many hours of research and developing many prototypes, where all five cameras can be utilized at the same time. Speaking of time, only two images can be sent simultaneously to an Image Signal Processor unit of a Snapdragon SoC for processing and that is where Light systems brings in an algorithm combining all fives images into one considering the depth effect and pixel density.
The images are captured in RAW format so that they can be easily modified later by the smartphone using preloaded Adobe Photoshop Lightroom. Due to the amount of processing that is going on here, there is a 4-5 second delay between taking a picture and viewing what you have taken. The preview image you get before you shoot is just the snap captured from a single RGB sensor, and not the final processed image.
The Nokia 9 PureView records 4K video but only a single 12-megapixel RGB sensor is used.
The Nokia 9 camera has been appreciated by some big tech houses for its stellar performance under low lighting conditions. However, it'll take some time to get a full sense of what the Nokia 9 is capable of, but the fact that it captures full-scale depth images means you can achieve some seriously impressive bokeh here.
What to keep in mind before purchase?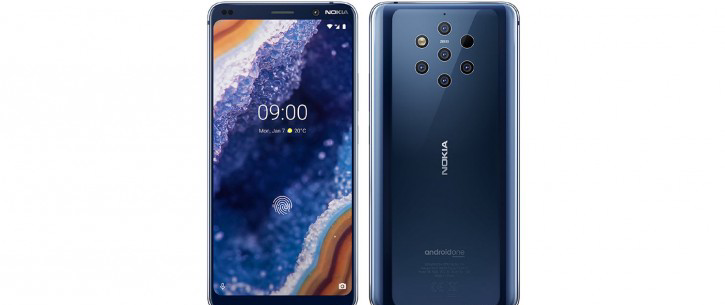 Perfection is a theoretical concept which is unachievable in the real world. Even the Nokia 9 PureView packs many of the power features including its penta-camera system, there are a few considerable points to note before grabbing this device:
In-display fingerprint sensors. The In-display sensors are on a rage today, but the technology is not yet perfected and most of the times it requires more than two attempts to finally unlock the phone.
This is not really a Nokia 9 PureView problem, but a wider trend.
No expandable storage. Though the first mobile phones worked on 128KB of storage, today the 128 GB provided by Nokia 9 would be less with respect to the huge size of the RAW images captured by the 5 cameras. Not providing an expendable storage is one of the reasons which could deter photography enthusiasts to buy this phone as they would require to take data backups frequently.
Delay in photo processing. Although Nokia has worked with Light and Qualcomm to minimize the processing time of blending the five captures into one, but still the delay observed to click the next photo can be a little frustrating. Furthermore, it takes between 30 seconds and a minute for each one to appear in the gallery. It would not be possible to click instant images capturing a random moment.
Notch less display. Featuring the classic Nokia design without wide angle or dew drop notches is not a shortcoming of this device but it certainly can discourage people nowadays where the size of notches determines the newness date of the phone.
Average battery life. The 3320 mAh battery is quite less when compared to other devices available today. The energy capacity requirement increases with the primary purpose of the phone i.e. to click unbelievable HD shots. To overcome this deficit, Nokia 9 has provided a 18W Quick-Charge 3.0 charger in the box with support for wireless charging.

What is the conclusion?
The Nokia 9 PureView, undoubtedly unique, catches the eye with its five cameras on the back promising a much-improved photographic experience. It is crammed with the best hardware specifications available today with a unique penta-camera feature that no other brand offers. The software could use a few updates and Nokia says that it's working on a major software update to fix a bunch of the problems with this phone.
Like everything else, it also has a few limitations, but it seems that Nokia had already targeted a segment of professionals who want to capture photos in RAW who can work wonders with the Lightroom app from Adobe installed. It's for someone who wants to tweak raw image data and create a collection instead of just sharing a photo. Nokia wasn't kidding when it said the PureView was a phone meant for photographers. The Nokia 9 PureView concept has promising ideas but it might just have been too ahead of its time.