How To Stop Spams In Gmail
Do you often find irrelevant emails in your inbox? Are you tired deleting such nonsense emails which you have never subscribed? Are these emails leads you in missing your genuine emails? If you answer is Yes, then you are facing the problem of spam e-mails. Before moving further let's discuss that what actually spams are. Spam emails are unsolicited emails which you never asked for. They are sent by some unknown senders; with whom you do not have any connection. Generally, most spams are nothing more than marketing e-mails, which asks you to click on some link to get into a contest. These e-mails are merely fake which do not have any relation to the contents. The real problem occurs when these spams are sent by some filthy hackers to trap you. For example, you get an e-mail stating that you are the winner of some XYZ contest (although there is no such participation from your side), and you have to click on a link to claim your Prize. If you click on that link, then they will install some bogus software on your PC. In the worst case, they can also implant a ransomware in your PC.
What is the Solution?
Every problem in this world has a solution. Gmail itself provide you an option to filter such emails from the genuine emails by using filters. You can yourself create filters and prevent yourself from spam e-mails. Gmail gives you the liberty to create a filter as per your requirement and need. You can create a filter by the sender's email address, by the subject, by the content of the mail. Also, you have many options regarding the action you wish to perform by the filter.
Also read: How To Stop Legitimate Emails From Being Marked As Spam
How to Create a Filter in Gmail
Once you create a filter, then you can easily prevent your inbox from spam. Also, there is no limitations on the number of filters you can create. You just need to make sure that your filter is not blocking any legitimate email. To create a filter just go through these basic steps: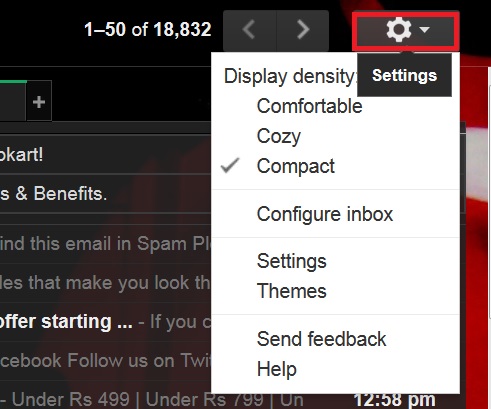 Login to your Gmail account and click on that gear icon at the top right corner of the screen. Now from the drop down list click on Settings.

Now click on Filters and Blocked Addresses tab and click on the option of "Create a new filter".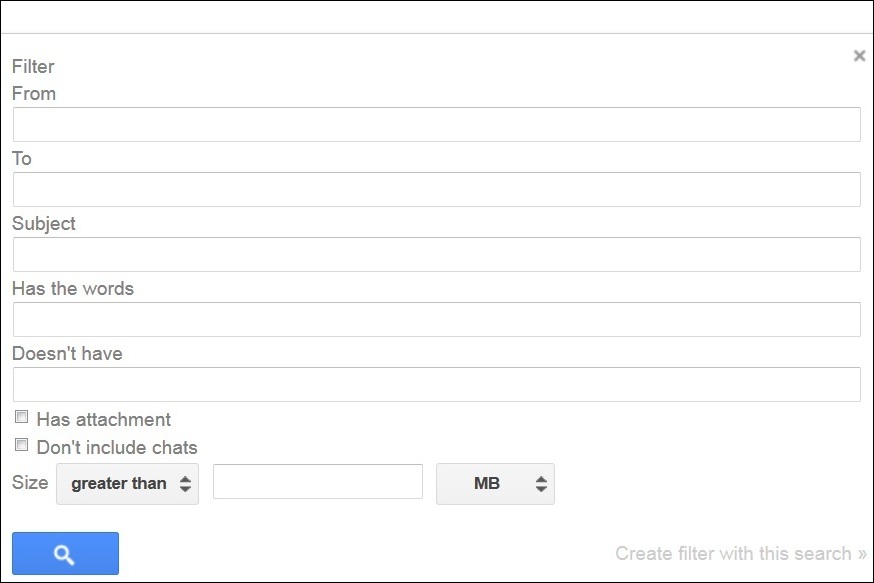 Now choose for criteria for which you need to set a filter. If you are receiving spam messages from a particular e-mail address, then create a filter to the e-mail address of the sender. In case you are getting an e-mail of the same subject then you can create a filter with that subject and so on.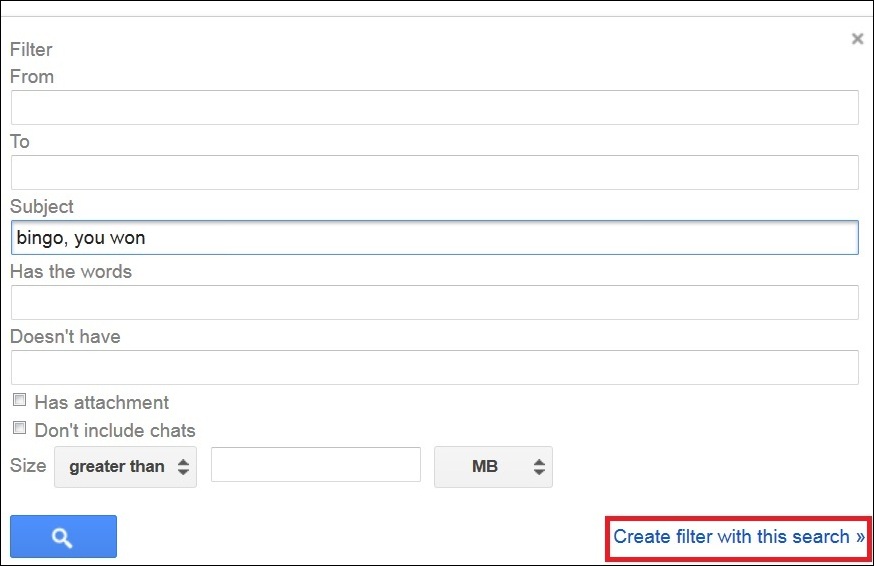 In the above image, I have chosen to create a filter with a subject containing words" bingo, you won." Now click on Create filter with this search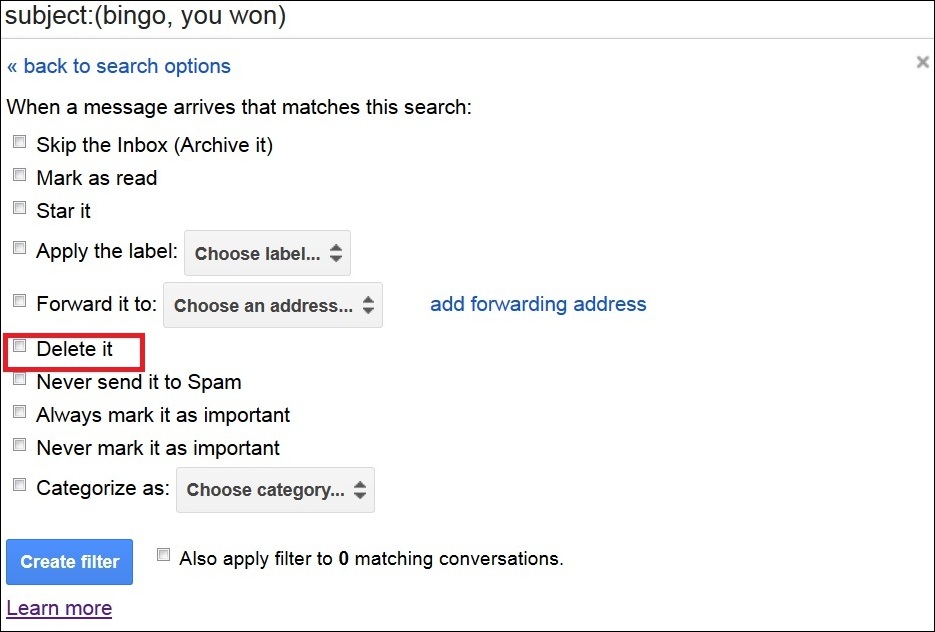 Now the next step is to choose the action you wish your filter should perform. Suppose you only want to trash the mail with the subject "bingo, you won", then checkmark Delete it and click on the option Create filter.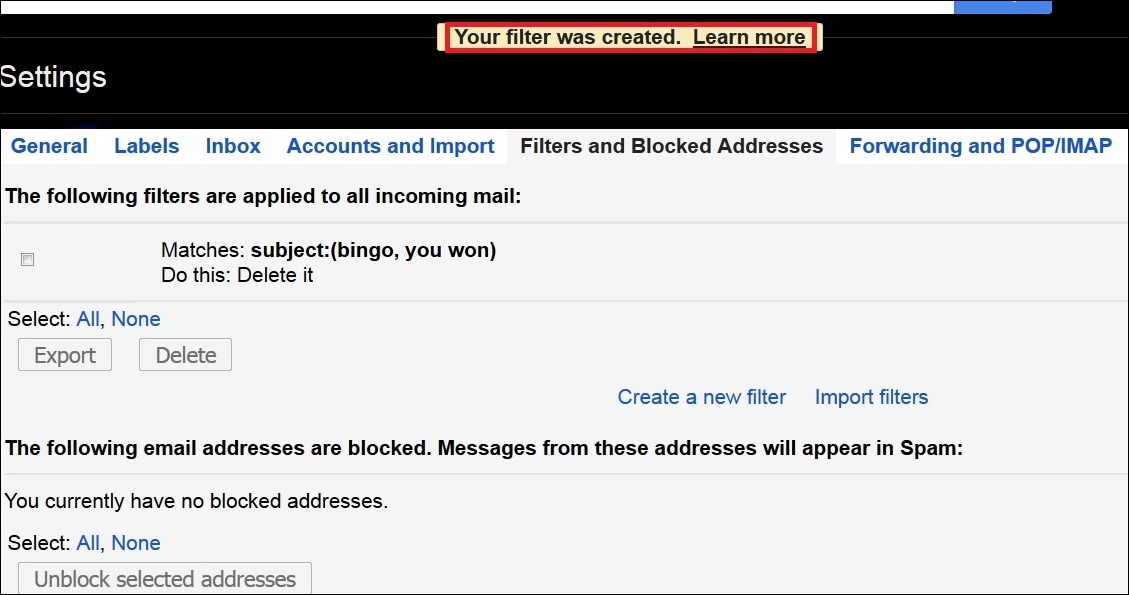 Once your filter is created, you will receive a message regarding the confirmation that your filter is created. Also, you can find all your created filters under Filters and Blocked Addresses tab.
You can anytime delete these filters; in case you find that the filter is deleting your genuine mail.
Gmail also gives you an option of importing and exporting these filters. Suppose you have two e-mail address on Gmail, and you have created filters for one email address. You can directly export these filters and set them to your other email address as well.
Believe me, these simple steps will keep the spams from your inbox quite a mile away.