Table of Contents

All iOS devices are well known for their security features. This is the reason that unlike Android devices you cannot share your files via Bluetooth. However, it doesn't mean that you cannot share your files if you are an iPhone user. You can transfer your files using AirDrop feature of iPhone/iPad. Not only this, by using AirDrop you can also share files between an iPhone and iMac. This feature is designed in such a manner that the security cannot be compromised as it uses Transport Layer Security encryption while transferring files. Also as it uses the Bluetooth and Wi-Fi of your device to share the data, that's why it speedily sends the file from one device to another.
What is AirDrop?
AirDrop is a feature which allows you to transfer the files between iPhones, iPhone and iMac and iPhone and iPad. If you are sharing the file between two iOS devices, then you need to have iOS 7 or above installed on your devices. AirDrop creates a quick AdHoc network to share the files between two devices. It should be noted that before sharing any of your files you need to turn on Bluetooth and Wi-Fi of your device as Bluetooth broadcast and discover connections, while Wi-Fi transfers point-to-point data. However, you do not need to have an active internet connection for sharing the files. You can share images, documents, videos, contacts etc. using AirDrop. The thing which is noticeable is the transfer speed of the files. The files are transferred very quickly if compared to data transfer made by Bluetooth in Android devices.
How to Use AirDrop
You can transfer any number of files using AirDrop, however, the misfortune is that it does not work on all Macs and iOS devices. Below is the list of devices on which you can use AirDrop.
If you wish to use AirDrop on iPhone then you should have iPhone 5 or later.
If you wish to use AirDrop on iPad then you should have either iPad Pro or iPad (4th generation) or later or iPad mini or later.
Apart from this iOS 7 or later should also be installed on your iOS devices.
If all the above conditions are true, then you can get started with AirDrop.
To use AirDrop, you first need to turn it on from Control Center. To do please follow the steps provided below:
Swipe up from the bottom of your device to Control Center.

Now click on AirDrop to turn on. Once you click on AirDrop it will automatically Turn On your Bluetooth and Wi-Fi.

Once you click on AirDrop you will receive a drop down list of some options.
Receiving Off: If you click on Receiving Off, this will turn off AirDrop.
Contacts Only: If you click on Contacts Only, then only your contacts can find your device.
Everyone: If you click on Everyone, then all nearby iOS devices can locate your device.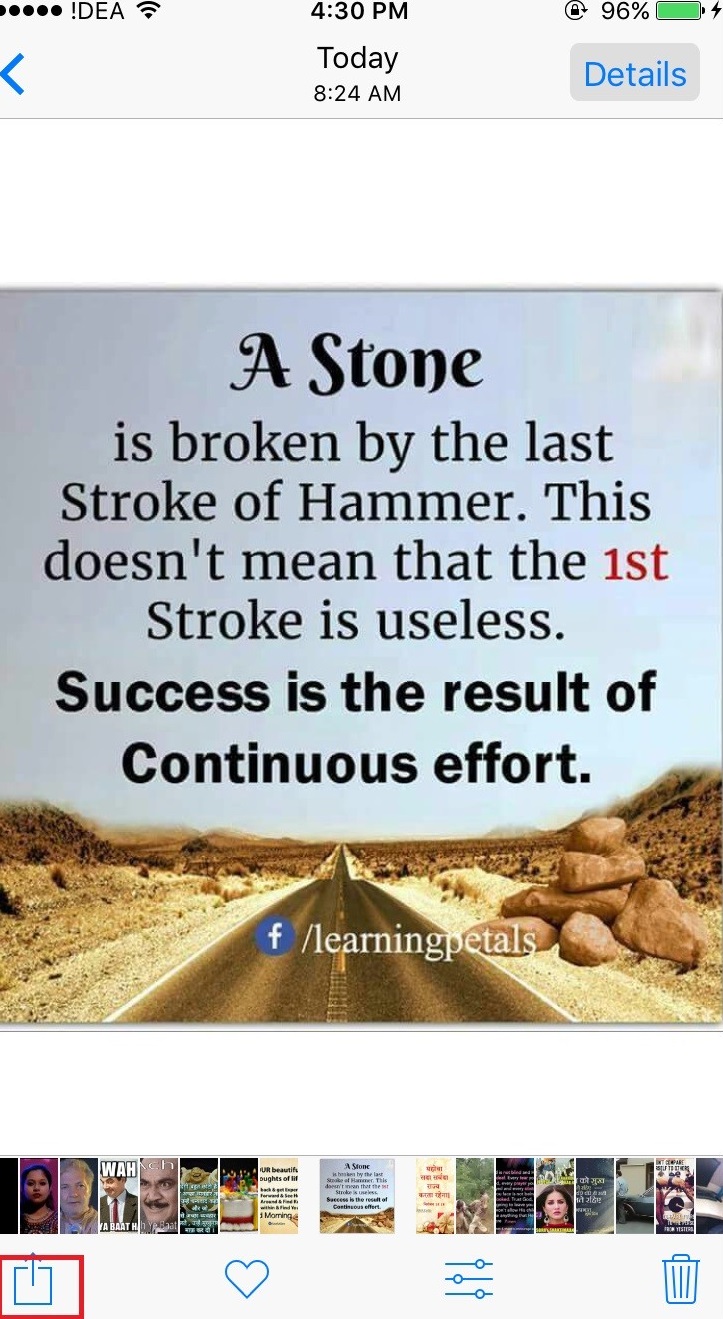 Once the AirDrop is turned on, open your Photos and select the image which you wish to send, and click on the bottom left corner of AirDrop icon.

Once you click on AirDrop icon you will find the nearby device with its name. Now just tap on the name, this will send the image to another iOS device.

On the other device on which you have the sent the image, it will receive a prompt to accept or decline along with the preview of the content sent.
If the other user accepts the file you have sent, he will receive it in the app you sent it from. For example, photos will appear in the Photos app.
This feature allows the iOS users to share their data similar to android users. Also as compared to Android OS, the sharing is faster, reliable and secure. However, you still cannot share your music files. We still have to wait for the time, when Apple allows us to share our mp3 files as well.