How To Set The Desired Start Time For Any Shared YouTube Video

We all have a habit of sharing things. Whenever we find something amusing or useful we share it with our friends. After the evolution of social media, our habit of sharing things has relatively increased as sharing has now become simple and quick. If we want to share our ideas or opinions, we use Twitter. If we want to share our photos, we use Instagram or Facebook. If we want to share some information we use WhatsApp and if we want to share videos then we use YouTube. Suppose you have just seen a stupendous video on YouTube and you wish to show the same to your friend then you just click on share and copy the link and send it your friend. When your friend clicks on that link, he can enjoy the same video. I think all of you know this way of sharing videos from YouTube. However, do you know that you can now change the start time of the video which you wish to share? It means that when your friend clicks on the link of that shared video, then it will not start from the beginning. Isn't it sounds interesting? So now let's discuss in detail that how can you change the start time of video which you wish to share.
What's the need of changing the start time of the video to be shared?
Often when you go on YouTube, you find many videos that have a lengthy introduction. A 30-minute video has an introduction of around 5 minutes. Many a time you find that introduction boring (however, the main content is useful) and skip that part by just forwarding that portion. Now, when you share that video to your friend then he also does the same (in case he also does not like the early part). Also, it could be possible that your friend just judges the book by its cover and therefore do not see that shared video as he does not find the initial part amusing. So this option of setting the start time of any video helps your friend to skip that beginning part automatically, and the video will automatically play from the time which you have set. Now if you set the starting time after 50 seconds and share that video, then the content of starting 50 seconds will automatically skip.
How can you change the Start Time
To set the start time, first of all, you have to open YouTube in your browser and then start streaming the video which you wish to share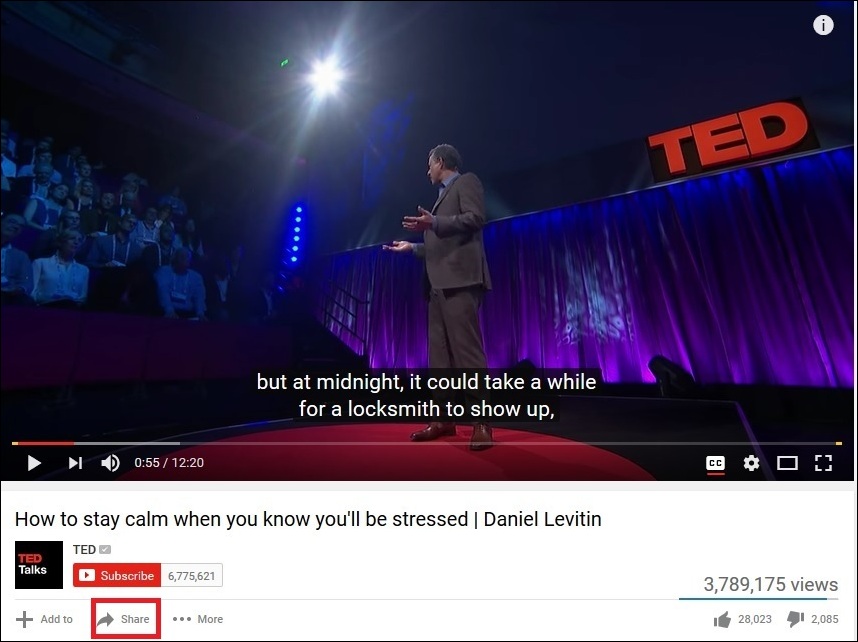 Start the video and click on the share button.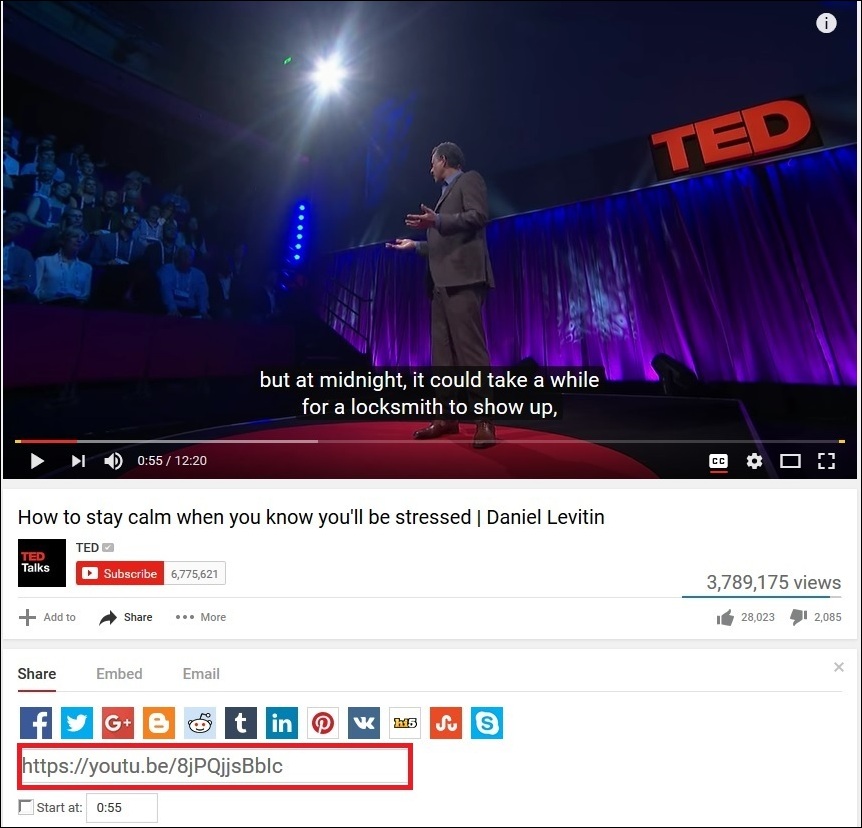 You will see a link to share, and below that link, you will find the option Start at. Check mark that option and set the time.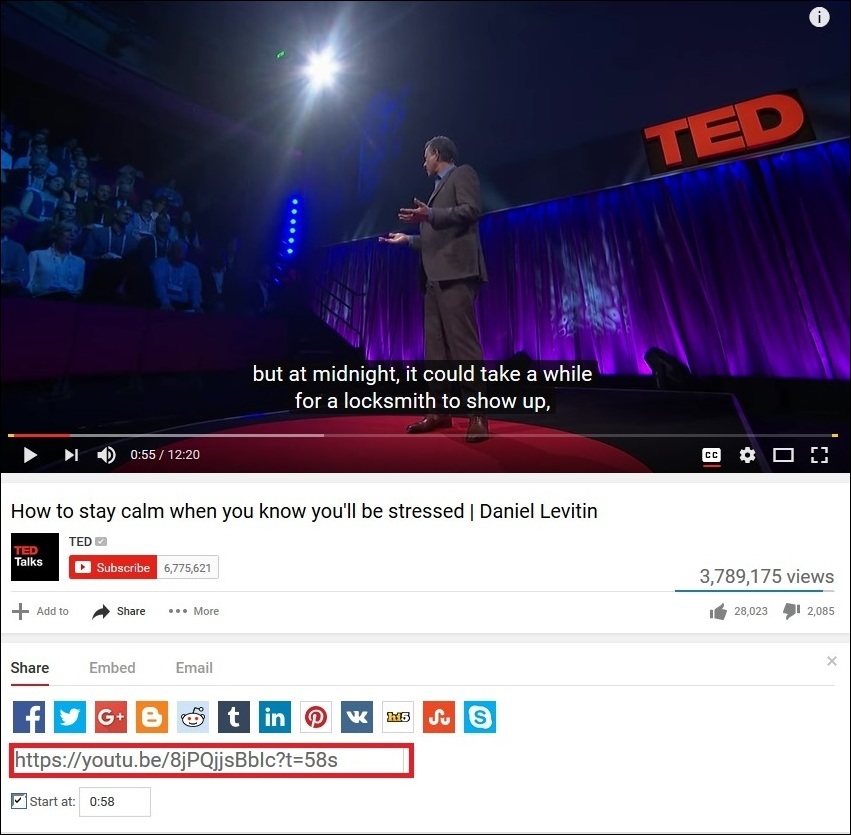 Now you will see that a small string has appended at the end of the URL, i.e. "? t=58s". It means that when you share that URL the starting portion of 45 seconds will automatically skip.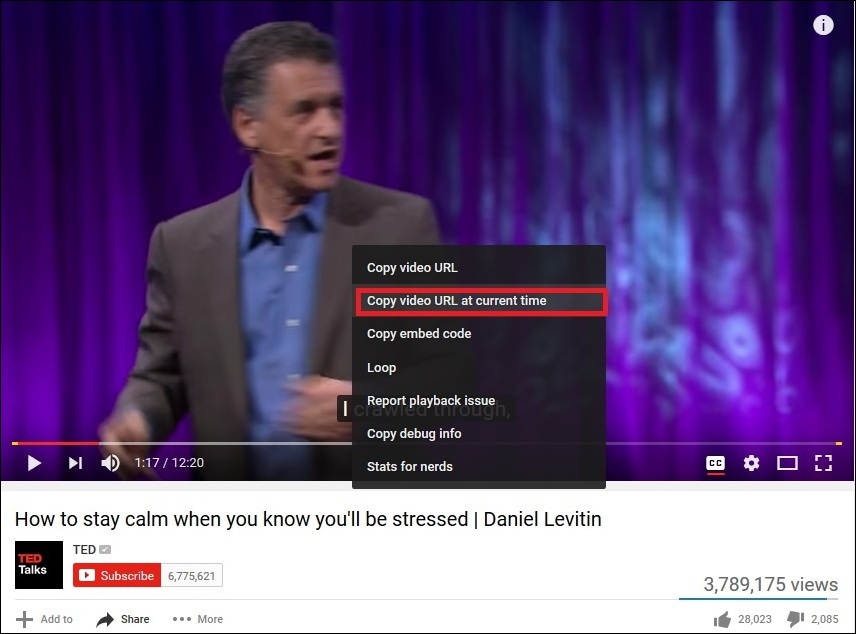 Alternatively, you can also pause the video, right click on the video box and select the option Copy Video URL at current time. This will automatically change the start time to the time when you pause and copy the link.
However, in case the user wants to see the video from the beginning, then he can rewind it.
In this way now you can share any YouTube video by setting the start time as per your wish. It is, in fact, a great way to quickly show anyone a specified part rather than making them watch the whole video. Now, whenever you wish to share the video with a boring initial part then just remember these steps before sharing.