How To Remotely Sign Out From Your Gmail account
Did you guys often use multiple PCs for signing into your Gmail account? If your answer is yes, then it is obvious that you always remember to sign out from your account when the PC is not in use. Suppose, someday you are in hurry or getting late and you just forget to sign out from your office PC. Now getting back to the office and then sign out your account isn't possible, as you have already reached home. You will be left in more spot of bother once you realize that your PC is used by another employee after your shift is over. You get worried about your Gmail account, as at no cost you want anyone to get access to your account. Now the only option left with you is to either drive back to the office to log out from your account or ask someone else to log out from your account.
But wait a minute, is this the only option left with you. No, guys, Gmail provide you with an option to remotely sign out from your account.  Here is what you all have to do to remotely log out of your account.
Remotely sign out from Gmail account: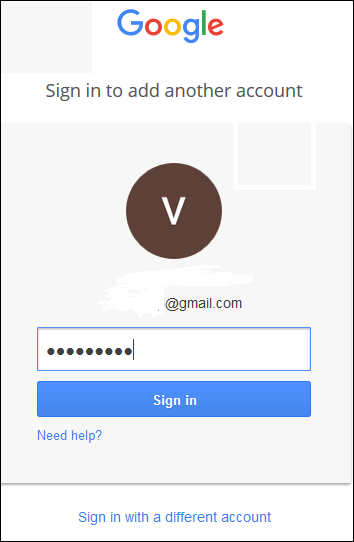 First of all sign into to your Gmail account.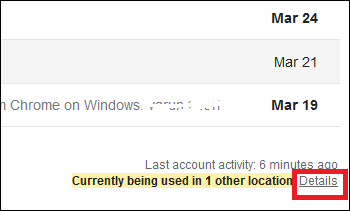 Once logged in scroll to the bottom of the page. Since your account is logged into some other place as well, therefore it will read as "currently being used in 1 other location". Now click on Details.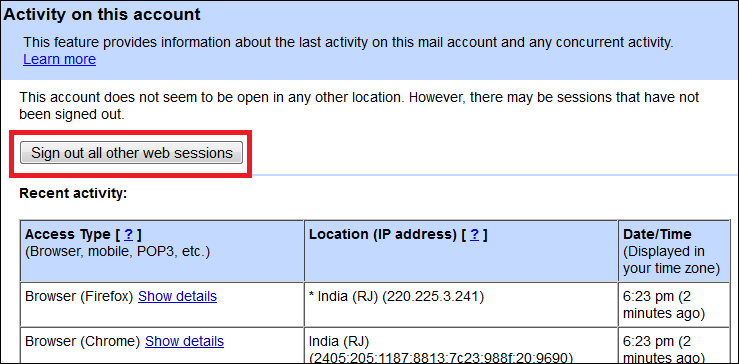 A new window will open carrying all the details regarding your account activity. You just have to click on " Sign out all other web sessions". This will sign out you from any Gmail accounts you've left open on other computers.
It's just a single click which will end your active sessions on all the other PC.
So guys, though we strictly recommend you to sign out from your account if you are using it on the public computer, however in case you forget then quickly follow the above steps and sign out before its too late.