How To Quickly Rename Multiple Files In Windows
We often need to rename files in Windows as renaming helps us to distinguish one file from another. Moreover, it also helps in locating the files easily.  Suppose you click the pictures of your office party from your camera. Now when you will save those pictures in your PC they will be saved as either IMG_01.jpeg or IMG_20170105_01.jpg depending on the device used for clicking those pics. Obviously, now you wish to rename these files but there are 1000 of pictures to be renamed. If you start renaming each file, then it will become a tedious task, which in results waste your several hours unnecessarily. I am using the word unnecessarily because there's another handy way which helps you rename multiple files in bulk. In this article, we are going to discuss how to batch rename multiple files.
How to rename bulk files using Windows Explorer
This is one of the easiest and conventional methods to rename your files in just a single go. You do not need to waste several hours in renaming each file individually. You can rename any number of files in just a few seconds. For example, below are the pictures of my office party which I clicked from my camera. You can see that when I transferred the photos to my PC they are copied with the name IMG along with the serial number. If in future if I wish to locate my office party pictures, then I would be just a time wasting task to search my photos from my huge photo gallery. So now what I am going to do is to rename all these files.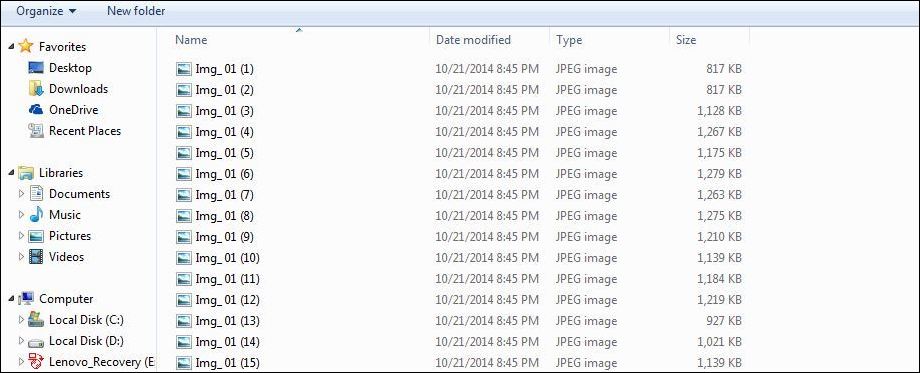 Open the folder in which you wish to rename the files.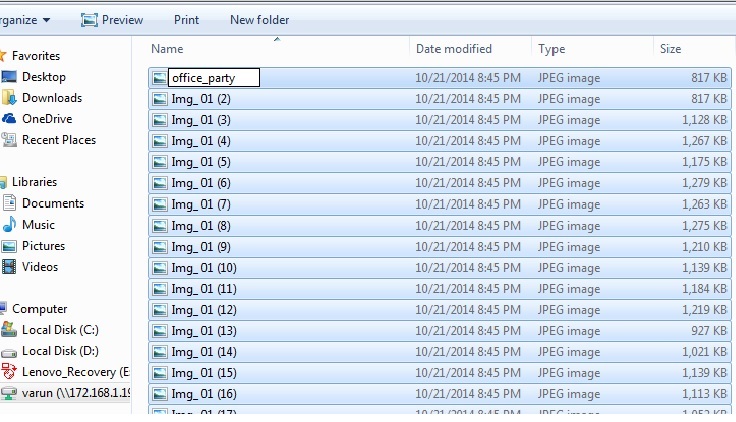 Select all the photos by using the shortcut Ctrl+A and press F2 (the same key which you wish to rename the single file). Now type the name which you wish to replace, here I have renamed them as office_party.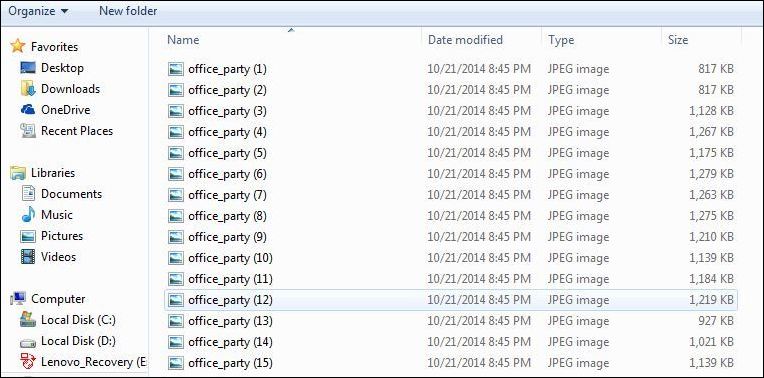 Once you typed the desired name just click on Enter button. It will rename all your images from IMG to office_party.
In case if you make a mistake while trying to rename multiple files, you can undo it by just pressing Ctrl+Z, to undo file rename action, and you can simply repeat this process as needed.
You may also find that there are various software's available in the market (some paid and some free) which claims that they rename your various files in a click. However please be assured that they perform the same functionality which you can do by yourself. Also, the method which we have just discussed is quite simple that you do not need to be a Tech Geek. These steps can be performed by any novice users.
We all love to organize our files in an efficient manner so that when they needed can be easily located and renaming your files properly is part of the process. Yeah, you can do this by software, but why to use any software when you can do the same by windows, as windows have itself many tools for optimizing our work. What we need is to just explore those tools